UEFA CHAMPIONS LEAGUE
GROUP D
WEDNESDAY 7TH SEPTEMBER, 2022
(8pm)
TOTTENHAM HOTSPUR 2(0) OLYMPIQUE DE MARSEILLE 0(0)
Scorer:-
Richarlison, 76,81
Attendance:- 57,367
Referee:- Slavko Vincic SVN
Assistants:- Toma˛ Klancnik SVN, Andra˛ Kovacic SVN
Fourth official:- Matej Jug SVN
VAR:- Bastian Dankert GER
Assistant VAR:- Fedayi San SUI
Teams:-
Spurs (3-4-3):- Lloris (Capt.); Romero (sub Tanganga, 73), Dier, Lenglet (sub Davies, 73); Emerson Royal (sub Kulusevski, 61), Bentancur (sub Bissouma, 85), Hojbjerg, Perisic; Richarlison, Kane, Son (sub Doherty, 86)
Subs not used:- Forster; Spence, Sanchez, Sessegnon; Skipp, Sarr, Gil
Booked:- Dier (foul on Suarez), Son (Dissent)
Marseille(3-4-3):- Lopez; Mbemba, Bailly, Gigot (sub Under, 87); Clauss (sub Kolasinac,70), Rongier (Capt.), Veretout (sub Gueye, 87), Tavares; Gerson (sub Balerdi,50), Suarez (sub Harit, 71), Guendouzi
Subs not used:- Ngapandouetnbu, Blanco(GKs); Kabore; Payet
Booked:- Bailly (Dissent after Mbemba sent off), Clauss
Sent off:- Mbemba (foul on Son, preventing goal-scoring opportunity, 47)
Richarlison super double seals win
£60 million signing Richarlison has already impressed Spurs fans with virtually every move he has made when given the opportunity so far this season. He sealed his place in their hearts with a super headed late second half double. These were his first competitive Spurs goals and of course his Champions League debut goals. Richarlison showed high emotion, and I understand his father was in the stadium.
Spurs were playing their first home game in the Champions League since an ill-fated meeting with Leipzig in February, 2020. All 10 outfield starters then were different from tonight's team. Tottenham and its hostelries had seemed fairly quiet, but there was a good house who did their best to offer an all-white and noisy atmosphere at least for the opening of the game. Marseille did not bring a full contingent of fans, but there was a massive security operation around Tottenham pre-match and those fans were noisy throughout the match. There were skirmishes with stewards and neighbouring home fans once the first goal was scored. The return fixture in November will be tasty on and off the field, I fear.
Antonio Conte made just one change to his starting line-up from the weekend with Perisic replacing Sessegnon. He ultimately used all his subs, from a pick of 12 named men. Marseille named 9 subs including two goalkeepers, but also used their on-field entitlement of five. Alexis Sanchez was suspended, but the Marseille starters still included two familiar Arsenal players – Tavares and the easily identifiable Guendouzi with his flowing curly locks. Guendouzi was arguably the best of the visitors' team, who closed Spurs down very well, frustrating our attempts to form a meaningful attack, whilst rarely worrying Lloris. It was not an entertaining game.
Spurs kicked off, playing towards the North Stand. Although we were playing our 3-4-3, Perisic seemed to be hanging back initially. Kane found Emerson with a long ball, but the right wing-back's attempt to feed the ball back failed. Another useful-looking Spurs attack was thwarted by a determined defence. Marseille countered with a ball to Clauss who had a shot blocked at the other end.
Referee Slavko Vincic seemed to have words with Eric Dier who kicked the ball away from the allocated spot for a Marseille free kick. There had been little incident of note and Richarlison won a corner on the left, but that came to nothing. Goalkeeper Lopez won a risky challenge when Son threatened. Both Hojbjerg and Bentancur were uncharacteristically astray with a couple of intended passes in midfield.
Tavares had a shot go wide of Lloris's right post. Emerson cleverly won a Spurs goal-kick when Tavares threatened again. Emerson had an attempt pass well wide across the Marseille goal and when the ball was returned the goalkeeper was on top of the situation. Guendouzi had a shot blocked after a pass from Clauss.
Both Richarlison and Kane had shots blocked inside the Marseille area. Another Kane cross was defended, and he had a shot held by Lopez in a subsequent attack. Spurs' best first half chance fell to Kane after an excellent through ball by Richarlison to Son, who fed Kane to his right. Kane's attempt on goal was poorly executed with a right-footed shot passing well in front of goal. Harry put his head in his hands, such was his self-disappointment.
Guendouzi had another chance after a free kick, but this was also blocked. Lloris made the one save required of him in the first half, in added time, from a low shot by Guendouzi.
That early second half sending off followed a swift attack with Kane sending Son forward. Son was out-pacing Mbemba (who once played for Newcastle), who stopped "Sonny" unfairly just outside the area when he was just about to shoot. The referee showed no hesitation and there was a brief pause while VAR ratified his decision. Kane's free kick hit the wall. Marseille coach Igor Tudor swiftly replaced one his attackers – Gerson – for defender Balerdi.
Son scuffed a shot wide after a ball from Hojbjerg. Emerson was replaced by Kulusevski, who played the right wing-back role, but in a very much advanced manner. After Romero's pass, Perisic hit a left-footed cross which was met by a Richarlison header but looped over the target. One of Perisic's many attributes is that he can cross effectively with his left or right foot.
Son was booked (presumably for dissent) when protesting the referee's decision to give a goal-kick when a Kulusevski cross/shot was clearly deflected out of play by a defender. Conte's next changes were to replace Lenglet with Davies and Romero with Japhet Tanganga, getting his first outing since January.
After a pass by Guendouzi, Marseille skipper Valentin Rongier's cross went into the Spurs danger zone, but we cleared. Soon after that we broke the deadlock when Perisic turned in and out before crossing with his right foot to the middle of goal where Richarlison powered in his first header!
Richarlison's second goal followed just five minutes later. This one followed a corner and a cross from the left by Hojbjerg. This one hit the net off the inside of the keeper's left post. Tanganga had a header go wide of the back post from a Perisic free kick and Spurs were mainly comfortably and in control now, although in added time Ben Davies did well to block a shot by Suarez (not that one!).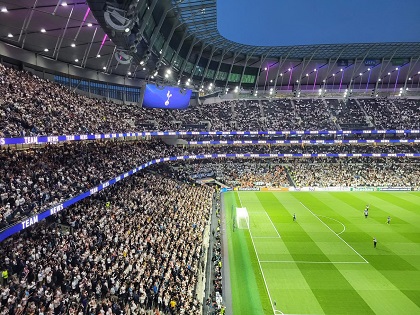 Spurs next appointment is on Saturday against Manchester City. These are the only two unbeaten Premier League sides this season. Our next Champions League game is in Lisbon on Tuesday against Sporting who beat Eintracht Frankfurt 3-0. Former Spurs junior Marcus Edwards, wo has played in Portugal for three years now, scored one and made another of Sporting's goals. He will be relishing the chance to face his old team, who did not give him the chance he craved for first team football.

Champions League Group D

                        P  W  D  L  F-A  GD  Pts
1. Sporting             1  1  0  0  3-0   3   3  
2. Spurs                1  1  0  0  2-0   2   3           
3. Marseille            1  0  0  1  0-2  -2   0
4. Eintracht Frankfurt  1  0  0  1  0-3  -3   0         

· Squad numbers,appearances,bookings & goalscorers
· Read the preview for this game.
· All the Spurs Stats you could hope for here! THFC6061 Sports Stats