PREMIER LEAGUE
SUNDAY 5TH FEBRUARY, 2023
(4.30PM)
TOTTENHAM HOTSPUR 1(1) MANCHESTER CITY 0(0)
Scorer:-
Kane, 15
Attendance:- 61,747
Referee:- Andy Madley
Assistants:- Harry Lennard, Nick Hopton
Fourth official:- Graham Scott
VAR:- Paul Tierney
Assistant VAR:- Simon Bennett.
Teams:-
Spurs (3-4-3):- Lloris (Capt.); Romero, Dier, Davies; Emerson Royal, Bentancur, Hjobjerg, Perisic (sub Sessegnon, 79); Kulusevski(sub Sanchez, 88), Kane, Son (sub Bissouma, 84)
Subs not used:- Forster; Lenglet; Pedro Porro, Skipp; Richarlison, Danjuma
Booked:- Bentancur (foul on Lewis), Romero (foul on Haaland), Perisic (foul on Bernardo Silva
Sent off (87):- Romero (second yellow for foul on Grealish)
Manchester City (4-2-3-1):- Ederson; Walker (Capt.), Akanji, Ake, Lewis; Bernardo Silva (sub Gundogan, 84), Rodri; Mahrez (sub De Bruyne, 59), Alvarez, Grealish; Haaland.
(De Bruyne took the armband when he came off the bench)
Subs not used:- Ortega; Ruben Dias, Laporte, Sergio Gomez; Phillips, Perrone, Palmer
Booked:- Ederson (dissent), Walker (foul on Sessegnon), Grealish (Dissent)
A trend continues and a record is broken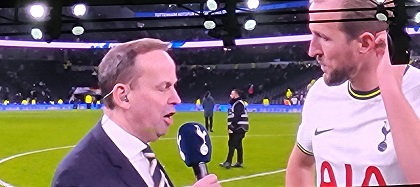 The headline story is, of course, about Harry Kane, who scored his 267th club goal in front of his adoring fans in a packed house. It was also Harry's 200th Premier League goal, putting him in the esteemed company of Alan Shearer and Wayne Rooney. The goal also gave Spurs a marvellous home win over City for the fifth consecutive game against the "Sky Blues" who have still yet to score even one goal in our new stadium!
I was proud to have been in Dublin for Harry's very first club (senior) goal in 2011 and must have seen 95% of his goals in person. It was an emotional day, because I also saw and loved the legendary James P. Greaves, who remains my favourite ever footballer and indeed sporting hero. It's a different stadium, of course, but Greaves scored three of his greatest Spurs goals at the same North Stand end of the ground where Harry scored today. Those goals were in televised games against Manchester United and Newcastle, and his best ever goal (in my opinion) on 5th October 1968 against Leicester. Greaves, and now Kane will never be forgotten. In his career, Greaves did score many more goals in England (357 league, 44 FA Cup and 21 "other" goals), so Harry will never emulate that record.
Both our January signings Arnaut Danjuma and Pedro Porro were introduced before the game, but there was no place in the starting line-up for either. There were seven changes from the team which had started our 3-0 win at Preston last week including Emerson Royal at right wing-back who had a storming game, which included a number of great tackles, especially against his direct opponent Jack Grealish. In truth, all the Spurs players played well, fighting tigerishly for every ball at back and front and defending stoutly. Erling Haaland was kept at bay, and for all City's possession, Hugo Lloris was rarely severely tested.
Christian Stellini took charge of proceedings with Antonio Conte still recuperating at home following his operation to remove his gall bladder.
City kicked off, playing towards the South Stand, but within 45 seconds there was excitement as Son broke out of our half with a great run into the City half. That attack broke down, as had City's opening attack led by Mahrez on the right. Emerson Royal was the next to break forward, testing 18-year-old left back Rico Lewis, who had been asked to fill the void left by the departure of Cancelo for Bayern Munich.
Referee Andy Madley quickly earned the ire of home fans seemingly awarding fouls against Spurs where similar challenges against our players often went unpunished. It's a long time since I've heard Spurs fans chanting "You don't know what you're doing" and "You're not fit to referee". City had a free kick and after Mahrez's effort was half-blocked there were a couple of headers in the Spurs area, but Lloris collected the ball. A shot by Akanji was blocked and after the corner, Lloris held the ball. Spurs were on the defensive but holding their own.
The historic goal came in the fifteenth minute. It followed poor play-out football by City and terrific pressure by Pierre-Emile Hojbjerg who claimed his fourth assist of this season (he has also scored five goals) as he fed the ball to Kane to his right. Harry scored with a scuffed right-footed shot past Ederson's right hand. The club had their congratulatory graphics ready for the big screens and of course Harry was warmly congratulated by his team-mates. The home crowd stood to applaud, just as I'd stood and applauded several landmark goals by Greaves in his career all those years ago.
Lloris had a comfortable save to make from a left-footed shot by Bernardo Silva. There had been no card for Grealish for a cynical foul on Kane in midfield, but Bentancur was shown the first yellow card for bringing down Lewis. It wasn't long before Romero saw his first yellow of the game for a sliding tackle on Haaland.
Spurs had a sweeping attack after Perisic and Royal briefly switched flanks. Kulusevski had a shot blocked and won a corner. Both Hojbjerg and Grealish went down for treatment with Hojbjerg the first to recover. Ben Davies made a good block at the back, and the home fans were upset again when what looked like a foul on Kulusevski went unpunished.
Lloris made a comfortable save low to his left from a shot by Rodri, hit from outside the area. Haaland pushed a ball out to Grealish to the left of the box, but his attempt passed wide across the goal. After a Spurs corner, shots by Kane and Dier were blocked, resulting in a Spurs throw in front of the East Stand. The nearest City came to scoring was after a Bentancur error led to a shot Mahrez which beat Lloris but rebounded clear of danger off the bottom the bar.
Aaron Lennon was the half-time guest. Aaron recently retired and expressed very fond memories of Spurs, admitting to secretly wanting them to win, even when he was playing for the opposing team. A special memory was Aaron's part in our winning goal against Milan in the San Siro in February 2011. We will be playing there again on February 14th.
Spurs kicked off the second half and Kulusevski won a corner on the right after 55 minutes. This was taken by Perisic and met by Ben Davies whose near post header passed just over the bar. It had been a surprise that Kevin De Bruyne had not started this game, but he replaced Mahrez after 59 minutes. De Bruyne also took the captain's armband off Kyle Walker.
I thought it was Emerson Royal who hit a shot wide after a flowing Spurs move, which followed the referee waving "play-on" after Spurs had been impeded. Royal was punished for a foul on Grealish just outside the area deep on the left side. De Bruyne took the kick and Alvarez's shot was deflected out of play by Eric Dier's knee. After the corner, shots by Akanji and Alvarez were blocked and de Bruyne put his final effort wide.
Spurs broke forward with Son feeding the ball to Perisic on the left. Harry Kane just failed to reach Perisic's cross at the back post. Hojbjerg lifted a shot into the net after he had been flagged offside when Royal had put him through. VAR did not oppose the assistant's decision. Another flowing Spurs move featured Kulusevski and Bentancur, who passed to Kane. Harry's right-footed shot passed wide across Ederson's goal. Son fed another ball to Kane from the left and Harry found space for a shot which was blocked by Ederson. The ball rebounded out of play off Kane.
By this time, I had grown more and more confident that Spurs were going to hold their slender lead, even though City continued to press for a goal. Rodri headed over from a corner after which they were desperate for a penalty after an Ake shot was blocked. They got no joy.
Perisic was booked for pulling Bernardo Silva down on the wing. After a quick release by Hugo, Son sent Kane away towards the left. The move ended with a Hojbjerg shot going wide. Royal won great applause for another excellent tackle on Grealish, even managing to win a goal kick decision!
Perisic was replaced by Sessegnon, and it was after a cross by Sessegnon which led to a corner that Ederson was shown yellow for dissent. City had been after another handball decision, this time in their area. Stellini was now seeking to batten down the hatches and Bissouma replaced Son, reinforcing the defence. Sanchez was required and replaced Kulusevski after Romero was shown a late second yellow for a trip on Grealish.
De Bruyne hit a powerful free kick which was blocked, probably by that man Hojbjerg who went down for more treatment, taking more sting out of the game. There were five minutes of added time and drama in the box when Lloris rose to clear the ball off Rodri's head. Both needed treatment. Rodri came off worse and again City pressed the referee for sterner action. Hugo was innocent.
The referee blew the final whistle when the ball was in the City half. This was a great team performance and a historic day for Harry. He was interviewed on the pitch (by Paul Coyte) and most fans had stayed to witness this and to applaud their hero warmly. Harry made mention of the importance of the win and three points, which put us within one point of the top four.
Romero will have to sit out our next game at Leicester next Saturday, when hopefully Antonio will be back in charge. The Spurs head coach telephoned Harry Kane in the dressing room after the game to offer his heartfelt congratulations. We all do that!
· Squad numbers,appearances,bookings & goalscorers
· Read the preview for this game.
· All the Spurs Stats you could hope for here! THFC6061 Sports Stats