PREMIER LEAGUE
THURSDAY 19TH JANUARY,2023
(8PM)
MANCHESTER CITY 4(0) TOTTENHAM HOTSPUR 2(2)
City scorers:-
Alvarez, 51
Haaland,53
Mahrez,63, 90
Spurs scorers:-
Kulusevski, 44
Emerson Royal, 45+2
Attendance:- 53,088
Referee:- Simon Hooper
Assistants:- Adrian Holmes, Timothy Wood
Fourth official:- David Coote
VAR:- Darren England
Assistant VAR:- Matthew Wilkes.
Teams:-
City (4-2-3-1):- Ederson; Lewis (sub Walker, 83), Stones, Akanji, Ake; Rodri, Gundogan (Capt.) (sub Bernardo Silva, 81); Mahrez, Alvarez, Grealish; Haaland (sub Ruben Dias, 90) (Armband to Rodri)
Subs not used:- Ortega; Cancelo, Laporte; Phillips, De Bruyne, Foden
Booked:- Mahrez (foul on Kulusevski)
Spurs (3-4-3):- Lloris (Capt.); Romero, Dier, Davies (sub Lenglet,78); Emerson Royal (sub Richarlison, 78), Hojbjerg, Bentancur (sub Bissouma, 75), Perisic (sub Sessegnon, 69); Kulusevski, Kane, Son
Subs not used:- Forster; Doherty, Sanchez, Tanganga; Sarr
Booked:- Romero (foul on Akanji), Hojbjerg (foul on Lewis)
Maimed by Mahrez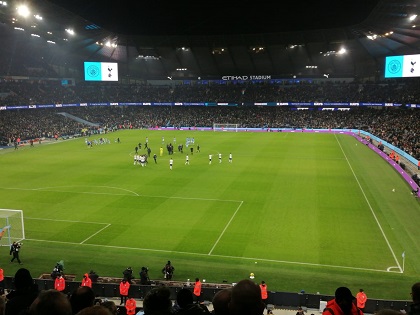 Thanks to Andy Park for this picture
Having only scored one first half goal in their last fourteen matches, Spurs surprised everyone (not least City) with two late first half goals to give Pep Guardiola a half-time fright. Pepís talk clearly had an effect as City levelled the scores within eight minutes of the re-start. Riyad Mahrez, who first scored against Spurs for Leicester in August 2015, made one of those goals and later capped his man of the match performance with two goals to complete a remarkable turnaround. Spurs had been maimed by Mahrez and beaten by City who were clearly the better team. City asserted themselves in second place and their chase of Arsenal continues. Spurs are faltering in fifth place and could be surpassed by Fulham on Monday night.
Both managers made changes. Guardiola made five. Just look at the star-studded unused substitutes on the City bench. The City manager put his confidence in 18-year-old right back Rico Lewis, who was making just his third Premier League start. Earlier in the season Lewis became the youngest player in Champions League history to score on his first start in the competition. Pepís confidence was justified, and veteran Kyle Walker did not take over until late in the game. Cancelo has been out of form lately and Nathan Ake was given the left back berth. City played a traditional 4-2-3-1, while of course Conteís 3-4-3 was rigid and all-too predictable.
Spursí changes saw the return of Emerson Royal at right wing-back, Ben Davies in place of Lenglet and Perisic on the left. Rodrigo Bentancur made his first appearance since the World Cup and was so impactive for Spurs.
The Spurs team wore black armbands in remembrance of 25-year-old former player Anton Walkes who tragically died in a boating accident off Miami. Walkes had made only one senior appearance in 2016 and moved to Portsmouth before deciding to play in The United States.
Spurs kicked off and initially both teams were feeling each other out. The Spurs fans were in good voice. "One of our own" was one of the chants, clearly urging Harry Kane onto that scoring record, but we will have to wait till another day for that.
City had the first corner, taken by Mahrez from the right after 9 minutes. Romero blocked Haalandís shot from beyond the back post, at the expense of another corner. City were also winning early free kicks, one of which resulted from a foul by Davies on Alvarez, who was making his first league start since his successful World Cup campaign. Mahrezís free kick was blocked.
Harry Kane hit the side netting with a right-footed shot after he had been sent clear by Bentancurís pass but had been offside. Spurs lost a ball too easily after playing out and Haaland went down in the box too easily when challenged by our own World Cup winner Romero. Referee Simon Hooper was having none of that and over the course of the game would upset Guardiola and the City fans with his perceived leniency regarding Spursí challenges. Haaland generally was not seeing much of the ball, but of course that hasnít prevented him from being a prolific scorer and he would score in this game.
Gundogan hit a right-footed shot just wide of Llorisís left post. A shot by Alvarez after Grealishís cut-back pass was blocked. Spurs had yet to offer much in the way of attacking intentions, but Lloris had not been required to make a save.
Ake rose with Kane at the back post to clear for a corner after a cross by Perisic and after the corner a shot by Emerson Royal was way off target. City now had more possession winning a couple more corners. Romero tackled Grealish cleanly and cleared inside the Spurs box. Spurs won a corner at the other end, but that was cleared by Ederson. Kane pushed a ball out to the advancing Davies who crossed, but a Son header was blocked. Son was making his 250th Premier League appearance and his 350th appearance for Spurs. Kane had a right-footed shot blocked after a ball inside from Kulusevski.
Rico Lewis had a right-footed shot from outside the area which was deflected and needed a good save by Lloris diving low to his left. Lloris was out well to block from Haaland who had raced to try and reach a long ball forward. The tall Norwegian headed over from a Mahrez cross.
Spurs shocked City with two late first half goals. Firstly, Ederson hit a poor ball intended for Rodri, but which ran to Kulusevski thanks to Bentancurís pressure. Kulusevski made no mistake and scored his first goal since the opening day of the season. Then, two minutes into added time Bentancurís ball for Kane was cleared as far as Kulusevski who returned the ball to Kane. Kane, with an extra effort and challenge against Rodri managed to hit a low hard cross which Ederson could only parry. Emerson Royal was well placed to score with a reactive header. Spurs were in dreamland, but this observer knew the game was far from won.
City kicked off and they soon had a warning shot, hit wide by Alvarez from 22 yards. Alvarez soon scored Cityís opener after a cross by Mahrez was not cleared and the Argentinean hit the net with a right foot shot. Two minutes later Haaland headed in his 22nd Premier League goal of the season after Mahrez headed on a ball lifted into the box by Alvarez. This goal was soon followed by a Mahrez shot just wide of Llorisís left post.
Spurs hit the woodwork after 59 minutes when Kane passed outside to Kulusevski whose cross reached Perisic at the far post. It looked as if Perisic should have scored but 18-year-old Lewis got his body in the way and the ball went out glancing off the frame for a corner. Kane had a half chance after another Kulusevski pass, but he hit his right-foot effort wide.
City had a 63rd minute lead when Perisic failed to meet and deal with a long clearance. Mahrez took advantage and was in the clear, scoring inside Llorisís left post and on the goalkeeperís narrow side. Hugo really should have had that covered.
Perisic was soon replaced by Sessegnon, but this game was going only one way now. Bentancur was fouled and Son lifted a free kick into the City area. Hoever, the ball bounced up onto Kaneís arm and a free kick was given in Cityís favour. After a Spurs attack down the right flank through Son and Emerson, Romero had a shot on goal, but that passed over the target.
Three Spurs substitutions followed, one of which was Richarlison for Emerson, with Kulusevski covering right wing-back responsibilities. City claimed a penalty after a corner when Rodriís header hit Richarlisonís arm at close range, but nothing was given. Romero made a good winning tackle on Haaland in the Spurs box.
Spursí final throw of the dice was a Kulusevski-Richarlison combination leading to Kaneís cross for Son being intercepted by Ederson. As the clock ticked towards the 90th minute, substitute Lenglet slipped up after another Ederson ball. Mahrez was in the clear and scored again to send the home fans into raptures, whilst Spurs fans were in despair. Sadly, despair is all too typical for any Spurs fan.
I for one do not fancy our chances at Craven Cottage on Monday night.
∑ Squad numbers,appearances,bookings & goalscorers
∑ Read the preview for this game.
∑ All the Spurs Stats you could hope for here! THFC6061 Sports Stats