∑ Last season's game - Manchester City 2 Spurs 3, 19.02.22
∑ Premier League Matchday 20 - last year
∑ See the current injury list for all Premier League Teams
∑ All the Spurs Stats you could hope for here! THFC6061 Sports Stats

Full Record of Spurs -v- Manchester City

Prem          Pl  W  D  L   For-Ag  Pts
Home          25 16  3  6   38 -27  51
Away          25 11  4 10   33 -43  37
======================================
Total(Prem)   50 27  7 16   71 -69  88  1.76 pts per game
======================================
Football Lge
Home(Div 1)   46 21 13 12   84 -59  58
Away(Div 1)   46  7 11 28   39 -90  24
======================================
Total(Div 1)  92 28 24 40  123 -149 82
======================================
Football Lge
Home(Div 2)    2  0  1  1    2 - 3   1
Away(Div 2)    2  0  0  2    0 - 3   0
======================================
Total(Div 2)   4  0  1  3    2 - 6   1
======================================
Total(Prem)   50 27  7 16   71 -69  88
Total(Div 1)  92 28 24 40  123 -149 82
Total(Div 2)   4  0  1  3    2 - 6   1
======================================
Grand Total  146 55 32 59  196-224 171
======================================

Last Six Premier League results:-

Man City   -    WLWDWL

Man City   2-1    Fulham
Man City   1-2    Brentford
Leeds      1-3    Man City
Man City   1-1    Everton
Man Utd    2-1    Man City

Spurs      -    LWDLWL
           
Spurs      1-2    Liverpool
Spurs      4-3    Leeds
Brentford  2-2    Spurs
Spurs      0-2    A.Villa
C. Palace  0-4    Spurs
Spurs      0-2    Arsenal

Pos            P  W  D  L   F-A   GD  Pts
 2. Man City  18 12  3  3  46-18  28   39
 5. Spurs     19 10  3  6  37-27  10   33  

Who gives us a hope here?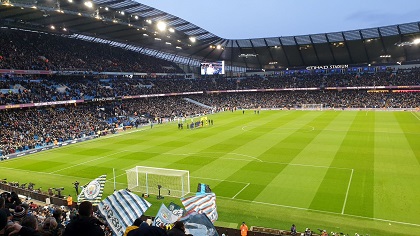 Six-time Premier League Champions Manchester City (4 in the last five seasons) are a full 8 points behind Arsenal, and if in-form Manchester United beat Crystal Palace tonight in another re-arranged fixture, Pep Guardiolaís men will not even be in second place. City lost to their local rivals last Saturday lunchtime, partly thanks to a controversial goal scored by Bruno Fernandes when Marcus Rashford had been offside and was "on the ball", but because he did not touch it, Fernandesí goal was allowed. That goal levelled the scores after Grealish had headed in a De Bruyne cross. Minutes later Rashford himself scored to send Old Trafford into raptures. Cityís six-game League form before and after the Qatar World Cup does not meet their usual standards with two defeats (Brentford were their other victors) and a draw against struggling Everton.
Spurs also lost to their local rivals on Sunday sending the Tottenham (not so) faithful into spasms of anger and frustration. Our six-game form is worse than that of City. Our clean sheet at Selhurst Park on 4th January is our only clean sheet in 9 Premier League games. Our captain and goalkeeper Hugo Lloris has made costly errors in our last two home league games. We have surrendered fourth place and currently sit five points adrift of that coveted position. Despite our League double over City last season, who really gives us a hope at The Etihad Stadium tomorrow night?
Like the Palace Ė United game tonight, this fixture is one of those which were cancelled on the weekend following the death of Her Majesty Queen Elizabeth II in September. Now we are scheduled to play City twice in three league matches. City also have to play both their league games against Arsenal, plus their fourth round FA Cup game in the remainder of the season.
Spurs "double" last season was the first time against City since 2015-16. We also completed the Premier league double in the following Premier League seasons - 1992-93, 1993-94, 2004-5, 2005-6, 2006-7, 2008-9 and 2009-10. The home game was one of Nunoís three opening 1-0 victories. 6 months later the double was completed
The biggest individual sensation of The Premier League this season has, of course, been its top scorer Erling Haaland. Haalandís signing from Borussia Dortmund was confirmed on 1st July. Still just 22, Haaland tops our score chart with 21 league goals. Scoring at breakneck speed before the World Cup and including three Premier League hat-tricks (in consecutive home league games), Haaland has not scored in his last three games for City. That is a first since his arrival. Look out Spurs!
It is a mark of the quality we have in Harry Kane that he is just six goals behind Haaland, despite the awesome impact of the Norwegian star, who has been headline news since he first came to light with Salzburg when he scored 10 goals in 8 Champions League games for both the Austrian club and Borussia Dortmund who snapped him up in January 2020. Haaland scored 62 goals in 67 league games for the German side and 13 more Champions League goals. City saw him at close quarters, and kept him off the score sheet when the two clubs met in April 2021. Goal machine Haaland also has scored 21 goals in 23 senior appearances, after his debut in September 2019.
Haaland didnít go to the World Cup, of course, but City sent 16 players to Qatar, as follows:- Manuel Akanji (Switzerland), Ederson (Brazil), Kevin De Bruyne (Belgium), Ilkay Gundogan (Germany), John Stones, Kyle Walker, Kalvin Phillips, Phil Foden, Jack Grealish (all England), Joao Cancelo, Ruben Dias, Bernardo Silva (all Portugal), Nathan Ake (Netherlands), Aymeric Laporte and Rodri (both Spain), Julian Alvarez (Argentina).
Kalvin Phillips was signed from Leeds for £45 million, thus filling the slot vacated by Fernandinho. He has had his injury and fitness problems and has yet to make a Premier League start for his new club. He only made two substitute appearances for England in the World Cup.
Another city signing last year was World Cup winner JuliŠn Ńlvarez, a 22-year-old River Plate forward. Alvarez stayed in Argentina until City's pre-season. One of his achievements was to score 6 goals in an 8-1 win over Chile's Allianz Lima in a Copa Libertadores match. Alvarez scored four World cup goals including two in Argentinaís 3-0 semi-final win over Croatia. The striker has appeared in 13 Premier League games this season, but only started three of those.
Spain's Under-21s defender Sergio Gomez was signed from Anderlecht. Gomez came through the Barcelona academy before playing under former City captain Vincent Kompany at the Belgian club. Switzerland defender Manuel Akanji joined on a five-year deal from Borussia Dortmund and has already made 11 Premier League starts.
City have had some disappointing League results, including Evertonís recent 1-1 draw at The Etihad. Spurs must take hope from this, and their recent good record against Pepís side. Antonio Conte has indicated that Bentancur could be fit for this game (8pm tomorrow on SKY), but we will wait and see. Who gives a hope here? Not me, Iím afraid. Iíve predicted a 3-1 defeat, but of course I would love to be wrong!
If selected this will be Heung-min Son's 250th Premier League appearance and also his 350th game for Spurs.
This will be referee Simon Hooper's fourth Spurs game, all of which have been this season. His last such game was Manchester United away, which did not go too well for us. Let's hope for better luck this time!
Did you know? - Spurs Double winner Maurice Norman, who died in November, aged 88, was signed by Spurs from Norwich in 1955. Maurice's first game was a 1-1 home draw against Cardiff, but his second was at Maine Road on 12th November, 1955, when he played at right back and Spurs won 2-1. The great Bert Trautmann was in goal for City. Dave Dunmore and Sid McLellan scored our goals. The Spurs team was Reynolds; Norman, Hopkins, Blanchflower, Clarke, Marchi, McLellan, Brooks, Dunmore, Baily and Robb. Maurice made 411 Spurs appearances in all and still stands 13th in our all-time table recently overtaken by Harry Kane. Maurice's first England cap came in the same game as Bobby Moore's debut in 1962.