UEFA CHAMPIONS LEAGUE
ROUND OF 16 (Second leg)
WEDNESDAY 8TH MARCH, 2023
(8.10PM)
TOTTENHAM HOTSPUR 0(0) A.C.MILAN 0(0)
(Milan win 1-0 on aggregate)
Attendance:- 61,602
Referee:- Clément Turpin FRA
Assistants:- Nicolas Danos FRA & Benjamin Pages FRA
Fourth official:- Jérémie Pignard FRA
VAR:- Alejandro Hernández ESP
Assistant VAR:- Willy Delajod FRA
Teams:-
Spurs (3-4-3):- Forster; Romero, Lenglet, Davies; Emerson Royal (sub Richarlison, 70), Skipp, Hojbjerg, Perisic (sub Pedro Porro, 53); Kulusevski (sub Sanchez, 83), Kane (Capt.), Son
Subs not used:- Austin, Whiteman (GKs); Tanganga; Sarr, Devine; Lucas Moura, Danjuma
Booked:- Romero (foul on Rafael Leao), Lenglet (foul on Giroud), Skipp (foul on Tonali)
Sent off (77 mins):- Romero (second yellow card for foul on Hernandez)
Milan (3-4-3):- Maignan; Kalulu, Thiaw, Tomori; Messias (sub Saelemaekers, 56), Krunic, Tonali, Hernandez (Capt.); Diaz (sub Bennacer, 81), Giroud (sub Origi, 81), Rafael Leao (sub Rebic 89)
Subs not used:- Mirante; Calabria, Ballo-Toure, Kjaer, Gabbia; Florenzi, Pobega; De Ketelaere
Booked:- Thiaw (foul on Hojbjerg)
Spurs foiled, and they failed again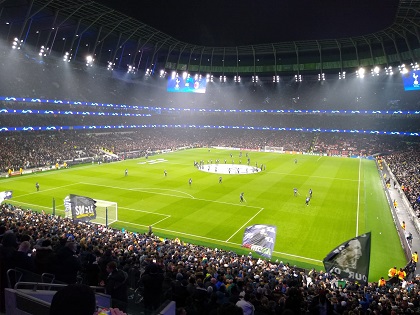 Thanks to Cassim Patel for this picture
Just as it had 12 years ago -almost to the day – the home leg of our Champions League Round of 16 game ended in a goalless draw. In 2011 that meant glory for Spurs and a historic first quarter-final. This time, the home team (seven times European Cup/Champions League winners) had won narrowly in the San Siro and Milan coach Stefano Pioli's game plan worked a treat. He and his team were helped by yet another poor team performance in which Spurs lacked creativity and the necessary levels of desire, energy and ability. This was the first goalless draw in our new stadium.
Spurs failed to score in their third consecutive game. That hasn't happened since the run-in of the 2018-19 season, ironically when we did reach the Champions League final, and we did also cling onto fourth place. Our last hope (some hope!) of a trophy this season has gone and now we are faced with a closing programme of 12 league games in which we seek to claim another Champions League place. On current form, that is extremely unlikely. Questions are already being asked about the future of Antonio Conte (who was back in the technical area) and Harry Kane. Conte's contract is up this summer, and he is highly unlikely to stay. Even he has been quoted as saying he might be sacked before then, but that might have been a little bit flippant. Harry Kane's contract is up next year, and if we fail to qualify for Champions League, no Spurs fan will blame him now for moving on. It is all so depressing.
Spurs were not helped by the immaturity and indiscipline of Cristian Romero, who was sent off for the fifth time in his career and for the second time this season. In fact, these two latest occasions have occurred in just the last month. Romero has always been a yellow card magnet and since his return from the World Cup he has been booked 9 times in only 11 appearances. Someone needs to have words. Romero looked as if he was injured in his reckless 77th minute challenge upon Milan captain Theo Hernandez, so he probably won't make Saturday's Forest game.
Eric Dier was suspended for this game, but the team was otherwise predictable, as was their style of play, well known to any observer of our game. Hojbjerg and Skipp worked ever so hard in midfield, but Kulusevski and Son were disappointing up front. I'd go as far as to describe Son as a passenger, too often running into blind alleys when given the ball and too often having the ball taken from his feet. Even Romero was guilty of mis-chosen passes at time, feeding the ball to well-marked players, rather than ones in space. Mind you, such was the poor off the ball running that players could not often be found in space.
61,602 people attended the game including a full contingent of Milan fans who had been slowly escorted on the long walk from Seven Sisters, no doubt leading to some of the traffic problems that led to a slightly delayed kick-off. It was a bitterly cold and damp night. The home crowd got behind their team in the early stages, but the first half soon fell flat as did the home atmosphere. There was not one shot on target from either team in the first half.
Spurs – playing in the all-white kit – kicked off and played towards the North Stand, as is customary. Perisic was fouled near the halfway line as he tried to send Kulusevski away. Nothing came of the free kick, and nothing came of so many of our set pieces. Aren't throw-ins set pieces? I ask because so many of those from attacking areas were thrown backwards with vigour. I bore you with this criticism, I know.
Referee Clement Turpin was actually lenient in the early phases, having "words" with both Skipp and Lenglet over their challenges upon Rafael Leao.
Spurs broke forward after 11 minutes with Kane sending the ball forward to Kulusevski. Ultimately, Emerson Royal had a shot half-blocked on the edge of the Milan area. The ball was comfortably picked up by Milan's returning first choice keeper Maignan. He was well protected by a young back three which included former Chelsea man Fikayo Tomori. A cross by Kulusevski was too long for Perisic trying to make ground at the back post.
Milan responded through Brahim Diaz and Hernandez, who had a shot half-blocked which also ran easily to Forster.
Romero's first booking came after just 16 minutes for a foul on Rafael Leao. That booking had been enough to ensure Romero would miss the first leg of a quarter-final, had we succeeded. After the free kick, Messias had a chance but hit his shot wide across goal.
There followed a mini spell of pressure by Spurs. Emerson had a dangerous cross cleared and an attempted pass by Perisic for the advancing Davies was too far in front of its intended recipient. Now Lenglet was also booked, and he too would have been suspended, had we made it to the next round. Conte was shown yellow for his protestations to the fourth official, presumably feeling that similar challenges by the visitors were not being punished.
Son received a pass from Hojbjerg and won a corner on the left with his deflected shot, but of course nothing came of Son's corner. Emerson went down and needed treatment but was able to continue. Messias had another effort after Leao's pass, but this one was miles off target.
After a corner on the right a Kane shot was blocked on the edge of the box. Skipp, Emerson and Kulusevski had been involved in the move on the right. A Perisic header after a Kulusevski cross was too easy for the keeper. Spurs had shown a lack of imagination. Milan had been in control and the Spurs crowd was not happy at the end of the half.
Spurs were out first for the second half. An early Kulusevski cross was cleared to the feet of Emerson who tried to thread a pass for "Kulu" but that ran out of play. Forster saved with his legs from Diaz and Leao's follow-up was wide.
Conte made what for him was a very early substitution bringing on Pedro Porro for Perisic. Emerson moved to the left flank. Porro did add energy and put in some good crosses. Spurs had a free kick after a foul on Kane and the home crowd urged on their team again. Porro's free kick hit the wall. He subsequently hit a great long cross to Son, but last year's Golden Boot winner failed to take advantage.
Spurs' best chance of the 90 minutes came when Kane's effort inside the area was blocked and the ball ran to Hojbjerg who made a determined short run inside the box on the right before hitting a rising right-footed shot which Maignan pushed over the bar.
Romero blocked a shot by Leao after a dangerous break by the visitors. Leao then passed across the area to Diaz, whose shot was blocked and ran to Giroud who forced another save by Forster. This was a very good save and crucial for Spurs' potential survival at this stage.
Kane dived low to try and head in a decent cross by Porro, but the ball rolled wide. Richarlison came on for Emerson, and Son's responsibility was to cover the left side. Sadly, Richarlison made no impact.
Rafael Leao was a constant threat and he fired over after being closed down by Romero. Both players wore number 17. Pedro Porro tried an adventurous long shot after a pass from Richarlison, and a long cross from the left by Son landed on Maignan' s net.
Romero's red card followed. His challenge was all the more reckless because it occurred along the touchline a long way from goal. The referee waited while Romero was treated before showing him the yellow and red cards which were deserved. Spurs fans were dismayed when Conte took off Kulusevski in favour of Sanchez when a goal was desperately needed, but we were getting short-handed in defence.
Sanchez went down in the Milan area, but no foul was given. Milan broke out and after Leao passed to Tonali, his shot was well blocked by Pedro Porro. Substitute Bennacer had a long shot held by Forster.
Spurs' last chance came after 93 minutes. Thiaw had been shown the only yellow card of the game for Milan for a foul on Hojbjerg and Son made his first decent contribution with a good ball into the box where Kane's header was hit low, forcing a good save near his goal-line by Maignan. A goal would have given us extra-time, but with ten men, could we have succeeded? We'll never know, and quite a few Spurs fans had already headed for White Hart Lane station.
P.S:- In what would have been the most cruel of finishes, after Kane's header was saved, Milan broke forward and substitute Divock Origi, who delivered the coup de grace in our Champions League Final defeat to Liverpool, hit Forster's left post with a low shot, but Forster managed to collect the rebound.
· Squad numbers,appearances,bookings & goalscorers
· Read the preview for this game.
· All the Spurs Stats you could hope for here! THFC6061 Sports Stats