∑ Last season's game - Spurs 3 Arsenal 0, 12.05.22
∑ This season's away game - Arsenal 3 Spurs 1, 01.10.22
∑ Premier League Matchday 19 - last year
∑ See the current injury list for all Premier League Teams
∑ All the Spurs Stats you could hope for here! THFC6061 Sports Stats


Full Record of Spurs -v- Arsenal
 
Prem          Pl  W   D   L  For-Ag  Pts
Home          30 13  12   5  45 -35  51
Away          31  2  11  18  32 -63  17
========================================
Total(Prem)   61 15  23  23  77 -98  68  1.11 Pts per game
=======================================
Football Lge
Home(Div 1)   55 24  12  19  93 -83  63
Away(Div 1)   55 16  12  27  65 -85  46
========================================
Total(Div 1) 110 40  24  46 158 -168 109
========================================
Total(Prem)   61 15  23  23  77 -98  68
Total(Div 1) 110 40  24  46 158 -168 109
========================================
Grand Total  171 56  47  69 235 -266 177
========================================

Last Six Premier League results:-

Spurs      -    WLWDLW
           
B'mouth    2-3    Spurs
Spurs      1-2    Liverpool
Spurs      4-3    Leeds
Brentford  2-2    Spurs
Spurs      0-2    A.Villa
C. Palace  0-4    Spurs

Arsenal    -    WWWWWD

Arsenal    5-0    Nott'm F'st
Chelsea    0-1    Arsenal
Wolves     0-2    Arsenal
Arsenal    3-1    West Ham
Brighton   2-4    Arsenal
Arsenal    0-0    Newcastle

Pos            P  W  D  L   F-A   GD  Pts
 1. Arsenal   17 14  2  1  40-14  26   44
 5. Spurs     18 10  3  5  37-25  12   33 

Hoping for a landmark win.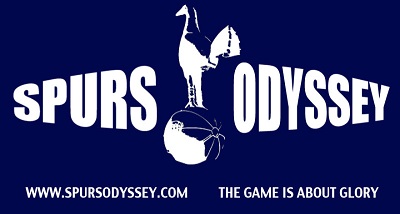 Letís face it, Mikel Artetaís Arsenal are flying this season. Even Manchester City are in their wake, five points behind. We are an unedifying eleven points behind, trying to regain a place in the top four. We donít like to think about our eighteenth Premier League away defeat to our oldest enemy in October, but Harry Kane did score in that game. "One of our own" could make history on Sunday. Firstly, if he scores one goal, he will equal Jimmy Greavesí wonderful club record of 266 goals. It follows that if he scores a second goal (and letís hope it will be a winning goal!), Harry will be the new Tottenham Hotspur record high scorer. That day will inevitably come very soon if not this week. It is an achievement we never really thought possible. I was in the ground on several occasions when we stood and applauded astounding and landmark goals by Jimmy Greaves. I hope to see a landmark win and record this week.
Records are not strange to Harry Kane, of course. He already has a record 47 London derby (Premier League)goals - taking the lead from Thierry Henry. Harry has also scored 14 goals against Arsenal. The first and second of these came when Harry first played for the Spurs first team against Arsenal in February 2015 in a 2-1. Our Harry had scored his first Premier League goal for Spurs earlier that season. He scored our away draw the following season and in a 2-2 home draw in March 2016 scored arguably his best goal against Arsenal Ė mask and all! Mind you, any goal by a Spurs player against the "Woolwich Wanderers" is a good one!
Remarkably, Harryís 265th goal for the club last week fell on the exact same date as Greavesí 265th did in 1970. Greavsie's goal was his second against Bradford City in an FA Cup replay which we won 5-0. Incidentally, Jimmyís last Spurs goal against Arsenal was in a League Cup semi-final second leg draw at home in December 1968 (we lost the away leg 1-0), although "Greavsie" did score for West Ham against Arsenal after his move from Spurs in a match played in April 1970.
Speaking of landmarks, Spurs captain Hugo Lloris this week announced his retirement from International football. Twice a World Cup Finalist, and once a winner, Hugo won a record 145 caps for France, beginning with a clean sheet against Uruguay in November 2008. Hugo currently has 125 Premier League clean sheets for Spurs, four of which have been against Arsenal. The last of these was our smashing 3-0 home win in May last year, after which Artetaís men folded at Newcastle and surrendered their fourth place to Spurs. Harry Kane (of course) scored two in that game, followed by Golden Boot winner Heung-min Son.
On the subject of retirements, another former Spurs hero Ė Gareth Bale Ė announced his retirement at the age of 33. Gareth scored for us against the "Gooners" at home and away in the 2012/13 season, when we won the home game 2-1. Weíll see Hugo for a while longer in Spurs shirt but thank Gareth for those special memories.
Arsenal sent 10 players to the Qatar World Cup. These were Gabriel Jesus, Gabriel Martinelli (both Brazil), Takehiro Tomiyasu (Japan), Granit Xhaka (Switzerland), William Saliba (France), reserve goalkeeper Matt Turner (USA), Aaron Ramsdale, Ben White, Bukayo Saka (all England), and Thomas Partey (Ghana).
Spurs fansí hopes that Gabriel Jesusís injury might lead to a loss of form (heís out for at least another month with a knee injury sustained when playing for Brazil) seem to have fallen upon stony ground. Arsenal beat West Ham 3-1 at home on Boxing Day, before a 4-2 away win at Brighton on New Yearís Eve. 23-year-old striker Eddie Nketiah ( who has made 74 Premier League appearances to date) stepped up and has scored five goals in his last five appearances, including two in the FA cup at Oxford on Monday night. 24-year-old Martin Odegaard, who like his countryman Erling Haaland had to sit out the World Cup, is Arsenalís captain these days and has scored 7 league goals this season. He creates plenty too. Bukayo Saka and Martinelli also offer regular goals. In fact, Odegaard, Saka and Martinelli are ahead of Jesusís five Premier League goals.
Arsenalís only Premier League defeat of this season was at Old Trafford on 4th September. Their two draws were away at Southampton and in their last league game at home to Newcastle. Like Spurs, Arsenal still have to play Manchester City twice in the league (plus an away tie in the FA Cup Fourth Round).
Sundayís game could be pivotal for both sides. Antonio Conte has indicated that Dejan Kulusevski is ready to play. Whilst there will be a training session tomorrow (Saturday) when a final decision will be taken regarding the fitness of Richarlison and Bentancur, the indications are that this game is too soon for either of them. I am hoping for a home win. The crowd could make the difference. Itís a Sunday 4.30pm kick-off and it is live on Sky!
Match referee Craig Pawson is in charge of Spurs for the 30th time, and these days has to be regarded as one of the senior Premier League officials. This is his second game in the middle with us this season, having had charge of our August away win against Nottingham Forest. Mr. Pawsonís only previous NLD was last seasonís defeat at The Emirates.
∑ Spurs record in recent London Derby League matches