· Last season's game - Aston Villa 0 Spurs 4, 09.04.22
· This season's home game - Spurs 0 Aston Villa 2, 01.01.23
· Premier League Matchday 336 - last year
· See the current injury list for all Premier League Teams
· All the Spurs Stats you could hope for here! THFC6061 Sports Stats

Full Record of Spurs -v- Aston Villa
 
Prem          Pl  W  D  L   For-Ag  Pts
Home          28 14  7  7   44 -30  49
Away          27 10  8  9   36 -29  38
======================================
Total(Prem)   55 24 15 16   80 -59  87  1.58 Pts per game
======================================
Football Lge
Home (Div 1)  47 25  6 16   99 -77  62
Away (Div 1)  47 17 11 19   72 -75  48
======================================
Total(Div 1)  94 42 17 35  171 -152 110 
=======================================
Football Lge
Home (Div 2)   2  1  1  0    4 - 3   3
Away (Div 2)   2  0  1  1    1 - 3   1
======================================
Total(Div 2)   4  1  2  1    5 - 6   4
======================================
Total(Prem)   55 24 15 16   80 -59  87
Total(Div 1)  94 42 17 35  171-152 110
Total(Div 2)   4  1  2  1    5 - 6   4
======================================
Grand Total  153 67 34 52  256-217 201
======================================

Last Six Premier League results:-

A. Villa   -    WWDWLL

A. Villa   2-0    Nottm Fst
A. Villa   3-0    Newcastle
Brentford  1-1    A. Villa
A. Villa   1-0    Fulham
Man Utd    1-0    A. Villa
Wolves     1-0    A. Villa

Spurs      -    WLLDDW
           
Spurs      2-1    Brighton
Spurs      2-3    B'mouth
Newcastle  6-1    Spurs
Spurs      2-2    Man Utd
Liverpool  4-3    Spurs
Spurs      1-0    C. Palace

Pos           P  W  D  L   F-A   GD  Pts
6. Spurs     35 17  6 12  64-57   7   57 
8. A. Villa  35 16  6 13  46-43   3   54 

The quest for Europe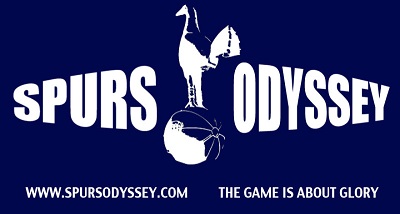 "The great fallacy is that the game is first and last about winning. It's nothing of the kind. The game is about glory. It is about doing things in style, with a flourish, about going out to beat the other lot, not waiting for them to die of boredom." - Danny Blanchflower
Spurs have played in Europe for the last 13 consecutive seasons, 6 of which have been in the elite Champions League. Going into this weekend, mathematically we still have a very slim chance of more Champions League football, but realistically we are looking at either the Europa League, or the third tier Europa Conference League. The result of tomorrow's game at Villa Park (3pm kick-off) will be crucial to our chances of qualification for any European competition.
The atmosphere will be red-hot with the Holte End and more urging their team on to success. Despite two recent (narrow) defeats, under Unai Emery, Villa's Premier League form has been excellent, and we can expect formidable opposition, which is nothing like we have had against this team in many recent years.
Should we manage a win, which is a massive task, we would be more or less guaranteed seventh place and the Conference League place. Brighton have two games in hand over us and are only two points behind but their remaining matches include away games against Arsenal and Newcastle and a home match against Manchester City. The Seagulls also play at Villa Park on the last day.
This is a must-win game for both teams. Since the shocking 6-1 defeat we endured at St James' Park on St. Georges' Day and Ryan Mason's second appointment as interim head coach, we have at least seen a fighting spirit in a home draw against Manchester United, narrow (and cruel) defeat at Anfield and last week's home win over Crystal Palace. In the last game, Ryan demonstrated strength of mind in his team selection, which included Eric Dier being dropped to the bench, along with tactical nous in switching formation which allowed Pedro Porro to play an effective attacking role. I expect a similar line-up tomorrow.
When Villa came to Tottenham on New Year's Day, we were in fourth place while "The Villans" lingered in twelfth place, 12 points behind. We lost the game and fourth place. It was Villa's second away win over Spurs in three games. On the other hand, we have won 8 successive away games in league and cup games including three 4-0 wins, one of which was last April!
After beating Spurs, Villa drew 1-1 at home to Wolves (The "Dingles" as named by some Villa fans) before suffering a shock home defeat by League Two Stevenage in the FA Cup. After reaching (and losing) the 2015 FA Cup Final, Villa exited at the Fourth-round stage the next year, before losing seven consecutive third round games. One of those defeats was at White Hart Lane in 2017 when Ben Davies and Heung-min Son scored the game's two goals. Villa haven't won the FA Cup since 1957. The former European Champions' last major trophy was the 1996 League Cup and of course, having been a founder member of the Premier League, Villa were relegated in 2016, spending three seasons at the lower level.
Villa climbed above Spurs when they beat Fulham on April 25th. With Unai Emery in charge, they became one of the best form sides in the Premier League. They are seeking a first venture into Europe since 2010.
Tottenham are winless in six away Premier League games (D2 L4), conceding 19 goals in the process (3.2 per game), so the odds are not in our favour tomorrow.
Our first Premier League away win against Villa was in January 2003. Teddy Sheringham scored the only goal of the game. We've won 9 of 16 league games played at Villa Park since!
Ollie Watkins will be a danger. He has scored 14 league goals this season, and recently had a run of five goals in four games. Watkins has not scored in his last four games, so I fear he will get one against us.
Despite the odds not being in our favour, I am predicting a 2-1 Spurs win.
Peter Bankes is our referee for the ninth occasion. This will be his fourth game in the middle for us this season, all of which have been away from home. Mr. Bankes' last Spurs game in the middle was our FA Cup win at Preston in January.
Did you know? - Dion Dublin scored two goals on his Villa debut in a 3-2 win over Spurs in November 1998. The Spurs Odyssey match report began, "Christmas came early for Aston Villa, and new boy Dion Dublin today, as Spurs, having held their ground comfortably for the first half an hour, contrived to gift Dublin his first two goals for his new club." Let's have no gifts tomorrow, and let's also hope it is the home side that comes under the hammer!