· Last season's game - Crystal Palace 3 Spurs 0, 11.09.21
· Premier League Matchday 18 - last year
· See the current injury list for all Premier League Teams
· All the Spurs Stats you could hope for here! THFC6061 Sports Stats


Full Record of Spurs -v- Crystal Palace

Prem        Pl   W   D   L  For-Ag  Pts
Home        13   8   4   1  21 - 5   28
Away        13   7   3   3  17 -14   24
=======================================
Total(Prem) 26  15   7   4  38 -19   52  2 Pts per game
=======================================
Football Lge
Home(Div 1)  9   5   2   2   14 -6   12
Away(Div 1)  9   5   3   1   16 -9   14
=======================================
Total(Div 1)18  10   5   3   30 -15  26
=======================================
Football Lge  
Home(Div 2)  1   0   1   0    2 -2    1
Away(Div 2)  1   1   0   0    2 -1    2
=======================================
Total(Div 2) 2   1   1   0    4 -3    3
=======================================
Total(Prem) 26  15   7   4  38 -19   52
Total(Div 1)18  10   5   3   30 -15  26
Total(Div 2) 2   1   1   0    4 -3    3
=======================================
Grand Total 46  26  13   7   72 -37  81  1.76 Pts per game
======================================= 

Last Six Premier League results:-

C. Palace  -    LWWLLW

Everton    3-0    C. Palace
C. Palace  1-0    S'hampton
West Ham   1-2    C. Palace
Nott'm Fst 1-0    C. Palace
C. Palace  0-3    Fulham
B'mouth    0-2    C. Palace

Spurs      -    LWLWDL
           
Spurs      1-2    Newcastle
B'mouth    2-3    Spurs
Spurs      1-2    Liverpool
Spurs      4-3    Leeds
Brentford  2-2    Spurs
Spurs      0-2    A.Villa

Pos             P  W  D  L   F-A   GD  Pts
 5. Spurs      17  9  3  5  33-25   8   30
11. C. Palace  16  6  4  6  17-21  -4   22

A tough trip-in more ways than one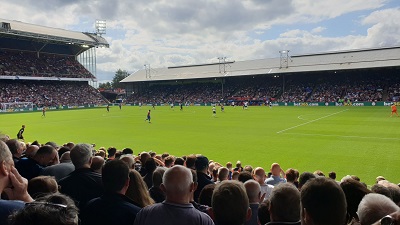 Spurs, and their fans, face a tough trip to Selhurst Park tomorrow night. For the fans, and this applies to home fans too, there appear to be no overground or tube trains available after the game due to strike action. The actual crowd attendance is likely to be affected. This fan will be watching on TV from (probably behind) my sofa, as the game was chosen by SKY with an 8pm kick-off.
From a football perspective, both teams are suffering inconsistency, although Palace's six-game form is actually better than that of Spurs. Palace have won three and lost three, whilst Spurs have only managed two wins and a draw in their last six games, dating back to October. Patrick Vieira's team managed to lose 3-0 at Goodison Park, but subsequently beat West Ham 2-1 at The London Stadium. Mind you, "The Hammers" are currently the bottom London club in the Premier League!
Since then, Palace have lost away to struggling Nottingham Forest, then on Boxing Day had two players sent off and lost 3-0 at home to Fulham. Vieira described that as the lowest point of his 18-month tenure with Palace so far. "The Eagles" regained their mojo at Bournemouth on New Year's Eve with a 2-0 win. Both those goals came from corners, so Spurs will have to be alert to those situations. Jordan Ayew was one of the scorers, and he was one of two Palace players involved in the recent World Cup. The other was Joachim Andersen of Denmark. Neither Ayew's Ghana or Denmark made it out of the Group phase. Andersen played 90 minutes in all three of Denmark's games. Ayew played in all three games, but didn't start all those games, and he didn't score.
Both Andersen and Ayew have one Premier League goal apiece this season. Wilfried Zaha is top scorer with 6 goals (no penalties!). Eze and Edouard have three goals each. In all, Palace have scored 17 goals, compared to Tottenham's 33.
Tyrick Mitchell, who was sent off in the first half of Palace's 3-0 Boxing Day defeat, is serving the second game of his three-match suspension. James Tomkins was also sent off, but for two yellow cards, and would be available, although his previous Premier League start had been in Palace's 3-0 defeat at Tottenham on Boxing Day 2021. When he scored our first goal in last season's Boxing Day win over Palace, Harry Kane scored his ninth Boxing Day goal in the Premier League, the joint-most in the history of the competition along with former Liverpool, Man City, Leeds and Blackburn Rovers striker Robbie Fowler. Harry recently overtook Fowler with his tenth Boxing Day goal when he scored at Brentford in our 2-2 draw.
Last season's away game was a horrible 3-0 defeat and heralded the beginning of the end of Nuno Esperito Santo's short managerial career at Tottenham. We had been top of the league after three 1-0 wins and Nuno had even won the August manager of the month award. Zaha did score from the spot on that day and Edouard scored two late goals. We also had Japhet Tanganga sent off for two yellow cards by referee Jon Moss, who retired at the end of last season.
Last July Palace signed goalkeeper Sam Johnstone from West Brom. Now 29 years old, and a former Manchester United player, Johnstone moved on a free transfer after 4 seasons at The Hawthorns. Johnstone made his senior debut for England in 2021 and has played International three games. Johnstone currently has a back injury and is out for another month, but Spaniard Vicente Guaita remains the Palace number one keeper, although they have another former England keeper on their books - Jack Butland. Palace also signed 22-year-old Mali midfielder Cheick Doucoure from Lens. Doucoure will be 23 on January 8th. Doucoure has made 14 Premier League appearances to date.
Antonio Conte did not seem too happy in his press conference today and has indicated that Rodrigo Bentancur is still not ready to play. Conte anticipates he will be ready for the Arsenal game on 15th January. Yves Bissouma's suspension for one game has been confirmed and the likelihood is that Oliver Skipp will get the nod over Pape Sarr. There remains a doubt about Kulusevski's fitness for this game, but that will be a late decision. It will be another tough game for Spurs and (probably foolishly) I am predicting a 2-1 away win.
Michael Oliver is one of our highest profile referees these days and was one of two from England to officiate in the Qatar World Cup. Mr. Oliver was in charge of three World Cup games, the last of which was Croatia's penalty shoot-out against Brazil. He first refereed Spurs 11 years ago now, but we only saw him in the middle once last season when we drew at Anfield last May. He was back in domestic action on Boxing Day (Arsenal v West Ham).
Did you know? - We did not play Crystal Palace in the calendar year of 2022.
· Spurs record in recent London Derby League matches