· See the current injury list for all Premier League Teams
· All the Spurs Stats you could hope for here! THFC6061 Sports Stats

Spurs' Cup History v Sheffield United

FA CUP

Season  Rd  H/A   W/D/L  Scorer(s)

1900-01 F    N    D 2-2  Brown (2)
1900-01 F(R) N    W 3-1  Smith, Brown, Cameron
1935-36 6    A    L 1-3  Morrison
1957-58 4    H    L 0-3  -

League Cup
1970-71 3    H    W 2-1  Chivers, Pearce
1989-90 4    A    W 2-0  Stewart, Gascoigne
2014-15 SF(1)H    W 1-0  Townsend (pen)
2014-15 SF(2)A    D 2-2  Eriksen (2) (pen)

A tie with unique history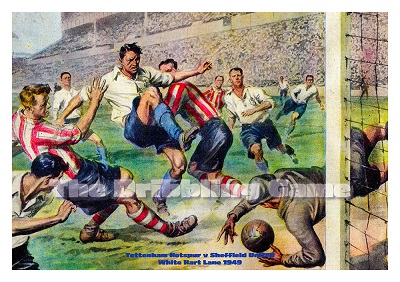 This image was originally sent to Spurs Odyssey by Mark Metcalf to promote his website entitled "The Dribbling game".Unfortunately,the site no longer appears to be operating. For more information see https://www.spursodyssey.com/1718/dgame.html
It is perhaps surprising that two clubs with such long histories have so rarely met in Cup competition. It is 65 years since we met in the FA Cup. More recently, in 2015, we met in the League Cup semi-final. Although we have played twice at Bramall Lane in Premier League matches since then, this game will be the first opportunity for Spurs fans to visit Sheffield since that League Cup second leg game. That is due to Covid and for one and a bit of "The Blades'" last visit to the Premier League, their fans were deprived of the pleasure of seeing their team in the flesh.
One of the memorable moments of our 3-1 League win in January 2021 was an amazing goal by Tanguy Ndombele. Ndombele scored when he lifted a shot from the left of the area with the outside of his right foot inside Ramsdale's left post. It was a wonderful moment. Ndombele is still a contracted Spurs player (until 2025) but spent the second half of last season on loan to his former club Lyon and is with Napoli this season. Ramsdale who began his career with Sheffield United played for Bournemouth in the Premier League but was re-signed by "The Blades" when they were promoted and "The Cherries" went in the other direction. Ramsdale plays in another place now, of course.
We did, of course, meet "The Blades" in one of the most famous FA Cup Ties of all time, when we became the only non-league team to win the trophy in 1901. It took a replay for us to succeed though, and that success was against a top flight side.
Indeed, United were arguably enjoying their halcyon days. They had won the Division One Title in the 1897-98 season, and the FA Cup in 1899. The year after losing to us, they had another replayed Cup Final, which they won, beating Southampton, who were also a non-league club in those days.
Sandy Brown famously scored in every round on our way to victory in 1901 and scored a total of 15 FA Cup goals in 8 games, failing to score only in the drawn Round 3 game against Reading, but scoring two in the replay.
That 1901 FA Cup Final was played at Crystal Palace, then the dramatic replay was at Burnden Park. A memorable and formidable player for Sheffield United was William "Fatty" Foulke, whose bulk exceeded 20 stones, and who must have nearly filled the goal! Foulke spent most of his career at Sheffield United, but had one season at Chelsea, where he was made club captain. Born in 1874, Foulke died in 1916.
We've played United in just two more FA Cup ties since our historic first FA Cup success and lost both games. The most recent was in the Fourth Round in January, 1958. We were still being managed by Jimmy Anderson at the time and despite a team which included the likes of Ditchburn, Hopkins, Norman, Blanchflower, Medwin, Harmer, Smith and Dyson, we lost 3-0! Incidentally, our team also included Johnny Brooks in attack, and he is the namesake of the referee for Wednesday night's game!
Over 5,000 Spurs fans will be descending upon Bramall Lane for this game, being televised by the BBC and kicking off at 7.55pm tomorrow (Wednesday). There was snow on the ground around Sheffield when we visited in January 2015, and the forecast for tomorrow is cold and damp. Let's hope we see some football to warm our hearts. We haven't reached the quarter-finals for five years. "The Blades" have played in two in those years, both in their Premier League seasons when they lost to (ahem) Arsenal and Chelsea.
By the time Sheffield United played Chelsea in March 2021, Chris Wilder had been sacked and former Sheffield Wednesday and Barnsley man Paul Heckingbottom was appointed. Heckingbottom had also coached Barnsley before taking over at Bramall Lane. He was unable to prevent an inevitable relegation. Former Watford and Fulham manager Slavisa Jovanovic took over, but by late November with the team at the wrong end of The Championship table, Heckingbottom was back in charge and the team made the play-offs last season, beaten in a heated semi-final by Nottingham Forest. This season, with 13 games to play, United are seven points clear of Middlesbrough and sit in second place, primed for another promotion behind runaway leaders Burnley.
"The Blades" have wavered a little in recent games, losing two out of their last three to Middlesbrough and Millwall. On Saturday, they beat Watford 1-0, thanks to an own goal. There are plenty of familiar faces in the squad since their relegation from the top flight. 32-year-old Wesley Foderingham is their number one keeper and I thought he looked a little vulnerable in the Millwall game, but he did take an early knock which may have hampered him. Oli McBurnie and Iliman Ndiaye are their top league scorers. Veteran striker Billy Sharp (now 37) still gets plenty of game time.
"The Blades'" defensive abilities this season have been enhanced by the signing of Swedish international Anel Ahmedhodzic, and familiar players such as Baldock, Basham, Berge, Egan and Norwood still play a big part in affairs. Look out too for Manchester City loanee (attacking) midfielders Tommy Doyle and James McAtee who have made 21 and 25 Championship appearances respectively.
Sheffield United victims in a memorable Fourth round tie were National League promotion hopefuls Wrexham. It took a late equaliser to give "The Blades" a home replay, which they won 3-1.
Sheffield's priority has to be promotion, but Spurs can expect a tough game with no quarter to be given by determined opponents. Our next two games at Molineux and at home to Milan are of top importance too, so I am sure there will be changes to our team for this game. Harry Kane was rested in our Fourth Round tie at Preston. Perhaps he will get a breather here allowing Richarlison to start in his natural central position. We'll find out tomorrow night! I'll go for a 3-1 Spurs win!
Match referee John Brooks is in charge of Spurs for just the third time. Last year he was in the middle when we beat Morecambe 3-1 in the third round of this competition. His only Premier League game in charge of us was our New Year's Day home defeat by Aston Villa. Mr Brooks switches between Premier League and Championship games. "The Blades" last saw him when they beat Millwall 2-0 at The New Den in the third round in January. There is no VAR for this game. With FA Cup quarter-finals scheduled for the weekend of 18th/19th March, all ties will be decided in the night with extra time and penalties if required.