· Last season's game - Man Utd 3 Spurs 2, 12.03.22
· Premier League Matchday 11 - last year
· See the current injury list for all Premier League Teams
· All the Spurs Stats you could hope for here! THFC6061 Sports Stats

Full League Record of Man Utd v Spurs

Prem          Pl   W   D   L   For-Ag  Pts
Home          30   6   9  15   34 -47  27
Away          30   4   3  23   25 -57  15
=========================================
Total (Prem)  60  10  12  38   59 -104 42  0.7 Pts per game
=========================================
Football Lge
Home (Div 1)  51  20  19  12   89 -64  63
Away (Div 1)  51   9   9  33   55 -101 28
=========================================
Total(Div 1) 102  29  28  45  144 -165 91
=========================================
Football Lge
Home (Div 2)   4   2   1   1   10 - 3   5
Away (Div 2)   4   1   2   1    3 - 3   4
=========================================
Total(Div 2)   8   3   3   2   13 - 6   9
=========================================
Total (Prem)  60  10  12  38   59 -104 42
Total (Div 1) 102 29  28  45  144 -165 91
Total (Div 2)  8   3   3   2   13 - 6   9
=========================================
Grand Total   170 42  43  85  217 -275 142
=========================================

Last Six Premier League results:-

Man Utd    -    WWWLWD

S'hampton  0-1    Man Utd
Leicester  0-1    Man Utd
Man Utd    3-1    Arsenal
Man City   6-3    Man Utd
Everton    1-2    Man Utd
Man Utd    0-0    Newcastle

Spurs      -    DWWLWW
           
West Ham   1-1    Spurs
Spurs      2-1    Fulham
Spurs      6-2    Leicester
Arsenal    3-1    Spurs
Brighton   0-1    Spurs
Spurs      2-0    Everton

Pos           P  W  D  L   F-A   GD  Pts
3. Spurs    10  7  2  1  22-10  12   23
5. Man Utd   9  5  1  3  13-15  -2   16  

It's always tough at Old Trafford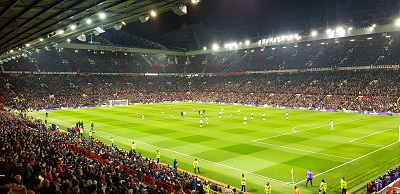 Manchester United's latest manager Erik Ten Hag has good reason to beware of tomorrow's visit of Tottenham Hotspur. Ten Hag, who took over the reins during the summer after Ralf Rangnick's departure, was of course the Ajax manager when we went to Amsterdam in May 2019 and beat his team 3-2 in an epic game thus gaining a place in our one and only Champions League Final to date. Lucas Moura was our hero then, scoring a magnificent hat-trick. Lucas will be available for selection tomorrow, and has fond memories of Old Trafford, having scored two of our goals in a 3-0 win at The Theatre of Dreams in August 2018.
That win, just over four years ago was the third of just four away wins we have managed here in the Premier League. Having won just 10 of our 60 previous Premier League meetings, our points per game ratio against United is better only than that against Chelsea. It is worth remembering that while we managed a league double last season over Manchester City, this Manchester team beat us at home and away last season. That was despite a poor season for United who began with Ole Gunnar Solskjaer as their managed; had Michael Carrick as caretaker for three games, before the ill-fated Rangnick took over - not very effectively.
When they beat us 3-2 at Old Trafford in our last meeting it was Ronaldo who single-handedly won them the game with a hat-trick. Spurs' goals were scored by two Harrys. Kane scored from the penalty spot after Telles handled a Kulusevski cross and Harry Maguire scored an own goal from a cross by Reguilon. Spurs went into that game in seventh place and finished fourth. United went to fourth place with the win but finished sixth after a poor end to the season in which they lost four of their last six games.
One of those United defeats was a 4-0 at Brighton, who won at Old Trafford on the opening day of this season. Ten Hag then grimaced as his new charges lost 4-0 at Brentford, when Maguire played his last full game of Premier League football for United, although he still has the favour of England manager Gareth Southgate.
Since those first two defeats, United won their next four league games, including home wins against Liverpool and Arsenal. Arteta's men suffered the only defeat of their season to date. The only other league defeat was against their City rivals. Even though they lost 6-3, United did win the second half in which Anthony Martial scored two goals. Martial has had a back injury recently but may yet be involved in this game. Another Antony – signed for a massive fee from Ajax – has scored three goals in his four Premier League appearances. Another big money signing – also from Ajax – Lisandro Martinez – has settled in and is ever present in league games, as are De Gea, Dalot, and Bruno Fernandes. Marcus Rashford is back in form and scored two goals in the win against Arsenal.
Other signings include Christian Eriksen whose brief contract with Brentford had expired. The former Spurs playmaker is a regular starter and tends to start in a deeper midfield role.
Former Real Madrid midfielder Casemiro, who had 8 seasons with Real, was presented at Old Trafford before United's first win of the season against Liverpool. Casemiro is 30 years old but has a contract for three years. Taking wages into account, United were said to have paid up to £70 million for the Brazilian International, who said an emotional farewell to Real Madrid before setting off for England.
Casemiro linked up well with his former Real Madrid team-mate Ronaldo when he scored his 700th club goal against Everton on 9th October. 450 of those goals were scored for Real Madrid. Ronaldo seemingly wanted to leave in the summer and has not been a regular starter. Indeed, he had not started the game against Everton, but replaced the injured Martial in the first half. Ronaldo has played 345 of a possible 810 minutes in the Premier League and the goal against Everton was his one Premier League goal of the season so far. He has scored one penalty in United's Europa League campaign.
Spurs' last midweek away game against United was three years ago in December 2019 when Jose Mourinho lost his first Spurs game at the home of his previous employers. My headline was "Mourinho's presence inspires the wrong players." Marcus Rashford scored both the United goals. His first had been scored in the 9th minute. That was equalised by a wonderful Dele Alli goal, but Spurs lost the first league game in which he had scored as a rash Sissoko challenge gave Rashford the chance to score an early second-half penalty.
United's 0-0 draw against Newcastle on Sunday was their first drawn match of the season and the first time they failed to score in the league since that Brentford defeat. Spurs can approach this game with confidence after three clean sheets in their last four games. We sit seven points above United in third place. It is always tough at old Trafford though. Emerson Royal has to serve his third and final game regarding his suspension, and Richarlison will take no part after his injury in Saturday's game. We must wait to see if Kulusevski will play any part in this game, but I suspect we will start with the 3-5-2 which so strongly closed out the Everton game. Boldly, I am predicting a 2-1 win for Spurs!
All games in this midweek round are being televised by Amazon Prime, and our game kicks off tomorrow at 8.15pm.
Match referee Simon Hooper had not been in charge of a Spurs game before this season. This will be his third game already with us this season, having overseen our home wins against Wolves and Leicester. To the best of my knowledge, this will be Mr. Hooper's first game as referee of a top flight match at Old Trafford.