EMIRATES FA CUP FIFTH ROUND
WEDNESDAY 1ST MARCH, 2023
(7.55pm)
SHEFFIELD UNITED 1(0) TOTTENHAM HOTSPUR (0)
Scorer:-
Ndiaye, 79
Attendance:- 28,308
Referee:- John Brooks
Assistants:- Neil Davies and Matthew Wilkes
Fourth official:- Jarred Gillett
No VAR
Teams:-
Sheffield United (3-5-1-1):- Foderingham; Basham, Ahmedhodzic, Robinson; Baldock (sub Lowe, 62), Coulibaly (sub Berge, 62), Doyle, Brooks (sub Ndiaye, 73), Osborn; McAtee (sub Fleck, 85); Sharp (Capt.)
Subs not used:- Davies (GK); Sachdev; Norwood; McBurnie, Jebbison
Booked:- Baldock (foul on Son), Lowe (foul on Kulusevski)
Spurs (3-4-3):- Forster; Sanchez, Dier (Capt.), Davies; Pedro Porro (sub Danjuma, 82), Sarr (sub Skipp, 74), Hojbjerg, Perisic; Lucas Moura (sub Kulusevski, 73), Richarlison (sub Kane, 65), Son
Subs not used:- Austin; Romero, Tanganga, Lenglet; Devine
Booked:- Sarr (foul on Doyle)
Another trophy opportunity goes down the swannee.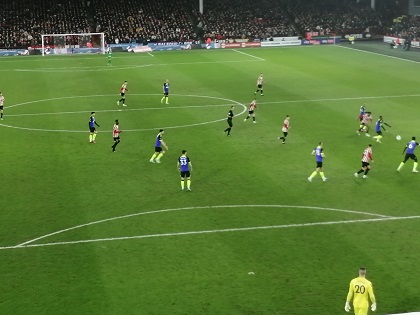 Thanks to Andy Park for the picture
The years pass quickly and in the first few months these days every one is marked by familiar events. There's Valentine's Day, Shrove Tuesday, Saint David's Day, and of course the annual exit of one-time FA Cup record-holders Tottenham Hotspur. Last year it was Championship Middlesbrough. The year before it was a farcical 4-5 defeat at Goodison Park. In March 2020 lowly Norwich booted us out on penalties at the Tottenham Hotspur Stadium. In 2019, Crystal Palace were our fourth round conquerors. 8 semi-finals have been reached, since 1991, but not for five years.
Grimsby Town – 16th in League Two – won at Southampton last night and have reached the quarter-finals for the first time in 84 years. You'll remember them. They put Martin Jol's Spurs out of the League Cup at our first hurdle in 2005. That was another season when a Championship side (Leicester) knocked us out of the FA Cup. Relegation threatened Nottingham Forest ended our League Cup chances this season. We don't just get knocked out of cup competitions too early, too often; we lose to lesser opposition too.
It was not lesser opposition last night though. The best team won. Between five and six thousand Spurs fans turned up at Bramall Lane, but it's a crying shame that their team did not turn up and apply themselves. Aided by the enthusiastic and skilful running of Manchester City loanees Tommy Doyle and James McAtee, and despite no less than eight changes to their side, "The Blades" did "want it" and put every effort into the game. Manager Paul Heckingbottom was consigned to the stands after receiving a three-match touchline ban. No matter. Fellow northern warrior Stuart McCall - once of Bradford – looked after affairs from close quarters. Sheffield United even left their top scorers – McBurnie and Ndiaye - on the bench. 37-year-old Billy Sharp captained the side and led the line, giving Davinson Sanchez a quite torrid time. Ndiaye did come off the bench and scored the late decisive goal, after which Tottenham had no reply.
Cristian Stellini was again in charge of Spurs' team affairs and has lost his 100% record during Antonio Conte's absence. Conte played a full part in team selection and strategy though and Spurs made 6 changes, with Kane on the bench and Richarlison given the chance to lead the line. Richarlison had one or two chances too, and tried neat touches in and around the box, but he was off target and "The Blades" defence was determined and solid. Spurs played with uncertainty almost everywhere, but mostly when trying to play out and when confronted with the more direct running of their opponents – even veteran Sharp.
Quite frankly, there was a lack of desire and application by our players. Neither goalkeeper was sorely tested. Fotheringham's only save of note was from a Perisic flicked header after a Son corner. I've noticed that Forster tends to get his feet down before his upper body and he was beaten on his narrow side for the goal.
The game was preceded by applause for the recently deceased commentator John Motson. There was also a rendition of "The Blades" anthem – "The Chip Butty Song" – sung to the tune of "Annie's Song".
Sheffield United kicked off and it was soon evident they like a long throw, taken by Robinson. 19-year-old Andre Brooks was making his first start for the club and soon won a corner on the left. From the corner, Swedish international defender Anel Ahmedhodzic headed over.
After a mistake in midfield by Brooks, Lucas Moura – who was making only his third start of the season – made a run and after he had been blocked off a shot by Richarlison was also blocked. Another promising run by Lucas and a short pass to Richarlison led to a shot by Son, which was also blocked. Foderingham was being fully protected. Lucas Moura tried to reach a Perisic cross to head for goal, but the ball eluded him. After a corner on the right, ultimately Son tried a curler, but this was an easy save for Foderingham inside his right post.
Our star of the Chelsea win on Sunday, Oliver Skipp, had also been left on the bench and his replacement Sarr tried a speculative shot from distance which was all too easy for the goalkeeper to hold. Richarlison had one of our best chances when he was onto a long ball by Sanchez, but the Ł60 million man hit a rising shot just over the bar. Short, clever touches in the box by Richarlison and Lucas gave Sarr a chance, but that was well blocked.
There was no VAR in operation here. Had it been in existence there might have been a close look at a shin-high tackle by Baldock upon Perisic, but the referee didn't even give a free kick, let alone a card! No love was lost in the second half when Perisic kicked the ball at Baldock with power to win a corner.
Son had a shot blocked after a good combination by Richarlison and Pedro Porro. Porro showed some attacking determination in the second half, but was he leaving the right side of our defence exposed?
Dier captained the side and he hit a good long ball to Lucas Moura, whose cross from the right actually hit the bar before bouncing clear. A bad mistake by Hojbjerg at the back gave Coulibaly a clear shot at goal, but thankfully he put that wide.
Spurs kicked off the second half, playing towards their fans and Baldock did get booked early on for a foul on Son. Perisic won a corner on the left which was taken by Son, and this was when Foderingham was tested by Perisic's flicked near-post header.
The Spurs fans enthusiastically chanted Ollie Skipp's name as he warmed up down the touchline. Kane was also getting ready. Son hit a left foot shot wide after Lucas's ball from the right. "Sonny" had been a two-goal hero at Preston, but there were no heroics tonight.
The home crowd was being energised by their team's efforts. Perisic had to head clear a dangerous ball into the box by Sharpe and after McAtee showed good feet inside the Spurs box Eric Dier was happy to concede a corner. Somehow, the home side were looking more threatening, dangerous and more likely to score.
Richarlison hit a shot near the corner flag after Perisic had won the ball on the left flank. He scored a "worldie" for his country in Qatar but hasn't hit it off for Spurs just yet. He was soon replaced by Kane, but we failed to serve him the ball enough.
Pedro Porro raced onto another good long pass by Dier but hit his shot over the target. More reinforcements came in the shape of Kulusevski and Skipp for Lucas Moura and Sarr. Pedro Porro had another shot, also wide, after taking pass from Perisic.
The killer goal came in the 79th minute. Ndiaye had replaced Brooks and he too showed good feet at close quarters after approach play by McAtee. Ndiaye got around Sanchez and hit his shot through Dier's legs. Forster spread his body and his outstretched leg was closest to his right post. He was beaten on his narrow side. We are going to need a faster moving and faster reacting goalkeeper.
Danjuma replaced Pedro Porro. Spurs huffed and puffed but couldn't pierce the home defence. A header by Perisic after Hojbjerg's cross was easy for the keeper. Spurs final chance fell after 93 minutes when Perisic crossed, but Kane's less than powerful header passed outside the target.
Promotion-chasing Sheffield United have been rewarded with a quarter-final at home to Blackburn. Spurs will now be able to play Southampton away on March 18th. Recently Spurs beat the league champions before getting thrashed at Leicester. On Sunday they beat Chelsea, and now suffered this ignominy. There is a trend here, and I am not blaming the presence of Pedro Porro in both those defeats!
I understand that a 70-year-old Spurs fan was viciously assaulted as he left the ground. It was not a happy exit from South Yorkshire in more ways than one.
· Squad numbers,appearances,bookings & goalscorers
· Read the preview for this game.
· All the Spurs Stats you could hope for here! THFC6061 Sports Stats