UEFA CHAMPIONS LEAGUE GROUP D
MATCHDAY FIVE
WEDNESDAY 26TH OCTOBER, 2022
(8PM)
TOTTENHAM HOTSPUR 1(0) SPORTING CLUBE DE PORTUGAL 1(1)
Spurs scorer:-
Bentancur, 80
Sporting scorer:-
Edwards, 22
Attendance:- 59,588
Referee:- Danny Makkelie
Assistants:-Hessel Steegstra & Jan de Vries
Fourth official:- Jochem Kamphuis
VAR:- Pol van Boekel
Assistant VAR:- Dennis Higler
(All officials are from the Netherlands)
Teams:-
Spurs (3-4-3):- Lloris (Capt.); Romero, Dier, Davies (sub Lenglet, 81); Doherty (sub Gil, 71), Bentancur, Hojbjerg, Perisic; Lucas Moura (sub Emerson Royal, 81), Kane, Son
Subs not used:- Forster; Sanchez, Tanganga; Spence, Sessegnon, Sarr, White, Skipp, Bissouma
Booked:- Romero (Unsporting conduct)
Sporting (3-4-3):- Adan; Goncalo Inacio, Coates (Capt.), Matheus Reis ; Pedro Porro, Morita (sub Mateus, 61), Ugarte, Nuno Santos (sub Flavio Nazinho,61); Francisco Trincao (sub Arthur Gomes, 71) , Edwards (sub Issahaku, 71) , Paulinho (sub St. Juste, 75)
Subs not used:- Israel (GK), Andre Paulo (GK); Alexandropoulos, Rochinha, Jose Marsa, Jovane Cabral, Dario Essugo
Booked:- Coates (Handball), Ugarte (foul on Gil)
Spurs ecstasy short-lived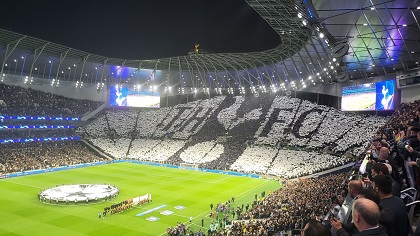 Imagine the scene if you will. A still out-of-sorts Spurs side had been second best for most of the first half and were one down after former Academy player Marcus Edwards beat Lloris with a very low-driven shot midway through that first period. Spurs spent most of the second half in their opponentsí half of the field but failed to pierce the well-organised banks of defending players. Rodrigo Bentancur finally scored an 80th minute equaliser to give us hope, and when Perisic crossed; Royal passed back into the middle and our hero Harry Kane scored what we thought was a last-kick winning goal to take us through to the Round of 16. The players and referee even returned to the middle, ready to kick off after the "goal", which had been announced and celebrated wildly. After lengthy deliberation and a foreign language VAR message on our big screens, the "goal" was wiped off for offside. Royalís pass had gone backwards into the middle, but apparently Kaneís knee was too far forward and that was that. Antonio Conte was sent off, presumably for something he said and the ferocity with which he delivered his protest to the officials.
Incredibly, in one of the tightest-ever Champions League groups where the four teams are separated by only two points, Spurs are still top of the group and need only a point next Tuesday in Marseille to secure qualification. That, however, is going to be a major task in what will be a very hot atmosphere.
There had been a magnificent (fan led) TIFO (choreographed display) on the South Wall before kick-off, and the pre-match atmosphere was terrific. Sporting fans (I saw some get on the train at Peterborough) were there in their droves and I understand displayed a banner bemoaning the prices being asked by Spurs. We are being asked to pay £65 by Marseille next week.
Conte was able to include both Romero and Hojbjerg and he also selected Lucas Moura, who was making his first start in any competition this season. Lucas played the "Kulusevski role" on the right side of a front three, with mixed results.
Sporting matched our 3-4-3 and Edwards was prominent in their front three. Spurs kicked off and played towards the North Stand. There was some good football and a swift progressive move after three minutes, featuring the drive of Hojbjerg and passes by Kane and Lucas Moura. Nothing came of that though. Hojbjerg tried a long range shot a minute later after receiving from Lucas, but the effort was weak and wide. Lucas tried to get on the end of Dierís long ball forward, but goalkeeper Adan was there first and claimed the ball.
Spurs conceded a corner after 10 minutes when Doherty failed to control Romeroís pass, but the corner was over-hit and went for a throw on the far side. Sporting soon won another corner on the left, but Coatesí header was wide. Doherty made a good run forward and got on the end of a ball crossed from the right, but his shot was blocked. Kane and Son combined to give Lucas a chance, but Adan was out to block, and there had been an offside in any case. Spurs spread the play from right to left and Davies combined with Perisic to get the ballot Kane, but Adan blocked another shot. Spurs had a corner on the right, but that came to nought. Son tended to take corners on the left while Perisic delivered from the other side.
There was danger when Porro delivered from the right and Paulinho had a chance, but thankfully he hit it off target. Bentancur tried a shot from 30 yards at the other end but that was well over the target too. Then came the sucker punch, delivered by a player who was allowed to leave towards the end of the Pochettino era. Edwards received the ball after a free kick at the back and scored with a low, angled left-footed drive which hit the net inside Llorisís left post.
Try as they might, Spurs could not break back. A Perisic cross was claimed by the keeper. Doherty won a corner on the right, but that was cleared. Sporting had another chance when Nuno Santos crossed and won a corner, but from that Spurs had a goal kick as a header passed safely wide. Sporting were now being allowed to control the game for too long. Spursí passes were going astray. Even Kaneís touch was not his best. A move featuring Perisic and then Kane led to Son forging room for a right foot hot, but that was held by Adan, who was not being sorely tested.
Sporting had the ball in the net after a corner on the right, but Coates (once of Liverpool) had put the ball in with his hand and was booked by referee Danny Makkelie.
Sporting kicked off the second half and it wasnít long before Lloris punched out a cross, as Spurs were being stretched already. The slim consoling factor was that although we needed a win in this game to ensure qualification, whatever happened we would have our fate in our hands at Marseille.
Goalkeeper Adan held a Perisic driven cross at the second attempt, after Son had delivered the ball to our busy left wing-back. Son fed another ball to Hojbjerg who got to the bye-line on the left and his cross was pushed out for a corner by the keeper. There were appeals for a handball in the hox after a corner from the left, after which both Dier and Romero had shots blocked before Doherty fired over.
Son had a left foot shot saved after Kaneís pass, but then Nuno Santos and Trincao attacked us on the break advancing down the left. Thankfully Trincao fired over when he might have scored.
Spurs then camped in the Sporting half for a while. Lucas worked hard and got into a shooting position to the right of goal, but his effort passed across the goalmouth and wide.
There was a melee near the halfway line after what I think had been a Hojbjerg foul. Romero got himself booked as a result. After 68 minutes, a good, deep cross by Perisic reached Doherty in a good, advanced position, but Adan saved his shot. Adan also held Perisicís corner taken on the right.
Doherty was replaced by Gil, who had an impressive twenty plus minutes and must be in with a chance of starting a game soon. Lucas reverted to the right wing-back position. Lucas got on the end of another Perisic cross, but the keeper pushed his header over the bar. After Sonís corner, a header by Dier was glanced wide across the goal.
There were chances for sporting due to Spursí level of commitment in attack. Sub Nazinho hit a shot on target, but Hugo managed to save at the expense of a corner, which was cleared. After another two-man break by Sporting and an excellent opportunity for Porro, Lloris saved again and Nazinho put his chance wide.
Spurs finally equalised following a corner and an excellent cross by Perisic. It was Bentancur who rose highest and headed into the net from the middle of the goal area! It was Rodrigoís second goal of the season and his first for us in the Champions League.
Lenglet replaced Ben Davies while Emerson Royal took over from Lucas Moura. Ugarte was booked for unfairly ending a run by Gil. Sonís free kick from the right just missed everyone. Spurs were piling on the pressure but getting no end result. Dier had an excellent headed chance from a cross by Lenglet, but that passed just wide of the far post. Sporting broke again and Lloris got down well low to his right to save from another sub - Issahaku.
Five minutes of added time were announced, and the home crowd tried to roar on their team. Son went down in the box after Hojbjergís pass but had been offside. Son had a left-footed shot saved and Gil returned the ball into the middle from the right, but this time Bentancur fired over. Then came the last minute drama, where our hopes of a brilliant winning goal by Kane were dashed.
Eintracht beat Marseille 2-1 in Germany, so the Group D table looks like this:-

Champions League Group D

                        P  W  D  L  F-A  GD  Pts
1. Spurs                5  2  2  1  6-5   1   8  
2. Sporting             5  2  1  2  7-7   0   7
3. Eintracht Frankfurt  5  2  1  2  5-7  -2   7 
4. Marseille            5  2  0  3  7-6   1   6

∑ Squad numbers,appearances,bookings & goalscorers
∑ Read the preview for this game.
∑ All the Spurs Stats you could hope for here! THFC6061 Sports Stats