Many thanks toDeclan Mulcahy for this report:-
Saturday 4 March 2023, 3:00pm
Premier League
Wolverhampton Wanderers (0) 1 Tottenham Hotspur (0) 0
Scorer:-
A. Traore 82
Wolverhampton Wanderers (4-2-3-1):
1 J SŠ; 22 N Semedo, 15 C Dawson, 23 M Kilman, 19 Jonny Otto; 8 R Neves (c), 5 M Lemina (37 A Traorť 45); 21 P Sarabia (12 Matheus Cunha 67), 27 M Nunes (28 J Moutinho 67), 7 P Neto (4 N Collins 45); 29 Diego Costa (9 R Jimťnez 28)
Subs not used: 25 D Bentley, 3 R AÔt-Nouri, 24 Toti, 35 J Gomes
Booked: Neves (45 foul on Perisic)
Tottenham Hotspur (3-4-2-1):
20 F Forster; 17 C Romero, 34 C Lenglet, 33 B Davies (9 Richarlison 85); 23 P Porro (12 Emerson Royal 81), 4 O Skipp, 5 P-E HÝjbjerg, 14 I Perisic; 21 D Kulusevski (27 Lucas Moura 77), 7 H-M Son; 10 H Kane (c)
Subs not used: 40 B Austin, 6 D SŠnchez, 15 E Dier, 25 J Tanganga, 29 P Sarr, 16 A Danjuma
Booked: Kulusevski (61 foul on Kilman)
Molineux Stadium, Attendance: 31,585
Referee:- Tim Robinson
Assistants:- Scott Ledger, Nick Greenhalgh
Fourth official:- Paul Tierney
VAR:- Neil Swarbrick
Assistant VAR:- Gary Beswick.
A Missed Opportunity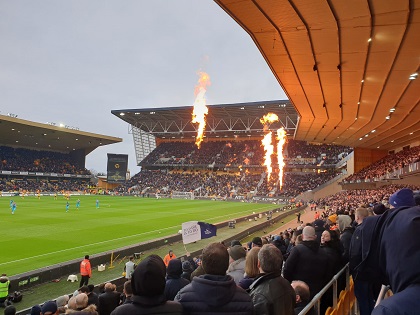 Thanks to Gary Smith for this picture
Newcastle United had lost to Manchester City earlier in the day. Had Spurs won today they would have been ahead of Newcastle even taking into account the latterís two games in hand but it wasnít to be.
Spurs made three changes from the team which beat Chelsea 2-0 last weekend. Heung-Min Son, Pedro Porro and Ivan Perisic replaced Richarlison, Emerson Royal and Eric Dier all of whom were among the substitutes. Antonio Conte was still absent with his assistant Cristian Stellini in charge.
Wolves also made three alterations. Pedro Neto started his first game for Wolves since October having recovered from injury. Diego Costa and Jonny were given rare starts. The players who dropped out were Joao Moutinho, Raul Jimenez and the injured Hugo Bueno.
The early signs looked promising. Spurs did display attacking intent from the outset which isnít always the case. Porro had an opportunity in the second minute but his effort was off target. A couple of minutes later Son directed a shot towards the top left corner of the goal but Sa saved.
Sa unwisely pursued a ball out of his box and lost possession but Spurs couldnít force the ball into the box while the keeper was absent. Kulusevski unleashed one of his trademark curling shots from the right towards the far post. Eighteen minutes had passed. There had been six attempts on goal all coming from Spurs!
The middle part of the first half was punctuated with two lengthy stoppages. Around the midpoint Diego Costa and Skipp engaged in a tussle for the ball. Costa fell awkwardly and Skipp wasnít to blame in any way. It looked like he had a serious knee injury and after about five minutes he was carried off on a stretcher. He was replaced by Jimenez.
Not long afterwards Kilman went down initially with an ankle injury but he also had a bleeding nose. It took time to staunch the bleeding and another delay ensued.
Spurs had been the dominant team up until now and these breaks in continuity probably worked to their disadvantage.
With five minutes left in normal time in the first half Son took a free kick on the right. He directed it towards the far post where Perisic met it with a header but Sa pushed it out for a corner.
Davies then need attention though for a lesser period that the two Wolves players. When the fourth official, Paul Tierney, held up the board it wasnít surprising that eight minutes were being added on.
Neves was booked for a foul on Perisic which resulted in a free kick near the edge of the box. There was a delay before it could be taken while the Wolves defenders engaged in some gamesmanship. It was eventually taken by the new signing Porro. It was an excellent effort which hit the bar. Hopefully there will be more free kicks to come from him as this has been a particularly unproductive area for Spurs this season.
When the half-time whistle went Spurs had looked the better team and the team more likely to gain a result. Harry Kane had been relatively quiet as the Wolves player Mario Lemina had been designated to man-mark him. Wolves didnít have an attempt on goal throughout the half.
Lopetegui made two changes for the second half. Lemina and Neto were withdrawn to be replaced by Adama Traore and the tall defender Collins. Given how effective Lemina had been against Kane in the first half it was a surprise that he was withdrawn. The changes had a positive effect and Wolves were a more potent force in the second half.
Spurs had an excellent opportunity immediately. Hojbjerg broke up a Wolves attempt to move forward and launched a counter-attack. He set up Son on the left who unleashed a shot which hit the bar.
Jimenez then produced a dangerous cross into the box from the left for Wolves. Semedo couldnít make contact with the ball. Had he done so he would surely have scored.
Spurs were awarded another free kick close to the box but this time more central. Given his earlier effort it seemed that Porro should have been a candidate to take it. However he wasnít in the mix and Kane performed the traditional ritual of blasting the ball into the defensive wall.
Both teams continued to create opportunities. Traore crossed from the right and Jimenez directed a downwards header which Forster parried.
Sa saved a header from Longlet following a Kulusevski cross. Son had another opportunity forcing Sa to make a diving save. Porro hit a shot from the edge of the box which deflected off a defender and again Sa had to intervene.
Midway through the half when Davies went into a tackle one of his boots completely disintegrated. He appealed for the game to be stopped so he could change his boot. The ball eventually went out of play and he replaced the boot.
Wolves now made two more changes. They had used all five substitutes whereas Spurs hadnít used any. Neves had three opportunities within the space of a minute. Forster made a diving save from the first effort, tipped the second shot over the bar and the third went over the bar without any intervention from the goalkeeper.
With 20 minutes remaining Kilman went down injured. There was concern on the Wolves bench since all of the substitutes had been used but after treatment he was able to continue.
A cross found Kane near the Wolves box. He swivelled and turned but his effort was high.
Spurs made their first substitution when Lucas Moura replaced Kulusevski. This is the second game in a row he has been used. It seems strange that Moura who is being released at the end of the season is being utilized whereas Danjuma the loanee who needs an opportunity to show what he can do isnít being given time on the pitch. Shortly after Mouraís introduction he set up Kane but his shot was blocked by Kilman.
With about nine minutes remaining Jimenez had a shot which Forster parried. It rebounded to Traore who hit a shot high into the left of the net for the only goal of the game. For the remaining minutes Wolves used the ball cleverly retaining possession and prevented Spurs from creating opportunities.
This was another game that on paper Spurs were expected to win and didnít. However it was a far better effort than the likes of the Leicester City and Sheffield United matches. It was a game of fine margins. Spurs hit the bar on either side of the interval and if either of these efforts had resulted in a goal the result could have been different. Harry Kane had a quiet game by his standards and that had a significant impact on the result. Richarlison was brought on with five minutes remaining but didnít have enough time to make an impact.
Spurs had 21 shots in this match, their most in a single Premier League game without scoring since a 1-0 defeat by Manchester United in January 2019.
Christian Stellini said "I think the performance was good, particularly in the first half when we controlled the game in every aspect, and we had some chances to score. We were not so nasty in the way to score. When you have a chance like this you have to kill the game.
"In the second half, we struggled a bit and then we adapted to the situation and had another chance with Sonny hitting the bar. After that they had more intensity in the game winning some duels. We struggled a bit and the game changed. They found a way to score and we did not."
Juen Lopetegui observed that "First of all, we are happy for the three points, of course, but, to be honest, the match has two halves. The first half they played with fantastic rhythm, second half we improved a lot, we showed another face. I am happy but I have to recognise that Tottenham had chances in the first half. In the second half, the match changed."
There is another crucial game on Wednesday when AC Milan come to London which will decide whether or not Spurs' Champions League adventures continue. Antonio Conte is expected to be back on the touchline by then and will hopefully have a galvenizing effect.
∑ Squad numbers,appearances,bookings & goalscorers
∑ Read the preview for this game.
∑ All the Spurs Stats you could hope for here! THFC6061 Sports Stats