∑ Last season's game - Wolves 0 Spurs 1, 22.08.21
∑ This season's home game - Spurs 1 Wolves 0, 20.08.22
∑ Premier League Matchday 26 - last year
∑ See the current injury list for all Premier League Teams
∑ All the Spurs Stats you could hope for here! THFC6061 Sports Stats

Full Record of Spurs -v- Wolverhampton Wanderers

Prem         Pl   W   D   L   For- Ag  Pts
Home          9   4   1   4   15 - 13  13
Away          8   5   2   1   14 -  8  17
==========================================
Total(Prem)  17   9   3   5   29 - 21  30  1.76 Pts per game
=========================================
Div 1
Home         31  21   6   4   76 - 40  50
Away         31   9   7  15   46 - 60  27
=========================================
Total(Div 1) 62  30  13  19  122 -100  77
=========================================
Div 2
Home          6   5   1   0   18 -  9  11
Away          6   1   0   5    6 - 16   2
=========================================
Total(Div 2) 12   6   1   5   24 - 25  13
=========================================
Total(Prem)  17   9   3   5   29 - 21  30
Total(Div 1) 62  30  13  19  122 -100  77
Total(Div 2) 12   6   1   5   24 - 25  13
=========================================
GRAND TOTAL  91  45  17  29  175 -146 120
=========================================

Last Six Premier League results:-

Wolves     -    LWWLDL

Man City   3-0    Wolves
Wolves     3-0    Liverpool
S'hampton  1-2    Wolves
Wolves     0-1    B'mouth
Fulham     1-1    Wolves
Liverpool  2-0    Wolves

Spurs      -    LWWLWW
           
Man City   4-2    Spurs
Fulham     0-1    Spurs
Spurs      1-0    Man City
Leicester  4-1    Spurs
Spurs      2-0    West Ham
Spurs      2-0    Chelsea

Pos          P  W  D  L   F-A   GD  Pts
 4. Spurs   25 14  3  8  46-35  19   45 
15. Wolves  25  6  6 13  18-35 -17   24 

Spurs' fanbase demands satisfaction!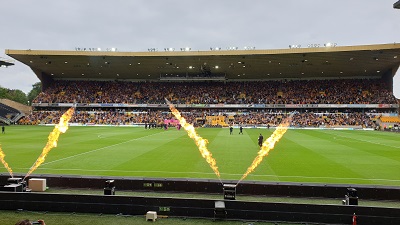 The last time we visited Molineux for Premier League action was over 18 months ago on 22nd August, 2021. Former Wolves manager Nuno Espirito Santo was in charge of Spurs, who won the second of his first three games, which all finished 1-0. After three games, we were top of the league and Arsenal were pointless at the bottom. That was special! Nuno even won the August manager of the month award, but he would soon be gone, to be replaced by Antonio Conte. Dele Alli was part of Nunoís 4-3-3 set-up and scored the last of his 51 Premier League goals for Spurs from the penalty spot. After that early goal, we defended (desperately at times) and held onto our win.
We also played at Molineux in a Third Round league Cup game in September 2021, winning a penalty shoot-out 3-2. Dele also played in that game and one of our two goals in the game was scored by Tanguy Ndombele. A lot of water has passed under the bridge for both sides in the intervening period of time.
We lost our home game last February, continuing the trend for home sides not to win this fixture in recent years, but the two clubs last met at the Tottenham Hotspur Stadium in August when Harry Kane scored the only goal of the game, which was his 250th club goal and Spurs' 1,000th Premier League goal.
Wolves were still managed by Nuno's successor Bruno Lage. The transfer window had yet to close, and Wolves signed Austrian striker Sasa Kalajdzic from Stuttgart and Metz midfielder Boubacar Traore on loan from Metz with an option to buy. Kalajdzic played the first half of one game before suffering a knee injury that keeps him out for the season. Boubacar Traore had better fortune and played in 8 games (and a friendly for Mali) before he succumbed to a groin/pelvic injury that keeps him out for another week.
Wolves became quite desperate after the Kalajdzic injury and drafted in former Chelsea man Diego Costa, who was out of contract with his last club in Brazil. Costa has yet to score and has made 8 league starts plus 4 substitute appearances. He got himself sent off in October and had a longer rest than most players until after the World Cup!
Lage was sacked after a 1-0 defeat away to fellow strugglers West Ham left the club in the bottom three. Ultimately, former Spain, Real Madrid and most recently Sevilla manager Julen Lopetegui was appointed, but he was not formally announced until the beginning of the World Cup hiatus. Wolves were still bottom of the league.
Under their new manager, Wolves' results have picked up and they are just above the relegation zone, but still immersed in the ongoing battle for Premier League survival. They beat Everton away on Boxing Day and gave Liverpool a tough Third Round FA Cup game, before beating them 3-0 last month at Molineux. On Wednesday night they played Liverpool again in the game re-arranged from the September mourning of the late Queen, but lost 2-0. Wolves did hold out until Van Dijk broke the deadlock in the 73rd minute. Salah added a second goal four minutes later in front of The Kop stand.
The club was prepared to back Lopetegui with January signings which included forward Matheus Cunha from Atletico Madrid, Nice midfielder Mario Lemina (formerly of Southampton) and Spain winger Pablo Sarabia from PSG. Sarabia scored his first goal for the club at Craven Cottage last week. Defender Craig Dawson was signed for £3.3 million from West Ham along with 21-year-old Brazilian midfielder Joao Gomes from Flamengo for a reported £15 million. Heís not Portuguese but he speaks the language. I understand that one part of the bonding process installed by the new manager is that English is the language used in training sessions and social occasions such as in-house lunches.
Wolves had suffered some unsettling departures at the start of the season such as Boly to Nottingham Forest, Saiss to Besiktas and of course Conor Coady on a season-long loan with Everton. Morgan Gibbs-White was sold to Forest for big money, having spent last season on loan with Sheffield United.
Wolves have also been hampered by a long-term knee injury to Chiquinho, who is also out for the season, and Hwang, who has been out for a month and is not expected to play for another week yet. Raul Jimenez has not had too much game time but has not scored a goal for the club since October.
Both clubs will be desperate for the points. Wolves have picked up just one point in their last three games, while Spurs have to satisfy a strong travelling support that was so devastated by Wednesday nightís FA Cup exit. No doubt we will be bolstered by the return of Romero, Emerson Royal, Skipp and Kulusevski to the starting line-up. On Wednesday nightís showing, I would prefer Son rather than Richarlison to start next to Harry Kane. The game is not one selected for live TV coverage in the UK and kicks off at 3pm tomorrow. Iím going for a 2-0 away win. Hereís hoping!
Our match referee will be Tim Robinson who has not refereed any other Premier League games this season. He is usually employed in the Championship. Mr. Robinsonís last game in the middle was Tuesday nightís FA Cup defeat of Leicester by Blackburn who next face our conquerors Sheffield United. The only other Spurs match when Mr. Robinson officiated was a 1-0 League cup win over Barnsley in September 2017 when Dele scored our goal. There is a nice link to bring us back to the very start of this preview.
COME ON YOU SPURS!