NORMAN GILLER'S SPURS ODYSSEY BLOG No 450
Submitted by Norman Giller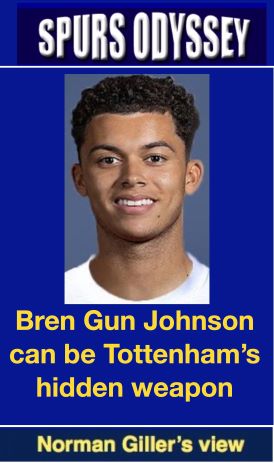 I had to be scraped off the ceiling to compose this, my 450th Spurs Odyssey blog. The dramatic win against Sheffield United has to go into my top five most exciting Tottenham finishes in my 70+ years following the Lilywhites, much of it from inside the closet as I tried to hide any bias during my Fleet Street reporting days.
Nothing will ever beat the Lucas hat-trick in the European championship semi-final against Ajax in Holland, but Saturday's last gasp goals from Richarlison and Kulusevski came pretty damn close!
Our calm, calculating guru Paul H. Smith (even he was dancing!) captures the moments that mattered HERE, but for me the most emotional event came when it was all over and skipper Sonny pushed Richarlison forward to take a deserved bow.
This revealed the team spirit that our 'mate' Angelus Postecoglou has instantly introduced at Spurs, replacing the tension and suspicion under Conte with a fresh 'anything is possible' approach and attitude.
Richarlison's curtain call will hopefully give him new confidence and help him overcome the mental barriers that he was so brave to make public. Let's hope that the horrible new breed of keyboard warriors give him the support and space to help him find his way into a happy place.
Most of us are not stupid or immature enough to think it is going to be roses all the way. Our next two matches against the Gooners and 'ClipClop' Klopp's Liverpool could easily bring us down to earth with a bump.
But there is already enough about this James Maddison-guided team to convince us it is going to be an enjoyable adventure. The slightly arrogant but likeable Midlander is, suitably, a master of the midfield and it is his passing and positioning that is giving shape and purpose to Spurs.
Even if Tottenham had failed with their revival movement against the Blades - and how cutting that would have been after the total domination - we would have been ecstatic about the way Ange's Angels had gone about the job.
They were a delight to the eye despite the procession of missed chances. At least they were creating the openings, which continually kept our hope and expectancy on high alert. For too long, Spurs have had a Harry Kane complex. We are no longer a one-man band, and as was proved in those final crazy minutes our goals can come from anywhere and at any time.
I have long campaigned for the clock to be adjusted for time wasting, because it is robbing the spectators of precious action. Sheffield United paid the price in spades for their tedious spoiling tactics, scarring a gallant backs-to-the-wall performance and bringing the fussiness out of a pedantic referee.
For me, the most telling moment before the grand finale was the way Brennan Johnson marked his debut with the superbly dispatched 'goal' that was wiped out as off-side. If this is going to be the way he performs, I can see lots of legitimate goals coming from the boots of 'Bren Gun' Johnson (I claim copyright on that nickname, while boasting that I was first to hang the G-Men label on Greavsie and Gilzean back in the 60s).
Now for the Gooners. Wonder if Bren Gun Johnson will play more than a walk-on part?
COYS!
---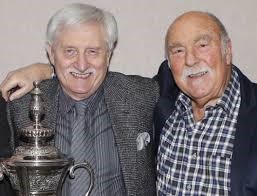 Unbelievably, it is two years ago tomorrow that we lost the greatest of all goal scorers, Jimmy Greaves. He was my buddy for 64 years and I had the privilege of delivering the eulogy on behalf of his team-mates and army of fans. His youngest son, Andy, paid tribute representing the huge Greaves family (Jim had 13 grandchildren). Our webmaster Paul H. Smith has given me permission to revisit my eulogy here to underline what a magical life Jim led...
"I'm privileged to be the spokesman for Jimmy's many friends, former team-mates, television colleagues and his army of fans around the country as we say a final fond farewell to my old mate of 64 years.
I've been restricted to 700 words but 7,000 would not do the great man justice. We'll be letting Jimmy down if we don't share a laugh or two at his memory in this celebration of his astonishing life. So with that in mind let's remember for a moment just how great he was in the box and, Jim, never deadlier than today.
He'd laugh loudest at that and wouldn't want any of us to be morbid and miserable. Jim was the Great Entertainer, whether with a ball at his feet, or a microphone at his lips and he brought pleasure and sunshine into the lives of millions. A National treasure. Arise Sir Jim.
That should have been the cue for Jimmy to leap up and shock us all with two fingers to the Establishment. It's a funny old game.
We all know and admire what Jimmy achieved on the football field with Chelsea, AC Milan, nine incredible years with Tottenham Hotspur, West Ham and, of course, England, and later non League clubs such as Brentwood, Chelmsford and Barnet. There are plenty of his old team-mates here today who I know will agree with my assessment that Jimmy was simply the greatest British goal scorer of all time.
You have to be way over 50 to have seen him at his peak. He was like Messi with bells on, and I'm not sure the modern master could do it on the mud-heap pitches that Jimmy's generation played on and with the likes of Bites Yer Legs Hunter and Ron Chopper Harris trying to kick him up in the air.
After getting off the football express at the ridiculously young age of 31, Jimmy had the character and discipline - with Irene's motivation - to overcome a slight hiccup in his life. He then reinvented himself as a brilliant broadcaster, loved and admired for his irreverent wit and wisdom alongside Ian St John on the ground-breaking Saint and Greavsie show.
He was also hugely popular on TVam and happiest up in the Midlands with his Central TV pals.
Jim was prouder of this period of his life than what he did in football, at which he was a natural genius. He had to learn the TV business from scratch and became a master communicator, mixing humour with biting, no-holds-barred opinions.
He suffered from chronic dyslexia and could not rely on the auto-cue, so what we got every time he was on our screens was the raw, real Jimmy. And everybody from kids to grannies loved him.
Jim was never ever phased, whether it was sharing a ring with Mike Tyson, a fairway with Sevvy Ballesteros, taking the pee out of Donald Trump, or causing mischief with his best mate Bobby Moore, two loveable rascals together. What a team they've got up there now!
It says everything for Jimmy's stature that he was never overshadowed by all the megastars he mixed with, yet he remained modest and unassuming. I bet none of you ever heard him boast, yet he had so much to boast about.
Then when television chiefs prematurely decided his face no longer fitted (the idiots) he converted to stand-up comedy and impressed with his professional delivery in a series of road shows with his long-time friend and agent Terry Baker.
Anybody who ever saw him on stage will confirm that he was as funny as any of the top comedians. Whether on stage, screen or football pitch Jimmy always scored. No question that his greatest triumph was his fantastic family and they will testify that he was a loving brother, uncle, Dad, granddad and great grandad and the best pal his girl Irene ever had.
Irene, you were his rock and pulled him through life's traumas and he loved you heart and soul.
Jimmy had a lousy last few years following his stroke, and only the support of Irene and their wonderful kids - Lynn, Mitzi, Danny and Andy - kept him sane.
But you don't judge a 90 minute match by the injury time. Judge Jim over the full 90 minutes and he had a fabulously full life and we were so lucky he shared much of it with us.
We were all privileged that he passed our way, a 24-carat gold legend. We'll never see his like again and I'll leave you with this memory of something heard a record 357 times in First Division matches [shouted, commentary style]: "Goal! It's Jimmy Greaves."
Rest easy, mate. You played a blinder."
COYS!
---

Week seven of season nine of the Spurs Odyssey Quiz League challenge, and the question is:
Who won one Scottish international cap, scored an FA Cup final goal for Spurs, played for BOTH North London clubs and which club did he join from Ipswich Town?
Please email your answer to me at soqleague@gmail.com and make the subject heading Quiz Week 7. Deadline: midnight this Friday. I will do my best to respond to all who take part.
The rules are the same as in the previous eight seasons. I ask a two-pronged question with three points at stake - two for identifying the player and one for the supplementary question. In the closing weeks of the competition I break the logjam of all-knowing Spurs-history experts with a tie-breaking poser that is based on opinion rather than fact. That's when I become as popular as Sol Campbell in an Arsenal shirt.
This year's main prize will be a framed certificate announcing the winner as SOQL champion 2024, plus three signed books to be revealed at a later date. We have retired the omniscient David Guthrie after his three victories.
Last week's question:
Who played for THE two North London clubs, was top Spurs goalscorer in his final season at White Hart Lane and with which country did he win 87 caps?
Answer: Emmanuel Adebayor/Togo
See you back here same time, same place on Monday. COYS!