PREMIER LEAGUE
SATURDAY 16TH SEPTEMBER, 2023
(3pm)
TOTTENHAM HOTSPUR 2(0) SHEFFIELD UNITED 1(0)
Spurs scorers:-
Richarlison, 90+8
Kulusevski, 90+10
Sheffield Utd scorer:-
Hamer, 73
Attendance:- 61,706
Referee:- Peter Bankes
Assistants:- Eddie Smart, Nick Greenhalgh
Fourth official:- David Webb
VAR:- Graham Scott
Assistant VAR:- Wade Smith
Teams:-
Spurs (4-2-3-1):- Vicario; Pedro Porro (sub Emerson Royal, 90+4), Romero, Van de Ven (sub Hojbjerg, 90+5), Udogie; Sarr (sub Richarlison, 80), Bissouma; Kulusevski, Maddison, Solomon (sub Perisic, 80); Son (Capt.) (sub Johnson, 80)
(Armband to Romero)
Subs not used:- Forster; Dier, Davies; Skipp
Booked:- Van de Ven (foul on Foderingham), Maddison (dissent), Solomon (foul on McBurnie), Bissouma (dissent), Perisic (foul on Basham), Richarlison (foul on Vinicious Souza)
Sheffield United (3-5-2):- Foderingham; Basham (Capt.), Ahmedhodzic, Robinson; Bogle (sub Trusty, 86), Hamer (sub T. Davies, 81), Souza, McAtee (sub Norwood, 70), Thomas; McBurnie, Archer
Subs not used:- Adam Davies (GK); Seriki, Larouci; Traore, Ben Slimane
Booked:- Basham (foul on Maddison), Archer (preventing free kick), Foderingham (handball outside area), McBurnie (foul on Solomon), Robinson (dissent after foul by Son), T. Davies (foul on Pedro Porro)
Sent off:- Mc Burnie, (90+14) - second yellow for dissent.
It's never too late, mate!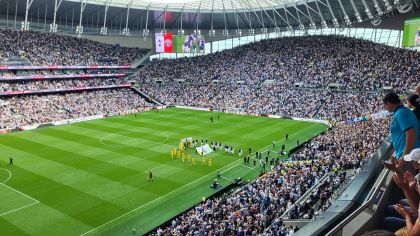 Finally, I had the anniversary joy I hoped for. Spurs' head coach "Big Ange" Postecoglou had been asked in his press conference about his Spurs "honeymoon period" and had replied:-
"Are you married? I don't know what your honeymoon was like, but mine didn't have me losing the greatest player in the history of this football club on the eve of a season, me trying to scramble to get players into the club, fighting for everything I do," Postecoglou said.
"That's not what my honeymoon was about. My honeymoon was fairly relaxed and stress-free, and very enjoyable. We had a nice trip to Europe. A bit of Paris, a bit of Venice, a bit of Athens, my wife lost her luggage, which meant she obviously had to go and replace that and then the luggage turned up anyway. Cost me a fortune, but it was wonderful."
I like the cut of this man's jib, as do the Spurs fans who remained in the stadium at the end of this wonderful late win to laud the man who has given our club its best league start since 1965. Just imagine the managers who have been through the portals of our club since then.
Spurs even beat their own Premier League record for the latest come-back win. In January 2022, under Antonio Conte, Steven Bergwijn had scored in the 95th and 97th minute to give us an astounding 3-2 win at Leicester, for whom a certain James Maddison had scored what he thought was the winner for the home side. Now Maddison lives, breathes and inspires Tottenham. Today, our late goal heroes were substitute Richarlison, who equalised before laying on Kulusevski's winner to send the South Stand and indeed the stadium into raptures of delight and relief. Spurs took the three points and retain their second place.
Sheffield United's game plan nearly worked. They took time out of the game whenever they could, claiming injuries, often at the time of an advantageous situation for Spurs. Goalkeeper Foderingham was allowed by referee Peter Bankes to dawdle over goal kicks and clearances. It was amazing that only three minutes were added to the end of the first half, during which Foderingham alone had been treated for that time alone.
Foderingham made a number of saves, but I wouldn't say we truly tested him for all our superiority in numbers of shots, chances and possession. In the second half, we again lacked the killer touch, needing a target man. Richarlison, who has been in the news over his psychological problems, ultimately came to our rescue with his first Premier League goal of the season, and only his second such goal for Spurs.
The match was preceded by silence for the thousands of victims of recent natural disasters in Morocco and Libya, before "The Blades" kicked off in the mid-September heat and sunshine.
Maddison passed to Kulusevski in a central position and Kulusevski tried but failed with a clever touch. Van de Ven came to the rescue with a good tackle after Udogie had lost the ball inside the Spurs half. Spurs were fielding an unchanged side. More good defensive work by van de Ven and a pass to playmaker Maddison led to a move where Son was fed the ball, but his pass inside was cleared. Sheffield United's two banks of defenders was resilient.
Our first shot on goal was a right-footer by Sarr, saved by Foderingham low to his right after 8 minutes. A McBurnie shot at the other end was blocked by his own man - Archer. Solomon tried to put Maddison in, but the goalkeeper reached the ball first. "Sonny" couldn't control a Maddison pass and might have been offside anyway. After a sharp run by Maddison and an exchange with Pedro Porro, Kulusevski crossed but Sarr's headed attempt was cosy for the keeper. Romero had a headed chance following a Maddison corner from the right, but that passed over the goal.
Udogie was next to try a shot but this was held by the keeper. Pedro Porro crossed from very near the bye-line and Solomon fed the ball to Son, whose trademark right-footed shot was saved for another Spurs corner. There was more danger when a Solomon right-footed cross from the left passed wide of the goalmouth.
Vicario made a good save with his feet from McAtee, but there as an offside flag anyway. After a Spurs free kick in the middle, Maddison's low shot was too easy for Foderingham. Son was called offside after more good approach play by Maddison and Pedro Porro.
Maddison went down in the box but got no foul for a challenge that came from behind and might have been punished anywhere else. We got nothing for a handball appeal either after a Sarr pass from the left of the box. Foderingham saved another Maddison shot.
Son met a Solomon cross with a header, but that was hit wide. Maddison fired wide after good approach play by Sarr and Solomon. Spurs maintained the pressure with two more corners, and Foderingham made a misjudgement and handled the ball outside the left of his area. His punishment was a booking and not the red card that home fans craved.
Kulusevski had a shot deflected wide in added time but Vicario also had to make aa save from Mcburnie after a cross by Hamer.
Spurs kicked off the second half. Sarr had an early shot deflected wide for a corner after great work on the left by Udogie. Foderingham needed more treatment after a clash with Van de Ven who was booked.
Spurs weren't making enough headway and I feared that "The Blades" might snatch a breakaway goal. Spurs fans (and players) were getting frustrated as twice a second ball appeared on the pitch after dead ball situations. I think there was an over-keen ballboy in there somewhere! The referee awarded a dropped ball and didn't want Spurs to challenge Foderingham for the ball.
Romero headed wide from a Bissouma cross. Moore good work from Bissouma took him into the box centrally, but the referee allowed the challenge upon him to end the move. Solomon hit a rising shot off target after Son had gone down after Maddison's pass.
It looked like my fears would come to fruition when United scored after a throw-in taken near the corner flag on the right. Robinson took the long throw which reached Hamer, who was found in space at the back of the area. He beat Vicario with a left foot shot across goal inside the left post.
Finally, Postecoglou made three changes with Johnson, Richarlison and Perisic replacing Son, Sarr and Solomon respectively. Richarlison soon found Solomon with a neat pass, but the referee found a foul somewhere. It looked as if Brennan Johnson had scored a dream debut goal in the 86th minute when he hit the roof of the net, but he had been offside.
Richarlison headed over from Pedro Porro's cross after good approach play by Bissouma, Johnson and Kulusevski. Foderingham saved a right-footed shot by Kulusevski. Spurs had two more corners. The crowd roared when 12 minutes of added time was displayed and announced. Postecoglou made his final substitutions, of Royal and Hojbjerg for Pedro Porro and Van de Ven.
Richarlison's goal was a sharp header across the keeper inside the far post after Perisic took a corner from the left. Inside two minutes we had a fantastic winner after great determined play on the left, featuring Udogie. The ball was crossed and Richarlison passed the ball on to Kulusevski who turned and scored with his right foot past the United keeper. Defenders fell to their knees in despair. The crowd leapt and roared with delight!
McBurnie was sent off after he protested over a decision against United as they tried to snatch an equaliser, but the final whistle was blown and the home crowd could celebrate. They did that with gusto as the players linked arms and ran towards the South Stand. It's the sort of scene I first witnessed a few years ago in Dortmund which no doubt inspired the design of our South Stand. "Big Ange" acknowledged the crowd who sang "I'm loving Big Ange instead".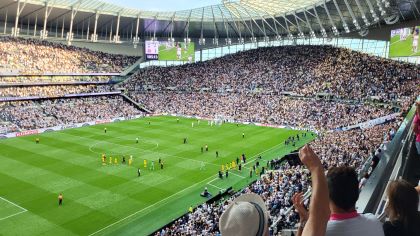 Next week, we have a massive test as we visit Arsenal, but at least they will come out and play!
. Squad numbers,appearances,bookings & goalscorers
. Read the preview for this game.
. All the Spurs Stats you could hope for here! THFC6061 Sports Stats