. Premier League Matchday 5 - last year
. See the current injury list for all Premier League Teams
. All the Spurs Stats you could hope for here! THFC6061 Sports Stats


Full Record of Spurs -v- Sheffield United

Prem          Pl   W   D   L  For-Ag  Pts
Home           5   3   2   0  11 -3   11
Away           5   1   1   3   7 -14   4
========================================
Total(Prem)   10   4   3   3  18 -17  15  1.5 Pts per game
========================================
Football Lge
Home(Div 1)   32  22   6   4  72 -32  50
Away(Div 1)   32   6  11  15  46 -70  21
========================================
Total(Div 1)  64  28  17  19 118 -102 73
========================================
Home (Div 2)   6   2   3   1  17 - 9   7
Away (Div 2)   6   0   2   4   7 -15   2
========================================
Total(Div 2)  12   2   5   5  24 -24   9
========================================
Total(Prem)   10   4   3   3  18 -17  15
Total(Div 1)  64  28  17  19 118 -102 73
Total(Div 2)  12   2   5   5  24 -24   9
========================================
Grand Total   86  34  25  27 160 -143 97
========================================

Last Six League results:-

Spurs       -     LWDWWW
           
Spurs      1-3    Brentford
Leeds      1-4    Spurs
Brentford  2-2    Spurs
Spurs      2-0    Man Utd
B'mouth    0-2    Spurs
Burnley    2-5    Spurs

Sheff Utd   -     LWLLLD

H'field    1-0    Sheff Utd
B'mingham  1-2    Sheff Utd
Sheff Utd  0-1    C. Palace
Nottm  Fst 2-1    Sheff Utd
Sheff Utd  1-2    Man City
Sheff Utd  2-2    Everton

Pos            P  W  D  L   F-A   GD  Pts
 2. Spurs      4  3  1  0  11-4    7   10
17. Sheff Utd  4  0  1  3   4-7   -3    1

Hoping for personal joy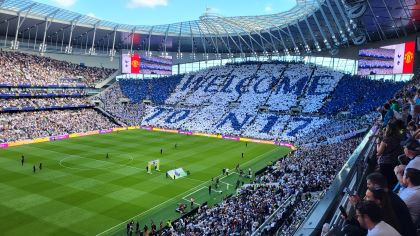 Please forgive my indulgence but tomorrow's game at home to Sheffield United is being played on my 45th wedding anniversary. Having enjoyed our celebrations over the course of the week, I am "licensed" to personally attend this game and of course I am hoping for more personal joy!
We played against a Yorkshire side on my wedding day in 1978 and beat the once mighty Leeds 2-1 away from home with goals by Peter Taylor and Colin Lee. I can also tell you that The Commodores were number one with "Three Times A Lady" and Julio Mariner won the St. Leger!
Tomorrow's game will be the eleventh since our wedding day and the tenth to occur on our anniversary. Of the 10 we have played so far, Spurs have won 5, drawn 2 and lost 3. Only three of those games have been played at home. For the record, here is the list:-

1978 W 2-1 Leeds    (A)        (Taylor, Lee)
1981 W 3-1 Ajax     (A)ECWC Rd1(Falco 2, Villa)
1989 L 4-1 Chelsea  (A)        (Gascoigne)
1995 W 3-1 Sheff Wed(A)        (Walker o.g, Sheringham 2)
1999 W 3-0 Zimbru Chisinau (H) (Leonhardsen, Perry, Sherwood)
2000 L 1-0 Charlton (A)
2001 L 2-3 Chelsea  (H)        (Sheringham 2)
2012 W 3-1 Reading  (A)        (Defoe 2, Bale)
2017 D 0-0 Swansea  (H)
2021 D 2-2 Rennes   (A) UEFACL (Bade o.g., Hojbjerg)

Spurs have had a great start to the league season and are unbeaten in their four games. "The Blades" have yet to win and have never won at Tottenham in their five previous Premier League visits. The odds must be strongly in our favour.
Like Spurs, "The Blades" exited the League Cup in the second round. Sheffield United played League One side Lincoln at Bramall Lane, but after a 0-0 draw suffered the ignominy of a penalty shoot-out defeat to the lower league side. At least Spurs suffered the same fate to a fellow Premier League side.
Four of United's five games so far this season have been at home. The reverse is true for Spurs.
Sheffield United were founder members of The Premier League and Brian Deane famously scored the very first goal in this competition when they beat Manchester United at home on 15th August 1992. They lasted two years and took 13 years to gain their first promotion to this elite level. "The Blades" managed a one year stay in 2006/07, returning for two more seasons in 2019 with Chris Wilder at the helm. Paul Heckingbottom took over before the almost inevitable relegation and remains in charge.
Sheffield United's promotion was confirmed on 26th April when they beat West Bromwich Albion 2-0 at home. United finished runners-up to Burnley, but were 10 points behind the team we beat so well two weeks ago.
At the conclusion of the season James McAtee and Tommy Doyle returned to Manchester City at the end of their loans. McAtee has returned to Sheffield United for a second season-long loan, but Doyle will play at Wolves this season.
United have made the following acquisitions:-
Tunisia midfielder Anis Slimane from Danish side Brondby who joined on a three-year contract.
22-year-old Yasser Larouci on a season-long loan from French club Troyes
Benie Traore from Swedish club Hacken for an undisclosed fee. The 20-year-old Ivorian, scored 23 goals in 54 games for Hacken, and has agreed a four-year contract.
Auston Trusty from Arsenal for a "significant undisclosed fee". The central defender has signed a four-year contract with the Blades after spending last season on loan at Birmingham City.
Brazilian midfielder Vinicius Souza. The 24-year-old midfielder, is an immediate replacement for Sander Berge, who went to Burnley.
Coventry City midfielder Gustavo Hamer and Tom Davies on a free transfer following his departure from Everton.
Sheffield United made a significant outlay for striker Cameron Archer from Aston Villa on a four-year deal. The Blades say they have paid a "considerable" fee for the 22-year-old, which is reported to be £18m. Archer scored his first Premier League goal in the 2-2 draw against Everton, but also deserves credit for the second goal as it was his shot that rebounded off the post and hit the net off the back of Jordann Pickford. Archer scored 11 goals whilst on loan to Middlesbrough last season.
Brennan Johnson whose signing from Nottingham Forest for a £45 million fee was confirmed at the very end of the transfer deadline shouldd make his Spurs debut tomorrow, perhaps off the bench. Johnson can play anywhere across the front three. He has already played against Sheffield United this season when Forest beat "The Blades" 2-1 at The City Ground. He also played and scored in each leg for Forest against Sheffield United in a tempestuous Championship play-of semi-final at the end of the 20-21 season. Brennan played the first half of Wales' 0-0 friendly with "Sonny"'s South Korea side and all but the last few minutes of a 2-0 away win against Latvia.
The Spurs official site has detailed injury news regarding Sheffield United, but whoever represents "The Blades" will be determined to put up a brave fight. Their supporters will be keen too! I'll no doubt be sharing a train with lots of them, as I travel from Chesterfield. I haven't seen any Spurs team news as yet, but I expect the team to be very similar to that which beat Burnley so well. I've predicted a 3-1 home win.
This will be referee Peter Bankes' 10th Spurs game in the middle. His four games last season were all away from home. In fact this is his first home Spurs game since a 1-1 draw against Newcastle in September 2020.