PREMIER LEAGUE
SATURDAY 30TH SEPTEMBER, 2023
(5.30PM)
TOTTENHAM HOTSPUR 2(1) LIVERPOOL 1(1)
Spurs scorers:-
Son, 36
Matip (o.g), 90+6
Liverpool scorer:-
Gakpo, 45+4)
Attendance:- 62,001
Referee:- Simon Hooper
Assistants:- Adrian Holmes, Simon Long
Fourth official:- Michael Oliver
VAR:- Darren England
Assistant VAR:- Dan Cook
Teams:-
Spurs (4-2-3-1):- Vicario; Pedro Porro, Romero, Van de Ven, Udogie (sub Davies, 83); Sarr (sub Skipp, 83), Bissouma (sub Hojbjerg, 90); Kulusevski, Maddison (sub Veliz, 90), Richarlison; Son (Capt.) (sub Solomon, 69)
(Armband to Maddison, then Romero)
Subs not used:- Forster; Emerson Royal, Phillips; Donley
Booked:- Udogie (foul on Gakpo), Bissouma (foul on Endo), Romero (foul on Szoboszlai), Pedro Porro (celebration), Veliz
Liverpool (4-3-3):- Alisson; Gomez (sub Konate, 74), Matip, Van Dijk (Capt.), Robertson; Szoboszlai, Mac Allister (sub Gravenberch, 80), Jones; Salah (sub Alexander-Arnold, 74), Gakpo (sub Jota, 46), Diaz (sub Endo, 73)
Subs not used:- Kelleher; Tsimikas; Elliott, Nunez
Booked:- Mac Allister (foul on Udogie), Salah (dissent), Jota (foul on Udogie), Robertson (foul on Pedro Porro), Van Dijk (Time)
Sent off:- Jones (26 - serious foul play on Bissouma), Jota (69 - second yellow after foul on Udogie)
Eat your heart out Jamie Carragher!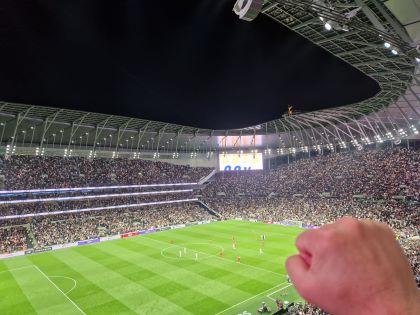 Picture by Greg Smith just after the winning goal"
Just when it looked like 9-man Liverpool would succeed in frustrating Spurs' attempts to get through their defensive barrier, up popped right-back Pedro Porro to fire in a powerful low cross from the right which was hit into the roof of the net at the near post by the unfortunate number 32 Joel Matip. Matip had his head in his hands and was inconsolable. Pedro Porro and his Spurs team-mates raced off for prolonged celebrations in the north-west corner. Another man who wore the numbers 3 and 2 (in a different order) - Jamie Carragher - used to score a few own goals in our favour. Eat your heart out Jamie! In fairness, Jamie made some nice comments about James Maddison in his Telegraph column on Saturday morning.
Another man with his head in his hands (perhaps metaphorically speaking) was Liverpool manager Jurgen Klopp, upset with the officials over two sendings-off, but particularly with a goal by Luis Diaz in the first half which was disallowed by an incorrect offside decision. In the ground, we thought that VAR had confirmed the on-field flag and decision, but it seems VAR did not intervene. This said the referees' association the PGMOL was a "significant human error". Perhaps if that goal had been awarded, Spurs would have done a better job of defending Cody Gakpo's first half added time equaliser after Heung-min Son had given Spurs the lead with his sixth goal of the season.
No matter the circumstances, this was a super win and our first over Liverpool since a 4-1 at Wembley in October 2017, and our first at Tottenham since November 2012. The crowd of 62,001 (on a day when we were beset by train strikes yet again) was the highest at "The New Lane" since the 62,008 who watched last year's home defeat by Liverpool.
On a day of surprise results which included a Manchester City defeat at Molineux, Spurs remain one of two unbeaten sides in the Premier League (the other is Arsenal) and climbed to second place on goals scored over their arch-rivals. In a great start for "Big Ange's" team, Spurs have scored at least two goals in each of their first seven games.
Postecoglou was able to include both Son and Maddison in his team. There had been doubts about their fitness to play even yesterday. 20-year-old Alejo Veliz, who had been on the bench last week at Arsenal, was again on the bench and late in the game made his home debut, replacing Maddison. 18-year-old Jamie Donley, who has scored 5 goals already for our under 21s this season, was also given a place on the bench.
The home crowd was suitable hyped up by match-day presenter Paul Coyte, along with a trumpeter in the South Stand to fire up a rendition of "Oh when the Spurs". Liverpool (all in red) kicked off and played towards the same stand. Spurs' home strip is all-white for all games these days. Liverpool won an early corner when Pedro Porro thwarted Luis Diaz, after which Argentine international Mac Allister fired wide.
Spurs took a while to get going, but were never going to relent from their play out from the back and advance through quick short passes style. Sometimes the clever Spurs touches didn't come off, but this new-style Tottenham is a pleasure to watch. Spurs did break well out of their own half. Kulusevski had an on-target shot well blocked.
Both sides have plenty of pace in all departments and no quarter was being given regarding close tackling and covering. With regard to Spurs there is plenty of pace in our defence and both full backs are working well at the back and in forward positions.
Richarlison was playing on the left with Son in the middle, and after receiving from Maddison, "Richie" hit an excellent low cross which had Alisson beaten, but passed through the 6-yard area.
After a long ball forward by Liverpool summer signing Szoboszlai, Vicario made an excellent double save from shots by Gakpo and a follow-up by Robertson from a sharp angle.
Spurs won a corner after a Kulusevski cross. The home fans bayed for a handball, but nothing was given. After a cross by Gakpo, Curtis Jones' shot was blocked by Sarr and Liverpool had a corner. Nothing came of that, but Micky van de Ven demonstrated his pace by making it first to another dangerous ball forward, by Salah for Gakpo. Salah wanted a corner when he had a shot go over the bar, claiming a Spurs touch but referee Simon Hooper was not interested.
Curtis Jones was initially shown a yellow card by the referee for his foul on Bissouma, but VAR Darren England sent the referee to the pitch-side monitor and upgraded the card to red. A replay was shown on the big screens which showed Jones' foot and landed on Bissouma's ankle. Bissouma's treatment did not begin until Jones slowly left the pitch.
Kulusevski made a nice run into the right of the box, but had his shot blocked. After an exchange with Pedro Porro, James Maddison worked to his left and hit a shot which Alisson held with a dive low to his right. I thought a Richarlison shot skimmed the bar after he had been served the ball by Maddison.
The controversial disallowed goal came after 33 minutes when Salah sent Diaz away with an excellent ball from the right and Diaz hit the net to the right of Vicario. The so-called VAR referral stayed on screen for quite a while after play resumed. Spurs took the lead in style when Maddison fed the ball from centrally outside the area to Richarlison who cut the ball back for Son to finish in excellent fashion. The goal was similar to that he scored at Arsenal last week.
Spurs were on a high and after Pedro Porro broke up a Liverpool advance down their left flank, he passed to Son, who in turn teed up Richarson. Richarlison tried a shot over Alisson, but the keeper was equal to the shot. Richarlison also hit the post with a shot from the left which again beat the keeper. This came after play in the box by Son and Kulusevski, but after the shot, the offside flag was raised. Who knows if that was a correct call?
6 minutes of added time was called. A Liverpool free kick was cleared and Kulusevski and Son led a break down the right wing. A shot by Son was ultimately saved. Sarr tried a low shot from distance, but that passed wide. It was unfortunate that after Spurs had been on top and had a deserved lead, that the ten men of Liverpool equalised in the fourth added minute. They were awarded a free kick on the right. That was initially cleared but Van Dijk was still around to head back into the middle and Gakpo scored after a neat turn.
Gakpo needed treatment after his goal and was replaced at the start of the second half by Jota. Son had an early rising shot blocked by Van Dijk after Richarlison had passed inside. Son then pushed a ball to Maddison who tried a curler inside Alisson's right post, but the keeper pushed the ball out for another Spurs corner. (The overall corner count was 12-5 in Spurs' favour)
More Spurs pressure resulted in consecutive corners and a Son right-footer well saved by the keeper. Spurs kept trying to find a way through the determined defence and Pedro Porro's cross was headed by Richarlison but easy for Alisson. Sarr had a shot on target, but that was held by Alisson.
It looked like we had scored after Maddison's ball to Richarlison and another cut-back for "scorer" Son, but "Richie" had been offside. Bissouma advanced and passed to Kulusevski who crossed for Richarlison but the ball was claimed by the keeper.
Salah was booked for dissent, rather than the foul given for a foul on Udogie who had chased back to cover well towards the left corner. Then Jota was booked twice in quick succession either side of Son being replaced by Manor Solomon. Both fouls were on Udogie. The second was on the wing when Jota had lost out to our left back, and overstretched in bringing Udogie down as he advanced. Klopp remained on the bench and didn't seem to acknowledge Jota as he left the pitch. I assume he was upset at his player's indiscipline. Liverpool did quickly make three changes to enhance the defensive ability of the remaining personnel.
Liverpool actually had a corner on the right and Van Dijk headed over. In this closing period, Spurs were not being clever enough to pierce the 9-man defensive dome. Kulusevski was well covered and too predictable. A Bissouma shot was deflected goalward by Richarlison but that was an easy hold for Alisson.
There was a series of bookings in the late stages and it looked as if Liverpool would claim a massive point in the circumstances. Richarlison had another header held and Kulusevski disappointed with a left foot shot/cross which was well wide of the far post, before the late drama that led to massive celebrations again in the stadium where we have won all three of our home games.
Next up for Spurs is a Saturday lunch-time appointment at Luton before we host Fulham on Monday 23rd October. The short-term future is looking bright, isn't it?
. Squad numbers,appearances,bookings & goalscorers
. Read the preview for this game.
. All the Spurs Stats you could hope for here! THFC6061 Sports Stats