. See the current injury list for all Premier League Teams
. All the Spurs Stats you could hope for here! THFC6061 Sports Stats

The following is our record against Fulham in the FA and Football League Cups. The details are:

 
FA Cup   Round   Venue   Result  Scorer(s)
1908-09    2       H      1-0    R. Steel
1983-84    3       A      0-0
          3R       H      2-0    Archibald, Roberts
1997-98    3       H      3-1    Clemence, Calderwood 
                                 + o.g 
2006-07    5       A      4-0    Keane(2), Berbatov(2)
2009-10    6       A      0-0
2009-10    6R      H      3-1    Bentley, Pavlyuchenko 
                                 Gudjohnsen
2010-11    4       A      0-4
2016-17    5       A      3-0    Kane (3)


  
 
FL Cup
1981-82    4       H      1-0    Hazard
1999-2000  4       A      1-3    Iversen
2001-2002  4       A      2-1    Rebrov, Davies

Craving a win at Craven Cottage!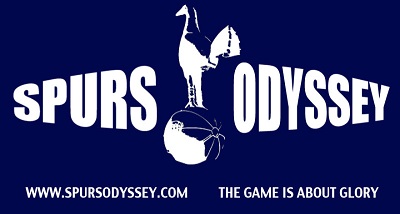 "The great fallacy is that the game is first and last about winning. It's nothing of the kind. The game is about glory. It is about doing things in style, with a flourish, about going out to beat the other lot, not waiting for them to die of boredom." - Danny Blanchflower
We last met Fulham in cup competition in the fifth round of the FA Cup in 2017, when we won 3-0 at Craven Cottage and Harry Kane scored all three goals. It was the season we finished runners-up to Chelsea and Kane won the golden boot (for the second successive time) with 29 league goals and scored 35 club goals. Harry scored five hat-tricks in the second half of that season and another two in the calendar year of 2017. Surprisingly, his hat-trick against Southampton on Boxing Day 2017 remains his last Premier League hat-trick.
We have only played Fulham twice before in the league cup. I have fond memories of the last meeting, which we won 2-1, because I was lucky enough to be sitting close to the legendary Ricky Villa, who was on one of his frequent visits to the UK. We won the game 2-1 with goals by Sergei Rebrov and Simon Davies. Fulham's goal was scored by Barry Hayles, whose career began at Stevenage. Hayles made more appearances for Fulham than he did at any other club (175 in league games). Now aged 51, Hayles was still putting his boots on (for Chesham) in the 2016/17 season, and has since played for Windsor and Merstham. Hayles made 10 International apppearances for Jamaica between 2001 and 2003.
This is our first appearance in the second round of the League Cup since 26th August 2009 when we beat Doncaster 5-1 away. Danny Rose made his club debut on that day in his home town, and at the end of that season we famously qualified for the Champions League for the first time.
Aleksandar Mitrovic has joined Saudi Pro League side Al-Hilal from Fulham for what the Premier League side said was a "club record transfer fee". The Serbia forward was not part of the Fulham squad for their 3-0 defeat by Brentford, having pushed for a move away this summer. The 28-year-old will join Neymar in Al-Hilal's attack, after the Brazilian moved to Saudi Arabia on Thursday. Fulham did not disclose the fee but will reportedly receive £50m. Mitrovic scored on his debut last Thursday in a 4-0 away win.
Fulham manager Marco Silva apparently turned down a big-money chance to go to Saudi Arabia in the summer.
Manor Solomon, who played on loan for Fulham last season, must have every chance of starting this game. Ange Postecoglou has given every indication that he will be shaking up his selection for this game, athough not too much, I hope. Players likely to be given squad numbers later this week who haven't had so many minutes can surely be expected to start. That would probably include Forster, Emerson Royal, Ben Davies, Perisic, and Lo Celso, along with Solomon.
Speaking at his post-match press conference at the Vitality, Ange said: "We'll make some changes. Weve got some guys who are really keen to play, working hard in training and the way we play takes a lot out of us.
"It's a short turn around and another game the following week (Burnley away in the Premier League on Saturday). We'll make some changes, but because we want to win the game. That's why we're making changes, not because I want to give guys a game. Hopefully, by making the changes, we maintain the intensity and tempo and quality of our game."
Asked about Destiny, Ange said: "I think he just kicked the ground, from what I understand. He didn't want to come off but at that stage, the way the rules are at the moment, they go off for 30 seconds and I thought it was better putting Ben on and keeping the tempo up in the game for us. Just speaking to him now, he's fine."
Former Spurs loanee Carlos Vinicius is still with Fulham, but hasn't played yet this season. Fulham's summer signings included Raul Jimenez and Adama Traore from Wolves, and defender Calvin Bassey from Ajax. Bassey was sent off for two bookable offences in a spirited draw away to Arsenal on Saturday, so will sit out this game. On the back of that performance, Fulham must not be under-estimated, but Spurs and their 6,000 travelling fans will be desperate to win safe passage to the next round. I'll back them to do that - winning 2-1.
Ryan Sessegnon's twin brother Steven (who spent last season on loan with Charlton) has now transfered to Wigan. Ryan remains on our injured list at present.
Did you know? - When he made his 374th appearance in the home win over Manchester United, Spurs' captain Heung-min Son recently moved ahead of another former club captain Alan Mullery in terms of total club appearances. After Saturday's game at Bournemouth, Son has made 375 club appearances. Mullery played for Fulham before and after his time with Tottenham. With Spurs, he won FA Cup, League Cup and UEFA Cup winners' medals. With Fulham, playing in a team alongside the legendary Bobby Moore, "Mullers" won an FA Cup runners up medal when Fulham were beaten 2-0 by West Ham.
The match referee is Josh Smith, who we have never encountered. Mr Smith usually operates in The Championship. There is no VAR at this stage of the tournament. The game kicks off at 7.45pm and is not being televised.