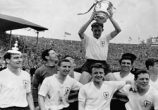 FIFTY YEARS AFTER
The Double Series was written by the eminent Brian Judson
To many, Bill Nicholson is just a name in the history books who managed the team that became the first in this century to win the coveted League and Cup Double.
Bill Nicholson was born in Scarborough, Yorkshire, on 26 January 1919, some three months after the end of the First World War. Like most schoolboys he was interested in playing football and was spotted by Ben Ives, the Spurs Chief Scout, playing for Scarborough Working Men's Club and Scarborough Young Liberals. He was summoned to a trial at Tottenham in March 1936 and was packed off to Northfleet to begin his career.
Nicholson made his debut for Tottenham on 22 October 1938 against Blackburn Rovers in a Division 2 game, which Spurs lost 3-1. He made 8 appearances that season, covering Bill Whatley, Tottenham's left back when injured. But Nicholson began the 1939-40 season as left back as first choice in place of Whatley. But Hitler's armies marched into Poland on 1 September 1939 to end all our dreams for six years. Nicholson spent most of the war in the North of England as a Physical Training Instructor for the army and played for clubs like Darlington, Manchester United, Middlesbrough, Newcastle and Sunderland [and once for Fulham!] when army duties permitted. It was not until the spring of 1946 when football was still in transition from war to peace that Nicholson returned to Tottenham.
Initially, in those early post war years when times were still very hard and the watch word was austerity with most things rationed, Nicholson played at centre half but switched to right half at the start of 1947-48 when Horace Woodward signed professional forms after playing for us as an amateur.
Nicholson was an unflashy player, solid, taciturn by nature, and a hard but fair tackler. It was his unhappy lot to reach his peak at the same time as Billy Wright who also played wing half for most of his career and Nicholson only won one England cap, against Portugal, in 1951. He scored with his very first kick of the ball and was never picked for England again.
Between May 1949 and December 1955, Nicholson was one of the cornerstones of Arthur Rowe's great team that won the Second and First Division championships in successive seasons. But the team grew old together and Nicholson knew it was time to retire.
In anticipation of retirement, Nicholson had acquired the FA Coaching Badge and had coached the Cambridge University team. He was soon appointed coach at Tottenham and spent the summer of 1958 in Sweden with the England World Cup party. It was Nicholson's tactical genius that ensured England were the only country not to be beaten by Brazil, a game England drew 0-0.
In October 1958, Nicholson was appointed manager of Tottenham. I shall not go into great lengths to describe his managerial years because they should be well known to all. Nicholson was a manager who shunned the press and saw it as a necessary evil to be tolerated. He hated the limelight, preferring his team to do the talking for him with the football they played. But there were times he manipulated the press. Once or twice he was fed up with the way the team were not taking much notice of what he was trying to tell them and when the results went wrong, there was an explosion and headlines raged "NICHOLSON SAY SPURS PLAYERS ARE LAZY". This almost always provoked the players to saying they would show him and that almost always led to some team being thrashed out of sight, the very thing that Nicholson had plotted for.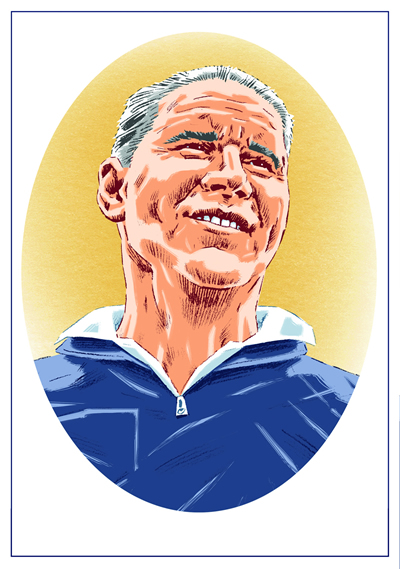 Postcard images (not full size) courtesy of The Football Artist/The Spurs Postcard Collection
But towards the end of his managerial career, Nicholson began to notice that some players were totally ignoring him. He would have retired as manager in May 1974 had we won the UEFA Cup but the rioting in Rotterdam distracted the team too much and Nicholson allowed himself to be talked into staying on as manager against his better judgement.
Spurs made an awful start to 1974-75. Even Carlisle United beat them in the League. Nicholson had had enough and resigned as manager. But before departing he had recommended to the Board they should appoint Danny Blanchflower and Johnny Giles as his successors. The Board ignored his views and appointed Terry Neill. The fans were aghast at the decision. Nicholson himself was shattered the Board ignored his recommendations.
(But with the benefit of hindsight knowing that Blanchflower and Giles were failures at Chelsea and West Bromwich Albion respectively perhaps we ought to commend the board to a certain extent as Neill's appointment led to the arrival as coach of one Keith Burkinshaw.)
Nicholson spent some time out of the game, having his first long rest for nearly 20 years. He then spent a year at West Ham as Chief Scout under their manager Ron Greenwood. But at Tottenham Keith Burkinshaw was now manager and one of his earliest decisions was to recall Nicholson to Tottenham as a consultant. Nicholson spent the next 17 years helping out in various ways at Tottenham before finally retiring in 1997. He was our Club President until his sad passing, on 23rd October, 2004.
When Bill was manager, he was almost always the first to arrive at the ground soon after 9.00am and most nights was the last to leave, often after midnight. He travelled far and wide in search of new players and quite often stood on the terraces anonymously to listen to the locals talking about the player he was interested in.
I once met Bill Nicholson at a book signing when his autobiography was published. I explained to him I was deaf so he made an effort to make sure I could understand what he was saying. He asked me how I wanted the fly leaf inscribed and I told him. He then very neatly wrote out the inscription I had asked for and signed it equally neatly. I then thanked him for being the inspiration behind the team that had entertained me most Saturdays over the (then) preceding twenty years. He was a bit embarrassed about being thanked, mumbling something about it being his job and then I left him. A very modest man unlike some of today's managers and pundits.
Cheers, Brian
Brian wrote the following comments, after hearing of the passing of this great man on 23rd October, 2004:-
It was a tremendous shock to learn of Bill Nicholson's death. I knew he had been ill but I had hoped he would survive long enough to see Spurs gain some silverware again. We owe Bill a great debt for the memories he has given us as a player and manager.
I was too young to see Nicholson the player so I have no idea how good he was. He himself did not think he was in the same class as the others in Rowe's great team. But he did win one England cap. Undoubtedly there would have been more but for the consistency of Billy Wright.
Nicholson coached the University sides and Tottenham before going to Sweden with England for the 1958 World Cup. Shorn of some of the Manchester United players who had died at Munich, England were the only team to prevent Brazil from scoring on the way to the 1958 Final.
None of us reading this should have to be reminded of Nicholson's achievements as a manager. He could, had the players persisted a bit harder, have won the Double in 1962 and 1967. Had we beaten Ipswich in one of the two games we lost against them, we would have won back-to-back Doubles. And we would have won the Double in 1967 but for losing our way in three successive home games in October and November 1966.
Nicholson was the first British manager to win a major European honour, and the first to win European honours in two different competitions. I will always maintain Spurs would have won the European Cup in 1961 but for the match officials at the Stadium of Light in Lisbon.
Nicholson was dedicated to his job of being manager of Tottenham that he missed seeing his children grow up. He was often at the ground long before anyone else arrived and was often scouting at evening matches all over the country, such was his eye for detail.
As others have said, it is a great tragedy that lesser mortals have been knighted.
He will have been welcomed on the other side where he will be able to swap stories with other great managers down the years.