Unbeaten runs compared
Have look at the image below. In fact, don't just look at it, click on it and you will see a larger, more legible copy. The image provides the full details (courtesy of Paul Yarden's excellent FootballFacts web site) of our current unbeaten run and that achieved by the magnificent Double side of 1960-61.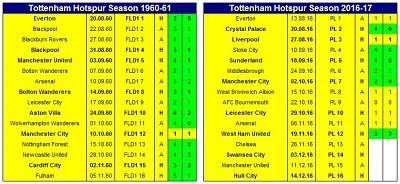 As you can see, our current team has a lot to do yet to emulate that 16 match run, and to be correct, the Double side won their last two games of 1959-60, so it is an 18-match record. Chelsea on Saturday are our first and biggest obstacle. I have also mentioned before that Harry Redknapp's Spurs team of 2011-12 had a better points tally than has Pochettino's team, and that fact stands after 12 games (28 to 24). Harry's team won their 13th match, so Spurs will need to break another record and win at Stamford Bridge for the first time in a generation to even keep up with that 2011 standard.
Incidentally, Bill Nicholson's side did not have our longest unbeaten run in League matches. That record belongs to Arthur Rowe's 1949-50 side which went 22 games without defeat between 31st August and 14th January 1950. Unsurprisingly, promotion beckoned, and we all know what happened the following year!
AVB's Spurs also had a 12 match unbeaten run (in Premier League matches) between December 2012 and March 2013.
After Saturday's heroics in the dying minutes of the game, some fans were seeking comparision with our 4-3 "Stalteri" win at Upton Park in March 2007. I insist that win gave us a better feeling, partly because we thought we had relegated the "Hammers". A quick look at the report though will tell you that the referee for that game was none other than Mike Dean!
Harry Winks pipped Harry Kane for your man of the match vote. For Harry Winks this was a dream day, making his first Premier League start, as well as scoring his first senior goal for the club he also happens to support avidly! No wonder he ran to the bench and specifically his manager to celebrate. Harry's emotion was there for all to see in his post-match interview, and apparently he waited an hour after the game outside Mauricio Pochettino's office to say a big "Thank You"! Well, God Bless you Harry, and here's to a long and successful Spurs career!
· See the spursometer in full.


Premier League results 19-21.11.16

Man Utd     1-1   Arsenal
C.Palace    1-2   Man City
Everton     1-1   Swansea
S'hampton   0-0   Liverpool
Stoke       0-1   B'mouth
S'derland   3-0   Hull
Watford     2-1   Leicester
Spurs       3-2   West Ham
M'brough    0-1   Chelsea
West Brom   4-0   Burnley

            Premier League Table

               P  W  D  L   F-A   GD   Pts

 1. Chelsea   12  9  1  2  27-9   18   28 
 2. Liverpool 12  8  3  1  30-14  16   27 
 3. Man City  12  8  3  1  27-11  16   27
 4. Arsenal   12  7  4  1  25-12  13   25
=========================================
 5. Spurs     12  6  6  0  18-8   10   24
=========================================  
 6. Man Utd   12  5  4  3  17-14   3   19
 7. Everton   12  5  4  3  16-14   2   19
 8. Watford   12  5  3  4  17-20  -3   18 
 9. West Brom 12  4  4  4  16-15   1   16
10. B'mouth   12  4  3  5  14-16  -2   15
11. S'hampton 12  3  5  4  12-12   0   14
12. Burnley   12  4  2  6  11-19  -8   14
13. Stoke     12  3  4  5  13-19  -6   13
14. Leicester 12  3  3  6  14-20  -6   12
15. M'brough  12  2  5  5  10-13  -3   11
16. C. Palace 12  3  2  7  17-21  -4   11
17. West Ham  12  3  2  7  13-23 -10   11
=========================================
18. Hull      12  3  1  8  10-27 -17   10 
19. S'derland 12  2  2  8  12-21  -9    8
20. Swansea   12  1  3  8  11-22 -11    6

· All the Spurs Stats you could hope for here! THFC6061 Sports Stats