Spurs closing in on targets
Apart from maintaining their title chase of leaders Chelsea, once again closing the gap to four points with five games to play, Spurs are drawing ever closer to what was probably their number one target for the season - to qualify once again for The Champions League. After last night's goal-less draw between Man City and Man Utd, it is now a fact that Spurs now need two wins to guarantee second place. Man City could also get 80 points, but our goal difference is far superior. In fact, it is the best in the Premier League at this time! One win on Sunday against Arsenal will ensure we finish above them for the first time in 22 years!
Mathematically at this time, Spurs need those two wins to ensure Champions League Group stage qualification, which is the least we want and deserve after such a fine season. Mauricio Pochettino rightly does not focus on finishing above Arsenal for its own sake, nor is he simply aiming for Champions League. Quite rightly, he is urging his players on towards the dream of pipping Chelsea to the title. The odds on that are still not great (and you might like to check the latest free bets from all best licensed UK bookmakers), and we will know our prospects better after this week-end. Chelsea play at Goodison Park before we face the "Gooners".
Most Spurs Odyssey pages carry links to the excellent THFC 6061 Sports Stats pages, and this week webmaster Paul Yarden sent me this table of the Premier League since Mauricio Pochettino has been in charge at Spurs:-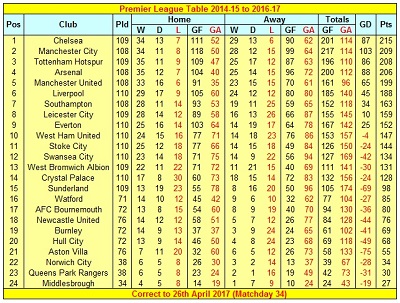 The table makes impressive reading with Spurs behind only Chelsea and Man City, and notably above Arsenal! No team has won more games than Spurs. Of course the only table that matters to us at present is the one at the end of this season.
Unsurprisingly Christian Eriksen was your man of the match at Crystal Palace. Eriksen is certainly in a great run of form at present, and is one of four Spurs players to have reached double figures in goals in all competitions this season. He does need two more to make it to double figures in Premier league goals, which he did two seasons ago. Eriksen has had a hand in 16 goals in his last 12 games (5 goals and 11 assists), and since his debut in September 2013, he has scored more Premier League goals from outside the box (14) than any other player. With one match to play this month, Erimsen is heading for our player of the month award, after his third man of the match in 6 games played so far. (He tied with Dembele in the Chelsea FA Cup semi-final match)
· See the latest spursometer in full.


Premier League results 22-27.04.17

B'mouth     4-0   M'brough
Hull        2-0   Watford
Swansea     2-0   Stoke
West Ham    0-0   Everton
Burnley     0-2   Man Utd
Liverpool   1-2   C. Palace
Chelsea     4-2   S'hampton
Arsenal     1-0   Leicester
M'brough    1-0   S'derland
C. Palace   0-1   Spurs
Man City    0-0   Man Utd 

            Premier League Table

               P  W  D  L   F-A   GD   Pts

 1. Chelsea   33 25  3  5  69-29  40   78 
 2. Spurs     33 22  8  3  69-22  47   74
 3. Liverpool 34 19  9  6  70-42  28   66  
 4. Man City  33 19  8  6  63-35  28   65 
========================================= 
 5. Man Utd   33 17 13  3  50-24  26   64
=========================================
 6. Arsenal   32 18  6  8  64-40  24   60
 7. Everton   34 16 10  8  60-37  23   58
 8. West Brom 33 12  8 13  39-42  -3   44
 9. S'hampton 32 11  7 14  39-44  -5   40
10. Watford   33 11  7 15  37-54 -17   40
11. Stoke     34 10  9 15  37-51 -14   39
12. C. Palace 34 11  5 18  46-54  -8   38
13. B'mouth   34 10  8 16  49-63 -14   38
14. West Ham  34 10  8 16  44-59 -15   38
15. Leicester 33 10  7 16  41-54 -13   37
16. Burnley   34 10  6 18  33-49 -16   36
17. Hull      34  9  6 19  36-67 -31   33
=========================================
18. Swansea   34  9  4 21  39-68 -29   31
19. M'brough  34  5 12 17  24-43 -19   27
20. S'derland 33  5  6 22  26-59 -33   21

· All the Spurs Stats you could hope for here! THFC6061 Sports Stats