Premier League Review - Matchday 6
Friday 20th September, 2019
Southampton 1 Bournemouth 3
Bournemouth won their first ever match away to Southampton and climbed to a lofty third place on Friday night with this victory. The "Cherries" overran "Saints" in the first half and actually had the ball in the net three times, but the second time they "scored", the goal was ruled out by VAR for offside.
Southampton were missing injured Moussa Djenepo, who has scored twice in recent games, but they did welcome back England International Nathan Redmond.
Nathan Ake opened the scoring for the visitors with a firm header following a corner on the 10 minute mark. Bournemouth thought they had a second after 25 minutes when Solanke fed the ball to Josh King, who hit the net, but had to wait for VAR to rule the "goal" offside. A two goal margin was opened after 35 minutes though when Billings cut the ball back to Harry Wilson who scored with a sharp low shot.
Southampton showed more spirit after the break, and were awarded a penalty when Adams was fouled by Lewis Cook and James Ward-Prowse made no mistake from the spot. The pressure was on Bournemouth for much of the half, and whilst they tried to play out with clever football, too often they were either closed down or they lost control of the ball in the final third.
Bournemouth had also lost out to VAR in a penalty claim when King went down under Cedric's challenge, but they had the last laugh when Callum Wilson scored with the last kick of the game as Angus Gunn and Bednarek had a mix-up at the back when Ramsdale hit a long clearance.
Saturday 21st September 2019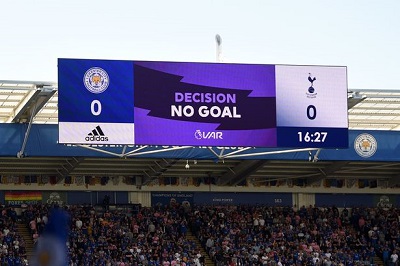 There was plenty of comment about VAR, as you would expect. Apart from the penalty decision against Danny Rose in lkast season's home Champions League game against Man City, I would suggest this was the first time we have been sorely aggrieved by the new technology.
Harry Kane was marginally your Spurs Odyssey man of the match, but again none of the team excelled. See the spursometer in full.
Burnley 2 Norwich 0
Last week's heroic victors over Manchester City fell to two early goals by Burnley's Chris Wood. Burnley keeper Nick Pope had stuck out a leg to make an early save from Pukki, before Wood headed home from a corner at the near post in the tenth minute. Four minutes later he had a second with a left foot shot at the near post receiving McNeil's low cross.
Wood had a hat-trick chance saved by Krul in the second half and Ashley Barnes was denied a penalty. Burnley (and Sheffield United) have as many points as Spurs after 6 games.
Everton 0 Sheffield United 2
Everton fell to a third defeat of the season and a second consecutive defeat to a team surely expected to finish below the Goodison Park side. The biggest cheer from the home fans was reserved for former player Phil Jagielka who came off the bench for the "Blades", for whom this was a second win.
The first goal came from a United corner at the Gwladys End. Taken by Norwood, the ball was glanced into his own net by Yerry Mina. In fairness, Everton had had more possession and chances.
The second goal was scored in the 79th minute by substitute Mousset, receiving an excellent ball from Lundstrum on the right of the area before scoring through Jordan Pickford's legs. Everton's next Premier League match is at home to Man City!
Manchester City 8 Watford 0
Poor old Watford. How their players and fans must hate facing City who have now beaten them on an aggregate score of 14-0 in their last two meetings. The last match was the FA Cup Final, of course
City scored five goals in the first 18 minutes. Quique Sanchez Flores must be regretting taking on the Watford job for a second time. This was City's best Premier League win, but does not quite match the record win of Manchester United (9-0) against Ipswich in 1995. Spurs didn't do bad against Wigan (9-1) in 2009 of course. City have had bigger league wins, the most recent of which was a 10-1 against Huddersfield in 1987.
For the record, the goals came in the following order:-
1. After Watford kicked off and lost possession, City built from the back (Fernandhino was one of the centre backs). De Bruyne's lethal cross was poked in by David Silva after 52 seconds. Deulofeu actually had a chance for Watford after 4 minutes but fired wide across the goal.
2. De Bruyne puts the ball through to Mahrez, who is brought down by Foster. Aguero scores from the spot (7 mins)
3. Note that Sterling didn't get off the bench in this game. After 12 minutes Mahrez made it 3-0 with a deflected free kick after he had been fouled on the edge of the area after a solo run from almost the half-way line.
4. Bernardo Silva scored the first of a hat-trick with just 15 minutes on the clock. De Bruyne was the architect again having won a corner on the right before taking it. Otamendi headed it on and Bernardo Silva stooped low to score with his head.
5. Three minutes later Otamendi stabs home at the back post from Aguero's cross from the left following a free kick. Aguero subsequently hit the post when receiving another De Bruyne cross. Watford debutant Dimitri Foulquier was taken off after just 33 minutes.
6. Three minutes into the second half Watford fail to clear within their area. David Silva threads a short pass for Bernardo to slot home his second goal.
7. Bernardo hit his hat-trick goal on the hour receiving yet another devastating cross from De Bruyne at the back post.
8. After Mahrez hit the bar with a header, the former Leicester player offered a pass to De Bruyne who scored himself with a powerful shot rising into the roof of the net.
City were awesome, and could have had more goals. It's frightening really, isn't it?
Newcastle 0 Brighton 0
There is not much to say about this game. Newcastle had their lowest home crowd for a Premier League game for 9 years (41,360). Andy Carroll came off the bench after 82 minutes.
Maupay had an early shot saved by Dubravka at his left post, and a Lewis Dunk header landed on top of Newcastle's bar following a corner. Almiron, who still hasn't scored for the club who paid over £20 million for him in January, had a shot saved because it was hit straight at Ryan. Joelinton headed wide from a corner, and blasted a shot wide early in the second half. Another Almiron shot was easy for Ryan.
Brighton substitute Connolly had a shot cleared off the line by Schar. Carroll got a big roar when he came on, but had no shot or header on goal.
Sunday 22nd September, 2019
Crystal Palace 1 Wolves 1
Wolves are still looking for their first Premier League win of this season, and as a result remain in the bottom three. Even after 6 games last year, two of the bottom three (Cardiff and Huddersfield) ended the season being relegated.
Wolves had first half chances, the best of which fell to Doherty, whose header was well saved by Guaita. The Palace keeper also saved from Jota's shot.
Wolves actually scored both goals in this game. The first was a Dendoncker own goal after Joel Ward's shot was severely deflected by the unfortunate Wolves player before going into the net off Rui Patricio. That was in the first minute of the second half.
Saiss got a first yellow for bringing down Zaha as he attacked the right wing, and a second yellow after 73 minutes for putting his arm around Zaha inside the Palace half. Benteke hit a shot straight at the keeper, and Schlupp also hit a shot at Rui Patricio in added time. Roy Hodgson would be sorely upset at the fact that Wolves equalised even later in added time when Jota fired into the roof of the net from the back post after Traore's cross. That point could be precious to Wolves at the end of the season.
West Ham 2 Manchester United 0
Gary Neville was apoplectic about the state of his former team, and the lack of players with experience and expertise. In the Sky studio, Roy Keane was equally disparaging and Jose Mourinho was perhaps cautiously critical about the team he last managed.
Of course this result became all about Manchester United, but it has to be said West Ham deserved their win, and despite an opening day thrashing at home to Man City, the "Hammers" found themselves in the top four, at least until the subsequent Arsenal win. Three of the top four this time last year ended up claiming Champions League places. Let's hope that does not include Arsenal or West Ham this season, but that Spurs are included. We were outside the top four after 6 games last year, with two defeats.
United lost Rashford to injury during the second half, and were already missing Martial and the 17 year old prodigy that is Greenwood, who scored their Europa League winner on Thursday. Even with Rashford, United were toothless against the resilience of Ogbonna and Diop.
The "Hammers" took the lead with arguably the first moment of quality in the game after 44 minutes. It came from a drilled shot by Yarmolenko. They had to wait till the 84th minute for their second. Aaron Cresswell had already had one sighter, but beat De Gea with an excellent free kick from just outside the area inside the keeper's top left corner.
I hope I don't have to eat the words I wrote in my first Premier League review of the season about West Ham.
Manchester United next play in the Premier League against Arsenal next Monday night. Spurs fans generally hate teams who play in red, but they might like to check out the Redbet site for offers regarding this game and indeed other sports too.
Arsenal 3 Aston Villa 2
You'll thank me for saying as little about this game as possible. However, it has to be said that with 10 men (Maitland-Niles got a second yellow in the first half), Arsenal came back not once, but twice to beat a valiant Villa side.
Trezeguet and McGinn had been a thorn in the side for Arsenal early on with Trezeguet's runs down the right and two shots by McGinn being saved by Leno. McGinn scored in the 20th minute when he was allowed to ghost in at the back post to prod home a cross from the left by El Ghazi. Maitland-Nikes hobbled off with an injury when referee Jon Moss showed him his second yellow late in the half.
Villa held their lead until the 59th minute when Pepe scored from the spot after Engels had brought down the advancing Guendouzi just inside the area. Villa bounced back though within a minute when Wesley slotted home a cross by Grealish who had made a terrific run down the left channel.
The dreams of Villa's fans would be broken though. Heaton made a great save at his right post from a Guendouzi shot, but Chambers levelled the scores when he got a second shot at goal from the right of the box following Guendouzi's pass. In the 84th minute Aubameyang made it 3-2. He had been brought down by Engels just outside the box, then scored with the free kick around the wall, beating the stationary Heaton.
Villa claimed a penalty in the closing minutes when a shot hit Sokratis's upper arm, but the claim had no support from the officials.
Chelsea 1 Liverpool 2
Liverpool became the first Premier League side to win their first six games in two consecutive seasons, and have won their last 15 league games. Their five point lead is intact for the moment, despite City's mammoth win over Watford.
Having taken a 2-0 lead Klopp's side had to survive good second half pressure from Chelsea, who, like Spurs, had a "goal" rescinded due to a marginal offside VAR decision. Alexander-Arnold had given the visitors a 14th minute lead with a clever training ground free kick move. Salah ran across the ball but flicked to the right back who scored with a well placed powerful shot inside Arrizabalaga's left post.
Chelsea lost both Emerson and Christensen to injury in the first half, but Liverpool were 2-0 up before Christensen went off. That goal also came from a free kick, this one taken on the left by Robertson and delivered for Firmino to plant a firm header in the middle of goal.
Abraham had two good chances in the first half. One when he was through on goal, but saw his shot saved by the legs of Adrian, enjoying a sustained spell as Alisson's deputy. Abraham also out a header wide.
That second half pressure did see a goal for the home side and it was a clever right foot finish just inside the post by Kante after 71 minutes.

Fixtures & Results 20-22.09.19

Friday

S'hampton   1-3   B'mouth

Saturday

Leicester   2-1   Spurs
Burnley     2-0   Norwich
Everton     0-2   Sheff Utd
Man City    8-0   Watford
Newcastle   0-0   Brighton

Sunday

C. Palace   1-1   Wolves
West Ham    2-0   Man Utd
Arsenal     3-2   A. Villa
Chelsea     1-2   Liverpool

           Premier League Table

               P  W  D  L   F-A   GD   Pts

 1. Liverpool  6  6  0  0  17-5   12   18
 2. Man City   6  4  1  1  24-6   18   13  
 3. Leicester  6  3  2  1   8-5    3   11
 4. Arsenal    6  3  2  1  11-10   1   11
=========================================
 5. West Ham   6  3  2  1   8-7    1   11
=========================================
 6. B'mouth    6  3  1  2  11-10   1   10
 7. Spurs      6  2  2  2  12-8    4    8  
 8. Man Utd    6  2  2  2   8-6    2    8
 9. Burnley    6  2  2  2   8-7    1    8
10. Sheff Utd  6  2  2  2   7-6    1    8
11. Chelsea    6  2  2  2  12-13  -1    8
12. C. Palace  6  2  2  2   4-7   -3    8
13. S'hampton  6  2  1  3   6-9   -3    7
14. Everton    6  2  1  3   5-9   -4    7 
15. Brighton   6  1  3  2   5-8   -3    6
16. Norwich    6  2  0  4   9-14  -5    6
17. Newcastle  6  1  2  3   4-8   -4    5
=========================================
18. A. Villa   6  1  1  4   6-9   -3    4 
19. Wolves     6  0  4  2   7-11  -4    4
20. Watford    6  0  2  4   4-18 -14    2

· All the Spurs Stats you could hope for here! THFC6061 Sports Stats