Premier League Review - Matchday 8
Saturday 5th October, 2019
Man of the match Aaron Connolly became the first teenager to start a Premier League game for Brighton. He is also the first Irish teenager to score twice in a game since Robbie Keane did it for Coventry in 1999. Robbie scored his first two Premier League goals on August 21st 1999 against Derby.
This was also Brighton's first Premier League win against Spurs, but it was only our fifth such meeting. There have not been any other league meetings since April 1983, when Brighton beat us 2-1 at The Goldstone Ground.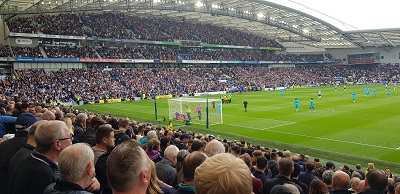 If we take the spursometer as a good barometer of fans' feelings and the performance of our team and manager then the overall 25% mark given for this performance was equally the worst seen in Mauricio Pochettino's five and a bit seasons at Tottenham. the only other time there was a mark so low was when we lost 5-1 at Newcastle on the last day of the 2015/16 season. There were several bad performances in Pochettino's first season such as defeats to Stoke at home and away, and a 3-0 defeat at Old Trafford, but generally we have had some exciting times and great success under the manager.
After two consecutive shocking results it is not surprising that grades are falling to a very low level, but now, after 11 games played so far this season not one of our players reaches what you might call a par average of 6 out of 10.
Substitute Lucas Moura with 5.5 was deemed our best player. Here are a selection of comments made by some of those who cast votes in our poll:-
"Sissoko was immense in a poor side! Such a pity that so few players matched his commitment and effort on the day. Pity about Hugo. Yes, he should have touched the ball over the bar ....says me, sitting (or I should say standing, though not through choice!) in the stand. But this was just an unfortunate injury resulting from perhaps a poor decision. Let's just wish him well, soonest."
"......Certain players are looking elsewhere and Ndombele is certainly not covering the metres necessary. In fact the 3 defeats show the lack of press that Winks has been doing. Dier looks good and while Ndombele did not match his energy I believe the leader on the pitch (Sissoko) is right, it is not a blame game"
"Same old problem, far too many mis-placed passes. Poch hasn't helped with his ad-hoc 'perhaps going' or 'not going' comments, which must be unsettling. Also, the players who clearly don't want to be there. Well, I'd say to them, while you're here, at least respect the shirt and the Club, fans etc by giving your all while you're here and representing Spurs!!!!! We were part of 3,000 fans who set out early and were distraught yet again at full-time against a poor team. Not remotely good enough."
"Worst gutless performance for a long time"
Burnley 1 Everton 0
Everton fell to their fifth defeat and their fourth consecutive Premier League defeat. The "Toffees" ended the weekend in the bottom three. Burnley on the other hand are one of 8 teams finishing the weekend above Tottenham.
Seamus Coleman was shown a red card after a second bookable offence in the 56th minute. Burnley's goal came in the 72nd minute when Hendrick met a deep corner with a powerful right footed shot into the roof of Jordan Pickford's net.
Liverpool 2 Leicester 1
Liverpool's winning run continues, and they ended the weekend 8 points clear of Champions Manchester City. Last week they nicked a result at Bramall Lane, due to a goalkeeping error. This week they got an added time penalty to take all three points.
Liverpool played towards the Kop in the first half, but they didn't score until the 40th minute when Mane was onto a Milner pass and fired low past Schmeichel. Mane was denied a second goal by the Leicester keeper after Firmino had teed him up nicely with a ball from the left of the penalty area.
Leicester had their chances in the second half and equalised after 80 minutes when Maddison put the ball underneath Adrian after passes by Albrighton and substitute Perez. Brendan Rodgers must have thought he was going to take something from his former team. However, two minutes into added time, Mane was awarded a soft penalty when Albrighton made contact from behind. Milner scored from the spot to give the "Reds" their 17th consecutive league win.
Norwich 1 Aston Villa 5
Norwich are sliding and leaking goals badly, and fell into the bottom three, whilst Villa gleefully leapt out of the relegation zone and above the "Canaries". Norwich had been forced to start with McGovern, their third choice keeper, and they remain otherwise weakened by injuries.
The rout started after 14 minutes when Wesley received a ball from the right by El Ghazi and was given time to turn and pick his spot to the right of the keeper. Villa might have scored a second goal after a corner when McGovern saved from El Ghazi. Wesley headed the corner down; the goalkeeper could only chest it to the feet of El Ghazi who lifted his shot over the bar.
Wesley did make it 2-0 after half an hour following a nice move started by Grealish and following passes from the left by Targett and Hourihane. It was a good near post finish, but Norwich's marking was awful. McGinn then stole the ball in midfield, and Hourihane exchanged passes with Grealish before being felled inside the box. Wesley was given the chance to score his hat-trick goal from the spot, but saw his shot saved by McGovern. Wesley fired the rebound wide.
Grealish made it 3-0 after 49 minutes, after exchanging passes with El Ghazi, but he had the freedom of the Norwich area. Hourihane made it 4-0 in the 61st minute with a left foot shot after Grealish had been allowed to steal the ball only just outside the box. Douglas Luiz made it 5-0 after 83 minutes with a right-footer from 20 yards. Drmic was allowed a consolation goal after 87 minutes after a poor ball towards his keeper by Tyrone Mings.
I understand that Villa have criticised their own fans for what have been described as stereotypical racist chants about two of their own players, one of whom was Marvelous Nkamba.
Watford 0 Sheffield United 0
Watford are the one team still looking for a Premier League win, and are rooted to the bottom of the table. Their next game is at Tottenham!
Andre Gray managed to scoop the ball over the net from close range after Pereyra's cross. Early in the second half Danny Welbeck had a run at goal but hit his shot at goalkeeper Henderson. Watford had an added time free kick with Dawson's header well saved by Henderson.
The "Blades"' best chance had been in the second half when Robinson had a shot well saved by Foster, who had also had to push a potential own goal around his post in the first half.
West Ham 1 Crystal Palace 2
If you take Watford out of the equation, because they are outside the M25, then all four London sides are above Spurs. West Ham fans will be very disappointed not to have stretched their lead over their hated rivals, but more so because they could have been in the top four for the International break.
There had been chances at either end, most of which had fallen to West Ham, who did take a 54th minute lead when Haller stabbed in Fredericks' ball from the right of the Palace area. Palace equalised from the penalty spot after 63 minutes, after Declan Rice put his arm up in the area and was penalised, following a Palace free kick. Van Aanholt was the scorer.
Palace had a winner after 87 minutes after Zaha was fouled. Following the free kick Townsend returned the ball to the area and Ayew scored from close range. He was initially flagged offside, but VAR reversed that decision and the goal stood.
Sunday 6th October, 2019
Arsenal 1 Bournemouth 0
Arsenal have a four point lead over Spurs, and lead the pack chasing the top two. Arsenal's goal came early, in the ninth minute. Aubameyang had already fired a warning shot across the Bournemouth goal, before Chambers won a corner from which the enigmatic David Luiz headed home across the keeper. It was the former Chelsea man's first Arsenal goal.
Bournemouth didn't manage a decent attack in the first half, but were brighter after the break, without forcing any saves from Leno.
Manchester City 0 Wolves 2
This was an incredible result and of course a great achievement for Wolves, who scored two late goals through Adama Traore. They were his first goals since September 2018. City hadn't lost at home since last December against Palace.
Cutrone had a great chance for Wolves after only five minutes, when he was put through by Traore, but he pushed his shot wide. Jimenez was gifted another chance by a terrible City ball backwards from halfway, but the City defence managed to block the Wolves man and the follow-up shot by Cutrone.
Otamendi made a horrible pass from the right, again near the halfway line and Jimenez had a run at goal after 28 minutes, but he was blocked by Ederson and Fernadinho, although Wolves felt Fernandinho had given him a shove in the back.
33 minutes had gone before City had their first meaningful chance, which was a right foot shot by Sterling, well saved by Rui Patricio.
David Silva hit the woodwork with an early second half free kick, but Wolves were withstanding the early pressure on their goal.
Traore was pushed forward for Wolves after the substitution of Cutrone, when Doherty took over the right wing-back position. After 80 minutes Wolves broke out of their own half with a determined run by Jimenez, who fed the ball to Traore to his right. Traore beat Ederson with a low right footed shot in front of the ecstatic Wolves fans.
Aguero pulled a shot wide in added time before Traore repeated his goal. Rodri lost the ball in the Wolves half; Jimenez passed the ball earlier to Traore this time, but it was a similar finish and a great day for Wolves and their fans.
City had no doubt missed the injured De Bruyne, but they were severely under par in this game. They've shown fallibility twice now in recent weeks.
Southampton 1 Chelsea 4
Chelsea's young guns led their continuing climb up the table, and opening goalscorer Tammy Abraham leads the Premier League goal scorers' chart with 8 goals alongside Sergio Aguero.
Southampton had made a bright start with Redmond firing just over the Chelsea goal, but Abraham opened the scoring after 17 minutes when he lifted the ball over Gunn. It looked as if Yoshida had made a goal-line clearance, but technology indicated the ball had crossed the line. Mason Mount made it 2-0 seven minutes later after Willian put him through and the 20 year old made no mistake.
Danny Ings got one back for the "Saints" after half an hour meeting Valery's cross at the near post, but Kante left Gunn standing with a deflected shot in the 40th minute. Chelsea substitute Batshuayi made it 4-1 in the 89th minute after a one-two move with another sub Christian Pulisic.
Newcastle 1 Manchester United 0
This was another notable result, not so much because a weakened Manchester United side were beaten, but because Steve Bruce recorded his first win as a manager against his old club on his 22nd attempt. This was also Bruce's 400th Premier League game as a manager.
Another piece of history belonged to 19 year old Matty Longstaff (brother of Sean, who played beside him in midfield). Matty was making his Premier League debut, and having hit the top of the bar with a first half shot, he scored the winner in front of the Gallowgate End in the 72nd minute!
Matty Longstaff's first half shot had been a 22 yard dipper hit with his right foot after 28 minutes. Harry Maguire missed a free header from a corner just before half time. Longstaff's winning goal was a right foot shot from the same distance as his first half effort, but beat De Gea low to his right.
United have just 9 points which is their lowest haul after the opening 8 games of a season since 1989. Their next game is at home to Liverpool!

Fixtures & Results 05-06.10.19

Saturday

Brighton    3-0   Spurs
Burnley     1-0   Everton
Liverpool   2-1   Leicester
Norwich     1-5   A. Villa
Watford     0-0   Sheff Utd
West Ham    1-2   C. Palace

Sunday

Arsenal     1-0   B'mouth
Man City    0-2   Wolves
S'hampton   1-4   Chelsea
Newcastle   1-0   Man Utd

           Premier League Table

               P  W  D  L   F-A   GD   Pts

 1. Liverpool  8  8  0  0  20-6   14   24
 2. Man City   8  5  1  2  27-9   18   16  
 3. Arsenal    8  4  3  1  13-11   2   15
 4. Leicester  8  4  2  2  14-7    7   14
=========================================
 5. Chelsea    8  4  2  2  18-14   4   14
=========================================
 6. C. Palace  8  4  2  2   8-8    0   14
 7. Burnley    8  3  3  2  11-9    2   12
 8. West Ham   8  3  3  2  11-11   0   12
 9. Spurs      8  3  2  3  14-12   2   11  
10. B'mouth    8  3  2  3  13-13   0   11
11. Wolves     8  2  4  2  11-11   0   10
12. Man Utd    8  2  3  3   9-8    1    9
13. Sheff Utd  8  2  3  3   7-7    0    9
14. Brighton   8  2  3  3   8-10  -2    9
15. A. Villa   8  2  2  4  13-12   1    8 
16. Newcastle  8  2  2  4   5-13  -8    8
17. S'hampton  8  2  1  5   8-15  -7    7
=========================================
17. Everton    8  2  1  5   6-13  -7    7 
18. Norwich    8  2  0  6  10-21 -11    6
20. Watford    8  0  3  5   4-20 -16    3

· All the Spurs Stats you could hope for here! THFC6061 Sports Stats