Main Page
News and views from Paul Smith, and links to the interactive features of the Spurs Odyssey Site. [more..]
Features
Articles, reports, views, opinions, comments and other features all related to Spurs. [more..]
News
Browse hundreds of bonuses at Online Casinos XYZ
Players from all over the world can now enjoy casinos where registration is not needed.


Match Reports

No deposit bonuses are known to be the most convenient for every player - asgardcasinosfi.com provides you with the necessary information of how to use the no deposit bonuses.
Read this Unibet casino review at Casinodealen.se and claim your exclusive bonus offer
Get an independent and serious list of Norwegian casinos online at Casinobonuser.nu
Norwegian sports fans can count on Betsjekk to deliver the best betting sites for both beginners and pro's
Thank you for visiting Spurs Odyssey
Spurs Odyssey Arrivals & Departures Lounge
· Spurs Odyssey Arrivals & Departures Lounge


It is still early in the domestic close season, and of course all eyes are on the Euro 20 Tournament which is only just under way. Already, on Day Two of this delayed competition the headline story was former Spur Christian Eriksen's collapse on the field of play towards the end of the first half of Denmark's game against Finland. At this time, what appeared to be potential disaster has turned into a positive story of stabilisation and recovery on hospital. The incident brought back memories of Fabrice Muamba's collapse at White Hart Lane in March 2012. With that distinct memory, watching the incident on Saturday in Copenhagen became especially emotional for those who had witnessed both incidents. Of course, Spurs Odyssey sends its heartfelt best wishes to Christian and his family, along with the much-deserved praise for the superb paramedics and the strength and unity of Christian's team-mates, not least Denmark's captain Simon Kjaer who cleared Christian's airway and placed him in the recovery position.

Earlier on the same day, Spurs formally announced the appointment of Fabio Paratici, who formally becomes our "Managing Director, Football" on July 1st.......
Harry Kane and the Spurs Odyssey Player of the year history
· Harry Kane and the Spurs Odyssey Player of the year history


Harry Kane won three club Player of the Season awards, and has won this year's Spurs Odyssey vote for just the second time. Bearing in mind Harry's fantastic goal returns that might come as a surprise. His final figures for this season are 23 Premier League goals and 33 club goals. Add to that 14 Premier League and 3 other assists and there is no doubt Harry Kane has had yet another great season on an individual level for his club. Harry won his third Golden Boot, and also the Premier League's playmaker award.
Norman Giller's Spurs Odyssey Blog
· Big Brother Charlie has Our Harry City bound - Giller's View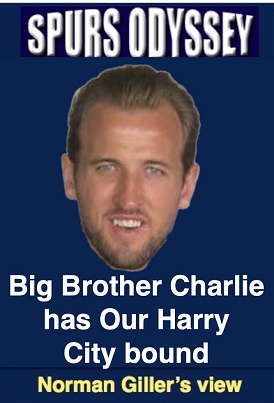 While all attention is on whether Mauricio Pochettino is returning to the manager's hot seat at Tottenham, a company called CK66 is quietly working away to make sure he will not have Harry Kane waiting to welcome him back.
This is the agency that represents 'Our Harry' and is run by his older brother Charlie and father Patrick. It has swish offices in the heart of the City of London's financial district, and they are geared up to handle what would be a world record £150-million transfer deal. They have only one client: Harry Kane..........
· See Norman Giller's article in full.
· The "Giller Index" - listing all Norman's articles for Spurs Odyssey
· Spurs fans in Ireland who like a bet visit irishfreebet.com first for some free bets.
· Online casino has never been easier than in Sweden. Swish casino is the fastest way to make deposits with your phone. When will we get something similar in the UK?
The "Spursometer" - Spurs Odyssey's exclusive Form Guide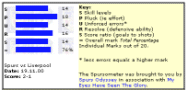 · Still waiting for the new normal (Season review)
· Scraping into Europe - again (May review)
· Premier League Review - Matchday 38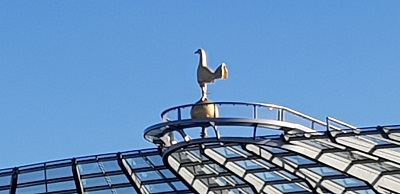 · All the Spurs Stats you could hope for here! THFC6061 Sports Stats

Visit Casino Bernie to find the best pay by phone casino sites in UK
Prediction and fantasy leagues are back in action and football tipsters can study form and play their various online games again.
Get an 888sport free bet and use it on their wide range off football and sports betting markets.
· You can now play mobile bingo for free and bingoformobile.co.uk is top of the league when it comes to no deposit offers.
Check out all the latest Live Roulette UK tables.
Leicester v Spurs Premier League Match Report (23.05.21)
· Leicester 2 Spurs 4 - Celebrating Europe (of sorts) and finishing above Arsenal
· Leicester v Spurs Preview - I'm fearing number thirteen


Both teams finished the day where they had started. Leicester were in fifth. Spurs were in seventh. As always, all games on the last day kicked off at the same time, and at various times during the 90 minutes plus, Leicester were as high as third and heading for the Champions league, whilst Spurs were as low as eighth, below Arsenal and heading nowhere. There were ups and downs and Spurs went behind twice. The "Happy Clappers" ( for Leicester fans are still issued with their applause toys) were over the moon, but despite the fact Chelsea lost at Villa, Spurs came back from behind with a great goal by Kane, a blooper by Schmeichel (who I believe has conceded more goals against Spurs than anyone) and two goals by ace substitute Gareth Bale. Thus Spurs qualified for the third-rate European conference League (and even have to take part in a play-off round), but perhaps the best news was that we managed to finish above Arsenal, despite them beating Brighton. They are out of Europe for the first time in 25 years. My reverse psychology prediction of defeat worked a treat! ...........
Spurs Development & Academy Fixtures, 2020-21
· Spurs PL2 Fixtures and results - 2020-21
· Spurs Youth Fixtures and results - 2020-21


Our under-23 side finished third and the U-18 finished sixth in their respective league tables. The U-18s played their last game away to Leicester on Friday 14.05.21. The PL2 side lost badly at home and away to Champions Manchester City in their last two matches. Latest tables for both sides can be monitored at the Premier League site.

This season, due to the ongoing social distancing measures in place to guard against COVID-19, all our home fixtures in the Premier League 2 were played at Hotspur Way. PL2 and Youth Matches have been staged behind closed doors.

Therefore Spurs Odyssey was not allowed to attend these games.
Spurs Odyssey Message Board
Spurs Odyssey Message Board

The most epic thread on The Spurs Odyssey message board was one which started in 2010. This provided the history of our new stadium applications (including the thankfully unsuccessful bid for the Olympic Stadium) right up to the present day with images of the completed new stadium. In the early hours of Saturday 20th October, 2018, our stadium thread reached 1,000 pages! There is a genuine community feel about the board, which is moderated.
Every Spurs match is covered with excellent threads, which feature images and stats from previous games. There is so much to enjoy about the message board which also has an off-topic section where non-football matters are discussed.
There is also a great archive of filed material with links to some great Spurs history and goals.
If you would like to become even more involved, then please e-mail me (webmaster@spursodyssey.com) stating your full name, address (Town and Country will suffice!) and desired user name, and I will do the rest.
I look forward to hearing from you!
If you are a fan of mobile gaming, visit NewCasinoUK to find a list of the best new mobile casinos in the UK.
If you are searching for a safe online casino in Canada, LiveCasinoOnline.ca is the place for you. Only trusted and licensed operators.
Spurs Odyssey ...also on Facebook here
Search Spurs Odyssey &/or The Web!
Back to top of page
Play gambling games online at live dealer casino with best croupiers in the UK.

Sign up at bet365 with your-promotional-code.co.uk
Get daily updated enhanced odds offers on the latest Premier League games
Check out all Swedish Betting sites at Casivo