Thank you for visiting Spurs Odyssey
Spurs Odyssey Premier League Match Preview
· Chelsea v Spurs Preview - Could we do it again? Win, I mean!
· Spurs record in recent London Derby League matches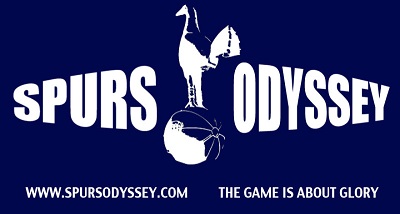 Do you remember that heady April Fool's Day less than four and a half years ago when we achieved our one and only Premier League away win at Stamford Bridge? It was achieved thanks to a cracking late first half goal by Christian Eriksen and two second half goals by Dele Alli. Harry Kane had been injured and didn't come on until the last quarter of an hour. Spurs had scored seven goals in their previous two games without Kane. Dele had scored one of those and Eriksen two more. "Sonny" scored twice in a 4-1 win at Bournemouth. Who then would have believed the chain of events that would lead to Christian Eriksen starting for Manchester United last week as a "false nine" and Dele Alli being nothing more than a bit-part player at struggling Everton?...
Spurs Odyssey Premier League Reviews
· Matchday One - Praise for Kulusevski and Dier

Norman Giller's Spurs Odyssey Blog
· Spurs' Loan Ranger Kulusevski is no longer a hidden ace - Giller's View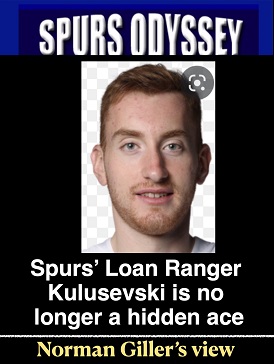 The only sad fact to emerge from our early-bird place here at the top of the Premier League table is that in Dejan Kulusevski we no longer have a hidden ace. His now-you-see-me-now-you-don't magic tricks against Southampton alerted every coach in the Premier League to the fact that he is dynamite.
He will be given the same attention in pre-match tactical talks as Harry Kane and Son Heung-min. If you are wondering why Harry and Sonny failed to make an impact on Saturday it is because they were both shackled by markers, which enabled the likes of Ryan Sessegnon, Eric Dier and Emerson Royal to have a field day. They profited from the spaces left by a Saints defence concentrating on shutting out the dynamic duo.
Now our Ginger Magician – Stockholm-born to Macedonian parents – will get the same concentration from eagle-eyed coaches, who cannot allow him to dominate matches like he did against Southampton..........
· See Norman Giller's latest article in full.
· The "Giller Index" - listing all Norman's articles for Spurs Odyssey
· Spurs fans in Ireland who like a bet visit irishfreebet.com first for some free bets.
· Online casino has never been easier than in Sweden. Swish casino is the fastest way to make deposits with your phone. When will we get something similar in the UK?
Spurs Odyssey Premier League Match Report
· Spurs 4 Southampton 1 - Impressive win for Spurs old guard
· Spurs v Southampton Preview - Plenty of third place predictions!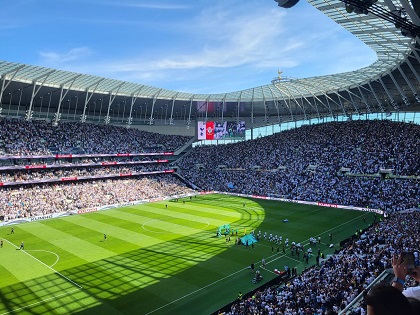 Tottenham was heaving. The weather was hot as was the atmosphere generated by a near 62,000 crowd excited at the prospect of seeing some of the six new signings acquired in the summer. Richarlison had to sit this game out due to his over-excitement when a flare was thrown at Goodison Park towards the end of their season. Former "Saints" keeper Fraser Forster stayed on the bench, as did Djed Spence, but three of our new boys at least got a sniff of the White Hot Lane atmosphere after the win had been secured with an impressive performance by the same team which had beaten Norwich 5-0 on the last day of last season – with the exception of Romero for Sanchez.
Any game in the Premier League is a potential banana skin and last season Ralf Hasenhuttl's men took four points off Spurs and even won at The Lane. When skipper James Ward-Prowse put them into a 12th minute lead it looked briefly as if "Saints" might spoil the party again, but Spurs soon responded with two goals by defenders to take a first half lead. Last season's top scorers Son and Kane were very much reduced to playing second and third fiddle as Dejan Kulusevski continued his fine figures with a goal and an assist together with some super skills........
Spurs Odyssey Feature articles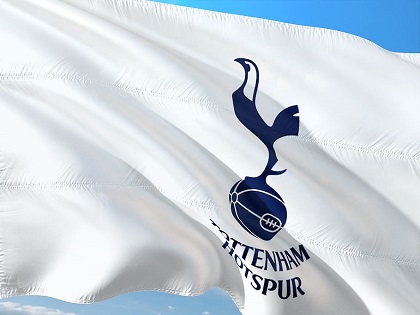 SOURCE: Photo
· Premier League Review Matchday One - Praise for Kulusevski and Dier
· Some best online casino sign up bonus online in the UK 2022 don't have wagering but then there are other rules.
Non perdere tempo e scegli uno tra i casino online migliori in Italia dalla nostra lista. Abbiamo esaminato ogni dettaglio, dalla gamma dei giochi e interfaccia ai migliori bonus casino e metodi di prelevare vincite più convenienti.
· Spurs fans can find the newest Irish betting sites and get the best odds on the next game.
· Play the best Indian cricket betting sites today.
· Compare and find the best new online casinos here.
· All the Spurs Stats you could hope for here! THFC6061 Sports Stats

· Check out all the latest Live Roulette UK tables.
Spurs Odyssey Friendly Match Report
· Spurs 0 Roma 1 - Spurs suffer narrow defeat against Mourinho's Roma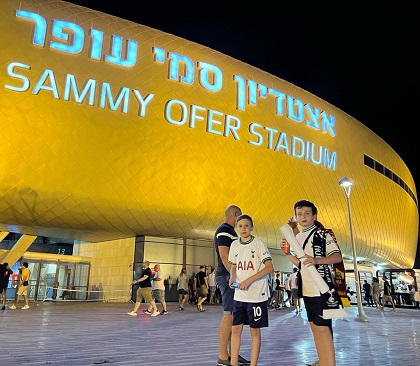 This exclusive eye-witness report and photograph come courtesy of my very good friend Jonathan Adelman,to whom I offer my great thanks.
Spurs fell to a narrow defeat in their final pre-season friendly against José Mourinho's Roma in a match played (despite the 9.15pm local time kick off) in intense heat and humidity, reminiscent of Madrid 2019, in the northern Israeli city of Haifa.
Haifa, 90 minutes drive north of Tel Aviv, is a port city, with the suburbs nestled in the Carmel Hills overlooking Haifa Bay. Its usually less humid than the central lower laying Tel Aviv area. The late kick off time was to allow observant Jews to travel to the game after sunset at the conclusion of the Sabbath. Many travelled from Tel Aviv and Jerusalem for the game....
Spurs Odyssey - Summer 2022 arrivals
· Spurs' summer arrivals - updated 19/07/22


The short close season has been exciting for Spurs fans from the moment the club announced the investment of an additional £150 million into the kitty. The influence of Antonio Conte has surely led to one of the most active and fruitful transfer windows in recent years. Only two or three years ago we had been clamouring for refreshment of personnel. Spurs' ability to maintain and then compete for Champions League football suffered, but thanks to Conte and a fine end of season run, we will see Champions League football again this season at The Tottenham Hotspur Stadium........

Full story here
See also -Spurs Departures (so far) Summer 2022
Spurs Odyssey Message Board
Spurs Odyssey Message Board

The most epic thread on The Spurs Odyssey message board was one which started in 2010. This provided the history of our new stadium applications (including the thankfully unsuccessful bid for the Olympic Stadium) right up to the present day with images of the completed new stadium. In the early hours of Saturday 20th October, 2018, our stadium thread reached 1,000 pages! There is a genuine community feel about the board, which is moderated.
Every Spurs match is covered with excellent threads, which feature images and stats from previous games. There is so much to enjoy about the message board which also has an off-topic section where non-football matters are discussed.
There is also a great archive of filed material with links to some great Spurs history and goals.
If you would like to become even more involved, then please e-mail me (webmaster@spursodyssey.com) stating your full name, address (Town and Country will suffice!) and desired user name, and I will do the rest.
I look forward to hearing from you!
If you are a fan of mobile gaming, visit NewCasinoUK to find a list of the best new mobile casinos in the UK.
Alternatively, as Antonio Conte might say, "Se sei un appassionato di scommesse, gioca sui migliori bookmakers inglesi recensiti da NuoviCasinoItalia.it."
Spurs Odyssey ...also on Facebook here
Search Spurs Odyssey &/or The Web!
Back to top of page

Play gambling games online at live dealer casino with best croupiers in the UK.

Sign up at bet365 with your-promotional-code.co.uk
Get daily updated enhanced odds offers on the latest Premier League games