Main Page
News and views from Paul Smith, and links to the interactive features of the Spurs Odyssey Site. [more..]
Features
Articles, reports, views, opinions, comments and other features all related to Spurs. [more..]
News
Browse hundreds of bonuses at Online Casinos XYZ
Players from all over the world can now enjoy casinos where registration is not needed.

Check more PayPal Betting Sites at onlinesportsbettingsites.co.uk

Match Reports

No deposit bonuses are known to be the most convenient for every player - asgardcasinosfi.com provides you with the necessary information of how to use the no deposit bonuses.
Read this Unibet casino review at Casinodealen.se and claim your exclusive bonus offer
Get an independent and serious list of Norwegian casinos online at Casinobonuser.nu
Norwegian sports fans can count on Betsjekk to deliver the best betting sites for both beginners and pro's
Thank you for visiting Spurs Odyssey
Premier League Match Preview
· Spurs v Chelsea preview - Never mind zero carbon, Spurs fans, I fear zero points.
· Spurs' record in London Derby League matches since 1997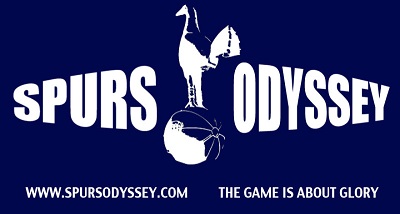 Spurs' 59th Premier League meeting with Chelsea on Sky's "Super Sunday" is being hyped up as a "Zero Carbon" match where everything possible is being done to reduce our carbon footprint on the day. Never mind zero carbon, Spurs fans! With our long list of injuries and other possible absentees and Chelsea's form and great strength in depth, even this most optimistic of fans fears zero points for Spurs this weekend.
Chelsea's romantic experiment with Frank Lampard as their manager ended on January 26th this year with the club sitting precariously outside the Champions League places. Why, they were even below Tottenham! Spurs fan Thomas Tuchel was appointed and since then, Chelsea have lost just five out of 36 games played in all competitions. The "Blues" are unbeaten in 6 games this season, and in my view they are major title contenders this season......
Spurs Odyssey Europa Conference League Match Report
· Rennes 2 Spurs 2 - Hard-won draw in Rennes
· Rennes v Spurs match preview - This is a momentous day - honest!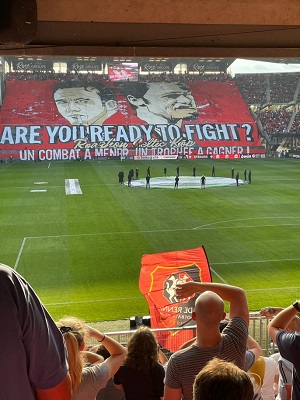 The banner displayed before kick-off by the home fans stated "Are you ready to fight?" Things did not get that bad, but with a referee who didn't show a yellow card until the last ten minutes of the game, which allowed a home side who put in some hard (but never vicious) tackles, Spurs' task was made all the harder. Already missing 6 players though Covid isolation and injury, matters were not helped by Steven Bergwijn having to be replaced after half an hour and Lucas Moura lasting only 9 minutes of the second half. Both must surely be added to the severely doubtful list for Sunday's game against Chelsea.
Don't get me wrong. Rennes were clearly worth their share of the points, and Spurs had more than a little luck to thank for both of their goals. Their first, which gave them the lead, was an own goal. Their second, which gave them a final equaliser relied upon a Doherty cross being deflected into the path of substitute Pierre-Emile Hojbjerg, who cleverly slotted home. In the end, I was happy to take a draw, and I suspect Spurs were too.......
The "Spursometer" - Spurs Odyssey's exclusive Form Guide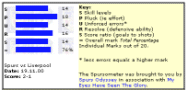 · Your grades re Rennes (A) - 16.09.21
· Premier League Review - Matchday Four
· London calling! Crystal Palace v Tottenham Hotspur news
· Some out of contract considerations
· Solid start for Nuno (August Review)
· Tottenham September 2021 Fixtures Preview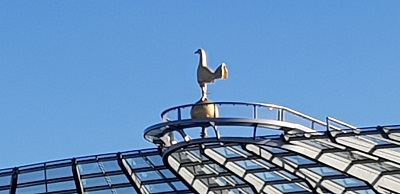 · All the Spurs Stats you could hope for here! THFC6061 Sports Stats

· Prediction and fantasy leagues are back in action and football tipsters can study form and play their various online games again.
· Get an 888sport free bet and use it on their wide range off football and sports betting markets.
· You can now play mobile bingo for free and bingoformobile.co.uk is top of the league when it comes to no deposit offers.
· Check out all the latest Live Roulette UK tables.
Norman Giller's Spurs Odyssey Blog
· Dispirited Spurs should try the RaduCANDO way - Giller's View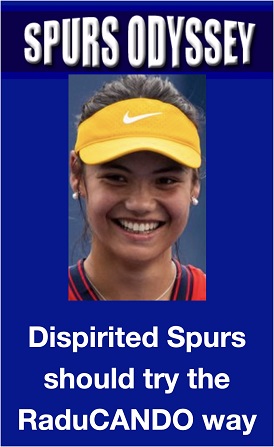 Who would have thought I would be suggesting Tottenham look to women's tennis for inspiration! Thanks to teen Queen of the courts Emma Raducanu, I have a spring in my step after Spurs had managed to turn my walk into a funeral march with their disappointing, dispirited performance at the Palace.
Emma's astonishing victory in the US Open got me thinking how Tottenham can learn from her historic triumph (the first Qualifier ever to capture a Grand Slam in the modern era and winning 10 matches without dropping a single set!).
Don't worry, I've not gone completely barking mad (yet). I know you cannot compare an individual sport like tennis with a team game, but there are lessons we can all learn from the remarkable Queen Emma............
· See Norman Giller's article in full.
· The "Giller Index" - listing all Norman's articles for Spurs Odyssey
· Spurs fans in Ireland who like a bet visit irishfreebet.com first for some free bets.
· Online casino has never been easier than in Sweden. Swish casino is the fastest way to make deposits with your phone. When will we get something similar in the UK?
Spurs Odyssey Premier League Match Report
· Crystal Palace 3 Spurs 0 - Down to earth with an almighty thump
· Crystal Palace v Spurs match preview - Who plays at the back for Spurs?
· Spurs' record in London Derby League matches since 1997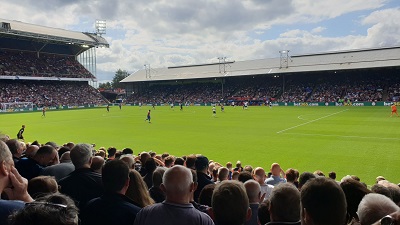 We knew about the extenuating circumstances regarding the absence of Lo Celso, Romero and Sanchez, who are isolating for Covid reasons after trips to South America and the injuries to Heung-min Son and Steven Bergwijn. Things became worse only 12 minutes into the game when Eric Dier had to leave injured and was replaced by Joe Rodon. Spurs did okay in the opening phases of the game without hitting even a shot on target, but overall they failed to compete with a Palace side who were looking for a first win and their first home goals under Patrick Vieira. Japhet Tanganga was sent off with over half an hour of the game to go and Spurs' struggle became much harder, not helped when Ben Davies blocked a Gallagher cross with his hand and Wilfried Zaha scored from the spot........
End of summer transfer window report
· Harry Kane was the biggest story - and he stays!
· Are Spurs being significantly quiet regarding Harry Kane?
· 1. Paratici arrives and departing players listed
· 2. Nuno says, "We are going to make you proud!"
· 3. Further transfer news
· 4. Farewell to a favourite


The fact that you can find six Spurs Odyssey articles relating to the various changes of personnel at Tottenham Hotspur Football Club surely confirms that this has been a busy, and in my view successful, window. Each of the previous articles is listed below, with the first feature about the arrival of "Managing Director, Football" Fabio Paratici, who can be seen at most games, keeping very busy on his phone.

Next, we reported the appointment of head coach Nuno Espirito Santo, and the various arrivals and departures including those of Cristian Romero and Bryan Gil. Now as the summer transfer window has finally closed, we can report the acquisition of right back Emerson Aparecido Leite de Souza Junior, otherwise known as "Emerson Royal" (pronounced "Royale"). Emerson will wear the number 12 shirt, and if he keeps to his current routine, his shirt will be identified by E. ROYALE.
Spurs Odyssey Message Board
Spurs Odyssey Message Board

The most epic thread on The Spurs Odyssey message board was one which started in 2010. This provided the history of our new stadium applications (including the thankfully unsuccessful bid for the Olympic Stadium) right up to the present day with images of the completed new stadium. In the early hours of Saturday 20th October, 2018, our stadium thread reached 1,000 pages! There is a genuine community feel about the board, which is moderated.
Every Spurs match is covered with excellent threads, which feature images and stats from previous games. There is so much to enjoy about the message board which also has an off-topic section where non-football matters are discussed.
There is also a great archive of filed material with links to some great Spurs history and goals.
If you would like to become even more involved, then please e-mail me (webmaster@spursodyssey.com) stating your full name, address (Town and Country will suffice!) and desired user name, and I will do the rest.
I look forward to hearing from you!
If you are a fan of mobile gaming, visit NewCasinoUK to find a list of the best new mobile casinos in the UK.
If you are searching for a safe online casino in Canada, LiveCasinoOnline.ca is the place for you. Only trusted and licensed operators.
Spurs Odyssey ...also on Facebook here
Search Spurs Odyssey &/or The Web!
Back to top of page
Play gambling games online at live dealer casino with best croupiers in the UK.

Sign up at bet365 with your-promotional-code.co.uk
Get daily updated enhanced odds offers on the latest Premier League games
Check out all Swedish Betting sites at Casivo