Main Page
News and views from Paul Smith, and links to the interactive features of the Spurs Odyssey Site. [more..]
Features
Articles, reports, views, opinions, comments and other features all related to Spurs. [more..]
News
rahapelit-netissa.com/kasinobonukset
Browse hundreds of bonuses at Online Casinos XYZ
Players from all over the world can now enjoy casinos where registration is not needed.

Check the best online casino in Czech!

Premium Online Casino Games
PlayOjo casino UK review for every British gambler
Match Reports


No deposit bonuses are known to be the most convenient for every player - asgardcasinosfi.com provides you with the necessary information of how to use the no deposit bonuses.
Read this Unibet casino review at Casinodealen.se and claim your exclusive bonus offer
Get an independent and serious list of Norwegian casinos online at Casinobonuser.nu
Norwegian sports fans can count on Betsjekk to deliver the best betting sites for both beginners and pro's
Thank you for visiting Spurs Odyssey
Spurs Odyssey Premier League Match Report
· Spurs 6 Leicester 2 - "Sonsational" hat-trick completes another goal-fest!
· Spurs v Leicester Preview - A time for solemnity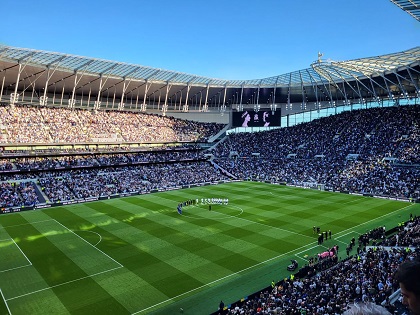 Heung-min Son, dropped for the first time this season having failed to score in the first 8 games, gave the best possible answer to his critics with a sensational hat-trick. The first two were Son goals of the finest vintage, scored with his right and left feet respectively in opposite corners of Danny Ward's net. The third was initially flagged offside but allowed following VAR's review. It was Son's first hat-trick since a 4-0 win at Villa Park in April and his fourth club hat-trick in all. This fixture has a habit of offering many goals and after four first half goals were matched in the second, this was no exception. The game was one of an open nature, but at half-time Leicester were level following a re-taken penalty and an excellent goal by James Maddison.
Brendan Rodgers' side remains rooted at the bottom of the table and has conceded 22 goals already. Today's headlines refer to pressure on the much-admired coach's job. As for Spurs, they march on, still unbeaten in the league and level on points with leaders Manchester City before today's Arsenal game at Brentford. We are in a healthy position going into the international break......
Spurs Odyssey Feature articles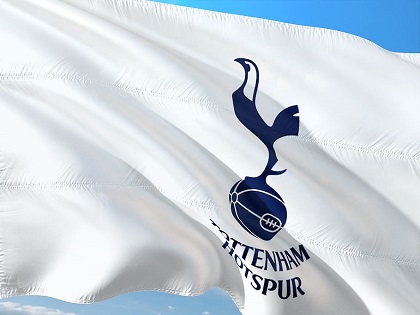 SOURCE: Photo
· Premier League Review Matchday Seven
· Some best online casino sign up bonus online in the UK 2022 don't have wagering but then there are other rules.
Non perdere tempo e scegli uno tra i casino online migliori in Italia dalla nostra lista. Abbiamo esaminato ogni dettaglio, dalla gamma dei giochi e interfaccia ai migliori bonus casino e metodi di prelevare vincite più convenienti.
· Spurs fans can find the newest Irish betting sites and get the best odds on the next game.
· Play the best Indian cricket betting sites today.
· Compare and find the best new online casinos here.
· All the Spurs Stats you could hope for here! THFC6061 Sports Stats

· Check out all the latest Live Roulette UK tables.
Spurs Odyssey Champions League Match Report
· Sporting 2 Spurs 0 - Spurs stunned by late goals
· Read John Ellis's eye-witness account
· Sporting v Spurs Preview - Lisbon beckons!


Sporting had never won their first two Champions League group games, Spurs hadn't lost any of their last 13 games and were without a win in five away games in Europe. Something had to give. Unfortunately it was Spurs, who having had more chances in the first 80 minutes of the game, failed to capitalise and succumbed to late pressure and two very late goals by Sporting.
In the Sporting side, of course, was a certain Marcus Edwards, whose career began with the Spurs academy, but who was allowed to leave Tottenham three years ago. Edwards' pace and trickery proved to be more of a threat than did Spurs' chances which tested the home goalkeeper more than Sporting did Hugo Lloris. Lloris had to make three excellent saves during the game – one from Edwards – but his third, and best save led to the corner from which substitute Paulinho (no, not that one) scored a 90th minute goal. Most of the three minutes added time seemed to be taken up by celebrations and two substitutions, one of whom scored a 93rd minute winner. Spurs went home with their tails between their legs.......
Norman Giller's Spurs Odyssey Blog
· Football shows its respect to the old and the new - Giller's View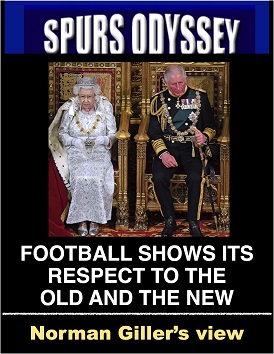 I have been kicked black and blue – more appropriately, red, white and blue – for supporting the Premier League in their decision to call off the weekend's football out of respect to the death and memory of Her Majesty, Queen Elizabeth II.
Call me old fashioned, but I am from a generation that believes in the dignity and decency of mourning, and having mobs of committed football fans screaming their obscenities within moments of a minute's silence is not my idea of respect.
You would honestly trust a capacity football crowd to sing the National Anthem without idiots wrecking it? Honestly? You have more faith than me, then...........
· See Norman Giller's latest article in full.
· The "Giller Index" - listing all Norman's articles for Spurs Odyssey
· Spurs fans in Ireland who like a bet visit irishfreebet.com first for some free bets.
· Online casino has never been easier than in Sweden. Swish casino is the fastest way to make deposits with your phone. When will we get something similar in the UK?
Spurs Odyssey Champions League Match Report
· Spurs 2 Marseille 0 - Richarlison super double seals win
· Spurs v Marseille Preview - A welcome return to the Champions League!


£60 million signing Richarlison has already impressed Spurs fans with virtually every move he has made when given the opportunity so far this season. He sealed his place in their hearts with a super headed late second half double. These were his first competitive Spurs goals and of course his Champions League debut goals. Richarlison showed high emotion, and I understand his father was in the stadium.
Spurs were playing their first home game in the Champions League since an ill-fated meeting with Leipzig in February, 2020. All 10 outfield starters then were different from tonight's team. Tottenham and its hostelries had seemed fairly quiet, but there was a good house who did their best to offer an all-white and noisy atmosphere at least for the opening of the game. Marseille did not bring a full contingent of fans, but there was a massive security operation around Tottenham pre-match and those fans were noisy throughout the match. There were skirmishes with stewards and neighbouring home fans once the first goal was scored. The return fixture in November will be tasty on and off the field, I fear..........
Spurs Odyssey Premier League Match Report
· Spurs 2 Fulham 1 - Spurs play well, but still make us sweat
· Spurs v Fulham Preview - It's another derby day!
· Spurs record in recent London Derby League matches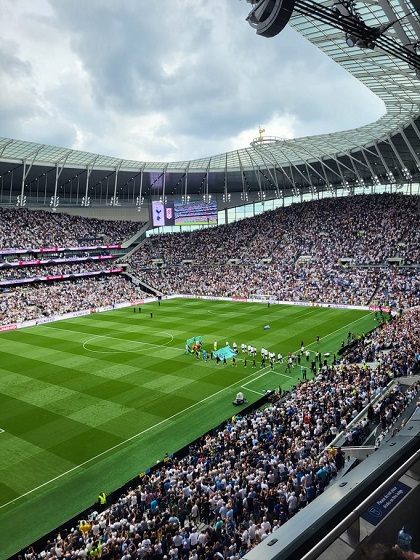 Antonio Conte made five changes to his team after the West Ham game with Romero returning for Sanchez, Lenglet replacing Davies, Bentancur back in place of Bissouma and Richarlison getting a welcome start in Kulusevski's right wing slot. Ryan Sessegnon took over from Perisic at left wing-back. Richarlison had a smashing game and thought he had sealed the win with a 90th minute goal, but VAR saw that disallowed, as it had a Spurs effort early in the game. Spurs also hit the woodwork twice and had far more shots on target than did Fulham. Despite that, we were made to sweat a bit after Mitrovic scored a very good goal late in the day, and also forced an excellent save from Hugo Lloris with another shot which was deflected towards goal........
Spurs Odyssey Message Board
Spurs Odyssey Message Board

The most epic thread on The Spurs Odyssey message board was one which started in 2010. This provided the history of our new stadium applications (including the thankfully unsuccessful bid for the Olympic Stadium) right up to the present day with images of the completed new stadium. In the early hours of Saturday 20th October, 2018, our stadium thread reached 1,000 pages! There is a genuine community feel about the board, which is moderated.
Every Spurs match is covered with excellent threads, which feature images and stats from previous games. There is so much to enjoy about the message board which also has an off-topic section where non-football matters are discussed.
There is also a great archive of filed material with links to some great Spurs history and goals.
If you would like to become even more involved, then please e-mail me (webmaster@spursodyssey.com) stating your full name, address (Town and Country will suffice!) and desired user name, and I will do the rest.
I look forward to hearing from you!
If you are a fan of mobile gaming, visit NewCasinoUK to find a list of the best new mobile casinos in the UK.
Alternatively, as Antonio Conte might say, "Se sei un appassionato di scommesse, gioca sui migliori bookmakers inglesi recensiti da NuoviCasinoItalia.it."
Spurs Odyssey ...also on Facebook here
Search Spurs Odyssey &/or The Web!
Back to top of page

Play gambling games online at live dealer casino with best croupiers in the UK.

Sign up at bet365 with your-promotional-code.co.uk
Get daily updated enhanced odds offers on the latest Premier League games
Online casino no minimum deposit UK are very popular because they allow you to play for fun for free.
List of new casino uk 2022 for UK players www.newukcasino.uk