Main Page
News and views from Paul Smith, and links to the interactive features of the Spurs Odyssey Site. [more..]
Features
Articles, reports, views, opinions, comments and other features all related to Spurs. [more..]
News
Browse hundreds of bonuses at Online Casinos XYZ
Best bookmakers sign up offers


Match Reports

No deposit bonuses are known to be the most convenient for every player - asgardcasinosfi.com provides you with the necessary information of how to use the no deposit bonuses.
For adventurous players, nothing can be better than a bunch of new online casinos waiting for them to try each and every one.
Read this Unibet casino review at Casinodealen.se and claim your exclusive bonus offer
Get an independent and serious list of Norwegian casinos online at Casinobonuser.nu
Norwegian sports fans can count on Betsjekk to deliver the best betting sites for both beginners and pro's
Thank you for visiting Spurs Odyssey
Norman Giller's Spurs Odyssey Blog
· Birthday Boy Jose wants his present against Liverpool - Giller's View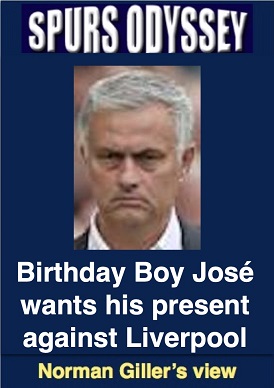 Jose Mourinho's birthday cake with 58 candles will light up his day, but the present he wants above all others is the belated gift of three points against Liverpool on Thursday. He had to send on the big guns to put down Wycombe's FA Cup challenge last night, and I just hope they have saved some ammunition for the Merseysiders.
They left a lot of empty shells at Adams Park, where I counted six clear-cut chances missed before they finally got the fifth round visit to Everton wrapped up with a late burst of gunfire that brought three late goals.
It would not be Spurs if they didn't have us biting our nails for much of the match, but the final 4-1 result was a fair reflection of the dominant second-half performance. Wycombe fought valiantly but to be honest they were often outclassed..........
· See Norman Giller's 350th Spurs Odyssey article in full.
· Spurs fans in Ireland who like a bet visit irishfreebet.com first for some free bets.
· The "Giller Index" - listing all Norman's articles for Spurs Odyssey
· Online casino has never been easier than in Sweden. Swish casino is the fastest way to make deposits with your phone. When will we get something similar in the UK?
Spurs Odyssey FA Cup Fourth Round Match Report - 25.01.21
· Wycombe 1 Spurs 4 - Spurs overcome Chairboys shock goal
· Wycombe v Spurs v FA Cup Preview - I think we will see a convincing win


Ha! I told you this would be a convincing win! The scoreline says so, but of course we all know it was not like that. In truth Spurs overcame what looked like being a nasty shock by "The Chairboys". The moral of the story could be that Jose Mourinho gave his "second team" the chance to do the job, and when it turned out they couldn't he gradually brought on all the big guns he had available, who did – eventually – do the job. Gareth Ainsworth's squad – only just recovered from a bout of coronavirus – did an admirable job, fully testing Spurs with their physicality, coupled with determination.......
The "Spursometer" - Spurs Odyssey's exclusive Form Guide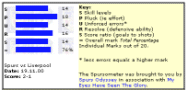 · Your grades re Wycombe Wanderers (FAC4 - A)
· Premier League Review - Matchday 19.
· Sergio Reguilon: Solving Tottenham's Troubled Left-Back Position
· Downward trend in December (Monthly review)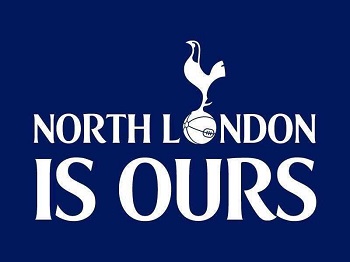 Visit Casino Bernie to find the best pay by phone casino sites in UK
Prediction and fantasy leagues are back in action and football tipsters can study form and play their various online games again.
· UK bookmakers sign up offers
Get an 888sport free bet and use it on their wide range off football and sports betting markets.
· All the Spurs Stats you could hope for here! THFC6061 Sports Stats

· You can now play mobile bingo for free and bingoformobile.co.uk is top of the league when it comes to no deposit offers.
Check out all the latest Live Roulette UK tables
If you want to have access to casino games anytime and anywhere, play iPhone casino games and enjoy extra quality mobile gambling
Spurs Development & Academy Fixtures, 2020-21
· Spurs PL2 Fixtures and results - 2020-21
· Spurs Youth Fixtures and results - 2020-21


Our under-23 side went top of their league last night (22.01.21) with a 2-1 win away to West Ham.

This season, due to the ongoing social distancing measures in place to guard against COVID-19, all our home fixtures in the Premier League 2 will be played at Hotspur Way. PL2 and Youth Matches will be staged behind closed doors until it is safe for fans to return.

Therefore Spurs Odyssey will not be allowed to attend these games until further notice. The fixture pages for both levels will be regularly updated with links to the Spurs Official Site reports, whilst monitoring our scorers and league position throughout the season.
Sheffield United v Spurs Match Report (17.01.21)
· Sheffield Utd 1 Spurs 3 - Exquisite Ndombele goal seals win
· Sheffield Utd v Spurs Preview - Let's have no more under-achieving Spurs!


The clear highlight of this game was Tanguy Ndombele's exquisite second half goal which restored our two-goal lead after "The Blades" had reduced the deficit earlier in the second half to what I call a one-goal "twitchy" lead. All was well as we ran out 3-1 winners with a good tactical strategy by Jose, who played a 3-4-3 formation. More good news came in the lack of any booking for Pierre-Emile Hojbjerg, who was on a knife-edge as one more yellow would have seen him have to sit out our next League game against Liverpool.

Harry Winks also has four yellow cards after only 8 Premier League appearances, but that might not be the reason he was left out of Jose's 20-man squad. Dele Alli was another absentee from that number and Gedson was a rare inclusion on the subs' bench......
Spurs Odyssey Feature - 16.01.21
· Levy praised for gambling on Mourinho


When Daniel Levy decided to call time on Mauricio Pochettino's tenure as Tottenham Hotspur boss, and then went all-in with the appointment of José Mourinho, more than a few eyebrows were raised at the time. Just over a year later, the Spurs supremo has received glowing praise for such a bold move.

The Portuguese coach has led his team to the final of the League Cup already this season, which could produce the first silverware since Juande Ramos won the same competition in 2008......
Spurs Odyssey Premier League Match Report - 13.01.21
· Spurs 1 Fulham 1 - The draw was the least that Fulham deserved.
· Spurs v Fulham Preview - Make short work of this short notice game Spurs!
· Spurs record in recent London Derby League matches


Let's be honest. The draw was the least that Fulham deserved. Although goalkeeper Areola had a couple of very good first half saves and we hit the post in the second half, the fact is we decided to try and sit on our one-goal lead. For a so-called ill-prepared side, Scott Parker's Fulham played their hearts out, played well, and got their reward.

Our super goal scored by Harry Kane is buried deep beneath thoughts on an unsatisfactory team selection with Sissoko playing out of position on the right of midfield and a failure to seek to build upon our lead.

We are now six points behind the league leaders, and in sixth place. Thoughts of a tilt at the league title are diminishing fast.......
Spurs Odyssey Message Board
Spurs Odyssey Message Board

The most epic thread on The Spurs Odyssey message board was one which started in 2010. This provided the history of our new stadium applications (including the thankfully unsuccessful bid for the Olympic Stadium) right up to the present day with images of the completed new stadium. In the early hours of Saturday 20th October, 2018, our stadium thread reached 1,000 pages! There is a genuine community feel about the board, which is moderated.
Every Spurs match is covered with excellent threads, which feature images and stats from previous games. There is so much to enjoy about the message board which also has an off-topic section where non-football matters are discussed.
There is also a great archive of filed material with links to some great Spurs history and goals.
If you would like to become even more involved, then please e-mail me (webmaster@spursodyssey.com) stating your full name, address (Town and Country will suffice!) and desired user name, and I will do the rest.
I look forward to hearing from you!
If you are a fan of mobile gaming, visit NewCasinoUK to find a list of the best new mobile casinos in the UK.
Tired of waiting for your casino to pay out your winnings? On CasinoPilot you will find a selection of fast payout casinos in the UK.
Spurs Odyssey ...also on Facebook here
Search Spurs Odyssey &/or The Web!
Back to top of page
Play gambling games online at live dealer casino with best croupiers in the UK.

Sign up at bet365 with your-promotional-code.co.uk
Binary options trading? Check out 7 Binary Options.
Have a look at these Casinos for British players here.
Get daily updated enhanced odds offers on the latest Premier League games
Check out all Swedish Betting sites at Casivo