Thank you for visiting Spurs Odyssey
Spurs Odyssey Feature articles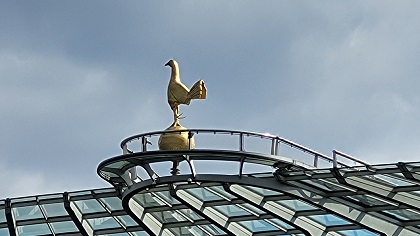 · Spurs Odyssey's Premier League Review - Matchday 38 + Harry Kane stats
· Premier League '200 club' inductee: Harry Kane's best goals in a Tottenham shirt
· Some best online casino sign up bonus online in the UK 2022 don't have wagering but then there are other rules.
Non perdere tempo e scegli uno tra i casino online migliori in Italia dalla nostra lista. Abbiamo esaminato ogni dettaglio, dalla gamma dei giochi e interfaccia ai migliori bonus casino e metodi di prelevare vincite più convenienti.
· How You Can Stay Warm and Dry while Enjoying a Football Match: Top Tips
· Spurs fans can find the newest Irish betting sites and get the best odds on the next game.
· Grass Matters: Why Tottenham's Pitch Could be the Gamechanger for their Season
· Compare and find the best new online casinos here.
· All the Spurs Stats you could hope for here! THFC6061 Sports Stats

Spurs Odyssey Premier League Match Report
· Leeds 1 Spurs 4 - Spurs finish with a flourish, but no Europe
· Leeds v Spurs Preview - It's come to this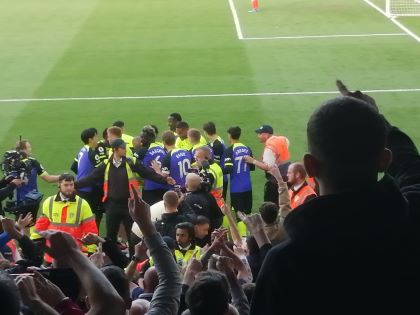 Thanks to Andy Park for capturing this image
Records were improved or broken. Harry Kane scored two and created another goal with a superb burst of strength, energy and skill. Lucas Moura came on for the five minutes of added time and finished the game with arguably his best Spurs goal of typical Brazilian style. Kane became the first player to score 30 or more goals in two 38-game Premier League seasons.
Two unwanted records are the fact that Spurs exceeded their previous highest total of Premier League goals conceded in a season by the one goal scored by Leeds. Leeds firstly needed to win (and well) and then had to hope both Everton and Leicester slipped up. They both won, so Leicester join Leeds in next year's Championship. The other occurrence was Villa's win over Brighton, thus ensuring that they and not Tottenham enter next season's Europa Conference League. Perhaps Spurs can have a real crack at a domestic cup for a change?.........
Norman Giller's Spurs Odyssey Blog
· Danny Boy lifts quiz king David to a hat-trick - Giller's View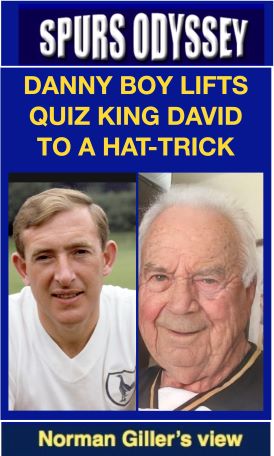 Here we go again … as if signing off the season with a crushing victory at Leeds was not enough, there is good news today for Tottenham historian David Guthrie, who wins our Spurs Odyssey Quiz League title for a third time. There should be a steward's inquiry, because he is the safety-net checker of my Tottenham-themed books and knows my Spurs preferences inside out.
David, from Wokingham via Wood Green and a fanatical Tottenham disciple since the Double days, got closest to my selection of spot-kick takers and savers in a penalty shoot-out after a log-jam finish to the first tie-break decider........
· See Norman Giller's latest article in full.
· The "Giller Index" - listing all Norman's articles for Spurs Odyssey
· Online casino has never been easier than in Sweden. Swish casino is the fastest way to make deposits with your phone. When will we get something similar in the UK?
Spurs Odyssey Premier League Match Report
· Spurs 1 Brentford 3 - That "Bee" sting really hurt
· Spurs v Brentford Preview - The end is in sight
· Spurs record in recent London Derby league games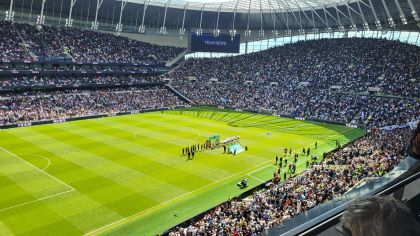 Spurs started really well, taking an eighth minute lead through the one and only Harry Kane, to whom a wonderful wall mural had been dedicated this week opposite the West Stand. They should have had one or two more goals for their first half efforts and chances, but in a classic "game of two halves", Brentford came back with three goals, two of which were gifted through shocking defending, thus putting a hapless Spurs side to more shame in front of their bitter fans.
Spurs added Romero and Hojbjerg to their injury list which includes skipper Hugo Lloris and long-time absentee Rodrigo Bentancur. Yves Bissouma made his first Premier League start since New Year's Day which was another one of our six home defeats in what can be regarded as our worst season for twenty years. It is certainly going to be our worst points total since 2008-09 when Harry Redknapp dragged us away from the threat of relegation. Now we face the grim possibility of no European football for the first time in 11 years. However, believe it or not we could still finish in seventh place next week. That hardly looks likely when we face a trip to Leeds who are likely to be in need of the points on the last day of the season. .........
Spurs Odyssey Premier League Match Report
· Aston Villa 2 Spurs 1 - Spurs Succumb to Familiar Failings
· John Ellis tells it as it is from Villa Park
· Aston Villa v Spurs Preview - The quest for Europe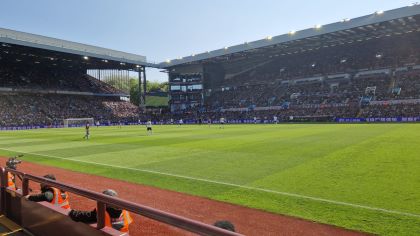 Thanks to Greg Smith for this image, and to Declan Mulcahy for his report
Spurs conceded a goal in the eighth minute and were generally poor in the first half. Not for the first time this left a mountain which was too high to climb in the second half. Today's early goal was the seventh goal conceded in the first nine minutes of the last five league games. This is a shocking statistic for a club which aims to be a member of the top six Premier League clubs as a minimum......
.....Villa scored with the first attack of the game. Bailey progressed down the right into the box. He cut the ball back towards the centre where Ramsey scored with a shot through a crowded box into the right corner of the net. Villa had lost the last two games 1-0. No side managed by Emery had failed to score in three consecutive matches since Almeria in 2007 and there was no danger of that being equalled today.........
Spurs Odyssey Premier League Match Report
· Spurs 1 Crystal Palace 0 - King Kane secures win over Palace
· Spurs v Crystal Palace Preview - Palace visit Tottenham on a historic day
· Spurs record in recent London Derby league games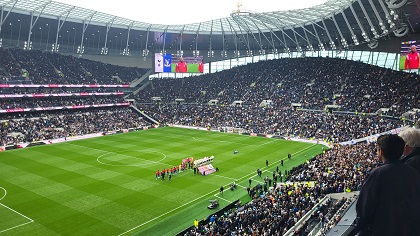 On the day that King Charles III was crowned at Westminster Abbey, the current King of White Hart Lane Harry Kane scored the goal which secured a vital win over Crystal Palace. The team supported by future King William (Aston Villa) lost at Wolves today, so Spurs moved three points above "The Villans" who we meet next week. A win at Villa Park next week should be enough to secure us some form of European football, if only at Europa conference level.
I understand that William's youngest son Louis is a Tottenham fan, so he will be very happy with this result. Louis sang "God save The King" with gusto at the coronation ceremony and today's match was preceded by the National Anthem. Most of the crowd stood and sang, although several people around me did not join in. Had it been an FA Cup Final (remember them?), I am sure everybody would be standing and singing in unison.
Kudos should be offered to interim coach Ryan Mason for his selection and strategy today.....
Spurs Odyssey Message Board
Spurs Odyssey Message Board

The most epic thread on The Spurs Odyssey message board was one which started in 2010. This provided the history of our new stadium applications (including the thankfully unsuccessful bid for the Olympic Stadium) right up to the present day with images of the completed new stadium. In the early hours of Saturday 20th October, 2018, our stadium thread reached 1,000 pages! There is a genuine community feel about the board, which is moderated.
Every Spurs match is covered with excellent threads, which feature images and stats from previous games. There is so much to enjoy about the message board which also has an off-topic section where non-football matters are discussed.
There is also a great archive of filed material with links to some great Spurs history and goals.
If you would like to become even more involved, then please e-mail me (webmaster@spursodyssey.com) stating your full name, address (Town and Country will suffice!) and desired user name, and I will do the rest.
I look forward to hearing from you!
Spurs Odyssey ...also on Facebook here
Search Spurs Odyssey &/or The Web!
Back to top of page
Statistics
Fixtures, appearances, current league table, form guide, reserves fixtures, and Spurs Honours [more..]
Archives
Find match reports, appearances, goalscorers and features from previous seasons. [more..]
Pick of the Week
Selected Spurs related sites are highlighted in this section. [more..]
Links
View a comprehensive list of links to other Spurs related sites. (With a few extras) [more..]
About this site
. Overview
. History
. Contributors

Contacts
Site Owner
. Paul Smith


Popular uk sites not on gamstop

Compare online casinos at TheCasinoDB
When looking for online pokies New Zealand just check our real money casino guide. If you are from India you can open onlinecasinogamesindia.in to see their gambling offers.
Italy has gambling options to offer, casino online italia is easy to find as they advertise on television and the market is fully regulated.
Play gambling games online at live dealer casino with best croupiers in the UK.

Sign up at bet365 with your-promotional-code.co.uk
Get daily updated enhanced odds offers on the latest Premier League games
Online casino no minimum deposit UK are very popular because they allow you to play for fun for free.
List of new casino uk 2022 for UK players www.newukcasino.uk