Thank you for visiting Spurs Odyssey
Spurs Odyssey Premier League Match Report
· Southampton 3 Spurs 3 - Consistently Inconsistent
· Southampton v Spurs Preview - Let's not be sinners against "The Saints"!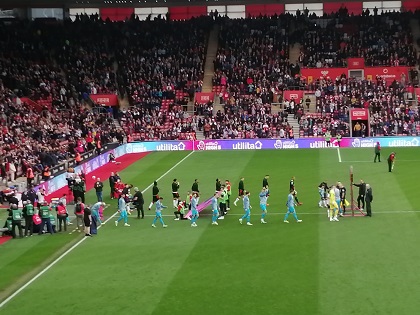 Thanks to Andy Park for this picture and to Declan Mulcahy for the report
There will be two perspectives on today's match. For Southampton supporters and neutrals the second half provided end-to-end football and an exciting finish. For Spurs supporters it was an exercise in frustration. Spurs led 1-0 at the interval and 3-1 after 74 minutes.
However they couldn't hold on against a Southampton side who prop up the table. A team who before today had scored only twenty goals in twenty-eight league matches their lowest ever total at this stage of the season, managed to score three goals today and deserved the point they gained.........
Spurs Odyssey Feature articles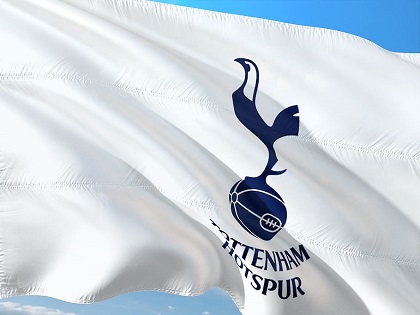 SOURCE: Photo
· Spurs Odyssey's Premier League Review - Matchday 28
· They say never go back, but…
· Premier League '200 club' inductee: Harry Kane's best goals in a Tottenham shirt
· How Good is Pedro Porro? The new Tottenham Hotspur Player
· 2022/23 Fixture list and match reports
· Some best online casino sign up bonus online in the UK 2022 don't have wagering but then there are other rules.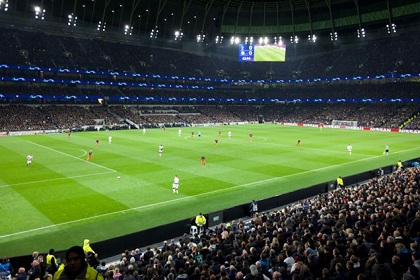 Photo by Tim Bechervaise on Unsplash
Non perdere tempo e scegli uno tra i casino online migliori in Italia dalla nostra lista. Abbiamo esaminato ogni dettaglio, dalla gamma dei giochi e interfaccia ai migliori bonus casino e metodi di prelevare vincite più convenienti.
· Spurs fans can find the newest Irish betting sites and get the best odds on the next game.
· Compare and find the best new online casinos here.
· All the Spurs Stats you could hope for here! THFC6061 Sports Stats

Norman Giller's Spurs Odyssey Blog
· Crouch must see the point of Spurs finishing fourth - Giller's View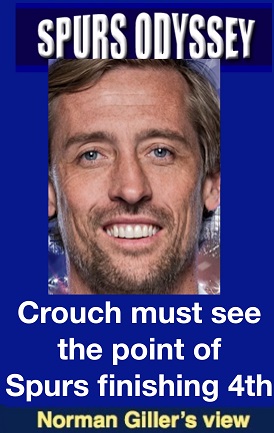 I have always had a high (literally) opinion of towering Peter Crouch, respecting him as a player and in his current role as a pundit. But I caught him talking nonsense in the wake of Tottenham's Champions' League exit at the choking hands of AC Milan – all this, of course, before the Lineker Affair became a storm in a football cup.
Asked on BT Sport if he thought Tottenham could pick themselves up and finish fourth in the Premier League, Crouchie shrugged and said: 'What's the point …?' This revealed surprising naivety about the economics of football and the pride of the fans,
Of course Spurs must go flat out for that fourth place, and they showed their good intent with the emphatic 3-1 victory over Nottingham Forest on Saturday (reported HERE by our guru Paul H. Smith)........
· See Norman Giller's latest article in full.
· The "Giller Index" - listing all Norman's articles for Spurs Odyssey
· Online casino has never been easier than in Sweden. Swish casino is the fastest way to make deposits with your phone. When will we get something similar in the UK?
Please note that our resident columnist Norman Giller is taking the International break and his Blog and Quiz League will continue on Tuesday April 4, after the Monday match at Everton. Norman asks: 'Will Antonio Conte still be in charge when I return? Watch this space …'UNC
Spurs Odyssey Premier League Match Report
· Spurs 3 Nottingham Forest 1 - VAR hampers comfortable win
· Spurs v Nottingham Forest Preview - Both teams seeking to hang on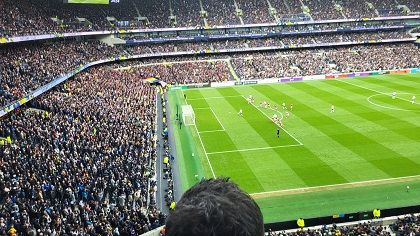 Spurs fans were not in the best frame of mind after a terrible ten day period which has seen our FA Cup and Champions League exits and an upsetting 1-0 defeat at Wolves. Their mood had been improved by Liverpool's lunchtime defeat at Bournemouth. Referee Craig Pawson and VAR Darren England did their best at the beginning and end of the game to upset the home fans, but they went home happy after a comfortable win against a rather poor Forest team.
Talisman and captain Harry Kane scored our first two goals, one of which was a convincing penalty, to become only the third Premier League player (after Shearer and Aguero) to score 20 or more league goals in six separate seasons. Harry's goals were his 202nd and 203rd Premier League goals and his 269th and 270th goals for the club. Heung-min Son added Spurs' third goal in the second half and he now has 99 Premier League goals to his name.........
Spurs Odyssey Champions League Round of 16(2) Match Report
· Spurs 0 Milan 0 - Spurs foiled, and they failed again
· Spurs v Milan v Spurs - It could be a long night
· Spurs' season is on the verge of falling apart: What are the issues?
· Milan 1 Spurs 0 - All to play for
· Spurs fall to a narrow first-leg defeat at Milan
· Milan v Spurs Preview - Hoping for a repeat of 2011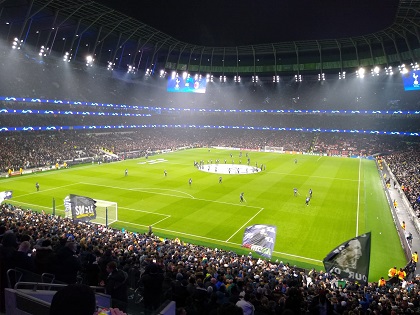 Thanks to Cassim Patel for this picture

Just as it had 12 years ago -almost to the day – the home leg of our Champions League Round of 16 game ended in a goalless draw. In 2011 that meant glory for Spurs and a historic first quarter-final. This time, the home team (seven times European Cup/Champions League winners) had won narrowly in the San Siro and Milan coach Stefano Pioli's game plan worked a treat. He and his team were helped by yet another poor team performance in which Spurs lacked creativity and the necessary levels of desire, energy and ability. This was the first goalless draw in our new stadium.
Spurs failed to score in their third consecutive game. That hasn't happened since the run-in of the 2018-19 season, ironically when we did reach the Champions League final, and we did also cling onto fourth place. Our last hope (some hope!) of a trophy this season has gone and now we are faced with a closing programme of 12 league games in which we seek to claim another Champions League place. On current form, that is extremely unlikely. Questions are already being asked about the future of Antonio Conte (who was back in the technical area) and Harry Kane. Conte's contract is up this summer, and he is highly unlikely to stay. Even he has been quoted as saying he might be sacked before then, but that might have been a little bit flippant. Harry Kane's contract is up next year, and if we fail to qualify for Champions League, no Spurs fan will blame him now for moving on. It is all so depressing.........
Spurs Odyssey Premier League Match Report
· Wolves 1 Spurs 0 - A Missed Opportunity
· Wolves v Spurs Preview - Spurs' fanbase demands satisfaction!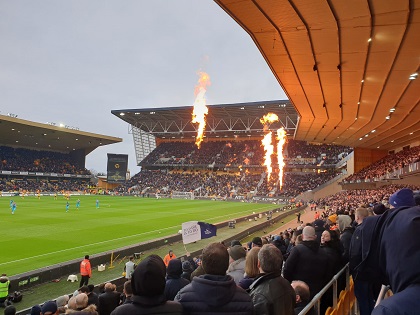 Thanks to Gary Smith for this picture, and to Declan Mulcahy for the match report
Newcastle United had lost to Manchester City earlier in the day. Had Spurs won today they would have been ahead of Newcastle even taking into account the latter's two games in hand but it wasn't to be.
Spurs made three changes from the team which beat Chelsea 2-0 last weekend. Heung-Min Son, Pedro Porro and Ivan Perisic replaced Richarlison, Emerson Royal and Eric Dier all of whom were among the substitutes. Antonio Conte was still absent with his assistant Cristian Stellini in charge.
Wolves also made three alterations. Pedro Neto started his first game for Wolves since October having recovered from injury. Diego Costa and Jonny were given rare starts. The players who dropped out were Joao Moutinho, Raul Jimenez and the injured Hugo Bueno.
The early signs looked promising. Spurs did display attacking intent from the outset which isn't always the case. Porro had an opportunity in the second minute but his effort was off target. A couple of minutes later Son directed a shot towards the top left corner of the goal but Sa saved.
Sa unwisely pursued a ball out of his box and lost possession but Spurs couldn't force the ball into the box while the keeper was absent. Kulusevski unleashed one of his trademark curling shots from the right towards the far post. Eighteen minutes had passed. There had been six attempts on goal all coming from Spurs!........
Spurs Odyssey FA Cup 5th Round Match Report
· Sheffield Utd 1 Spurs 0 - Another trophy opportunity goes down the swannee.
· Sheffield Utd v Spurs Cup Preview - A tie with unique history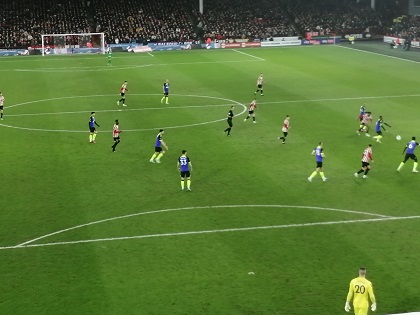 Thanks to Andy Park for the picture
The years pass quickly and in the first few months these days every one is marked by familiar events. There's Valentine's Day, Shrove Tuesday, Saint David's Day, and of course the annual exit of one-time FA Cup record-holders Tottenham Hotspur. Last year it was Championship Middlesbrough. The year before it was a farcical 4-5 defeat at Goodison Park. In March 2020 lowly Norwich booted us out on penalties at the Tottenham Hotspur Stadium. In 2019, Crystal Palace were our fourth round conquerors. 8 semi-finals have been reached, since 1991, but not for five years.
Grimsby Town – 16th in League Two – won at Southampton last night and have reached the quarter-finals for the first time in 84 years. You'll remember them. They put Martin Jol's Spurs out of the League Cup at our first hurdle in 2005. That was another season when a Championship side (Leicester) knocked us out of the FA Cup. Relegation threatened Nottingham Forest ended our League Cup chances this season. We don't just get knocked out of cup competitions too early, too often; we lose to lesser opposition too.
It was not lesser opposition last night though. The best team won.......
Spurs Odyssey Message Board
Spurs Odyssey Message Board

The most epic thread on The Spurs Odyssey message board was one which started in 2010. This provided the history of our new stadium applications (including the thankfully unsuccessful bid for the Olympic Stadium) right up to the present day with images of the completed new stadium. In the early hours of Saturday 20th October, 2018, our stadium thread reached 1,000 pages! There is a genuine community feel about the board, which is moderated.
Every Spurs match is covered with excellent threads, which feature images and stats from previous games. There is so much to enjoy about the message board which also has an off-topic section where non-football matters are discussed.
There is also a great archive of filed material with links to some great Spurs history and goals.
If you would like to become even more involved, then please e-mail me (webmaster@spursodyssey.com) stating your full name, address (Town and Country will suffice!) and desired user name, and I will do the rest.
I look forward to hearing from you!
If you are a fan of mobile gaming, visit NewCasinoUK to find a list of the best new mobile casinos in the UK.
Alternatively, as Antonio Conte might say, "Se sei un appassionato di scommesse, gioca sui migliori bookmakers inglesi recensiti da NuoviCasinoItalia.it."
Spurs Odyssey ...also on Facebook here
Search Spurs Odyssey &/or The Web!
Back to top of page
Statistics
Fixtures, appearances, current league table, form guide, reserves fixtures, and Spurs Honours [more..]
Archives
Find match reports, appearances, goalscorers and features from previous seasons. [more..]
Pick of the Week
Selected Spurs related sites are highlighted in this section. [more..]
Links
View a comprehensive list of links to other Spurs related sites. (With a few extras) [more..]
About this site
. Overview
. History
. Contributors

Contacts
Site Owner
. Paul Smith

Popular uk sites not on gamstop

Compare online casinos at TheCasinoDB
When looking for online pokies New Zealand just check our real money casino guide. If you are from India you can open onlinecasinogamesindia.in to see their gambling offers.
Italy has gambling options to offer, casino online italia is easy to find as they advertise on television and the market is fully regulated.

Play gambling games online at live dealer casino with best croupiers in the UK.

Sign up at bet365 with your-promotional-code.co.uk
Get daily updated enhanced odds offers on the latest Premier League games
Online casino no minimum deposit UK are very popular because they allow you to play for fun for free.
List of new casino uk 2022 for UK players www.newukcasino.uk