Thank you for visiting Spurs Odyssey
Spurs Odyssey Feature articles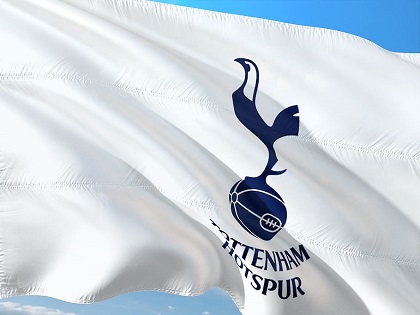 SOURCE: Photo
· Is the World Cup coming at a good time for Spurs?
· Up for the fight: three crucial home games after the World Cup in the battle for top four
· Can Tottenham Hotspur Win the Premier League? : 3 Factors to Consider
· Spurs Odyssey reviews the last Premier League action before Christmas
· Tottenham Hotspur Players Who Will Play For England At World Cup
· Spurs The Focus For Davies With World Cup Looming
· 2022/23 Fixture list and match reports
· Tottenham Hotspurs' most iconic players?
· Some best online casino sign up bonus online in the UK 2022 don't have wagering but then there are other rules.
· Tottenham Hotspur: A Club on the Rise
Non perdere tempo e scegli uno tra i casino online migliori in Italia dalla nostra lista. Abbiamo esaminato ogni dettaglio, dalla gamma dei giochi e interfaccia ai migliori bonus casino e metodi di prelevare vincite più convenienti.
· Spurs fans can find the newest Irish betting sites and get the best odds on the next game.
· Play the best Indian cricket betting sites today.
· The success of Mauricio Pochettino at Tottenham Hotspur
· Compare and find the best new online casinos here.
· All the Spurs Stats you could hope for here! THFC6061 Sports Stats

· Check out all the latest Live Roulette UK tables.
Norman Giller's Spurs Odyssey Blog
· Tottenham still playing the Glory Game - Giller's View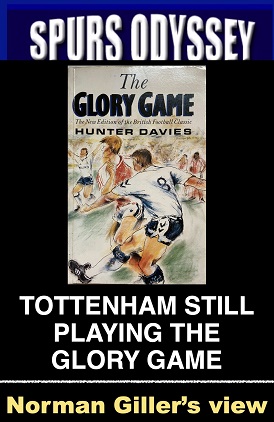 So I was at the state-of-the-art Tottenham Hotspur Stadium on Saturday to film my contribution in an official documentary coming out when Harry Kane overtakes the Jimmy Greaves club goal-scoring record … and I left the ground feeling considerably older.
Tottenham coming from behind three times before winning 4-3 against lethal but leaky Leeds did nothing for my ancient ticker.
What is it with Spurs this season? They seem to have to give themselves the challenge of conceding a goal or two before they click into top gear...........
· See Norman Giller's latest article in full.
· The "Giller Index" - listing all Norman's articles for Spurs Odyssey
· Spurs fans in Ireland who like a bet visit irishfreebet.com first for some free bets.
· Online casino has never been easier than in Sweden. Swish casino is the fastest way to make deposits with your phone. When will we get something similar in the UK?
Spurs Odyssey Premier League Match Report
· Spurs 4 Leeds 3 - Kulusevski and Bentancur to the Rescue
· Spurs v Leeds Preview - Time for a good World Cup send off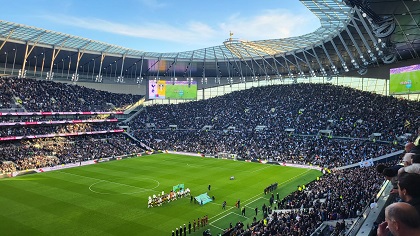 For the eighth game in a row, four of them at home, Spurs conceded the first goal of the match. Spurs equalised. Three times this sequence was repeated. Late in the game Spurs finally took the lead and won the game. The two players most responsible for this win were the two excellent signings from Juventus last January Dejan Kulusevski and Rodrigo Bentancur.
Spurs' form since the middle of October has been a concern. They had lost three of the last four league games including two at home. There had also been a bad defeat against Nottingham Forest in the League Cup three days ago. It was thus important that the team should record a win in the final game before the mid-season break for the 2022 World Cup finals in Qatar.........
Full report (by Declan Mulcahy) here

Spurs Odyssey Carabao Cup Match Report
· Nottingham Forest 2 Spurs 0 - Abysmal Spurs beaten by bottom club
· Nottingham Forest v Spurs Cup Preview - Will we see Djed Spence?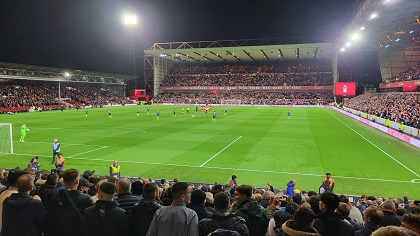 As a resident of Chesterfield, I was home by 10.40pm. That was nice. Spurs were abysmal. Conte has to be held to task, starting with the same defensive style (if not the same personnel) as he did against Liverpool. Forest are bottom of the league. Steve Cooper made 9 changes. Forest had more energy, desire and enterprise than did Spurs. They thoroughly deserved their win. There is hardly a good word to say about any of our outfield players. The service to the two up front was not good. Forster played well and made several good and vital saves. Whether by accident or design, Spurs have cleared a few potential dates from their diaries. The week before Christmas is now free of football and three possible January/February fixtures can be forgotten.
Spurs' priority, and that of Conte, is clearly Saturday's Premier League game against Leeds, and to progress and qualify for the Champions League...........
Spurs Odyssey Premier League Match Report
· Spurs 1 Liverpool 2 - Spurs lose again due to the same old problems
· Spurs v Liverpool Preview - When did we last play Liverpool with a 10 point advantage?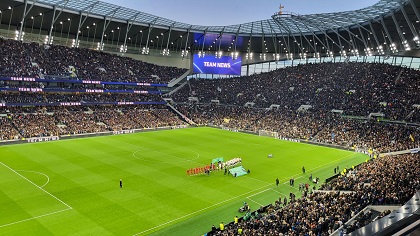 For at least the four last fixtures before today Spurs supporters have been watching the same horror film. During the first half of the movie the team lacks intensity, makes mistakes and concedes goals giving themselves a mountain to climb. The second half of the film has two variations. In the better one the mountain is scalable. The team plays well, scores the winning goal late in the game and everyone heaves a sigh of relief. The other version is less palatable. The effort is better than the first half, Spurs manage to score a goal but lose the game to everyone's frustration because of goals conceded in the first half.
The question was which version of the film would be shown today?........
Spurs Odyssey Champions League Match Report
· Marseille 1 Spurs 2 - Spurs win Group D with last-kick goal!
· Marseille v Spurs Preview - Spurs need to be heroes on All Saints Day
· Spurs 2 Marseille 0, Matchday One - 07.09.22
· Spurs v Marseille Matchday One Preview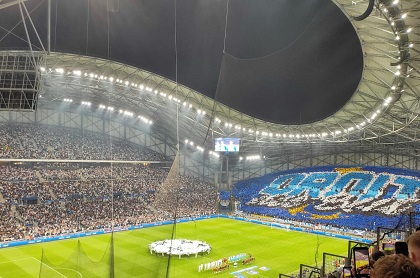 Thanks to Eugene Gasper for the picture

In the end, it was a heroic win for Spurs, who secured top place and a favourable draw in the Champions League Round of 16 with virtually the very last kick of the game. Going into this final match of a very tight Group D, any one team could have finished top. Any two teams might have qualified for the next phase. Spurs needed a point to ensure qualification. The worst that could happen to them was to finish third and have to play on Thursday nights in the New Year. At various stages during the evening, three of the four teams held top place "as things stood", and each of them held a qualifying place at some time. Spurs held top place at the start of the game; when they equalised, and finally when heroic Hojbjerg scored what was his fourth goal of the season, and his first Champions League goal.......
Spurs Odyssey Premier League Match Report
· Bournemouth 2 Spurs 3 - Spurs tricked then treat in Halloween thriller
· Bournemouth v Spurs Preview - Time for a win, please Spurs!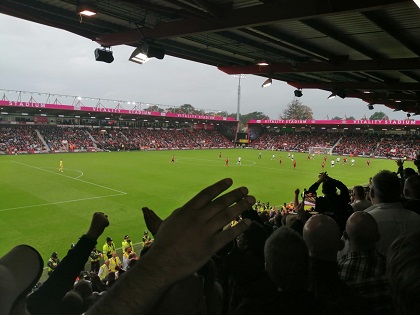 Thanks to Andy Park for the picture - taken after our winning goal
Halloween came two days early for Spurs supporters. An ineffective first half performance resulted in Spurs going in at half time 1-0 down - the same as on Wednesday against Sporting. They then compounded the situation by conceding another goal early in the second half. Unlike Wednesday where they could only create a single goal to draw the match, this time they rose to the occasion scoring three goals in an exciting win. Once again Rodrigo Bentancur scored a vital goal.
Both teams had lost their last two Premier League matches and needed a win to restore their confidence. Each team had been involved in a VAR controversy in their last match. Spurs had suffered the frustration of Harry Kane having appeared to score a last-minute winner against Sporting Lisbon. However the goal was disallowed for offside after VAR had taken about four minutes to reach the decision. Bournemouth had lost away to West Ham. Bournemouth felt that the first Hammers' goal should have been disallowed for a handball in the build-up to the goal but VAR ruled that the handball did not affect the goal........
Spurs Odyssey Message Board
Spurs Odyssey Message Board

The most epic thread on The Spurs Odyssey message board was one which started in 2010. This provided the history of our new stadium applications (including the thankfully unsuccessful bid for the Olympic Stadium) right up to the present day with images of the completed new stadium. In the early hours of Saturday 20th October, 2018, our stadium thread reached 1,000 pages! There is a genuine community feel about the board, which is moderated.
Every Spurs match is covered with excellent threads, which feature images and stats from previous games. There is so much to enjoy about the message board which also has an off-topic section where non-football matters are discussed.
There is also a great archive of filed material with links to some great Spurs history and goals.
If you would like to become even more involved, then please e-mail me (webmaster@spursodyssey.com) stating your full name, address (Town and Country will suffice!) and desired user name, and I will do the rest.
I look forward to hearing from you!
If you are a fan of mobile gaming, visit NewCasinoUK to find a list of the best new mobile casinos in the UK.
Alternatively, as Antonio Conte might say, "Se sei un appassionato di scommesse, gioca sui migliori bookmakers inglesi recensiti da NuoviCasinoItalia.it."
Spurs Odyssey ...also on Facebook here
Search Spurs Odyssey &/or The Web!
Back to top of page

Play gambling games online at live dealer casino with best croupiers in the UK.

Sign up at bet365 with your-promotional-code.co.uk
Get daily updated enhanced odds offers on the latest Premier League games
Online casino no minimum deposit UK are very popular because they allow you to play for fun for free.
List of new casino uk 2022 for UK players www.newukcasino.uk