BARCLAYS PREMIER LEAGUE
WEDNESDAY 26TH DECEMBER, 2007
TOTTENHAM HOTSPUR 5 (2) FULHAM 1 (0)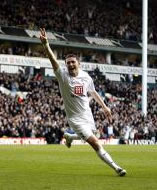 Spurs scorers:-
Keane, 27, 62
Huddlestone, 45, 71
Defoe, 90
Fulham scorer:-
Dempsey, 60
Referee: - Mr. A. Marriner
Attendance: - 36,077
Teams:-
Spurs (4-4-2):- Robinson; Chimbonda, Kaboul, King (Capt.) (sub Taarabt, 73), Lee; Lennon, Huddlestone, O'Hara, Malbranque; Berbatov (sub Boateng, 63), Keane (sub Defoe, 67)
(Armband to Robinson)
Subs not used: - Cerny; Bent
Booked: - Huddlestone
Fulham (4-1-4-1):- Niemi; Baird (sub Volz, 46), Hughes (Capt.) (sub Healy, 63), Konchesky; Murphy; Dempsey, Davies, Smertin, Seol Ki-Hyeon (sub Bouazza, 46); Kamara
Subs not used: - Warner; Kuqi
Booked: - Baird (foul on Malbranque), Volz (foul on Lennon), Smertin, Davies (foul on Taarabt)
Sent off: - Volz (86) – second yellow (foul on Malbranque)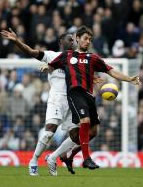 Spurs and their fans had two great Christmas presents today! Firstly, skipper Ledley King played his first game of the season, and what a welcome he had. Ledley was sheer class throughout, although it has to be said that we were not up against much today. The skipper's timing of tackles and accurate clearances were very much appreciated, and when he was replaced by Adel Taarabt after 73 minutes, the reception for our Captain was simply rapturous. By the time Ledley went off, Spurs were 4-1 up, and the circumstances allowed Juande Ramos to make maximum and effective use of his squad, having already replaced first choice strikers Dimitar Berbatov and Robbie Keane.
The second of those late presents for Spurs was of course the resounding 5-1 beating that the players handed out to a poor and lightweight Fulham side that has dropped once again into the relegation zone, from which they will struggle to escape. To be honest, the visitors (at least egged on by a reasonable away support today) got no more than they deserved for their lack of ambition, and inability to get forward to any degree that would worry Spurs – apart from a brief spell at the start of the second half when substitute Hameur Bouazza did have quite an impact for the away side.
Having been offline for over 24 hours, when I saw that the Spurs players were sporting black armbands, I thought that they would be paying tribute to former goalkeeper John Hollowbread, who passed away before Christmas. However, we learnt at kick-off that fifties' favourite Tommy Harmer – aka Harmer the Charmer – had sadly passed away aged 79, on Christmas Day. Tommy was a diminutive winger who missed both the Championship seasons of 1950-51 and 1960-61, as his Spurs career came between these two great winning seasons. I am not old enough to have seen him play, but I am told that Tommy was a great wing artist, who could weave magic through mud-patches with the leather ball that was used in those days. Whenever I did have the good fortune to see him or meet him in recent years, Tommy always had a smile on his face and loved his Spurs. Tommy was one of the scorers in the famous 10-4 victory over Everton in October, 1958, which was Bill Nicholson's first game as manager, and I am sure he would have loved to have seen today's scoreline in favour of Spurs.
Spurs lined up today with Kaboul on the right side of the central defence, beside Ledley, and Huddlestone beside O'Hara in the middle of the midfield four.
Fulham included former Spurs favourite Simon Davies in their midfield, and Danny Murphy had the job of patrolling between the midfield and defence. Diomansy Kamara looked none too comfortable in his role as lone front man, with Clint Dempsey withdrawn to the right side of midfield.
The early stages of the game had been unexciting, but Spurs had won a couple of free kicks, taken by O'Hara, but without success. Fulham actually had the first real effort on goal after 6 minutes, when Smertin passed to Dempsey in a central position outside the Spurs area. The shot was hit well over the goal.
Despite their apparent comfort and amount of possession, Spurs took their time to assert themselves with a good move started down the right involving Lennon but then feeding the ball across the centre through Berbatov and Keane, before Malbranque forced a corner, which he took. The ball fell to Huddlestone in a shooting position, which he declined, passing to Kaboul, who lost possession trying a fancy back-heel.
Fulham right back Chris Baird got the first booking of the afternoon after just 20 minutes, when he took Malbranque's legs away just outside the box. As usual Malbranque's work-rate was brilliant, and his delivery has been consistent for ages now. After 23 minutes, Steed (playing against his old team of course) hit a right foot ball from the left, which Berbatov headed down, but Niemi held, with a fairly comfortable dive to his right.
Spurs took the lead soon after. Huddlestone's free kick was met by Chimbonda on the right of the area, and headed back to Malbranque whose shot looked goal-bound, but rebounded with power to Keane who was able to fire the ball low past Niemi.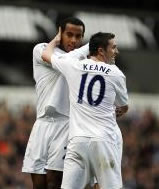 Fulham came out of their shell now, and Kamara did get the better of Lee and Kaboul near the corner flag, before passing the ball back to Simon Davies whose shot was well over. Fulham enjoyed a little pressure before half-time with three successive corners. The first of these had been conceded with a well-timed tackle inside the box by our Ledley. After the corners, Spurs made a break, and Berbatov was the provider from the left, before Keane chipped the ball and Malbranque's header went straight into Niemi's arms. Spurs increased their lead in added time from another Robinson clearance. This time Malbranque picked up the ball fed inside to Berbatov, who rolled it back into Huddlestone's path, where the big midfielder could not resist a left foot shot from 22 yards. The low drive had Niemi well beaten and gave Spurs a cosy half-time lead.
Stand-in Fulham coach Ray Lewington was bold at half-time, replacing Baird with former gooner Moritz Volz, and Seol Ki-Hyeon with Bouazza. Bouazza was to have an immediate impact, putting in a powerful cross from the left, which Robinson managed to pat clear as Dempsey threatened. Dempsey had been allowed to be more adventurous in support of Kamara too.
After 50 minutes there was a fine example of Spurs football, as Ledley King won a challenge near the left touchline, making space for his upfield ball to the half-way line, where Berbatov headed down to Keane, who immediately switched the play to the advancing runner in the shape of Pascal Chimbonda. Berbatov tried to get on the end of Chimbonda's cross, but it was just too deep for the striker. Keane had a chance after 56 minutes from a Robinson ball, controlling, holding and turning in the style of his bigger strike partner. Robbie tested Niemi thoroughly with his shot. In no time though, Robinson had to be sharp to hold a deflected long ball which landed in his arms in the middle of his goal.
The tricky Bouazza (why didn't he start?) got the bye-line then put in a low cross which Robbo tried to clear but with two strikers close at hand it was Dempsey who got the touch to put Fulham within one goal of Spurs.
That situation did not last long though, as within two minutes, Jamie O'Hara's corner was headed down towards the far post by Berbatov and fired home from close range by Keane for his 10th league goal and fourteenth in all of the season. Robbie has now reached the landmark of 100 Premier League goals, and has plenty more in his boots, I am sure!
Berbatov was replaced by Boateng, and Ramos adopted a five-man midfield with Malbranque at the head of a 5-man diamond; O'Hara on the left; Lennon on the right; and Huddlestone and Boateng in the middle – to protect the defence.
Volz got his first yellow for a foul on Lennon, and Defoe replaced Keane with the new Spurs formation being maintained. In the 71st minute, Tom Huddlestone found Lennon with a good longish ball, and Lennon passed back to Hudd, who hit a well-placed right foot shot that beat Niemi inside his right post for a 4-1 lead. That allowed Ramos more luxury, as he took off Ledley, replaced him with Taarabt, who took O'Hara's place on the left of midfield. O'Hara fell back to left back; Lee moved to the right; and Chimbonda took over in the middle.
Fulham started to see yellow too often, and Huddlestone was unlucky to see yellow when his alleged victim, Smertin, seemed to dive before he even hit Hudd! Even Simon Davies got a card for a heavy handed challenge on Taarabt. The referee should have allowed advantage here, as Lennon was in possession with space opening up for the attack. It wasn't long before Volz got a second yellow and a red card for a heavy-handed shoulder barge right in the middle of Malbranque's back. Steed spent most of the remaining minutes off the pitch which meant that 10 man Spurs had a Huddlestone free kick go wide, and then took a 5-1 lead after a quick throw, which featured a 1-2 between Defoe and Huddlestone. Hudd could not quite get his foot on the ball for the hat-trick goal, but Defoe did the business and it was high fives all round for Tottenham!
Spurs remain in 13th place, but with a positive goal difference they are clearly the best team in the bottom half of the table. If we beat Reading on Saturday, we would go above them, and draw closer to the top ten sides. Bring it on!
· Spurs record in recent London Derby Matches
· Squad numbers,appearances,bookings & goalscorers
· Read the preview for this game.