Courtesy of:- Ray Lo, and the Spurs List
[e-mail Ray Lo]
Picture courtesy of Bruce & Elaine Lewis

      FA Premier Reserve League – South
           Brisbane Road, Leyton
       Monday 3rd September 2007, 7pm
 
           SPURS   V   BIRMINGHAM 
     (All White)       (Blue/White)
           4-5-1         4-4-2
 
            1(0)          0(0)
 
      Radek Cerny  1 Artur Krysaik
        Phil Ifil  2 David Joyce
     Cian Hughton  3 Shaun Timmins
   Jake Livermore  4 Martin Taylor
 Michael Dawson(C) 5 Asa Hall 
      Leigh Mills  6 Ryan Burge
     Andy Barcham  7 Lewis Green
   Kieran McKenna  8 Jordan Mutch 
      Terry Dixon  9 Rowan Vine
          Boateng 10 James McPike
     Adel Taarabt 11 Dean Lea

   Tommy Forecast 12 Toby Osman
      Chris Riley 13 Dean Lyness
      (5)65Mins.
    Simon Dawkins 14 Robert Gradwell
       (9)46Mins.
      Yaser Kasim 15 Jamie Sheldon
   Jonathan Obika 16 Ashley Sammons

Coach:-
      C.Allen        K.Bertschin
 
Scorers:-
      Barcham 80 

Bookings:-
 McKenna 24(Foot up)  Hall 2(Pulling)
 Boateng 77(Late)     Burge 63
                     (Ungentlemanly conduct)    

Attendence:- 287 

Ref:- S.Beck

Asst.Refs:-  M.Smith, G.Atkins, M.Tweed

On a slightly chilled evening Spurs opened their home fixtures with a visit from newly promoted Birmingham City. A rather small crowd gathered in the new West stand at Brisbane Road for our second match of the current campaign.

Spurs lined up with Cerny in goal again with Dawson having a run out to improve his fitness levels. Daws partnered Mills at the heart of the defence with Ifil at right back and Hughton at left. Livermore and McKenna were in front of the back four with Barcham on the right and Taarabt on the left. Sitting in the hole was Boateng with Dixon up front. Birmingham had Taylor and Vine returning from injuries having a run out.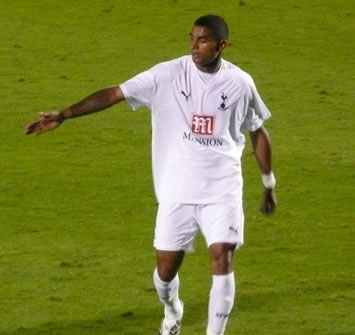 Spurs defended the South end in the first half although they did not have much to defend against. Green shot wide in the first minute before Boateng put Dixon through on the left. Dixon held off Hall and got into the area before the Ref gave a free kick a yard outside and booked Hall for shirt pulling. Boateng hit his kick wide of the far post.
Taarabt then had his first run at the defence before firing wide. After Cerny made his first save from Burge the game moved to the Blues' half as Spurs, prompted by Boateng laid siege to the Birmingham goal. Taarabt fired wide again before Krysiak held his next effort. Boateng fired in a weak shot before an effort from a corner was blocked. Krysiak was kept busy saving a header from Livermore and three drives from McKenna and diving at the feet of Barcham before watching McKenna and then Ifil shoot wide.
With less than ten minutes of the half left Birmingham won a corner. The inswinging ball hit the crossbar and fell to Green who smashed it against the post. There was still time for Boateng to curl another shot over the bar.
Dixon was replaced by Dawkins for the second half and he was joined up front by Barcham as Allen changed to a 4-4-2. There was little change from the first half as the shooting chances continued to mount as Taarabt opened with a couple of dribbles that ended with Krysiak having to make saves.
Burge was booked by the Ref when he had a tug of war over the ball when Spurs conceded a free kick and he wanted to get on with it. Allen took off Dawson after twenty minutes bringing on Riley who went to right back. Ifil took Dawson's place in the middle as well as the Captain's armband. Dawkins then forced Krysiak into a save before Green popped up at the other end to test Cerny.
Boateng and McKenna had further attempts as the home side tried to convert one of their chances. Taarabt began to mess around by showing off, dancing about and generally falling over or just being dispossessed much to the annoyance of the crowd which began shouting to him to pass the ball.
Spurs were so much on top without a goal. This was causing some tension on the field and Boateng was booked for a bad challenge which was high and late. With ten minutes left Cerny played the ball out to Riley who played the ball into the centre. Boateng lifted it over the Blues' defence for Barcham to collect and race away and shoot under the diving keeper.
This game was so one sided that the visitors only had just four shots on goal, and how Spurs did not score a hatful I will never know. On occasions both Taarabt and Boateng were guilty of wasting possession by trying to be too clever when simple balls would do. On the whole Boateng did a good job in the middle of the park with good footwork and deceptive layoffs, but Taarabt in the second half kept losing the ball and did not try to recover it.
It was an easy workout for Dawson as he did not have to stretch himself and got away with some sloppy play which I put down to rustiness. Spurs will face tougher sides than Birmingham, who lost 6-0 to Reading last week, so they will need to sharpen up especially as their next match is away to Chelsea in two weeks time.
Ray
· More exclusive pictures from Monday night's game here