· See the current injury list for all Premier League Teams
· All the Spurs Stats you could hope for here! THFC6061 Sports Stats

Cup Record v Manchester City

FA Cup

Season  RD   H/A  W/L  Score  Scorers

08-09    1    A    W    4-3   Morris (pen), R. Steel, Minter (2)
13-14    2    A    L    1-2   Bliss
21-22    3    H    W    2-1   Bliss, Wilson
29-30    3    H    D    2-2   Cook, Osborne
      Replay  A    L    1-4   Thompson
34-35    3    H    W    1-0   Evans
53-54    4    A    W    1-0   Bennett
55-56  S-F    N    L    0-1
           (Villa Park)
68-69    6    A    L    0-1
80-81    F    N    D    1-1   Hutchison (o.g.)
      Replay  N    W    3-2   Villa (2), Crooks
     (Both games at Wembley)
92-93    6    A    W    4-2   Nayim (3), Sedgeley
03-04    4    A    D    1-1   Doherty
03-04    4(R) H    L    3-4   King, Keane, Ziege

League Cup
92-93    3    A    W    1-0   Samways
03-04    4    H    W    3-1   Anderton, Postiga, Kanoute
07-08    5    A    W    2-0   Defoe, Malbranque

UEFA Champions League

18-19 QF(1)   H    W    1-0   Son
18-19 QF(2)   A    L    3-4   Son (2), Llorente
Spurs won this tie on away goals rule

Mason will give the call to arms!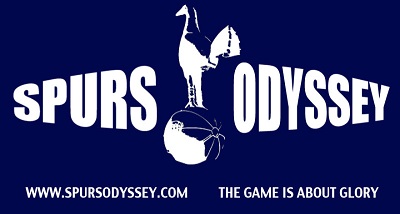 THFC would not allow me the fly the Spurs Odyssey flag in the stadium for these behind closed doors games but it will feature in my match report!
This will be the 61st League Cup Final. The competition has had various sponsors down the years since the 1981-2 season, when it was known as the Milk Cup. Spurs were in the Final when it was first sponsored, sadly losing to Liverpool in extra time. Liverpool were on a run of four consecutive wins in this competition. Subsequent sponsors have been Rumbelows, Coca-Cola, Worthington, and Carling. After one year with no sponsor, Carabao took over and have supported the competition for four seasons.
Both Manchester City and Spurs are competing in their ninth League Cup Final this Sunday. Spurs have won four previous finals (1971, 1973, 1999, 2008) but City are only one win behind Liverpool, who lead the list of winners with 8 victories. City won the competition in 1970 and 1976, before their next success came in 2014. Since then they have won four of the last five finals, and in fact the last three. The last time City were beaten in this competition was in October 2016 when they lost 1-0 at Old Trafford to a Manchester United side who went on to win that season's competition. Who was the United manager? Why, Jose Mourinho, of course! Mourinho's United also won the Europa League that season.
In 1999, when United won a coveted "treble" of League, FA Cup and Champions League. Spurs beat them in the Worthington Cup and prevented a United clean sweep of all domestic trophies. Now City are out of the FA Cup (beaten in last week's semi-final by Chelsea), but they still have their eyes on a treble. Can Spurs be the team to end another trophy-winning ambition? We can at least say we've beaten Guardiola's expensively gathered assembly of talent three times in our last seven meetings, and famously put paid to their Champions League hopes two years ago.
Both teams played on Wednesday night, so there is no advantage to either side in terms of exhaustion for this game, although Spurs played earlier than City. City have a Champions League semi-final away to Pochettino's PSG to play on Wednesday which might affect Pep's selection for this game, but he has consistently and carefully switched his players in such a way that there is usually hundreds of thousands of pounds worth of players on his bench. Spurs have to respect (not fear) whoever Guardiola picks for the Final.
This game will be played in front of a small gathering of spectators, some of whom will be 2,000 fans of each club. 4,000 places were offered to Brent residents from the NHS and front-line workers, who may or may not be fans of the teams. Covid test results permitting, my son will be attending, but I chose not to attend an event which I feel is something of an experiment, and will lack the atmosphere of a Cup Final. I admit to having deeply mixed feelings about my decision. Spurs have won silverware only twice in the lifetime of Spurs Odyssey (Honours Page) and I was lucky enough to be present for both occasions. One was at the old; the other at the new Wembley.
City "won the toss" to be deemed the "home" side for this match and Spurs will play in their green away strip. That colour was lucky for us in Amsterdam two years ago. Why not now?
City have played 4 games to reach this final which was put back from its original scheduled date of 28th February, in the hope that some spectators would be allowed. Because of their early bye against Leyton Orient, Spurs have had to negotiate just three games. In these Covid times this year's semi-final was restricted to one leg only. Both teams' paths to this final can be viewed here:- How they got there.
It is quite amazing really that we have not met City in domestic cup competition since December 2007 when we beat them 2-0 at what was then called the "City of Manchester Stadium". In my report for this season's 5th Round December tie at Stoke, I wrote:- "13 years ago I travelled home from The Etihad Stadium where Spurs had beaten Manchester City 2-0 to progress to the semi-final of the League Cup. We went on to win the trophy in 2008. Could we do it again?"
We had to perform heroically to win that game. Jermain Defoe gave us an early lead, but Didier Zokora was sent off by referee Steve Bennett after only 20 minutes. Not only did we hold on to our lead, but we increased it with a Steed Malbranque 82nd minute winner which he fired past a certain Joe Hart! Young Joe had played one game for City in October 2006 before going out on loan, so the 2007-08 season was his first full season for City. City were managed then by Sven-Goran Eriksson and included future Spur Vedran Corluka and future BBC and Sky pundit Micah Richards. Dimitar Berbatov was our man of the match, and the following season would be playing on the other side of Manchester. Berbatov scored from the penalty spot in our successful Carling Cup Final against Chelsea - our last trophy.
It's too early for team news, and I have to publish before departing to once again enter a child support care bubble for my grandson, but both teams will be hoping to have key players available. Harry Kane was spotted training yesterday (Thursday) but away from the team. Kevin De Bruyne limped off in last week's FA Cup semi-final, and City might be hoping to include him. They have plenty in reserve, of course, not least 20-year-old Phil Foden who scored his first Premier League goal against Spurs two years ago, and just keeps going from strength to strength. Foden now plays a massive part in the fortunes of Manchester City and England.
Interim coach Ryan Mason will be making the "call to arms" to his players, some of whom are older than his 29 years. The early indications following Wednesday night's win over Southampton are that the players were impressed by Ryan's half-time rallying call. I dare not predict a win, but live in hope, of course. We have beaten City before and will do so again. Let's hope it happens on Sunday!
Once again Declan Mulcahy will be writing the Spurs Odyssey match report, which might be published a little later than usual. COME ON YOU SPURS!
Our match referee will be Paul Tierney, who has now been in the middle with Spurs for 12 games. This will be his sixth Spurs game of the season. The last was also against Manchester City in February when we lost 3-0 at The Etihad.