∑ Premier League Matchday 17 - last year
∑ See the current injury list for all Premier League Teams
∑ All the Spurs Stats you could hope for here! THFC6061 Sports Stats

Full League Record of Spurs -v- Leeds United

Premier         Pl  W  D  L  For- Ag  Pts
Home            12  6  3  3  20 - 13  21
Away            12  2  3  7  11 - 21   9
========================================
Total (Premier) 24  8  6 10  31 - 33  30  1.25 Pts per game
========================================
Football Lge
Home (Div 1)    28 14  8  6  47 - 34  37
Away (Div 1)    28  6 10 12  32 - 42  23
========================================
Total (Div 1)   56 20 18 18  79 - 76  60
========================================
Football Lge
Home (Div 2)     4  3  1  0  10 -  4   7
Away (Div 2)     4  1  1  2   3 -  5   3
========================================
Total (Div 2)    8  4  2  2  13 -  9  10
========================================
Total (Premier) 24  8  6 10  31 - 33  30
Total (Div 1)   56 20 18 18  79 - 76  60
Total (Div 2)    8  4  2  2  13 -  9  10
========================================
Grand Total     88 32 26 30 123 -119 100
========================================

Last Six Premier League results:-

Spurs      -    DWDLLD
           
Chelsea    0-0    Spurs
Spurs      2-0    Arsenal
C.Palace   1-1    Spurs
Liverpool  2-1    Spurs
Spurs      0-2    Leicester
Wolves     1-1    Spurs

Leeds      -    LLWLWW

Chelsea    3-1   Leeds
Leeds      1-2   West Ham
Leeds      5-2   Newcastle
Man Utd    6-2   Leeds
Leeds      1-0   Burnley
West Brom  0-5   Leeds

Pos          P  W  D  L   F-A   GD  Pts
 7. Spurs   15  7  5  3  26-15  11   26
11. Leeds   16  7  2  7  30-30   0   23

Forward we go! Let's go toe to toe!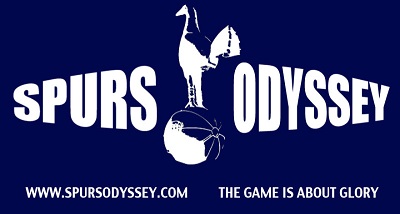 THFC would not allow me the fly the Spurs Odyssey flag in the stadium for these behind closed doors games but it will feature in my match report!
A popular feature on social media and football websites this week to focus upon the Boxing Day results of 1963 when no less than 66 goals were scored in top flight games. Those results included Spurs drawing 4-4 at the Hawthorns but did not include Leeds, who were in Division Two at the time. For the record Leeds drew 1-1 at home to Sunderland. They were promoted at the end of the season as Champions and remained in the top flight until 1982, returning after an 8-year absence. They were relegated again in 2004 and have endured a 16 year absence from elite football.
That promoted side in 1964 became Don Revie's "Mighty Leeds" (aka "Dirty Leeds"), who under Revie won the Football League Title twice; were runners-up 5 times (including their first two seasons), and also won an FA Cup, a League Cup and an Inter-City Fairs Cup. This last competition was the fore-runner of the UEFA Cup. Even Newcastle won it in 1969. Don Revie left Champions Leeds at the end of the 1973-74 season for England. The start of the 74-75 season saw the notorious short reign of Brian Clough before Jimmy Armfield took over later in that season.
Leeds reached other European Finals including the European Cup Final in 1975. That pending final (which they lost to Bayern Munich) was the backdrop to a historic Spurs v Leeds game on 28th April, 1975. Spurs had to win to stay up (yes, it was that bad in those days). Martin Chivers tells the story of how manager Terry Neill took the team to Ponsbourne Park Hotel the night before the game and invited Romark to hypnotise the team.
That must have worked because Cyril Knowles scored two (one a penalty) and Chivers scored before Joe Jordan got a goal back. Both Alfie Conn and Peter ("The Rocket") Lorimer scored goals, both of which were timed at 79 minutes. This was the game where at one point Alfie Conn sat on the ball, whilst it was in play in the centre circle. I was in the Enclosure (lower West Stand) and it was an incredible night.
Leeds manager Jimmy Armfield rested one or two but the Leeds side included famous names such as Paul Reaney, Trevor Cherry, Billy Bremner, Paul Madeley, Norman Hunter, Lorimer, Frank Gray, Jordan, Terry Yorath and Eddie Gray. Terry Yorath would later play for Spurs, and Joe Jordan is famous at Spurs for his touchline face-off with AC Milan's Gattuso in a famous night at the San Siro 10 years ago.
Sadly Leeds legends Jack Charlton and Norman Hunter died earlier in 2020. Another former player to pass away this year was Trevor Cherry. Only two years ago another familiar Leeds player Paul Madeley died. Billy Bremner died in 1997 aged only 54 and is subject of a famous statue outside Elland Road.
The reason I started this preview by referring to the 1963 Boxing Day goal feast is that Marcelo Bielsa's side are driven to attack, attack, attack. Now that they've won their last two games they have scored 30 and conceded 30 goals. I wrote in my last Premier League review that "There have been 21 goals in Leedsí last four games and Leeds have scored 12 of those, with five goals in the first and last of those four games. There is certainly no shortage of entertainment with this team."
Bielsa's players are proud of their 1-0 home win against Burnley where they did come under considerable pressure but defended well and kept a clean sheet for the fourth time this season. That's five after their thrashing of West Brom. Leeds would go level on points with us should they win this game.
Notable results this season have been drawing at home to Man City and Arsenal, beating Everton away, thrashing Newcastle and now The "Baggies". Bielsa's men went toe-to-toe with a rampant Manchester United who won 6-2 at Old Trafford. On the down side in other games they've conceded 4 against Liverpool and Leicester, whilst Fulham and Chelsea scored three against "The Whites"
Call me rash, romantic, or stupid if you like, but I've predicted a 4-2 home win in this game which kicks off tomorrow lunch-time at 12.30 and will be live on BT SPORT here in the UK. I emphatically do not believe this is a game we can win in the recent Mourinho-style of sitting back and counter-attacking, because Leeds will relentlessly attack, whilst probably leaving gaps. We need to go forward and go toe-to-toe - and most importantly - win!
Harry Kane's wife gave birth to a baby boy this week, and I do not think that will prevent his participation. Our Brazilians - Vinicius and Lucas Moura - should be available according to Jose, but Gareth Bale and Giovani Lo Celso are definitely out. I see no reason why (after the Fulham postponement) we should not play our current first choice team tomorrow. It promises to be a brilliant game.
Did you know?
1. There are three teams (Leeds, Aston Villa and Sheffield United) that we have waited until 2021 to play in what was a delayed start to the season.
2. Aaron Lennon made his Premier League debut (for Leeds) in our last home Premier League game against the Yorkshire side.
3. Our last Premier League game against Leeds was in January 2004 when we won 1-0. Robbie Keane scored against his old club. Paul Robinson was in goal for Leeds, who also included Nick Barmby. Robinson was already an England international and signed for Spurs in the summer of 2004, making his debut in our opening game of 2004-05 in a 1-1 draw against Liverpool. Whilst "Robbo" is a great favourite of Spurs fans, he remains Leeds through and through and was overjoyed on the night their promotion was confirmed in July.
I wish all readers a happy and healthy 2021!
This will be referee David Coote's sixth game in charge of Spurs. The last time we saw him in the middle was for our magnificent 5-2 away win against Southampton in September.