· Last season's game - Spurs 1 Sheffield United 1, 09.11.19
· This season's away game - Sheffield United 1 Spurs 3, 17.01.21
· Premier League Matchday - last year
· See the current injury list for all Premier League Teams
· All the Spurs Stats you could hope for here! THFC6061 Sports Stats


Full Record of Spurs -v- Sheffield United

Prem          Pl   W   D   L  For-Ag  Pts
Home           4   2   2   0   7 -3    8
Away           5   1   1   3   7 -14   4
========================================
Total(Prem)    9   3   3   3  14 -17  12  1.33 Pts per game
========================================
Football Lge
Home(Div 1)   32  22   6   4  72 -32  50
Away(Div 1)   32   6  11  15  46 -70  21
========================================
Total(Div 1)  64  28  17  19 118 -102 73
========================================
Home (Div 2)   6   2   3   1  17 - 9   7
Away (Div 2)   6   0   2   4   7 -15   2
========================================
Total(Div 2)  12   2   5   5  24 -24   9
========================================
Total(Prem)    9   3   3   3  14 -17  12
Total(Div 1)  64  28  17  19 118 -102 73
Total(Div 2)  12   2   5   5  24 -24   9
========================================
Grand Total   85  33  25  27 156 -143 94
========================================

Last Six Premier League results:-

Spurs      -    LWDLDW
           
Arsenal    2-1    Spurs
A. Villa   0-2    Spurs
Newcastle  2-2    Spurs
Spurs      1-3    Man Utd
Everton    2-2    Spurs
Spurs      2-1    S'hampton

Sheff Utd  -    LLLLLW

Sheff Utd  0-2    S'hampton
Leicester  5-0    Sheff Utd 
Leeds      2-1    Sheff Utd 
Sheff Utd  0-3    Arsenal
Wolves     1-0    Sheff Utd 
Sheff Utd  1-0    Brighton

Pos             P  W  D  L   F-A   GD  Pts
 7. Spurs      33 15  8 10  56-38  18   53
20. Sheff Utd  33  5  2 26  18-56 -38   17

Fancy a double before you go?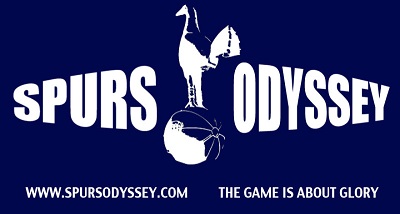 THFC would not allow me the fly the Spurs Odyssey flag in the stadium for these behind closed doors games but it will feature in my match report!
Once again, we say "au revoir" to Sheffield United, whose inevitable relegation was confirmed two weeks ago when they lost 1-0 at Molineux. "The Blades" equalled an unwanted record, of being relegated from the Premier League with six games still to play. United had already dispensed with the services of manager Chris Wilder "by mutual consent" in March, since when under-23 team coach Paul Heckingbottom has been the interim manager.
Thus, we have the rare situation of both teams being led by an interim manager/coach. Declan Mulcahy tells me the last time this happened was in December 2019 when Everton hosted Arsenal and Carlo Ancelotti were Mikel Arteta were in the stands but had not yet taken charge of their respective teams.
The result of that game at Goodison Park was 0-0, and we must certainly hope for a better result tomorrow. Not only because by the time we play (7.15pm tomorrow night on SKY) we will once again be playing catch-up with most of our competitors for a possible top four place, or at least a place in the Europa League, but because we have yet to manage a Premier League double over this side who are about to complete only their fifth Premier League season.
As you can see in the statistics shown at the top of this preview, we have a moderate record against "The Blades" who like us were founder members of the Premier League. The stat about Brian Deane scoring the very first Premier League goal (against Manchester United) is well known. Deane had scored both goals against Spurs in our last Division One meeting with "The Blades" in April 1992. In that first Premier League season we beat United at home in September '92, but suffered a disgusting 6-0 away defeat the following March. Deane scored one of the goals. Spurs fielded a "decent" side and could not use the excuse that they had an FA Cup quarter-final against Manchester City to follow, although we did win that memorable game when Nayim scored a hat-trick and a line of Police officers and horses tried to keep the marauding City fans from the away fans.
"The Blades"' current term in the Premier League almost book-ends the Spurs career of Jose Mourinho. Their last visit to New White Hart Lane was Mauricio Pochettino's last game in charge. Ryan Mason has only had charge of the team for two games since the departure of "the Special One". That November 2019 game was a disappointing draw, and we suffered our one post-lockdown defeat last July at Bramall Lane in a game when we were denied a good goal because Lucas Moura accidentally handballed (his arm actually) as he fell.
This season's away game was played in January and featured that exquisite Tanguy Ndombele goal which ought to feature in a goal of the season competition along with Lamela's rabona against Arsenal.
Sheffield United will always have a special place in the history of our club because they were the victims in our historic FA Cup win almost 120 years ago to the day (27th April, 1901). reluctantly, I have to point out we have now not been in any FA Cup Final for the last quarter of that period. Now, we must say to "The Blades" - "Fancy a double before you go?" The double would be for us, of course!
Sheffield United only won their first league game of this season the week before they met us in January. In their Premier League game after defeat to Spurs they astounded Manchester United at Old Trafford with a 2-1 win! Since then, they've managed just three more league wins, although they did reach an FA Cup quarter-final. 33-year-old David McGoldrick is "The Blades"' top scorer with just seven league goals. 21-year-old Rhian Brewster was bought for big money from Liverpool at the start of the season and has yet to score in any competition for his new team. Both Brewster and McGoldrick were involved in the United winner against Brighton last week.
It seems Spurs have only one player definitely out with injury - Ben Davies - for whom no return date is yet indicated. Matt Doherty returned to training this week, but I suspect the team will not be much different from last week, with perhaps Ndombele back in for Winks. United have been plagued by injuries over the course of the season but could welcome midfielder Sander Berge and defender Chris Basham (what a great name for a defender!) tomorrow. I got off to a good start to my weekend predictions, with a correct scoreline of 1-1 for last night's Southampton - Leicester game. I went for 3-0 to Spurs tomorrow!
Our match referee will be Andre Marriner, who first took charge of a Spurs match 15 years ago in February 2006. That was a 1-1 draw at Sunderland, who finished bottom of the Premier League that season with only 15 points. We have only seen Mr. Marriner in the middle on two previous occasions this season. The first of those was our away win against "The Blades". The other was the 1-0 home defeat against Chelsea.