· This season's away game - West Brom 0 Spurs 1, 08.11.20
· Premier League Matchday - last year
· See the current injury list for all Premier League Teams
· All the Spurs Stats you could hope for here! THFC6061 Sports Stats

Full Record of Spurs -v- West Bromwich Albion

Prem         Pl   W   D   L   For-Ag  Pts
Home         12   5   6   1   18 -10  21
Away         13   5   5   3   18 -14  20
=========================================
Total(Prem)  25  10  11   4   36 -24  41   1.64 Pts per game
=========================================
Football Lge
Home(Div 1)  45  22  11  12   79 -46  55
Away(Div 1)  45  12   7  26   54 -94  31
=========================================
Total(Div 1) 90  34  18  38  133 -140 86
=========================================
Football Lge
Home(Div 2)   8   3   3   2   12 -10   9
Away(Div 2)   8   1   1   6   14 -20   3
=========================================
Total(Div 2) 16   4   4   8   26 -30  12
=========================================
Total(Prem)  25  10  11   4   36 -24  41
Total(Div 1) 90  34  18  38  133 -140 86
Total(Div 2) 16   4   4   8   26 -30  12
=========================================
Grand Total 131  48  33  50  195 -194 139
=========================================

Last Six Premier League results:-

Spurs      -    WDWLLL
           
Spurs      3-0    Leeds
Spurs      1-1    Fulham
Sheff Utd  1-3    Spurs
Spurs      1-3    Liverpool
Brighton   1-0    Spurs
Spurs      0-1    Chelsea

West Brom   -   LWLLDL

West Brom  0-4    Arsenal
Wolves     2-3    West Brom
West Ham   2-1    West Brom
West Brom  0-5    Man City
West Brom  2-2    Fulham
Sheff Utd  2-1    West Brom

Pos            P  W  D  L   F-A   GD  Pts
 8. Spurs     21  9  6  6  34-22  12   33
19. West Brom 22  2  6 14  18-52 -34   12 

A must-win game for both sides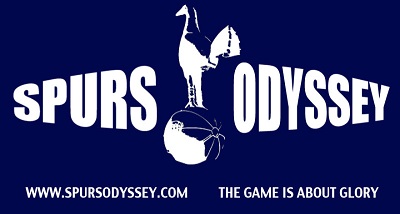 THFC would not allow me the fly the Spurs Odyssey flag in the stadium for these behind closed doors games but it will feature in my match report!
It's a "must win" game for both sides, if not both managers tomorrow. Why? For Spurs, after three consecutive defeats and a slip down to eighth place, which could be ninth by the time we kick-off at 12 noon tomorrow, a win is vital to start a climb back towards a position from which we can challenge the top four. Tottenham have suffered three successive Premier League defeats for the first time since November 2012. Unsurprisingly, these three matches have seen spursometer grades for the team performance of less than 40%. This is the worst series of figures since 6 out of 7 games towards the end of Mauricio Pochettino's reign were under 50%. Three of those were less than 40%. If such performances led to the departure of a much-revered manager, what happens to Jose Mourinho if we do not succeed against relegation-threatened West Bromwich Albion?
Sam Allardyce was appointed by West Brom on December 17th, ironically after Slaven Bilic's men had battled it out for a respectable 1-1 draw against Manchester City, who have won every game they've played since. Bilic was therefore the manager when Spurs were grateful for an 88th minute goal by Harry Kane to secure the three points which kept us in the battle for leadership of the Premier League. Those were the days!
Since his appointment, Allardyce has won just one of the 10 games his side has played. That was a 3-2 win at Molineux in the Black Country Derby. Allardyce claimed to be a Wolves fan too! West Brom lost a third round FA Cup tie on penalties to Blackpool. They do need to concentrate on the league of course, but under "Big Sam" the "Baggies" have lost at home to Aston Villa (3-0), Leeds (5-0), Arsenal, (4-0) and also Manchester City (5-0). In their last game, after taking a first half lead, West Brom lost a vital game to bottom club Sheffield United. Spurs can't do anything but win this, can they?
Well actually they might lose. We've only ever lost one Premier League game at home to this side and that was very early in Pochettino's reign in September 2014 when a James Morrison goal gave the visitors a 1-0 lead. Alan Irvine (now on the West Ham coaching staff) was looking after the team at the time. Later in the season Tony Pulis would take over at the Hawthorns, but that 2014 win was "The Baggies" first win at White Hart Lane for 30 years. We do not want another.
The only Spurs players involved in that defeat who could be involved tomorrow were Hugo Lloris, Eric Dier (who played at right back) and Erik Lamela. Harry Kane was not involved then and will not be involved in tomorrow's game although Jose has said Harry is looking likely to be the first returnee of the injured quartet that also includes Reguilon, Dele and Lo Celso.
West Brom's number two goalkeeper David Button played in that FA Cup defeat against Blackpool and also the 3-2 win at Wolves. Button and West Brom captain Jake Livermore played together in the same Spurs Youth side in 2005. In 2011 Livermore captained a Spurs XI in a pre-season friendly against Barnet. Harry Kane was in the same side. Button's career has taken him to Brentford, Fulham, and Brighton in recent years. He has never played against Spurs in a first team game. Jake Livermore scored against his old club in added time at the Hawthorns in May 2018, when West Brom were already doomed to the drop.
Sam Allardyce will have new signing Okay Yokuslu available at Tottenham on Sunday after the Turkey international received his visa. Yokuslu, 26, has been signed on loan from Celta Vigo. Allardyce also acquired Robert Snodgrass on a free from West Ham, Ainsley Maitland-Niles on loan from Arsenal and striker Mbaye Diagne on a loan deal from Galatasaray.
Jose must surely make one or two changes following the Chelsea game. Erik Lamela was quite influential when he came on and could make his first Premier League start since Boxing Day (and only his third of the season). The back four (I do hope it's not five) will probably be freshened up, bearing in mind Wednesday night's cup game at Goodison Park. I think Harry Winks could start this game, but what do I really know. After all, I am predicting a 3-1 home win! The game kicks off at 12 noon and is being shown on BT Sport if you have the strength and courage to watch!
This will be a first outing this season with Spurs for referee Stuart Attwell for whom this is only the thirteenth game in charge of Tottenham. Sadly, I have to tell you that his first game was a home defeat to Wolves in December 2009, as was his last game in March last year. It is time for improvement in all departments, I think! This weekend is the first round of matches in which we will see the potential use of concussion substitutes.