PREMIER LEAGUE
WEDNESDAY 23RD FEBRUARY, 2022
(7.30pm)
BURNLEY 1(0) TOTTENHAM HOTSPUR 0(0)
Scorer:-
Mee, 71
Attendance:- 19,488
Referee:- Graham Scott
Assistants:- Dan Cook, Dan Robathan
Fourth official:- Jonathan Moss
VAR:- Stuart Attwell
Assistant VAR:- Sian Massey-Ellis.
Teams:-
Burnley (4-4-2):- Pope; Roberts, Tarkowski, Mee (Capt.), Pieters; Lennon, Cork, Brownhill, McNeil; Weghorst (sub Barnes, 89), Rodriguez
Subs not used:- Hennessy; Lowton, Collins, Bardsley, Long, Thomas; Stephens; Richardson
No bookings
Spurs (3-4-3):- Lloris (Capt.); Romero, Dier, Davies; Emerson Royal (sub Lucas Moura, 65), Hojbjerg, Bentancur (sub Winks, 46), Sessegnon (sub Bergwijn, 79); Kulusevski, Kane, Son
Subs not used:- Austin; Doherty, Sanchez, Rodon, Reguilon; Scarlett
No bookings
True Grit 1 Spurs 0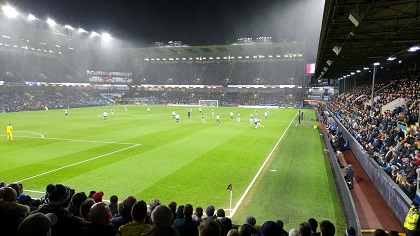 After the ecstasy of Saturday's win at the home of the Premier League Champions, Spurs suffered the misery of losing to relegation-threatened Burnley. On a typically wet and blustery Turf Moor winter's night the grit and determination of a side battling against the drop finally overcame the flair of a side that lacked the clinical touch to maintain their pursuit of Champions League or even European football. The most disturbing news of the night was to read of comments by Antonio Conte who seemed to be doubting himself and his ability to raise the standards of this Spurs team. That was distressing, and I have yet to read his comments in full.
Burnley last beat Spurs three years ago to the very day. Their only other two league wins this season have come against the fellow "B" teams – Brentford and Brighton. Spurs have lost a league game outside London for the first time this season. Aaron Lennon, who scored in Burnley's 3-0 win at Brighton last Saturday, played 90 minutes on the right wing. 13 years ago, Aaron had scored for Spurs in a 2-1 win at Hull. Tonight, he won the decisive free kick when Ryan Sessegnon needlessly fouled. Unlike Spurs, Burnley don't play their free kicks backwards. Brownhill swung in a deep kick which passed the back post where skipper Ben Mee rose above Romero to head back across goal past Lloris into the net to win the game. That puts Sean Dyche's side two points behind Newcastle and Premier League survival.
I was surprised firstly to see Conte pick the same eleven as he had at Manchester City. Surely there must have been one or two tired legs in need of refreshment? Secondly, it was disappointing in what was a tepid first half to see us waiting for Burnley to attack us, thus enabling counter-attacking moves. We played too much "tippy-tappy" football, and I even recall Romero passing one ball backwards across Lloris's area to Ben Davies who was only just in front of the goal-line. Remember those days when a golden rule was not to pass across your area? Spurs do it all the time now.
Spurs kicked off and played away from their fans. I thought we had a shot on goal in that first minute, but Harry Kane had crossed from the right and the ball had been deflected into the side netting. That was as close as we came to the goal in the first half. The corner came to nought, and it wasn't long before we came under a little Burnley pressure winning corners of their own. Spurs' playing from the back did not help to ease their pressure, although Hugo was not severely tested in the first half either.
Brownhill had a shot from 25 yards blocked, and Bentancur needed treatment after 5 minutes. He carried on, but perhaps this knock was the reason for him being replaced by Winks at half-time. A cross from the left by McNeil took a deflection before Hugo managed to clear the ball. Hugo also comfortably held a shot by Brownhill from just outside the box. McNeil blocked a cross by Harry Kane at the other end.
Spurs tried to play some expressive football with each of the centre-backs spraying good passes to the wing-backs. Harry Kane was making similar passes from the centre, but then those receiving the ball had no realistic outlet against a defence that thwarted Spurs so often. Remember, Burnley have conceded less goals than anybody else in the bottom half, and also three less than Spurs.
Davies hit a good pass out to Emerson after 29 minutes. He crossed and Kulusevski got into the box; went down but got no foul. At the other end Rodriguez went close with a header from another McNeil cross, but there was an offside anyway. Kane hit a good pass to Emerson who came inside and tried a left foot shot from 25 yards, but that was wide.
Spurs defended with a high line from a Burnley free kick which came to nothing. Spurs now enjoyed a period of pressure, but without any end product. Kane had a long range shot blocked and in added time after Kulusevski won the ball and passed to Son, the attack ended with Burnley defending a cross by Sessegnon.
On came Winks for Bentancur, and Spurs picked up the tempo. "Sonny" made several runs from deep which brough to mind his box-to-box goal against Burnley in December 2019, but there was going to be no miracle here. Son was fouled just outside the box towards the right and took the kick himself. Kane's header rebounded off the bar with Pope beaten.
Burnley came under real pressure now but survived. The rain was still sweeping across the pitch and at corners, the flag was being bent over almost to the ground, impeding Son's ability to hit a long ball, as he opted for a short corner on several occasions. After a foul on the left wing, Burnley had an attacking free kick. This was taken by the victim McNeil but headed straight at Lloris by Mee.
Hojbjerg fed a short ball to Kane who passed outside to Emerson. His cross was met by a powerful Sessegnon header and Spurs appealed for a handball but got no change from referee Graham Scott. Kulusevski fed the ball out to Kane on the right, but his cross was headed clear for a corner. After good work by Kulusevski and Emerson, Kane had a long distance effort which passed just wide of goal.
The game became end to end in nature but had reached the point where I felt one goal would be decisive. So it would prove, but not in our favour. Burnley fans and non-partisans would have enjoyed this second half immensely. McNeil wormed his way into the box past Romero and Emerson, but Dier blocked. Kane passed outside to Emerson at the other end, but his shot was blocked. Another Kane ball fell to Kulusevski, operating out on the right. Kulusevski went close with the first of two shots. This one was saved by Pope. The other passed just the wrong side of the post.
Emerson was replaced by Lucas Moura, and I am afraid to say Lucas had hardly any positive influence upon the game. Kulusevski dropped back to cover Emerson's position. Romero defended in excellent fashion against Weghorst who had broken into our box. Kulusevski had a shot saved after receiving from Son. "Kulu" hit this one with his left foot. Lloris was required to make an excellent save, low to his right from a Rodriguez header after another McNeil cross. Kulusevski' s second left foot shot followed. Again fed by Son, the shot was hit back across the goal, but was just wide.
The killer goal soon followed, and Spurs paid for their lack of a clinical finish.
Burnley would now start to "manage the game" to use up time. Referee Graham Scott didn't get his card out all night, even when the substituted Weghorst dawdled off the pitch and even paused to do up his laces.
Hojbjerg got into the Burnley area to try and do something with a Son cross from the right, but Son was flagged offside. Sessegnon was replaced by Bergwijn. Burnley came close to increasing their lead when, after a McNeil corner from the right, Mee's header was blocked, and Rodriguez somehow scooped the ball over the bar from close range.
Winks raced into the Burnley area and went down after he seemed to be squeezed by two defenders. VAR looked at this but saw no offence. Romero headed a ball down for Lucas Moura, but he skied his shot. Brownhill hit a curling shot outside Lloris's right post from 25 yards. Bergwijn had a shot saved at the other end, after taking Son's pass, but the game was up for Spurs who have now lost four of their last five league games. That's just not good enough.
Next up on Saturday lunchtime are Leeds who were thrashed 6-0 at Anfield and have the worst defence in the league. Care to make any predictions? No, I thought not.
· See the exclusive "Spursometer" and have your say regarding the performances of the team, individual players, manager and officials.
· Spurs' record in recent London Derby matches
· Squad numbers,appearances,bookings & goalscorers
· Read the preview for this game.
· All the Spurs Stats you could hope for here! THFC6061 Sports Stats