CARABAO CUP SEMI-FINAL (First Leg)
WEDNESDAY 5TH JANUARY, 2022
(7.45pm)
CHELSEA 2(2) TOTTENHAM HOTSPUR 0(0)
Scorers:-
Havertz, 5
Davies (o.g.), 34
Attendance:- 37,868
Referee:- Craig Pawson
Assistants:- Constantine Hatzidakis and Neil Davies
Fourth Official:- Kevin Friend
VAR:- Jarred Gillett
AVAR:- Lee Betts
Teams:-
Chelsea (4-2-3-1):- Arrizabalaga; Azpilicueta (Capt.) (sub Vale, 90), Rudiger, Sarr, Alonso; Saul (sub Loftus-Cheek, 73), Jorginho; Ziyech (sub Pulisic, 79), Mount (sub Kovacic, 73), Havertz (sub Werner, 46); Lukaku
(Armband to Jorginho)
Subs not used:- Bettinelli; Hall, Barkley, Hudson-Odoi
Booked:- Sarr (foul on Kane)
Spurs (3-4-3/4-3-3):- Lloris; Tanganga, Sanchez, Davies; Emerson Royal, Skipp (sub Winks, 73), Hojbjerg, Doherty (sub Ndombele, 46); Lucas Moura (sub Gil, 80), Kane, Son (sub Lo Celso, 79)
Subs not used:- Gollini, Austin; Reguilon, Rodon; Dele
No bookings
Second best again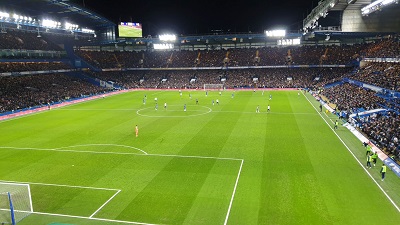 For the umpteenth time, we Spurs fans went through the mill at Stamford Bridge. We arrived early, under the pre-match threat that you needed to get there at least an hour before kick-off to ensure seeing the start of the game. We were there in our permitted droves, singing our hearts out. In fairness most of the chants in the first half were negative towards Chelsea, Alonso, Terry et al. The best of the bunch was "Romelu Lukaku, he's Inter Milan!". In the second half, Spurs fans focussed more on their team, urging them on to recover from the two-goal deficit they had given themselves in the first 35 minutes. Spurs did make a better fist of the second half, but it was all too late, and unless we get an early goal next week, we can goodbye to yet another chance of a trophy disappearing over the horizon.
In fairness to Chelsea FC, away fans access was easier than for league games where we are usually subject to ritual abuse by the home fans. Arriving early did get us through the 100% Covid checks smoothly, and there was a deal to be had on the beer prices too! All away fans were accommodated in the Shed End upper and lower, which is fully equipped (and now officially licensed) for safe standing. I found the presence of a rail to lean on useful, and even reminiscent of the 60s in The Shelf where I used to race to stand behind one of the (fewer) rails.
As for the football, I'd rather forget it. Antonio Conte had declared that one or two players were affected by Covid, and Eric Dier was missing from our squad. His replacement, Japhet Tanganga, had a mare in the first half, but he did survive to play the full 90 minutes. Matt Doherty was hauled off at half-time in favour of Ndombele, as Conte reverted to four at the back.
Chelsea were short of players through injury, African Cup of Nations, and Covid, with the rarely tried Sarr and Saul included in the starting line-up, but they still outshone Spurs everywhere on the pitch with the exception of goal where Hugo Lloris performed competently, as usual. In truth, Lloris was not called upon to make many saves. It was the Chelsea profligacy that prevented a scoreline that would have put the tie totally out of reach.
Lukaku, of course, had a point to prove to the fans to whom he had apologised via social media and other outlets, after his much-publicised interview with Sky Italia. From the kick-off Lukaku was leaving Sanchez in his wake as he advanced but crossed to empty space. Chelsea had a free kick, taken but over-hit by Mason Mount. Mount had a shot blocked by Tanganga, but Japhet was a villain when Chelsea took the lead in the fifth minute. The Spurs number 25 was trying to pass to Emerson, but instead gifted the ball to Alonso who put Havertz in play inside the Spurs box. Havertz's shot was actually hit into the net by Sanchez, but the Chelsea man was credited with the goal.
Havertz needed treatment after the goal. Spurs were hardly stepping foot in the Chelsea half and poor defending, not once, not twice, but three times by Emerson gave Havertz a chance low to Lloris's right. Our captain saved just inside his post. Mount had a shot blocked to win a corner after which Ziyech had a left foot shot pass wide.
At last Spurs created something like an attack with a good crossfield ball sent to Son, who just couldn't control the ball properly. Son was below par today, but that applies to most of the team, who were persistently closed down and who didn't pass and move with the speed demonstrated by their opponents. Son won, and took, a corner on the right, but he hit that too low.
Chelsea's second goal followed a failure on the ball by Doherty in the Chelsea half. (The fact we resorted to a right-footer at left back left something to be desired) Chelsea had a free kick on the right after a foul on Lukaku. Ziyech swung the ball into the 6-yard zone where the hapless Tanganga headed the ball against the unfortunate Ben Davies. The ball rebounded off Davies into the net. No-one can afford to gift goals to an opponent such as Chelsea.
Emerson hit a deep cross after 39 minutes which reached Doherty beyond the back post. He headed the ball back into the goal out and Arrizabalaga challenged with Lucas Moura for the ball which ran out for a goal kick. Ziyech crossed from deep on the other side, but Lukaku's header was just wide of the back post.
During the interval, Timo Werner and Tanguy Ndombele could be seen being put through their paces by their respective coaching staff. Werner replaced Havertz whilst Ndombele replaced Doherty and Spurs reverted to a back four with Davies at left back.
"Sonny" had a header blocked after a cross by Emerson before Chelsea cleared after the Spurs right back crossed again. Spurs had a free kick after a foul on Ndombele 22 yards out. Kane took the kick which squeezed through the sea of bodies and Arrizabalaga saved at his right-hand post.
Chelsea responded after 52 minutes with a long ball from the left by Werner, a touch by Lukaku and then a shot by Ziyech which was held by Hugo. Ndombele advanced and exchanged passes with Lucas Moura before hitting a right foot shot which passed well over the target.
After an infield pass by Kane failed after 60 minutes, Chelsea attacked down their left flank with Alonso feeding the ball to Werner whose right foot shot passed wide of the far post. Sarr got the only booking of the game soon after following a foul on Kane in the middle which led to treatment being given to Harry. Another Spurs attack broke down on the edge of the box (Lucas Moura) and Chelsea moved the ball forward quickly and effectively. Ziyech hit a long ball to Werner who was in the middle. Hugo stood tall and was able to stop Werner's shot with his upstretched arms.
Lucas tried to hook a shot goalward after a cross by Emerson, but that passed well over the target. A raft of substitutions began. Try as they might, Spurs could not break down Chelsea and score a goal that would have put this tie truly in the balance. Ziyech hit another shot too high after Alonso's cross. When Conte took off Son and Lucas Moura in favour of Lo Celso and Gil, I felt any chance of us scoring had gone.
Tanganga did head over a Lo Celso free kick after Emerson had been fouled. Alonso had a 25-yard free kick blocked at the other end. Chelsea fans felt confident enough to chant "It's happened again" whilst Spurs fans were riled by Azpilicueta going to the ground several times seeking to stop the flow of the game. During this spell, Lo Celso had a shot saved by Arrizabalaga after Gil got the better of the ailing Chelsea captain before cutting the ball back.
There were four minutes of added time, during which Lukaku had one final chance to score, receiving from Werner before firing straight at Lloris. By this time, I had left to do battle with the hordes at Fulham Broadway Station. I will, of course, be at The Lane next week but without carrying much hope of a passage to another League Cup Final.
· See the exclusive "Spursometer" and have your say regarding the performances of the team, individual players, manager and officials.
· Spurs' record in recent London Derby matches
· Squad numbers,appearances,bookings & goalscorers
· Read the preview for this game.
· All the Spurs Stats you could hope for here! THFC6061 Sports Stats