· See the current injury list for all Premier League Teams
· All the Spurs Stats you could hope for here! THFC6061 Sports Stats

Spurs Full Cup Record against Chelsea


FA Cup

SEASON   RD   H/A   Score SCORERS

09-10    2     A     1-0  Humphreys
56-57    4     H     4-0  Harmer R Smith 
			  Stokes Medwin
63-64    3     H     1-1  Dyson
         3R    A     0-2
64-65    5     A     0-1
66-67    F     N     2-1  Robertson, Saul
81-82    6     A     3-2  Archibald Hoddle 
			  Hazard
01-02    6     H     0-4
06-07    6     A     3-3  Berbatov, o.g., Ghaly
06-07    6R    H     1-2  Keane(pen)
11-12    SF    N     1-5  Bale, 56
16-17    SF    N     2-4  Kane, Dele


League Cup

71-72   S-F    A     2-3  Chivers, Naylor
71-72   S-F    H     2-2  Chivers, Peters
90-91   Q-F    A     0-0
90-91   Q-F    H     0-3
01-02   S-F    A     1-2  Ferdinand
01-02   S-F    H     5-1  Iversen, Sherwood
                          Sheringham, Davies
                          Rebrov
07-08    F     N     2-1  Berbatov (pen), Woodgate
14-15    F     N     0-2
18-19   SF(1)  H     1-0  Kane (pen)
18-19   SF(2)  A     1-2  Llorente
                                Lost 2-4 pens
20-21    4     H     1-1  Lamela
                                Won 5-4 pens

Could this be a good time to play Chelsea?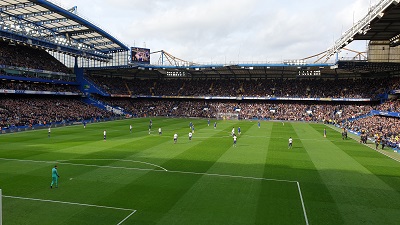 Could this be a good time to play Chelsea? One thing is for sure, we will have to be at out best, come what may. Not only do we have to play this team, whose fans truly hate us as much (if not more) than anyone, twice in this Carabao Cup semi-final, but we also re-visit Stamford Bridge on January 23rd on league business.
Chelsea had a very tough game on Sunday (a full day later than Spurs) against Liverpool. It was a classic encounter with both teams relentless in their quest for a win. All the goals in this 2-2 draw were scored in the first half. Liverpool were two up before Kovacic scored an excellent volley which came somewhat out of the blue. It was only his second goal of the season and his first since September against Villa. Pulisic added a second goal before the break. In truth neither team reached the levels of energy and determination as had been exhibited in the first half.
It is 9 games (in all competitions) since Chelsea last lost, and that was 3-2 away to West Ham, who like us are chasing a Champions League place. How alien that sounds! Chelsea have drawn too many (four) of their recent league games which leaves them ten points behind league leaders Manchester City. Both first and second placed teams have been able to play their full quota of 21 league games despite the ongoing Covid situation and the number of postponements. Ten points is a lot of ground to make up against a team like City, who look set for yet another title. Chelsea finished second in their Champions League group and will face Lille in the Round of 16.
Encouragement could be offered by the number of definite and potential absentees in the Chelsea squad for this first leg game. Reece James suffered a hamstring injury against Brighton last Wednesday and Ben Chilwell looks like being out for the season with a knee injury. We are likely to see Arrizabalaga in goal as Mendy is now absent for the African Cup of Nations. Christensen missed the Liverpool game with a back problem and is likely to miss this game. His replacement Chalobah picked up a hamstring injury and is almost certainly ruled out. Timo Werner has been slowly recovering from Covid, but was in the stand, sitting with James on Sunday. One player who could appear tomorrow is Romelu Lukaku, who has apologised over negative remarks made to Sky Italia recently.
That still leaves plenty of excellent players available for Thomas Tuchel, but perhaps not the fresh legs he would like after Sunday's game. Both teams can surely relax regarding their FA Cup Third Round ties at the weekend. Chelsea host National league leaders Chesterfield (my current home town – c'mon Spireites!) while Spurs play League 1 strugglers Morecambe.
For Antonio Conte this is a first return to Stamford Bridge since his acrimonious departure after winning them the league in 2016/17 (Spurs were the runners-up) and the FA Cup the year after. We were Conte's 4-2 victims in an FA Cup semi-final in 2017 (Arsenal won the Final), but in April 2018 we had a historic Premier League win at The Bridge.
Conte's upset with Chelsea was a business issue, and he will, of course, be very professional when he takes his Spurs side to Stamford Bridge tomorrow. He will have a degree of confidence too in a team which is unbeaten in 8 Premier League games since his arrival. Antonio has referred to a couple of players with "Covid issues" which might be resolved by tomorrow. He does have to leave Steven Bergwijn and Ryan Sessegnon out of consideration. Sessegnon will probably be available to play against Morecambe.
Both teams have reached this stage by defeating Premier League sides. Spurs' victims were Wolves, Burnley, and West Ham. Those wins were achieved with different levels of distinction and indeed confidence under two different managers. Chelsea beat Aston Villa and Southampton in penalty shoot-outs before Brentford lost 2-0.
Last season we knocked Chelsea out of this competition in Round Four. That was in a penalty shoot-out after Erik Lamela had scored a late equaliser. Mason Mount failed with the last penalty kick of the shoot-out. Spurs were led by another former Chelsea manager and multiple trophy winner, of course. That game was also in an empty stadium, due to a Covid lockdown. Tomorrow's game should be in front of a full house. Spurs have an allocation of 4,000 and I understand that 100% Covid checks will be made, so those going should make sure they arrive at least an hour before kick-off which is at 7.45pm. Such are the inconveniences that Chelsea in particular put upon away fans, but apparently, we do have safe standing rails to lean on now. The game will be shown on SKY TV.
I feel the best I can hope for is a draw tomorrow, but let's at least make sure that next week's second leg is set up nicely! Check out the links above and the associated previews for more Spurs v Chelsea cup history which I might explore further in next week's second leg preview. All I will mention is that it is now 20 years since we beat Chelsea in the 2001/02 League Cup semi-final!
We will have VAR for the semi-final and tomorrow that official will be Jarred Gillett. The man in the middle will be Craig Pawson, who has not previously refereed a Chelsea v Spurs game. Mr. Pawson's only other Spurs game this season was our away defeat against Arsenal.
· Spurs record in recent London Derby League matches