· Last season's game - Spurs 2 Arsenal 0, 06.12.20
· This season's away game - Arsenal 3 Spurs 1, 26.09.21
· Premier League Matchday 36 - last year
· See the current injury list for all Premier League Teams
· All the Spurs Stats you could hope for here! THFC6061 Sports Stats


Full Record of Spurs -v- Arsenal
 
Prem          Pl  W   D   L  For-Ag  Pts
Home          29 12  12   5  42 -35  48
Away          30  2  11  17  31 -60  17
========================================
Total(Prem)   59 14  23  22  73 -95  65 Pts per game 1.1
=======================================
Football Lge
Home(Div 1)   55 24  12  19  93 -83  63
Away(Div 1)   55 16  12  27  65 -85  46
========================================
Total(Div 1) 110 40  24  46 158 -168 109
========================================
Total(Prem)   59 14  23  22  73 -95  65
Total(Div 1) 110 40  24  46 158 -168 109
========================================
Grand Total  169 55  47  68 231 -263 174
========================================

Last Six Premier League results:-

Spurs      -    WWLDWD
           
Spurs      5-1    Newcastle
A. Villa   0-4    Spurs
Spurs      0-1    Brighton
Brentford  0-0    Spurs
Spurs      3-1    Leicester
Liverpool  1-1    Spurs

Arsenal    -    LLWWWW

Arsenal    1-2    Brighton
S'hampton  1-0    Arsenal
Chelsea    2-4    Arsenal
Arsenal    3-1    Man Utd
West Ham   1-2    Arsenal
Arsenal    2-1    Leeds

Pos           P  W  D  L   F-A   GD  Pts
4. Arsenal   35 21  3 11  56-42  14   66
5. Spurs     35 19  5 11  60-40  20   62

Can we do it? Yes, we can!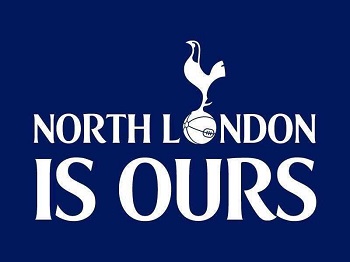 There is hope for Spurs following our excellent performance at Anfield, despite Arsenal's win against Leeds. In fact, Arsenal's failure to extend an early two-goal lead against Leeds, who then had a player sent off and even managed to score a second-half goal is another reason for us to have some faith in Arsenal's ability to slip up. Leeds even nearly scored an added time equaliser on Sunday.
Tomorrow's match was originally scheduled for 16th January but called off when Arsenal took advantage of lax Premier league rules regarding Covid. Arsenal had more players unavailable through injury and International duty than they did through Covid. As time passed, it became more and more likely that Sky would seek this game to be played near the end of the season, and so it has proved. After the Liverpool game we simply have to win this game (and our last two games) , and then hope for Arsenal to slip up against Newcastle (A) or Everton (H).
There have been very few meetings with Arsenal as late as May. I have found six in all, the last of which was 23 years ago. They are listed below:-
1927 - Spurs 0 Arsenal 4
1970 - Spurs 1 Arsenal 0 - Alan Gilzean scored in the 66th minute.
1971 – Spurs 0 Arsenal 1 (one we don't like to remember).
1972 – Arsenal 0 Spurs 2 This was Alan Mullery's penultimate Spurs game on May 11 1972. Mullery scored, along with Ralph Coates and Spurs won 2-0. In a March 2000 Spurs Odyssey match preview, Brian Judson wrote, "One of the best goals I have ever seen at Highbury was scored by Ralph Coates on 11th May 1972. Nothing was at stake and Spurs were leading 1-0. Arsenal took a poor corner, and the ball was cleared to the hovering Coates. The former Burnley player tore upfield with the entire Arsenal side chasing him. Barnett came out to reduce the angles and Coates slipped past him and stroked the ball into the net."
1993 – Arsenal 1 Spurs 3. This was one of only two away wins for Spurs in Premier League fixtures. Arsenal had a Cup Final to look forward. I won't remind you who they beat in the semi-final to get revenge for 1991!
1999 - Spurs 1 Arsenal 3.
Just one month ago, after Arsenal lost at home to Brighton and we beat Aston Villa 4-0 away (our fourth successive win), we were holding fourth place three points ahead of our nemesis. Sadly, despite losing key players Tierney and Partey in recent times, Mikel Arteta's men went on to win four successive games while we were losing at home to Brighton, drawing at Brentford before drawing at Liverpool. Arteta has been rewarded with a new contract, taking him till the summer of 2025, whatever happens in the remainder of this season.
After the first three matches of the season we were laughing when three Nuno-inspired 1-0 wins put us top of the early table whilst Arsenal, after losing 5-0 at The Etihad were at the bottom of the Premier League. They followed their disastrous start with four successive wins which included the depressing and all too regular defeat at The Emirates. Nuno lasted seven more games before being replaced by Antonio Conte.
When we lost 3-1 at the Emirates in September, we dropped into the bottom half of the table, below Arsenal on goals scored. The previous time we had been in the bottom half after 6 games had been 2008. We had two points from 6 games, and it took three more games and Harry Redknapp to improve that situation! That last Arsenal result in September was a third consecutive London Derby defeat, which hadn't happened since 2004. The third game on that occasion was a 5-4 home defeat.
Unencumbered by any participation in Europe this season, and after an embarrassing FA Cup Third Round defeat at Nottingham Forest, Arsenal have had nothing but the League to consider. Aubameyang was released and went to Barcelona. Arteta has been rewarded for the faith he has put in young players. 20-year-old Bukayo Saka is very much established, of course and will be in England's World Cup squad later this year, all things being equal. Brazilian winger Gabriel Martinelli is another 20-year-old who catches the eye and has made 25 league appearances this season (seven as sub). Emile Smith-Rowe is 21 and already has England senior caps and has appeared in 30 league games this season. Even Xhaka, with his blotted copy-book has been positive and influential in Arsenal's recent good runs. 22-year-old Eddie Nketiah has been preferred to Lacazette up front in recent games and scored two goals in Arsenal's 4-2 win at Chelsea, and against Leeds. It is sad to report that our rivals have been playing well.
Due to Covid regulations and the fixture calendar of recent seasons, this is the first game at our new stadium where Arsenal fans will be visiting en masse. They were our last guests for a home game played at Wembley Stadium on 2nd March, 2019, and by the time we next met them at home, lockdown conditions meant the game was played behind closed doors. We won that game in July 2020, and their next visit in December 2020 when 2,000 lucky Spurs fans were allowed to see the 2-0 win.
Son Heung-min scored in our last two home games against this team, but Harry Kane holds the goalscoring record for the NLD, with total of 11 to his name. Tomorrow's game kicks off in front of SKY TV cameras at 7.45pm in front of a full house, including Arsenal's 3,000 quota. Let's hope they remember the occasion for the wrong reasons. Can we do it? Yes, we can. In a hot atmosphere with the crowd behind our team, I think we can win 3-1 and keep open the issue of fourth place. I do not expect any changes to our team after Saturday's heroic draw at Anfield.
Did you know? – 23-year-old goalkeeper Aaron Ramsdale, who was signed at the start of the season from Sheffield United and is Arteta's clear first choice, spent the second half of 2017/18 on loan with Chesterfield who were relegated from League Two at the end of that season. Ramsdale played in 19 of their league games. He has, of course, previously faced Spurs when playing for Bournemouth and latterly Sheffield United.
This will be referee Paul Tierney's fifth Spurs game this season, all of which have been played in London. None of these games were won by Spurs and our only point came in the 2-2 home draw against Liverpool in December. Mr. Tierney has refereed Arsenal twice this season, and they've lost both games. They were both London derby matches. I can confirm that this referee does travel outside London!
· Spurs record in recent London Derby League matches