· Last season's game - Burnley 0 Spurs 1, 26.10.20
· Premier League Matchday 13 - last year
· See the current injury list for all Premier League Teams
· All the Spurs Stats you could hope for here! THFC6061 Sports Stats


Full League Record of Spurs -v- Burnley
 
Prem          Pl   W   D   L   For- Ag  Pts
Home           7   6   1   0   20 -  3  19
Away           7   3   2   2   10 -  7  11
==========================================
Total(Prem)   14   9   3   2   30 - 10  30  Pts per game 2.14
==========================================
Football Lge
Home(Div 1)   34  17   7  10   75 - 44  41 
Away(Div 1)   34   6  10  18   44 - 74  22
==========================================
Total(Div 1)  68  23  17  28  119 -118  63
==========================================
Football Lge
Home(Div 2)   10   8   2  0    34 -  7  18 
Away(Div 2)   10   1   3  6     6 - 13   5  
==========================================
Total(Div 2)  20   9   5  6    40 - 20  23 
==========================================
Total(Prem)   14   9   3   2   30 - 10  30
Total(Div 1)  68  23  17  28  119 -118  63
Total(Div 2)  20   9   5   6   40 - 20  23   
==========================================
Grand Total  102  41  25  36  189 -148 116 
==========================================

Last Six Premier League results:-

Burnley    -    DLDWDD

Burnley    0-0    Norwich
Man City   2-0    Burnley
S'hampton  2-2    Burnley
Burnley    3-1    Brentford
Chelsea    1-1    Burnley
Burnley    3-3    C. Palace

Spurs      -    WWLLDW
           
Spurs      2-1    A. Villa
Newcastle  2-3    Spurs
West Ham   1-0    Spurs
Spurs      0-3    Man Utd
Everton    0-0    Spurs
Spurs      2-1    Leeds

Pos           P  W  D  L   F-A   GD  Pts
 7. Spurs    12  6  1  5  11-16  -6   19
18. Burnley  12  1  6  5  14-20  -6    9 

Burnley game postponed
The original fixture scheduled for Sunday 28th November, 2021 was postponed due to snow. Team news had been pubished and the game was officially called off at 1.10pm. For the record, these are the teams which had been announced:-
Burnley (4-4-2):- Pope; Lowton, Collins, Mee (Captain), Taylor; Gudmundsson, Cork, Brownhill, McNeil; Cornet, Wood
Subs:- Hennessey; Stephens, Pieters, Bardsley, Long, Roberts; Lennon; Rodriguez, Vydra
Spurs (3-4-3):- Lloris (Capt.); Sanchez, Dier, Davies; Emerson Royal, Hojbjerg, Skipp, Reguilon; Lucas Moura, Kane, Son
Subs:- Gollini; Doherty, Tanganga, Sessegnon; Winks, Dele, Ndombele, Gil; Bergwijn
Here is my original preview, which will, of course be updated for the re-arranged game, which will not be until the new year.
Whilst Spurs have won their last two home games against Sean Dyche's men convincingly (5-0 and 4-0), our last three visits to Turf Moor have been difficult. In the last league match before the March 2020 lockdown we drew 1-1. We were grateful for Giovani's Lo Celso's bright second half performance and a penalty converted by Dele Alli. Erik Lamela had been fouled.
Last season's game was a tight affair, won by what was a typical Kane-Son combination in the 76th minute. This match had been preceded by high scoring games against Maccaibi Haifa (7), Manchester United (6), West Ham (3), and LASK (3). Kane and Son had scored 10 goals between them in those games.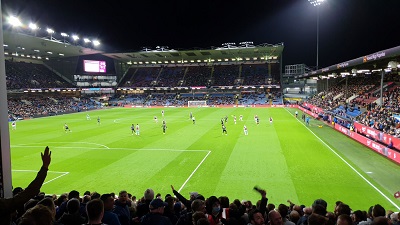 Finally, only a month ago, we were grateful for a Lucas Moura goal to put us through to the fifth round of the Carabao Cup.
Burnley might be in the bottom three, but that league cup defeat to Spurs was their only defeat in their last 5 games. In the three league games since, Burnley beat Brentford 3-1, drew against top of the table Chelsea, and last Saturday drew 3-3 at home to Crystal Palace. They've scored three goals in two of those games, producing some good football in the process.
Burnley might have only won one league game, but they've drawn 6 and lost the same number of games as have Spurs. Antonio Conte's team will have to be at their best to win here. Summer signing Maxwel Cornet has scored 5 league goals, four of which have been in Burnley's last four league games. Cornet is a 24-year-old winger, who can play in a range of attacking and defensive roles on both the left and right side. He scored two goals and provided five assists for the French club in Ligue 1 last season.
When they lost 2-0 at Anfield in August Burnley established a Premier League record for the most consecutive matches without receiving a red card (95). This is one more than Ipswich Town's previous record of 94 matches. (Courtesy of Declan Mulcahy) Burnley haven't had a red card since either.
Burnley will be missing both James Tarkowski (apparently coveted by Newcastle) and Ashley Westwood, who both received fifth bookings last week against Palace. 20-year-old Nathan Collins, who signed from Stoke in the summer, is likely to take Tarkowski's place, whilst Gudmundsson is likely to play on the right side of midfield.
Spurs will be without Cristian Romero for a considerable time due to his hamstring injury, perhaps until the New Year. Conte is likely to start with the same line-up which played against Leeds last week. The squad will have suffered the coach's anger after the midweek embarrassment in Slovenia and we must hope for a bounce-back and a win. I'm afraid I dare not back us to win any game at present. As ever, I just live in hope. Weather permitting (there's been snow up here), I shall be attending and reporting.
Did you know? (1) - Alan Woods, who died in September, aged 84, was a half-back who played 6 games for Spurs in the 1954-55 season. His last game (the only one he played for us in 1955) was a home match against Burnley, which we lost 3-0. We did not win any of the games in which he played.
Did you know? (2) - Burnley manager Sean Dyche is well-remembered for his captaincy of Chesterfield in their famous 1997 FA Cup semi-final against Middlesbrough, but did you know he also played for Millwall at the turn of the 21st century. Dyche played against Spurs in this 2001 friendly match.
Match referee Peter Bankes would have been in charge of Spurs for the sixth time. His previous two games this season were our successful league cup games at Molineux and Turf Moor! Mr Bankes refereed two Europa Conference League qualfiers in July, and has recently been in charge of U-19 and U-21 European games.