· Last season's game - Arsenal 3 Spurs 1, 26.09.21
· Premier League Matchday 8 - last year
· See the current injury list for all Premier League Teams
· All the Spurs Stats you could hope for here! THFC6061 Sports Stats


Full Record of Spurs -v- Arsenal
 
Prem          Pl  W   D   L  For-Ag  Pts
Home          30 13  12   5  45 -35  51
Away          30  2  11  17  31 -60  17
========================================
Total(Prem)   60 15  23  22  76 -95  68  1.13 Pts per game
=======================================
Football Lge
Home(Div 1)   55 24  12  19  93 -83  63
Away(Div 1)   55 16  12  27  65 -85  46
========================================
Total(Div 1) 110 40  24  46 158 -168 109
========================================
Total(Prem)   60 15  23  22  76 -95  68
Total(Div 1) 110 40  24  46 158 -168 109
========================================
Grand Total  170 56  47  68 234 -263 177
========================================

Last Six Premier League results:-

Arsenal    -    WWWWLW

Arsenal    4-2    Leicester
B'mouth    0-3    Arsenal
Arsenal    2-1    Fulham
Arsenal    2-1    A. Villa
Man Utd    3-1    Arsenal
Brentford  0-3    Arsenal

Spurs      -    DWWDWW
           
Chelsea    2-2    Spurs
Spurs      1-0    Wolves
Nottm F'st 0-2    Spurs
West Ham   1-1    Spurs
Spurs      2-1    Fulham
Spurs      6-2    Leicester

Pos           P  W  D  L   F-A   GD  Pts
 1. Arsenal   7  6  0  1  17-10  10   18
 3. Spurs     7  5  2  0  18-7   11   17 

The biggest NLD since - the last one!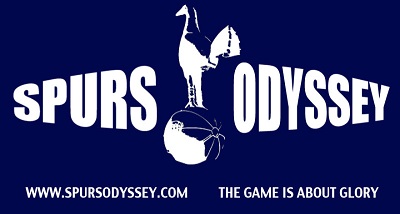 This will be our biggest and most important North London Derby since – the last one! Arsenal and their coach Mikel Arteta were so sore about being beaten to fourth place and a Champions League qualification that they went out and snatched Gabriel Jesus and left back Oleksandr Zinchenko from Arteta's last employer – Manchester City. They also bought a 19-year-old Brazilian forward - Marquinhos from Sao Paulo. 21-year-old French centre-back William Saliba, who they signed three years ago, has established himself as a regular starter this season after returning to France on loan until this year. Beaten only once so far – away to a resurgent Manchester United, Arteta's men are back in form and dangerous.
Our 3-0 home win in May was in front of a record "New White Hart Lane" crowd. It was our biggest Premier League win against the old enemy and our best win over them since a magnificent 5-0 in April 1983. After we narrowly beat Burnley and Arsenal lost on the Monday night at Newcastle, we needed only a point at Norwich on the last day of the season. "Perhaps they'll lose" said Arsenal, but we thrashed Norwich and play in a competition that has not been graced by Arsenal since the 2016/17 season. They lost 5-1 at home and away to Bayern Munich in their last Champions League fixture – The Round of 16 in February and March 2017. They weren't even in Europe last season.
A wounded animal is dangerous, of course, and Arsenal have to be favourites at a venue where Spurs haven't won in 12 attempts in the league. In that time, they beat us 5-2 in two consecutive home games, and we've suffered five two-goal defeats in subsequent meetings. The only glimmer of light in that time was our 2-0 League Cup win at The Emirates in December 2018 when Dele Alli scored a special goal to add to one scored by Heung-min Son.
This is the first time the teams have met when they've both been in top four positions since March 2019. On that occasion, a Saturday lunch-time game in front of a record Premier league crowd at Wembley saw us draw 1-1, thanks to a Harry Kane penalty. That was our last league game at our temporary Wembley home. Spurs pipped Arsenal to fourth place that season too.
Arsenal have now finished below Spurs for the six seasons in which they have failed to qualify for The Champions League. Last season's 3-0 home win was our 500th Premier League win and a third consecutive home win over Arsenal since August 1961. On the other hand, Arsenal have achieved that feat several times and as recently as between 2011 and 2013.
Apart from our decent current unbeaten league form one interesting statistic is that Spurs have only lost one of their last one of their last 11 Premier League games against Arsenal when below them in the table (W5 D5), losing 0-1 in March 2014 under Tim Sherwood. Indeed, Spurs are now unbeaten in their last six Premier League clashes against Arsenal when trailing them in the table (W3 D3). Here's to that record remaining intact!
Harry Kane is the top scorer in North London derby history in all competitions, with 13 goals in 17 games. Harry recently drew level with Thierry Henry when he scored his 43rd London Derby goal against Fulham.
Since the teams last met the death of former manager (of both clubs) Terry Neill was announced on 28th July. The best thing I can say is to quote Norman Giller's 2016 article on the great Bill Nicholson when he wrote:-
"There were strong rumours that Lane icon Danny Blanchflower would take over. This is what Bill Nicholson had advised, but he found the directors deaf to his suggestions. Instead, the Board appointed another Irishman, who had Arsenal stamped all the way through him. Terry Neill's reign could only end in tears."
Under Neill, Arsenal were in three consecutive FA Cup Finals, winning in 1979 and losing the year before and the year after. The 1979 result was part of the gag that begins:- "Sunderland did it in 1979 and Villa did it in 1981, but who did it in 1980?" (The answer is Trevor Brooking, and "it" was the winning goal in the FA Cup Final). Arsenal also finished runners-up in the 1980 European Cup-Winners' Cup Final while Terry Neill was in charge. Since Neill departed Arsenal have had six managers including George Graham. Since he left Spurs, we have had 20 managers/coaches including George Graham.
The last international break before the November-December World Cup is over, and we have no less than 9 games to play in an arduous October schedule. Six of these games are in the Premier League. Antonio Conte will have to use the squad to the full as we have two games every week. The same applies to Arsenal, of course, and both managers will be keen to get the best of starts to this period.
Antonio is playing his cards close to his chest regarding injuries, and I understand Lloris, Romero, Davies and Kulusevski are worries. Elneny and Smith-Rowe are definite absentees for the home side, but they haven't featured much so far this season anyway.
Of course, I'd love to feel confident about a win, but I fear the worst and I will be happy with a point. Whatever happens, we will stay in the top three, but a win would take us to the top of the table for a day, at least. Here's hoping! Good luck to those struggling to get to The Emirates with the ongoing train strikes.
Match referee Anthony Taylor is often chosen for the biggest games these days. This will be his 40th game in the middle with Spurs and his third London derby match this season. One of those was our 2-2 draw at Chelsea. It's his third NLD having previously overseen a 1-0 win for Spurs in February 2018. Harry scored the winner, and this game was also a 12.30pm Saturday kick-off. A year later in March 2019, the game was drawn when Hugo Lloris saved an added time Aubameyang penalty. Again, BT had the game and Mr Taylor was the referee.
· Spurs record in recent London Derby League matches