· Last season's game - Spurs 2 Brentford 0, 02.12.21
· This season's away game - Brentford 2 Spurs 2, 26.12.22
· Premier League Matchday 37 - last year
· See the current injury list for all Premier League Teams
· All the Spurs Stats you could hope for here! THFC6061 Sports Stats

Full Record of Spurs -v- Brentford

Premier         Pl   W   D   L   For-Ag  Pts
Home             1   1   0   0     2-0    3    
Away             2   0   2   0     2-2    2
============================================
Total (Prem)     3   1   2   0     4-2    5    1.67 Pts per game
============================================
Lge Div 1 
Home             0   0   0   0     0-0    0
Away             0   0   0   0     0-0    0
============================================
Total (Div 1)    0   0   0   0     0-0    0
============================================
Lge Div 2
Home             3   2   1   0     7-1    7
Away             3   1   1   1     5-4    3
============================================
Total (Div 2)    6   3   2   1    12-5   10
============================================
Total (Prem)     3   1   2   0     4-2    5
Total (Div 1)    0   0   0   0     0-0    0
Total (Div 2)    6   3   2   1    12-5   10
============================================
Grand Total      9   4   4   1    16-7   15
============================================

Last Six Premier League results:-

Spurs      -    LLDDWL
           
Spurs      2-3    B'mouth
Newcastle  6-1    Spurs
Spurs      2-2    Man Utd
Liverpool  4-3    Spurs
Spurs      1-0    C. Palace
A. Villa   2-1    Spurs

Brentford  -    LDWWLW

Wolves     2-0    Brentford
Brentford  1-1    A. Villa
Chelsea    0-2    Brentford
Brentford  2-1    Nottm Fst
Liverpool  1-0    Brentford
Brentford  2-0    West Ham

Pos            P  W  D  L   F-A   GD  Pts
7. Spurs      36 17  6 13  65-59   6   57 
9. Brentford  36 13 14  9  54-45   9   53 

The end is in sight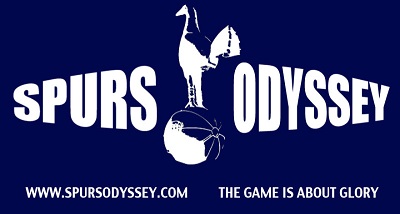 "The great fallacy is that the game is first and last about winning. It's nothing of the kind. The game is about glory. It is about doing things in style, with a flourish, about going out to beat the other lot, not waiting for them to die of boredom." - Danny Blanchflower
An end to our pain is in sight. We approach our last home game of a season which opened with promise under the leadership of an acclaimed head coach. We beat Southampton 4-1 and started at the top of the table, and we were a top four side until defeat at home to Aston Villa on New Year's Day.
Last week's defeat at Villa Park has left us with the real possibility that we might not qualify for Europe at all. Our opponents for tomorrow's 12.30 kick-off (live on BT) are Brentford who could yet overtake us and consign us to eighth or ninth place on the last day. Mind you, Brentford host likely champions Manchester City in next week's concluding game of what has been a distressing season for Spurs fans.
Watching this week's celebrations at The Etihad only served to remind us of the ecstasy we enjoyed four years ago when reaching the Champions League Final, via an exciting quarter-final win against City. The fact that City beat the European Champions cast my mind back to our glorious 3-1 home win in 2010 over the reigning European Champions Inter, who City face in Istanbul in a June 10th Final.
I am also reminded of our amazing semi-final win against Eric ten Hag's Ajax when Lucas Moura was our hat-trick hero. Lucas has bid an emotional farewell this week on video, and I expect we will have the opportunity to personally cheer him tomorrow.
Spurs, like bottom club Southampton have utilised three head coaches/managers this season. If we fail to qualify for Europe at all, how are we going to attract the best players or the top coaches? After all, our budget does not match that of Chelsea, who will finish below us and definitely out of Europe but can afford former Spurs favourite Mauricio Pochettino.
Like most Spurs fans attending this game, I travel not in hope or expectation, but out of loyalty and the desire to meet friends and family at this last home fixture of 2022/23.
Having said that, Brighton lost at Newcastle last night and face Manchester City next week in a catch-up game. Villa face Liverpool at Anfield tomorrow and host Brighton on the last day of the season. We'll keep clinging to the hope of European football, but we must win our games!
Brentford have had an excellent first two seasons in the Premier League and look very much at home in the top flight. Their six-game form is far better than that of Spurs with three wins as opposed to our solitary one. One of those wins was a 2-0 at Chelsea, who they beat 4-1 at Stamford Bridge last year! Spurs can only dream of such an achievement and have managed one away win against Chelsea in 31 years of trying.
When we faced Brentford on Boxing Day in our first league game after the interruption of the World Cup, Brentford striker Ivan Toney had already been charged with no less than 232 breaches of the FA's betting rules. It has taken until this week for that matter to be resolved and Toney has been banned for 8 full months. This means the striker, who has scored 20 league goals this season, cannot play until mid-January 2024. Toney cannot even train with the team until September. This is a severe blow both to the player and his club.
Brentford did manage without Toney last week, as he sat out the game with a hamstring injury. "The Bees" beat West Ham (admittedly playing a second team in anticipation of their Europa Conference League semi-final game) 2-0 with goals by Mbeumo and Wissa.
Brentford's Danish manager Thomas Frank is one of the nice guys in the game. In a table of cards shown to managers/coaches following misbehaviour on the touchline, Frank has been shown one yellow card this season, whereas between them Antonio Conte and Cristian Stellini were shown 3 yellows (all Conte) and 1 red apiece.
Frank is in his fifth season with Brentford, who are a happy club. They were the ones who gave Christian Eriksen a path back into the game after his 2021 on-field collapse. Brentford have spent most of this season in the top half, and most of the time in the hunt for one of the lesser European places. Mathematically, they could yet succeed. "The Bees" have never truly been at risk of relegation since their promotion which is a great achievement for any promoted team.
Last Christmas Eve the Brentford manager signed a new contract taking him to June 2027. After our draw on Boxing Day, "The Bees" beat West Ham away 2-0 and capped that with a 3-1 home win against Liverpool!
Tomorrow's game will not be easy, but that applies to any Spurs game these days. We won last season's home game 2-0. I optimistically predict a 2-1 win for us tomorrow. I don't anticipate any change to our team news, but perhaps Yves Bissouma will make his first Premier League start since New Year's Day.
This will be match referee Jarred Gillett's fourth game in charge of Spurs. His only other game with us this season was an ill-fated home defeat to Newcastle in October. Born in Australia, Mr. Gillett first refereed Spurs in a 2019 league cup game at Colchester. He has refereed 15 Premier League games this season.
· Spurs record in recent London Derby League matches