· Last season's game - Chelsea 2 Spurs 0, 23.01.22
· Premier League Matchday Two - last year
· See the current injury list for all Premier League Teams
· All the Spurs Stats you could hope for here! THFC6061 Sports Stats

Full League Record of Tottenham Hotspur -v- Chelsea

Premier      Pl   W    D    L    For-Ag  Pts
Home         30   6   10   14    34- 51  28
Away         30   1   10   19    21- 57  13
===========================================
Total (Prem) 60   7   20   33    55- 108 41  0.68 Pts per game
===========================================
Football Lge
Home (Div 1) 42  20    9   13    79- 57  51
Away (Div 1) 42  19    6   17    63- 50  46
===========================================
Total(Div 1) 84  39   15   30   142-107  97
===========================================
Football Lge
Home (Div 2)  2   1    1    0     7-  4   3
Away (Div 2)  2   0    1    1     1-  4   1
===========================================
Total(Div 2)  4   1    2    1     8-  8   4
===========================================
Total (Prem) 60   7   20   33    55- 108 41 
Total(Div 1) 84  39   15   30   142-107  97
Total(Div 2)  4   1    2    1     8-  8   4
===========================================
Grand Total 148  47   37   64   205-223 142
===========================================

Last Six Premier League results:-

Chelsea    -    LDWDWW

Everton    1-0    Chelsea
Chelsea    2-2    Wolves
Leeds      0-3    Chelsea
Chelsea    1-1    Leicester
Chelsea    2-1    Watford
Everton    0-1    Chelsea

Spurs      -    WDWWWW
           
Spurs      3-1    Leicester
Liverpool  1-1    Spurs
Spurs      3-0    Arsenal
Spurs      1-0    Burnley
Norwich    0-5    Spurs
Spurs      4-1    S'hampton

Pos         P  W  D  L   F-A   GD  Pts
1. Spurs    1  1  0  0   4-1    3    3
8. Chelsea  1  1  0  0   1-0    1    3  

Could we do it again? Win, I mean!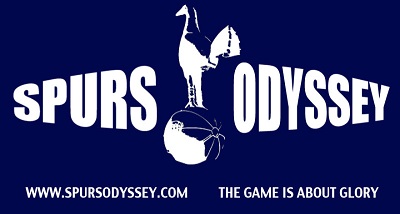 Do you remember that heady April Fool's Day less than four and a half years ago when we achieved our one and only Premier League away win at Stamford Bridge? It was achieved thanks to a cracking late first half goal by Christian Eriksen and two second half goals by Dele Alli. Harry Kane had been injured and didn't come on until the last quarter of an hour. Spurs had scored seven goals in their previous two games without Kane. Dele had scored one of those and Eriksen two more. "Sonny" scored twice in a 4-1 win at Bournemouth. Who then would have believed the chain of events that would lead to Christian Eriksen starting for Manchester United last week as a "false nine" and Dele Alli being nothing more than a bit-part player at struggling Everton?
We even beat Chelsea 3-1 again later that year when we were playing our home games at Wembley. Dele scored in that game too, as did Kane. The goal of the game though, as is so often the case, came from Son, who advanced from half-way down the right flank, leaving Jorginho in his wake before closing in on his target. We beat Chelsea twice in a calendar year for the first time since 1967. In 12 games since then, we've been the victors on two occasions, both in the League Cup. In one of these ties, we lost the second leg, and on aggregate. The other was a one-game affair in Covid times when we won the penalty shoot-out. We've lost our last five games against Chelsea.
In such circumstances, and in the knowledge that Spurs' recent league record against Chelsea is a disgrace, it seems folly to suggest we could win Sky's "Super Sunday" headline game (kicking off at 4.30pm). However, even many pundits are suggesting we could finish above Chelsea this season, and of course we had a great start last week against Southampton. Chelsea didn't look that great at Goodison Park, scraping a win with a single penalty.
At the time of writing, Chelsea's transfer business would not appear to be complete. They are chasing Leicester's Wesley Fofana, for whom the East Midlands side seek a fee of some £80 million. Under new ownership, Thomas Tuchel has already been allowed the big-money signings of Raheem Sterling (£50 million from Manchester City) and Marc Cucurella (a similar fee from Brighton). Chelsea seem to have gazumped City for the Spanish left back who had such a good season last year.
The Abramovich days are over, and Chelsea have a new super-rich owner - Todd Boehly from the USA. Transfer sanctions were lifted following the departure of the Russian and Chelsea are once again splashing the cash. There have been changes on the football front with high-profile departures such as Romelu Lukaku (back to Inter on a season-long loan), Antonio Rudiger (to Real Madrid), and Andreas Christensen (to Barcelona).
In addition to Sterling and Cucurella, Chelsea purchased centre-back Kalidou Koulibaly from Napoli. Koulibaly is 31 and has a four-year deal. Two days before the start of the season, Chelsea were able to confirm the £20 million signing of Aston Villa's 18-year-old midfielder Carney Chukwuemeka. Chukwuemeka scored one of the extra time goals which sealed England's U-19 team the European Under-19 Championship on 1st July. That's a tournament win that did not win the same publicity as did that of England's women!
Chelsea have also signed 18-year-old American goalkeeper Gabriel Slonina for a reported £12m from Chicago Fire, but he has been loaned back to the Major League team.
Danny Drinkwater was signed in 2017 for big money from Leicester. The 32-year-old midfielder finally reached the end of his expensive contract, making just 12 Premier League appearances in that time. Drinkwater had brief unimpactive loans, and despite his lack of playing time, he has no doubt comforted himself with his lucrative income over five years. Timo Werner has been sold back to Leipzig at a loss.
There are other players (Hudson-Odoi being an example) who are unsettled about their Chelsea future, and that just might affect the squad's performance on Sunday. I am hoping that will be the case, and optimistically predict a 2-1 Spurs win!
There have been just 11 of our 148 previous league meetings with Chelsea played in August. The last of these was five years ago, when we were playing at Wembley. Chelsea won 2-1 in front of over 73,000 fans. Spurs' last August win over Chelsea was in 1987, thanks to a goal by Nico Claesen. Micky Hazard was in the Chelsea team that day. Micky had transferred to West London in September '85, but after spells at Portsmouth and Swindon, he finally returned to Tottenham in November 1993. Spurs are very much in Micky Hazard's blood!
Although we beat Chelsea 5-1 in an unforgettable 2002 League Cup semi-final meeting at The Lane, it took us until Guy Fawkes Day 2006 for us to win our first home league game against Chelsea since that Claesen inspired 1-0 in 1987.
At the time of writing, the only known injury affecting either side is that of Oliver Skipp. Despite the availability of Richarlison, I suspect he will have to settle for a place on the bench with the other new signings, as Conte might well field the same eleven who started against Southampton. Chelsea's starting line-up at Goodison Park was (3-4-3) Mendy; Azpilicueta, Thiago Silva, Koulibaly; James, Kante, Jorginho, Chilwell; Mount, Sterling, Havertz. The "Blues" playing subs included Gallagher and Broja, who spent last season on loan with Palace and Southampton, respectively. Cucurella also played the last fifteen minutes.
Anthony Taylor referees Spurs for the 39th time. Mr. Taylor is a high-profile senior official these days. He was in the middle for four of our games last season, including both our wins against Manchester City. That's got to be a good omen, hasn't it? Note that although he has retired as an on-field official, Mike Dean is VAR for this game. Mr. Dean has a permanent position as a Premier League VAR official.
Did you know? - Thiago Silva (contract till June 2023) played for AC Milan in both our Champions League Round of 16 games in 2011.
· Spurs record in recent London Derby League matches