· This season's home game - Spurs 2 Fulham 1, 03.09.22
· Premier League Matchday 21 - last year
· See the current injury list for all Premier League Teams
· All the Spurs Stats you could hope for here! THFC6061 Sports Stats


Full Record of Spurs -v- Fulham
 
Premier       Pl   W   D   L    For-Ag  Pts
Home          16  10   4   2    27 -10   34
Away          15   7   3   5    23 -18   24
===========================================
Total(Prem)   31  17   7   7    50 -27   58  1.87 Pts per game
===========================================
Football Lge
Home(Div 1)   11   8   3   0    28 - 13  19
Away(Div 1)   11   6   4   1    17 - 12  16
===========================================
Total(Div 1)  22  14   7   1    45 - 25  35
===========================================
Football Lge
Home(Div 2)   11   4   6   1    13 - 8   14
Away(Div 2)   11   4   5   2    20 - 16  13
===========================================
Total(Div 2)  22   8  11   3    33 - 24  27
===========================================
Total(Prem)   31  17   7   7    50 - 27  58
Total(Div 1)  22  14   7   1    45 - 25  35
Total(Div 2)  22   8  11   3    33 - 24  27
===========================================
Grand Total   75  39  25  11   128 - 77 120
===========================================

Last Six Premier League results:-

Fulham     -    LWWWWL

Fulham     1-2    Man Utd
C.Palace   0-3    Fulham
Fulham     2-1    S'hampton
Leicester  0-1    Fulham
Fulham     2-1    Chelsea
Newcastle  1-0    Fulham

Spurs      -    WDLWLL
           
Spurs      4-3    Leeds
Brentford  2-2    Spurs
Spurs      0-2    A.Villa
C. Palace  0-4    Spurs
Spurs      0-2    Arsenal
Man City   4-2    Spurs

Pos          P  W  D  L   F-A   GD  Pts
5. Spurs    20 10  3  7  39-31   8   33
7. Fulham   20  9  4  7  32-29   3   31

Trepidation about Craven Cottage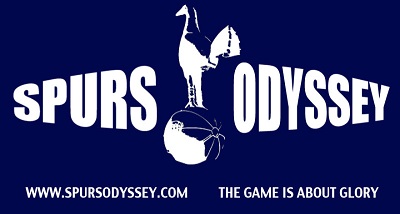 By the time we arrive at Craven Cottage for Sky's Monday night game, we will be six points adrift of the top four and only two points ahead of Brighton, after they drew away to Leicester. The teams around us all have at least one game in hand too, as only Spurs and Fulham have completed 20 games so far. Our six-game form is bad enough with only two wins in four, but our poor league form goes back further with only three wins in our last ten games. Those were against lowly Bournemouth when we fought back from being two down, and against Leeds and Crystal Palace when we scored four goals in those two games. We need to find our form and quickly.
Fulham will overtake Spurs with a win here, and on form, you would expect that to happen. Marco Silva's men have won five of their last six games, four of which were Premier League matches. Their last win was at home to their local rivals Chelsea, who they had not beaten in 21 games. Fulham's goal then (in a March 2006 1-0 win) was scored by Luis Boa Morte, who is on Silva's coaching staff. Fulham beat Spurs 1-0 in January that year too but have also managed to beat us three times since then. One of those defeats was an embarrassing FA Cup Fourth Round 4-0 result 12 years ago after Michael Dawson was sent off after only 13minutes. Spurs had already conceded one penalty and after Dawson's professional foul on future Spur Mousa Dembele he was sent off and past Spur Danny Murphy scored his second penalty. Dembele scored for good measure, and we were 4-0 down at half-time. Harry Redknapp's focus was on The Champions League, and we did have that heroic win against A.C. Milan (who we meet again next month) before going out in the quarter-final against Real Madrid.
Fulham had reached The Europa League Final in the previous year under Roy Hodgson and enjoyed their best season in recent times, apart from three promotion seasons since then, of course.
Last year, Fulham were promoted as Champions, and Aleksandar Mitrovic scored 43 league goals. Mitrovic has scored 11 Premier League goals so far this season (one of which was in Fulham's 2-1 defeat to Spurs in September).
Mitrovic was one of 6 Fulham players who went to the World Cup in Qatar. The others were Harry Wilson, Daniel James (both Wales), Tim Ream, Antonee Robinson (both USA) and Joao Palhinha (Portugal). Mitrovic scored in two of his three group games for Serbia.
Tim Ream had a successful tournament with the USA and has now made 50 International appearances. Ream has been with Fulham for seven and a half years and recently made his 250th league appearance for the club.
Chelsea have been Fulham's only big scalp of the season so far, but they gave Liverpool a fright on opening day and have consistently scored and entertained their way to this current situation which will surely see them enjoy a second Premier League season for the first time in ten years. The £80 million Riverside Stand is already partly occupied and looks like a steamboat when lit up beside the River Thames.
Former Spur Josh Onomah is still on Fulham's books but has made only a couple of brief substitute appearances this season. Josh was a contemporary of Anton Walkes at the Spurs academy, who sadly died in a boating accident in Miami last week.
Another ex-Spur – Carlos Vinicius – was a deadline day signing last September for Fulham and scored his first club goal in that win over Chelsea. Willian was also signed on that deadline day and scored Fulham's opener against his old club.
Ryan Sessegnon played against his former team for the first time when we met in September. That was a game we won thanks to goals by Pierre-Emile Hojbjerg and Harry Kane. A story is emerging (sourced by a reliable Italian journalist – Gianluca Di Marzio (@DiMarzio) – indicating that Antonio Conte will not stay at Tottenham, beyond the end of his contract this season. Our form and Conte's situation does not bode well for this game and for the remainder of the season. Add to that the potential suspension of our Football Director Fabio Paratici (in charge of transfers), it has to be said that once again, all is not well at Tottenham Hotspur FC. After all, we have yet to strengthen our squad in this January window, unlike some of our competitors.
I am afraid I predict defeat by a 2-1 scoreline. That's not good either.
Match referee Paul Tierney has to be regarded as one of the Premier League's senior officials these days. This will be his 19th Spurs game in the middle, having first officiated Spurs in our February 2018 FA Cup replay against Rochdale. VAR issues made this a difficult day for the officials, although Spurs ran out 6-1 winners. Mr. Tierney's last Spurs game was our 2-0 home win over Everton in October. Previously, he had overseen our home win against Arsenal at the end of last season.
· Spurs record in recent London Derby League matches