· Premier League Matchday 6 - last year
· See the current injury list for all Premier League Teams
· All the Spurs Stats you could hope for here! THFC6061 Sports Stats


Full Record of Spurs -v- Fulham
 
Premier       Pl   W   D   L    For-Ag  Pts
Home          15   9   4   2    25 - 9   31
Away          15   7   3   5    23 -18   24
===========================================
Total(Prem)   30  16   7   7    48 - 26  55  1.83 Pts per game
===========================================
Football Lge
Home(Div 1)   11   8   3   0    28 - 13  19
Away(Div 1)   11   6   4   1    17 - 12  16
===========================================
Total(Div 1)  22  14   7   1    45 - 25  35
===========================================
Football Lge
Home(Div 2)   11   4   6   1    13 - 8   14
Away(Div 2)   11   4   5   2    20 - 16  13
===========================================
Total(Div 2)  22   8  11   3    33 - 24  27
===========================================
Total(Prem)   30  16   7   7    48 - 26  55
Total(Div 1)  22  14   7   1    45 - 25  35
Total(Div 2)  22   8  11   3    33 - 24  27
===========================================
Grand Total   74  38  25  11   126 - 76 117
===========================================

Last Six Premier League results:-

Spurs      -    WWDWWD
           
Norwich    0-5    Spurs
Spurs      4-1    S'hampton
Chelsea    2-2    Spurs
Spurs      1-0    Spurs
Nottm F'st 0-2    Spurs
West Ham   1-1    Spurs

Fulham     -    LDDWLW

Sheff Utd  4-0    Fulham
Fulham     2-2    Liverpool
Wolves     0-0    Fulham
Fulham     3-2    Brentford
Arsenal    2-1    Fulham
Fulham     2-1    Brighton

Pos         P  W  D  L   F-A   GD  Pts
3. Spurs    5  3  2  0  10-4    6   11
8. Fulham   5  2  2  1   8-7    1    8   

It's another derby day!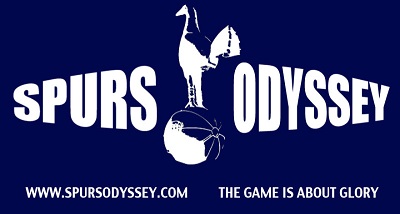 This will be match number 6 of the season. Already Spurs are playing at 3pm on a Saturday for the second time, after waiting 20 months for such an event. Already, both teams are playing their third London Derby matches. Spurs have drawn two tough away games against Chelsea and West Ham. Fulham beat Brentford and gave Arsenal a good run for their money but lost last Saturday. Spurs are unbeaten, but in indifferent form. Fulham have made a very good start to their fourth Premier League campaign. The scene is set for another tough and exciting game at The Tottenham Hotspur Stadium!
Fulham's first Premier League season was in the 2001/02 season. They stayed for 13 seasons, before spending four years in the second tier. In the last four seasons they have alternated between the top two levels. Their promotion last season, as Champions, was secured with a magnificent 7-0 home win against promotion contenders Luton. Serbian striker Aleksandar Mitrovic scored the 42nd and 43rd goals of their Championship season, which was a record tally at this level. Already this season, Mitrovic has scored 5 league goals. Mitrovic got pretty short shrift out of Scott Parker in Fulham's last Premier League season and scored just three goals in 13 league starts, plus 14 as substitute. Mitrovic continues to score regularly at International level and will clearly be a danger tomorrow.
Fulham have got other strings to their bow, and their successful season last year was achieved with stalwarts such as Adarabioyo, Bobby Decordova-Reid, Harrison Reed, Neeskens Kebano, and Tim Ream, each of which (and others) have already played a full part this season. Managed since the start of last season by Marco Silva (formerly at Hull, Watford and Everton), the Craven Cottage side have invested well in the transfer market with goalkeeper Bernd Leno from Arsenal, Portuguese midfielder Palhinha from Sporting (who we face in our Champions' League Group) , former Manchester United midfielder Andreas Pereira from Flamengo and West Ham centre-back Issa Diop among their summer signings.
Fulham made four deadline day signings. These were French defender Layvin Kurzawa (loan from PSG), former Chelsea and Arsenal man Willian, now aged 34, who had his contract with Corinthians cancelled after he and his family received death threats. They also signed former Spurs loan player Vinicius on permanent terms from Benfica. Former Spurs keeper Paulo Gazzaniga has gone to Girona on loan. Fulham's final (very late) signing was a loan deal for Leeds' Dan James, in whom Spurs had declared an interest.
Something is right in the Fulham academy too. Fabio Carvalho, who was their second-highest goalscorer last season, was snapped up by Liverpool. Carvalho, who was 20 on Tuesday, scored a dramatic 98th minute winner for his new club against Newcastle and also scored one of Liverpool's nine goals against hapless Bournemouth. One of the first to congratulate Carvalho on Wednesday night was Harvey Elliott, still only 19, who had been previously signed from Fulham.
Fulham have also invested in a new stand in their Thames-side stadium.
Fulham were a Football League team one season before Spurs in the 1907/08 season. Fulham finished fourth in a league of 20 teams and reached the FA Cup semi-final, losing 6-0 to Newcastle, who ultimately lost to Wolves. When we played Fulham in 1908, they were our fifteenth Football league opponents and we won 3-2 at Craven Cottage where "The Cottagers" have played since 1896. We previously met Fulham in the Southern League, London League and Western League.
Our worst run against Fulham came in five Premier League meetings between September 2002 and October 2004, when we lost four and drew one game. We have only lost twice in our last 20 meetings in League and Cup games. The worst of those was a 4-0 FA Cup defeat in January 2011. Fulham's last win against Spurs was a 1-0 in March 2013 at White Hart Lane. We have won 6 and drawn 1 of the last seven games in league and cup.
Our last league meeting was an away game in March 2021 which we won courtesy of an own goal by Tosin Adarabioyo. Hugo Lloris, who this week celebrated the tenth anniversary at the club gained his 101st Premier League clean sheet in this game. He now has 122 to his name and the second was against Fulham in December 2012.
Ryan Sessegnon could play his first game against his former club tomorrow. Ryan Sessegnon's twin brother Steven has moved to Charlton on loan. Steven has just 14 league appearances for Fulham to his name. The last occasion I have found of the brothers playing in the same Fulham match was a league cup win over Exeter in August 2018, when Steven was a 75th minute substitute.
Fulham also have Brighton's Shane Duffy on loan. He was not allowed to play in their midweek win but has appeared in a couple of league games so far this season. Duffy also appeared in Fulham's somewhat embarrassing League Cup 2-0 defeat to League Two side Crawley, who currently sit 90th in the Football League table! Harry Wilson was finally signed on permanent terms from Liverpool in the summer and was involved in the promotion campaign but is currently out with a knee injury.
Bentancur and Romero are available for this game, but not Bryan Gil or Lucas Moura.
I expect Fulham to play well. I hope to see an entertaining game, and more adventurous football from Spurs than seen of late. I predict a 3-1 home win!
Our matchday referee is Stuart Attwell. Now one of our more senior referees in terms of experience, Mr. Attwell has so far this season been in charge of Brentford v Manchester United, Leeds v Chelsea and Liverpool v Bournemouth. I think we can safely say he has established himself on the scene. His first Spurs game was as long ago as January 2010 (a 1-1 draw at Birmingham). We saw him three times in 2011, but mysteriously not for another 6 years. Mr. Attwell's last Spurs game was our 5-0 home win over Everton in March.
· Spurs record in recent London Derby League matches