· Last season's game - Liverpool 1 Spurs 1, 07.05.22
· This season's home game - Spurs 1 Liverpool 2, 06.11.22
· Premier League Matchday 34 - last year
· See the current injury list for all Premier League Teams
· All the Spurs Stats you could hope for here! THFC6061 Sports Stats

Full league history - Spurs v Liverpool:-

Premier     Pl   W   D   L   For-Ag  Pts
Home        31  12   8  11   42 -45  44
Away        30   2   9  19   28 -60  15
========================================
Total(Prem) 61  14  17  30   70 -105 59  0.97 Pt per game
========================================
Football Lge
Home(Div 1) 49  24  10  15   71 -58  62
Away(Div 1) 49   4  14  31   38 -95  24
========================================
Total(Div 1)98  28  24  46  109 -153 86
========================================
Total(Prem) 61  14  17  30   70 -105 59
Total(Div 1)98  28  24  46  109 -153 86
========================================
Grand Total 159 42  41  76  179 -256 145
========================================

Last Six Premier League results:-

Liverpool  -    LDDWWW

Man City   4-1    Liverpool
Chelsea    0-0    Liverpool
Liverpool  2-2    Arsenal
Leeds      1-6    Liverpool
Liverpool  3-2    Nottm Fst
West Ham   1-2    Liverpool

Spurs      -    DDWLLD
           
S'hampton  3-3    Spurs
Everton    1-1    Spurs
Spurs      2-1    Brighton
Spurs      2-3    B'mouth
Newcastle  6-1    Spurs
Spurs      2-2    Man Utd

Pos            P  W  D  L   F-A   GD  Pts
5. Spurs      33 16  6 11  60-53   7   54 
7. Liverpool  32 15  8  9  61-39  22   53

Little cause for optimism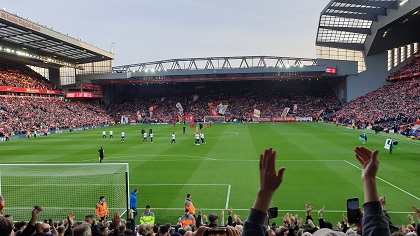 There is little cause for any optimism for any Spurs fan when travelling to watch their team play at Anfield. After all, with just 6 away wins in 79 league visits, such an event occurs just once every twenty years on average. Indeed, there was that long arid spell between 1912 and 1985 when we never won and in the 60s, 70s and 80s "Spurs haven't won at Anfield since the sinking of The Titanic" was often mentioned in many newspapers. This Spurs fan has little expectation regarding our 31st Premier League trip to the Liverpool side of Stanley Park tomorrow. (4.30pm – SKY)
Our last win away against Liverpool was on 15th May, 2011. Under Harry Redknapp, Spurs had enjoyed their first Champions League season, but had been eliminated at the quarter-final stage by the mighty Real Madrid. The legend that is Sir Kenny Dalgleish had returned to management for the first time in over 13 years after Liverpool had dispensed with the services of Roy Hodgson. Both clubs were vying for Europa League football and not in the elite European competition. Goals by Rafa van der Vaart and a Luka Modric penalty gave us the win. That was the penultimate game of the season and on the last day Liverpool lost 1-0 at Villa Park while two Roman Pavlyuchenko goals gave us a win over relegated Birmingham.
Now, here we are, 12 years later and Spurs, Villa, and Liverpool are battling for Europa League football. The Champions league is likely to be beyond them, with Newcastle and Manchester United odds-on favourites to join Manchester City and Arsenal.
In recent years, with Jurgen Klopp at the helm, Liverpool have won the Premier League, Champions League, European super cup and the World Club cup. You can add last year's FA Cup and League cup to that list and Liverpool began this season with a 3-1 Community Shield win over Manchester City. They will be otherwise trophy-less this season. They fell at the same Round of 16 champions League hurdle as did Spurs, after losing 5-2 at home to Real Madrid. Manchester City knocked them out of the League Cup before Christmas, and they suffered a third round FA Cup exit against struggling Wolves.
Liverpool's league form has been inconsistent, even poor at times. Even after their historic 7-0 home win against arch-rivals Manchester United they lost their next game at Bournemouth and (like many teams) were well beaten by Manchester City. Their recent form has been good with a massive 6-1 win at Elland Road, a tight 3-2 win at home to Forest and a decent 2-1 win at The London Stadium.
It is hard to pin down the reason for Liverpool's inconsistency, but defenders have sometimes not played well. Alexander-Arnold has often been a target for criticism, but even Virgil van Dijk has sometimes not hit the high notes. They've had their injury problems, and perhaps they suffer a bit from an ageing midfield. However, when Tottenham games come around, they are usually the victors.
Tottenham Hotspur's one win in the last 22 meetings with Liverpool was a 4-1 at Wembley Stadium on October 22nd 2017. Harry Kane scored twice in that game. Mo Salah scored Liverpool's goal. Salah has 16 league goals this season. Kane has 24 but is nine behind Erling Haaland!
Kane and Salah scored all the goals in our 2-1 home defeat to Liverpool in what was the penultimate league game before the World Cup interrupted our season. The rhythm of many players and clubs was surely affected by the Qatar World Cup.
When he came off the bench for Liverpool against Southampton on November 12th, James Milner became only the fourth player to reach 600 Premier League appearances. Now 37, Milner has made 619 League appearances. He made his debut for Leeds in November 2002 and made his appearances for Leeds (48) Swindon (6 - on loan), Newcastle (94), Aston Villa (100), Manchester City (147), and finally 224 for Liverpool. Most of his appearances this season have been off the bench.
The other players with 600 EPL appearances or more are Gareth Barry (653), Ryan Giggs (632) and Frank Lampard (609).
David Johnson, who died last November, aged 71 was the first player to score for both Merseyside clubs in their derby match. Johnson was a Liverpool fan by upbringing but had two spells with Everton, before and after seasons with Ipswich and Liverpool.
Johnson's first games against Spurs were in February and March 1972 when Everton lost 2-0 in a fifth round FA Cup tie, and then drew 1-1 in a league game. Both games were played at Goodison Park. Johnson's first goal against Spurs was scored for Ipswich in a 1-0 win at White Hart Lane in August 1974. Bobby Robson was the Ipswich manager. The game was one of Bill Nicholson's last games in charge of Spurs.
Johnson won plenty of trophies with Liverpool, including four league titles and three European Cups.
Johnson's last goal against Spurs was for Liverpool in a 2-1 win at Anfield in December 1980. Johnson opened the scoring in the 19th minute. Steve Archibald equalised 8 minutes later, but Ray Kennedy (who died in November 2021) scored a second half winner for Liverpool.
Johnson was capped 8 times for England.
The Spurs team news for tomorrow is little different. Hugo Lloris remains absent due to his hip injury. Sorry Spurs fans, but I fear a 3-1 defeat.
Paul Tierney is refereeing his third Spurs game of the season, having previously overseen our home win over Everton and away win against Fulham. Mr Tierney has surely been in the middle for more Premier League games this season than any other official as this will be his 28th such game. His first Spurs game was the snow-affected FA Cup replay at Wembley in February 2018 against Rochdale, who incidentally have this season been relegated from the Football League.