· This season's away game - Nott'm Forest 0 Spurs 2, 28.08.22
· Premier League Matchday 27 - last year
· See the current injury list for all Premier League Teams
· All the Spurs Stats you could hope for here! THFC6061 Sports Stats


Full Record of Spurs -v- Nottingham Forest

Premier        Pl   W   D   L   For-Ag   Pts
Home            5   2   0   3     5-7     6
Away            6   2   1   3     8-8     7
============================================
Total (Prem)   11   4   1   6    13-15    13   1.18 pt per game
============================================
Football Lge
Home (Div 1)   34  20   4  10    76-46    48
Away (Div 1)   34  17  10   7    48-37    50
============================================
Total (Div 1)  68  37  14  17   124-83    98
============================================
Football Lge
Home (Div 2)   13   8   3   2    25-15    19
Away (Div 2)   13   1   6   6    15-25     8
============================================
Total (Div 2)  26   9   9   8    40-40    27
============================================
Total (Prem)   11   4   1   6    13-15    13
Total (Div 1)  68  37  14  17   124-83    98
Total (Div 2)  26   9   9   8    40-40    27
============================================
Grand Total   105  50  24  31   177-138  138
============================================

Last Six Premier League results:-

Spurs      -    WWLWWL
           
Fulham     0-1    Spurs
Spurs      1-0    Man City
Leicester  4-1    Spurs
Spurs      2-0    West Ham
Spurs      2-0    Chelsea
Wolves     1-0    Spurs

Nottm Fst  -    DWLDLD

B'mouth    1-1    Nottm Fst
Nottm Fst  1-0    Leeds
Fulham     2-0    Nottm Fst
Nottm Fst  1-1    Man City
West Ham   4-0    Nottm Fst
Nottm Fst  2-2    Everton

Pos           P  W  D  L   F-A   GD  Pts
 4. Spurs     26 14  3  9  46-36  10   45
14. Nottm F   25  6  8 11  20-44 -24   26 

Both teams seeking to hang on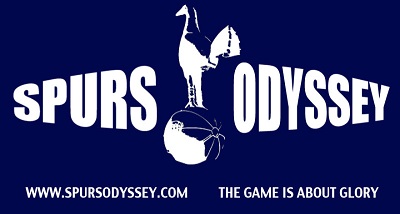 As with our meeting with Wolves last week, a lot has happened since we played our away league game against Forest at the end of August. Spurs won 2-0, thanks to two goals by Harry Kane, who also had a penalty kick saved by his England colleague Dean Henderson. Spurs were unbeaten in their first seven league games, before they saw that run ended in the worst possible place – the Emirates.
Spurs held third place until the end of October, and now find themselves trying to hang on to fourth place, which they currently hold precariously, following consecutive away league defeats to Leicester and Wolves. After Wednesday's night's Champions League exit there is a deep gloom over Spurs which needs to be lifted. That will be a long job – again.
The Leicester and Wolves defeats are all the more frustrating because both those teams have to regard themselves as being involved in the same battle against relegation as Nottingham Forest. Forest had their worst ever start to a top-flight season and were in the bottom three until January, since when they have clawed themselves into a position four points clear of the bottom four teams. Like Spurs, Forest are hanging on, but their simple quest is for a second Premier League season after their long absence.
I heard a stat regarding last week's 2-2 home draw against fellow strugglers Everton, which indicated Steve Cooper had used 40 different players (so far) this season. It's no use really trying to itemise all of the numerous transfer moves made by Forest to secure survival, but the fact that only three players started the home game against us in August and last week's game is evidence of the difficult job Cooper has had of finding his best team. He has had similar problems to Chelsea's Graham Potter, in different circumstances. Both clubs have extremely supportive owners.
The three players mentioned above are club captain Joe Worrall, and exciting midfielders Brennan Johnson and Morgan Gibbs-White. Unsurprisingly, they are among the top appearance-makers in the squad, with 20, 25 and 22 Premier League appearances respectively. Neco Williams missed last week's game, but he has 25 league appearances to his name and did play against us in August. Former Spur Serge Aurier played last week and could be back at "The Lane" tomorrow.
Goalkeeper Dean Henderson, who is still a Manchester United loanee – has been out of action since mid-January with a thigh injury. Henderson stayed on the bench for our November League Cup defeat at The City Ground and Wales International Wayne Hennessy stepped in but has made just 6 appearances in all games this season. Veteran goalkeeper Keylor Navas, who is now 36, was signed on loan from PSG on the January deadline day. Navas, who has 110 International caps for Costa Rica, spent 6 seasons on the books at Real Madrid and the last four with PSG. He played against us in the 1-1 draw in the Bernebeu in October 2017, but not at Wembley in November 2017, when we beat Real 3-1. Navas has played in Forest's last five league games and kept one clean sheet.
Forest were busy in January and their last signing was Andre Ayew, who used to play for Steve Cooper at Swansea. He became the 29th player signed by Forest since their promotion. He was a free agent and signed a short-term contract. Other January signings were Newcastle's Chris Wood - initially on loan, but now on permanent terms. Forest also signed midfielder Jonjo Shelvey from Newcastle and 33-year-old defender Felipe from Atletico Madrid for undisclosed fees.
Forest are missing two of their experienced defenders through injury. Willy Boly was signed from Wolves at the beginning of the season, while Scottish international Scott McKenna has been with Forest for three seasons now.
Forest's second league win of the season was a tight 1-0 against Liverpool. More recently, they held Manchester City to a 1-1 draw at The City Ground. They are not a side to be trifled with, especially on our current form.
This preview is being written before today's press conference, likely to be a test for Antonio Conte, and we wait to hear whether Cristian Romero was in fact injured in the incident which led to his sending off against Milan. Eric Dier will return, and if Romero isn't available, the inevitable back three will read Dier, Lenglet, Davies. Lloris, and Bentancur are of course still absent, and they are the players we miss most although Bissouma and Sessegnon remain on that injured list.
I'd like to see Kane playing behind Richarlison, but our £60 million man may be in disciplinary trouble with the club following his reported comments after Wednesday's game. I am hoping to get to the game, despite heavy snow up here in Chesterfield. I submitted a 2-0 winning prediction (for Spurs, of course!) to my prediction league earlier this week. Here's hoping! The game kicks off at 3pm tomorrow and is not live on UK TV.
Did you know? – Our last home Premier League game against Forest was on 21st November, 1998. We were managed by George Graham, whilst Dave Bassett was in charge of Forest, whose side included Wimbledon's 1988 FA Cup hero Dave Beasant (also briefly on our books in the 2001/02 season). That game ended in a 2-0 Spurs win with goals by Chris Armstrong and Allan Nielsen.
This will be referee Craig Pawson's 31st Spurs game in the 9 years since we first encountered him in the middle against Norwich in February, 2014. On the plus side, Mr. Pawson was also in charge of our 2-0 away win in August. On the other hand, he was in charge of our January home defeat to the team down the road. This will be Mr. Pawson's 17th Premier League game in the middle this season. He is kept busy in European games too.