Van der Vaart on fire again!
Unsurprisingly, Spurs' Dutch star Rafael van der Vaart was selected as the Spurs man of the match in our win at Blackburn, which was largely due to his two goals, which took him to the top of our early season score-chart. Rafa now has 6 goals in all games to his credit, 5 of which have come in his Premier League games (6 starts and one substitute appearance)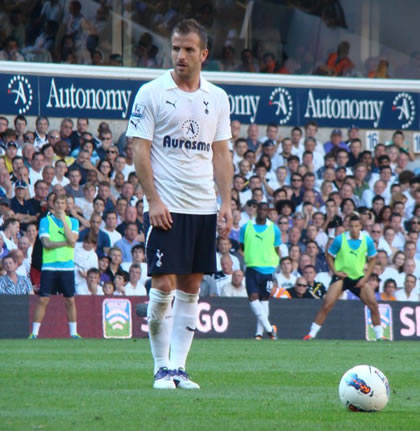 Rafael van der Vaart lines up a free kick in our win against Arsenal at White Hart Lane on 2nd October
Rafa's league goals have all come in our last 4 Premier League games, and on each occasion, he has been our opening scorer. This time last year, he was making the Spurs record books, as he scored in his first six home games for Spurs, and became the first man to do so since 1908-09! (A new Spurs record for Van der Vaart) Based upon the "last six matches" form guide, Spurs are second only to Manchester City, and then only on goal difference, as both teams have won 5 and drawn 1 of those games. City's goal difference has of course been enhanced mightily by that historic 6-1 win at Old Trafford. Our home defeat by City on 28th August was our last defeat in any game. We have noww gone 10 games unbeaten in all matches. We had an 11 game unbeaten run between November and January last season, so let's hope we can emulate that on Sunday against QPR.
Rafa was head and shoulders ahead of the rest of the team in your match ratings for Blackburn. He scored an 8, and Kyle Walker, who made the first goal, was the only other player to score over 7.
Voters were quite seriously under-whelmed by the effectiveness of our wing-men, Gareth Bale and Aaron Lennon, and were not over-impressed by manager Harry Redknapp's tactics and substitutions either!. It seems though that the manager's options were somewhat shackled by an injury to Sandro in the warm-up. Jake Livermore did not get off the bench, but you might be surprised to know that he is fifth highest in the list of minutes played so far this season, behind Kaboul, Ekotto, Walker and Bale, in that order.
· See the exclusive Spurs Odyssey "Spursometer" here

Results 22-23.10.11

Wolves     2-2   Swansea
A. Villa   1-2   West Brom
Bolton     0-2   S'derland
Newcastle  1-0   Wigan
Liverpool  1-1   Norwich
Arsenal    3-1   Stoke
Fulham     1-3   Everton
Man Utd    1-6   Man City
Blackburn  1-2   Spurs
QPR        1-0   Chelsea


       Barclays Premier League
 
Pos Team      P  W  D  L   F  A  GD  Pts

1  Man City   9  8  1  0  33  7  26  25
2  Man Utd    9  6  2  1  26 12  14  20
3  Chelsea    9  6  1  2  20 10  10  19
4  Newcastle  9  5  4  0  12  6   6  19
5  Spurs      8  5  1  2  15 13   2  16
6  Liverpool  9  4  3  2  12 10   2  15
7  Arsenal    9  4  1  4  15 18  -3  13
8  Norwich    9  3  3  3  11 12  -1  12
9  Stoke      9  3  3  3   7 11  -4  12
10 QPR        9  3  3  3   7 14  -7  12
11 A. Villa   9  2  5  2  11 11   0  11
12 West Brom  9  3  2  4   9 11  -2  11
13 Everton    8  3  1  4  10 12  -2  10
14 S'derland  9  2  3  4  12 10   2   9
15 Swansea    9  2  3  4   9 14  -5   9
16 Wolves     9  2  2  5   8 14  -6   8
17 Fulham     9  1  4  4  11 12  -1   7
18 Bolton     9  2  0  7  12 24 -12   6
19 Wigan      9  1  2  6   6 15  -9   5
20 Blackburn  9  1  2  6  10 20 -10   5

Next week's fixtures

Sat. 29.10.11

Everton     v    Man Utd
Chelsea     v    Arsenal
Man City    v    Wolves
Norwich     v    Blackburn
S'derland   v    A. Villa
Swansea     v    Bolton
Wigan       v    Fulham
West Brom   v    Liverpool

Sun. 30.10.11

Spurs       v    QPR

Mon. 31.10.11

Stoke       v    Newcastle