For a couple of years now, Paul Smith, the webmaster of Spurs Odyssey has been providing the Spurs' player profiles to The PFA Footballers' Who's Who annual guide to all players who have made any first team appearance in League Football.

This year is no different, and whilst the new edition will not be published until pre-season, Spurs Odyssey readers can see edited versions of the Spurs team profiles in four parts.

Here are the defenders:-

Alan HUTTON (Right back)

After an impressive start to his Spurs career at the end of the 2007-08 season, Alan suffered the misfortune of a pre-season foot injury which kept him out of action until mid-October. It appears that he tried to come back too early, as after a few games for club and country, Alan suffered a relapse and was out of action again till late March 2009. Alan then had to deal with the fact that the right back slot was held by Vedran Corluka. Alan has managed just 8 full appearances for his club this season in league and cup matches, also playing twice for Scotland. The end of the season came too early for Alan, who began to show the form which impressed observers in previous seasons. Alan has height and speed, and is a direct player, supporting the attack at every opportunity, making important goal-assists with his crosses and passes.

Gareth BALE (left-side defence or midfield)

The 20 year old full-back missed the majority of the 2007-08 season through injury, but was ready for action at the start of the new season. Gareth did make 24 full appearances for Tottenham in league and cup games, but most of those were on the left side of the midfield, due to the excellent form of Benoit Assou-Ekotto at left back throughout the season. Gareth has time on his side though, and is still a regular choice at left back for his country, for whom he has played at full and under-21 level this season. One of Gareth's strengths is when going forward, and at free kick situations, but he has not got on the score-sheet this season. Gareth is very keen to appear in a Premier League win for his club!

Gilberto da Silva Melo (left side defence/midfield)

Gilberto remains a Brazilian International player – featuring in 6 games over the last year – but has made only three full starts for Spurs this season. Gilberto was signed from Hertha Berlin in January 2008, but has yet to establish him self at Tottenham, being confined for the most part to reserve team football. A substitution after the first half in his only league appearance does not augur well for his future. Clearly Gilberto has pace and power, but he has not been able to apply himself in the Premier League.

Chris GUNTER (Defender)

20 year old Chris Gunter made just 10 starts for Tottenham this season, most of which were in the UEFA Cup, in which Spurs had either failed to register some squad members, or bought ineligible players. Chris continues to gain International recognition for Wales and played at both full and under-21 level this season. He can play at left or right back, but has featured on the right for Spurs in most of his games. Chris has plenty of pace and of course continues to gain experience with the potential for plenty of progress to come. Chris spent the end of the season on loan to Nottingham Forest, where he helped to preserve their Championship status.

Michael DAWSON (Defender)

In a season when he took part in just 28 of Spurs' 54 games of the season, centre-back Michael Dawson received a fans' award at the end of the season for being the "Best Team Player", thus recognising Michael's 100% effort and commitment to his team's cause. Michael had a difficult start to the season with regards to his form, and then had to endure the unsettling situation with the club's sparing use of Ledley King, which meant that Michael was usually the one to sit games out. After a three match suspension due to a sending off at Stoke, Michael played 90 minutes in 12 of Spurs' next 15 games, and was also rewarded with a start in the Carling Cup Final against Manchester United. Once Spurs had only the league in which to play, Ledley King was again able to play regularly, and Michael sat most games out, before suffering an end of season injury. There were games when Michael seemed to win every header necessary, and there is no doubt that his battling performances at the heart of defence led to that recognition by the fans.

Pascal CHIMBONDA (Defender)

Pascal was one of three players to leave the club for Sunderland in the summer, and also one of three (not the same individuals) who were surprisingly re-signed for Tottenham in the January window. Pascal played every minute of every one of the 16 games he played for the Wearsiders, but apparently struggled to settle in the north-east, with his family staying in London. Therefore it suited him to come back to Tottenham, for whom Harry Redknapp signed him in the face of potential injury problems and a heavy league and cup schedule. One of Pascal's attributes is the ability to play anywhere across the back four, and indeed he featured at left back and centre back in the games against Shakhtar Donetsk, whereas his primary role is at right back. Pascal can be a bit of a showman, but is tight in the tackle and has good heading skills that give him a presence in both areas. Pascal had to settle for just three starts (the other was at Sunderland!) and two substitute appearances after his return to Tottenham. Whether that level of involvement will satisfy him in the forthcoming season remains to be seen.

Vedran CORLUKA (Defender)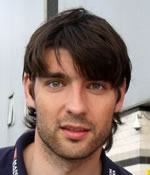 Croatian International Vedran CORLUKA was the subject of an "on-off" transfer deal in August, but he did finally sign for Tottenham near the end of the month, making his debut for his new club at home to Aston Villa, having played the first three league games and also three UEFA Cup games for Manchester City. That made Vedran illegible for Tottenham's UEFA Cup campaign, but he was otherwise a first choice for the right back position for most of the season, occasionally filling a berth at centre-back. Vedran is a cool customer, and makes up for a lack of pace with plenty of guile, natural ability, and a good reading of the game. His defensive skills are perhaps best demonstrated by the fact that Harry Redknapp chose the faster Zokora to mark Aston Villa's Ashley Young, but replaced Zokora before the end of the first half, after which time Young was largely nullified. Spurs won the game, and Vedran has been a major part of the defence which nearly matched the club's clean sheet record, and which beat the best home defensive record in a season. In 41 appearances over the season, Vedran also offered good support to Aaron Lennon on the wing, and the Spurs strike force.
Ledley KING (Defender)
Spurs' club captain Ledley King played in 29 of Spurs' 54 games this season, which was a marked increase over the previous season, when he managed just 10 appearances. This season, Ledley played in 24 Premier League games. Former manager Juande Ramos preferred to save the 28 year old England International for Cup games, but once Harry Redknapp arrived, Ledley's priority was to play in the League. That said, Ledley did Captain the side in the Carling Cup Final. Ledley is unable to train fully with his team-mates and has to undergo a personal fitness management programme in his weekly preparation for games. Ledley's form has consistently been good, and he remains one of the most accomplished defenders in the league, which won him an International call-up from Fabio Capello. Unfortunately, Ledley was unable to fulfil the fitness requirement and had to return to his club. Ledley was a mainstay in the Spurs defence which had the best home record in the Premier League with only 10 goals conceded. Ledley conceded the team captaincy upon the arrival of Robbie Keane, but remained the club captain, and is currently Spurs' longest-serving player.
Benoit ASSOU-EKOTTO (Left back)
Benoit has had an excellent season for club and country. He won his first two caps for Cameroon and made 36 appearances (1 as substitute) for Spurs where he made the left back position his own. Benoit won a fans' award for "most improved player of the season", but bearing in mind he missed the majority of the previous season through injury that award title does not give full credit to Benoit's abilities consistently displayed on the left flank. Benoit was a mainstay of the Spurs defence which had such a good home defensive record, and very nearly matched the club's clean sheet record for a season. Benoit reads the game well, and is strong and skilful in the tackle, usually retaining and distributing the ball intelligently. Benoit also played a prominent part in attacking moves. His most important "assist" came in the Carling Cup semi-final at Burnley, where he laid on Pavlyuchenko's crucial goal to carry Spurs into the final, where Benoit was a loser's medal winner. Benoit missed 5 games through suspension as a result of red cards on two occasions.
Jonathan WOODGATE (Centre-back)
The 29 year old England International had an excellent season for Spurs, for whom he made the highest number of starts for an outfield player. Jonathan missed just 6 games through minor injuries, and was occasionally rested during Spurs' 54 game programme. Thus Jonathan has played a major role in Spurs' excellent home defensive record, and in a season where the club almost matched their clean sheet record for league games. Jonathan is a cultured defender who wins most of his aerial battles and tackles, distributing the ball intelligently. Having become a Spurs hero last year with his winning goal in the Carling Cup Final, Jonathan was once again the hero with a goal that was just as crucial. This time, his one goal of the season came at Hull in the 86th minute, which proved to be the winner and set Spurs on the path to avoiding relegation, and their climb into the top half of the final league table. It is surprising that Jonathan has not won International recognition this season. Jonathan is able to play the left or right sided centre back role, and in this way has accommodated the absences of Ledley King, working effectively with any defensive partner.
· Goalkeepers' profiles
· Midfielders' profiles
· Strikers' profiles