For a couple of years now, Paul Smith, the webmaster of Spurs Odyssey has been providing the Spurs' player profiles to The PFA Footballers' Who's Who annual guide to all players who have made any first team appearance in League Football.

This year is no different, and whilst the new edition will not be published until pre-season, Spurs Odyssey readers can see edited versions of the Spurs team profiles in four parts.

Firstly, here are the goalkeepers:-

Heurelho GOMES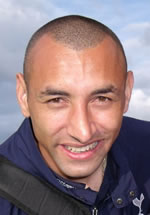 The Brazilian International keeper was signed by Spurs in the summer of 2008, after he gave two great performances against them when playing for PSV Eindhoven in their 2007-08 UEFA Cup encounter. Nicknamed "The Octopus" by Dutch fans, Heurelho soon became a target for the English press and some of his own fans, due to a few errors and some difficulty getting used to the physical elements of the English game. However, the keeper still made some stunning saves even during Spurs' disastrous start to the season, and won over Spurs fans with increased confidence and continuing form, where despite his height, he demonstrates agility and speed of action to make match-saving saves. Harry Redknapp signed Carlo Cudicini to strengthen the goal-keeping department, but such was Heurelho Gomes' form that he held down the number one spot throughout Spurs' fine end to the season during which the team almost equalled a club record for home clean sheets, and bettered their home record for a season for goals conceded in league fixtures. Heurelho was rewarded by a call-up for International duty at the end of the domestic season.
Carlo CUDICINI
Carlo was signed from Chelsea during the January transfer window by Harry Redknapp to strengthen the goalkeepers' department, and was viewed as a possible number one keeper to take the place of Heurelho GOMES. Carlo had made just two appearances for Chelsea this season, but had been Petr CECH'S deputy for several seasons. Carlo made 4 appearances for Spurs, whilst GOMES was injured, which included a clean sheet in the London Derby against Arsenal. Carlo is clearly an experienced and able deputy, with excellent handling skills, and the agility and speed of thought leading to good saves and the confidence of his defence.
Ben ALNWICK
In a season when Spurs played 54 competitive games, it was inevitable that the club would need to use all available resources, and Ben made two full appearances in the League Cup semi-final at Burnley, where Spurs escaped defeat by the skin of their teeth, and in their following game at Old Trafford in the FA Cup. Despite a shaky game at Turf Moor, Ben regained form and confidence in the game at Old Trafford, where he made a great flying save from Tevez. Ben also received a loser's medal as he was the substitute goalkeeper in the Carling Cup Final, also against Manchester United. Ben spent a little time on loan at Carlisle, but the former England Under-21 International has had to be satisfied with Premier Reserve league football for most of his time at Tottenham.
Cesar Sanchez Dominguez
The 37 year old former Spanish International keeper was signed by Juande Ramos as an experienced back-up for Heurelho GOMES. Sanchez certainly has a good pedigree, with years of experience in Spanish football. However, he was limited to one 17 minute substitute appearance in a league cup game against Liverpool (which Spurs won 4-2), during which time he demonstrated competence. After the appointment of Harry Redknapp as manager, Sanchez was released and played 18 league games for Valencia who finished sixth in the Primera Division.
· Defenders' profiles
· Midfielders' profiles
· Strikers' profiles