For a couple of years now, Paul Smith, the webmaster of Spurs Odyssey has been providing the Spurs' player profiles to The PFA Footballers' Who's Who annual guide to all players who have made any first team appearance in League Football.

This year is no different, and whilst the new edition will not be published until pre-season, Spurs Odyssey readers can see edited versions of the Spurs team profiles in four parts.

Here are the strikers:-

Dimitar BERBATOV

Dimitar made one substitute appearance for Spurs in their first game of the season before his transfer to Manchester United.

Roman PAVLYUCHENKO

Roman was another high-profile summer signing for Spurs, who were seeking to replace their departed strike force of Berbatov and Keane. Roman is a full Russian International striker with 11 goals from 26 matches, and twice in recent seasons had finished as the top league goal-scorer in his home country. Unfortunately, Roman arrived at Tottenham after having played almost a full season for Spartak already, and his fitness levels must have suffered as a result of that burden. Roman soon became a popular member of the side, demonstrating good all-round footballing skills, whilst perhaps being surprised at the physical demands of the English game. Roman scored 14 goals in 36 appearances (10 as substitute) over the season. The most important of these were a 90th minute winner against the league leaders (Liverpool) when Spurs had been bottom of the league, two goals against Liverpool in a league cup win, and a late goal in extra time at Burnley in the Carling Cup semi-final which ensured that Spurs made it to Wembley. Indeed, Roman had scored in every round that Spurs played in, except the final, when he came off the bench in the game which Spurs only lost on penalties. Roman's best goal came in the league game against West Ham, when he received the ball with his back to goal, but turned and scored in one motion to give Spurs a vital three points.

Darren BENT

After a difficult first season at White Hart Lane, when he faced competition from Berbatov, Keane and Defoe for a team place, Darren made good progress this time in the face of pressure and renewed competition. The pressure arose because Spurs summer transfer activity left them short of striking options, leading to Darren being Juande Ramos's first choice. The renewed competition came as a result of the surprise return of both Jermain Defoe and Robbie Keane in the January 2009 window, and also the signing of Roman Pavlyuchenko. Darren had several short absences through injury, but in scoring 12 Premier League goals, he finished level sixth highest league scorer, and in scoring a total of 17 goals in all competitions finished as the top scorer for the club. Darren gives 100% effort in every game, and this has often led to him offering his opponents a barrier when in possession in their own half. He scores with head and feet, and he scored only his second career hat-trick in the UEFA Cup win over Dinamo Zagreb. Darren followed that up with two goals in Spurs' first away league win of the season. After the return of Robbie Keane, Darren made strong contributions in vital wins at Villa Park and at home to Chelsea, during a run of unbeaten games that led to Spurs' league revival. Darren has also had more International recognition, playing the second half for England in their friendly in Germany in November.

Robbie KEANE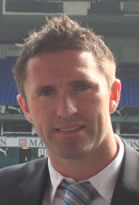 Robbie Keane's summer move to his "boyhood idols" Liverpool came as a big surprise and disappointment to Spurs fans. The story of Robbie's season is well known due to the fact that ultimately he failed to sufficiently impress Rafa Benitez, scoring just 7 goals in 28 total appearances. 5 of those goals came in his 19 Premier League appearances, but by the end of his stay, Robbie was often being relegated to the bench, or just not being selected. Despite that history, it was still an even bigger surprise when Robbie was re-signed by Spurs on transfer deadline day (2nd February, 2009). Robbie was immediately made team captain, due to Ledley King's injury problems, and there is no doubt that the Republic of Ireland striker (and captain) played a crucial part in Spurs recovery from the threat of relegation. Spurs were unbeaten in Robbie's first 6 games, which included a win at Villa Park and at home to Chelsea. By the end of that spell, Spurs were in 11th place and safety beckoned. Robbie played 14 games and scored 5 goals, which included two expertly taken penalties. Robbie was often used as the link man between a front runner and the midfield, and has good all-round footballing skills. Robbie's form towards the end of the season probably matched that over the full programme for two clubs, and there is still work for him to do to fully regain the hearts of Spurs fans. Robbie remains a consistent scorer for his country for whom he has scored 5 goals in 8 games this season (up to 29th May)
Fraizer CAMPBELL
Fraizer was an eleventh hour season-long loan signing from Manchester United at the same time as Dimitar Berbatov went to Old Trafford. Despite the fact that in the early part of the season Spurs had just three main strikers, Fraizer's appearances were limited, as often only one genuine striker would be used. Fraizer took part in 22 of Spurs' games, with 9 starts, scoring his only three club goals in two consecutive games (against Liverpool and Fulham) in November. Fraizer took part in 7 of Spurs UEFA Cup games, and whilst he didn't score, he put the pressure on a Wisla Krakow defender, whose own goal ultimately secured the club's progress in the competition. Fraizer has been a regular member of the England under-21 side for whom he scored three goals in 7 games.
Jermain DEFOE
Jermain remained a favourite with Spurs fans despite his January 2008 move to Portsmouth. This affection was demonstrated by applause for his 34th minute penalty against his old club at Fratton Park in September. An England International, Jermain scored 10 goals in his 21 appearances for Portsmouth, before he was drawn by the lure to once again work with Harry Redknapp in January. Jermain has a habit of scoring on debuts, but this time had to wait for his second Spurs game (against Portsmouth!) before scoring his come-back debut goal. Jermain's season was curtailed by injury, and he only managed 7 starts and three as substitute in the remainder of the season. Jermain's goal to game ratio remains high however, as he bagged four goals in that time, one of which secured Spurs' path to Wembley before his enforced absence. Jermain retains all the pace, power and simple enthusiasm required by a striker in the Premier League.
Jonathan OBIKA
18 year old Jonathan OBIKA spent most of his season in the successful Spurs Academy and Reserve sides for whom he scored 18 goals, and made a brief debut as substitute in the UEFA Cup tie at NEC Nijmegen in November. Jonathan was rewarded with a start in the home leg against Shakhtar Donetsk, and whilst he did not score he showed plenty of good touches and had several chances to score. Jonathan demonstrated pace and the strength to hold off opponents, which has enabled him to either lead the line at other levels, or play a wide role. Jonathan ended the season on loan at Yeovil where he scored 4 goals in 10 appearances. Jonathan was awarded the Tottenham Hotspur Supporters' Trust Breakthrough award for the most impressive performance of a Spurs youngster coming through the ranks to make his full debut.
· Goalkeepers' profiles
· Defenders' profiles
· Midfielders' profiles