For a couple of years now, Paul Smith, the webmaster of Spurs Odyssey has been providing the Spurs' player profiles to The PFA Footballers' Who's Who annual guide to all players who have made any first team appearance in League Football.

This year is no different, and whilst the new edition will not be published until pre-season, Spurs Odyssey readers can see edited versions of the Spurs team profiles in four parts.

Here are the midfielders:-

Didier ZOKORA (Defensive midfielder)

The 28 year old Ivorian defensive midfielder was signed by Spurs in June 2006, but has yet to score his club, apart from in a penalty shoot-out in 2007-08. Didier did get on the score-sheet for his country against Botswana in a World Cup qualifier in June 2008. Didier made 39 full appearances in all competitions for Spurs this season (including the Carling Cup Final defeat), and has predominantly played his usual role at the back of midfield, although he can step in at any position across the back four. Didier has great speed, and makes many incisive tackles. He often goes on bursting runs forward and is capable of supporting an attack with accurate passes. Didier has had to accept being second choice in his role, since the arrival of Wilson Palacios in January.

David BENTLEY (Midfielder)

The 24 year old England International was signed during the summer of 2008 for a £15,000,000 fee from Blackburn and was said to be ecstatic at the move to the club he supported as a lad. Renowned as a dead ball expert and good crosser of the ball, David came to Tottenham where there were great expectations and hope for him. Indeed, initially Juande Ramos seemed to favour David over Aaron Lennon, and then tried to accommodate the two by playing one or other in an unnatural position on the left wing. David has great skill and the potential to score spectacular goals, but sadly his goal-scoring record this season did not match that of his time at Blackburn. David struggled to find his form both with the dead ball and with free kicks. There is no doubt that "his finest hour" this season was scoring a wondrous dipping 40 yard goal at The Emirates – the home of his former club – which was a contender in the BBC's goal of the season competition. In the latter part of the season, manager Harry Redknapp made his preference clear for Lennon to play on the right wing, and David was often reduced to being non-playing substitute. David's last appearance for England was in the August friendly International against The Czech Republic.

Tom HUDDLESTONE (Midfielder)

Tom has made 20 full appearances and 9 as substitute in all competitions for Spurs this season. The vast majority of those games were in the midfield, which appears to be his favoured role for club and country (at under-21 level). Tom was asked to play at centre back for his club in a weakened side at Shakhtar Donetsk. Tom is a favourite with many fans, who appreciate his often exquisite passing skills, and a thunderbolt shot, which have led to him scoring 2 goals in this season's UEFA Cup. New manager Harry Redknapp was reported to have described Tom as potentially "the new Glenn Hoddle". Tom's game does seem to be suited to certain styles of game and opposition, and he is not as quick and incisive in defensive situations as is often desirable. Tom continues to be a regular choice for the England Under-21 side, for whom he has scored twice this season. An end of season injury kept him out of the summer under-21 tournament.

Aaron LENNON (Midfielder)

It has been another great season for 22 year old Aaron Lennon who took part in every one of Spurs' first 33 matches, before injury took its toll. Some of those early appearances were from the bench though, as Juande Ramos did not make him an automatic choice for the first team. That soon changed and was confirmed with the arrival of Harry Redknapp. Aaron has scored five league goals this season (his best haul yet), during which he made 35 starts and 9 from the bench. Aaron is one of the fastest players in the Premier League, and with improved fitness levels once again left defenders standing with consistency. Aaron also takes on team responsibilities though with effective tracking back down whichever flank he is asked to patrol. Apart from his goals, he has made many assists, and his form earnt a recall to the full England International squad, although he suffered an end of season groin injury. Aaron scored two goals in Spurs' 4-0 win over Middlesbrough, but his finest goal was probably the last second equaliser at Arsenal to give Spurs a memorable 4-4 draw. This moment was recognised by the club's fans, who also voted Aaron as Spurs' Player of the Season and Young Player of the season.

Jermaine JENAS (Midfielder)

Now in his fourth season at Spurs, Jermaine remains a regular first choice member of the side, having made 35 starts and 4 substitute appearances in all competitions. All of Jermaine's absences were through various injuries, and since Harry Redknapp re-inforced the squad in January, Jermaine has been the first choice to partner Wilson Palacios in midfield. Jermaine's attributes include incredible levels of speed and stamina to assist the team at either end of the field, with fine tackling and passing skills to enhance his game. Jermaine scored 4 goals this season – all in the Premier League and the most memorable was an 89th minute shot that made it 4-3 to Arsenal in the exciting 4-4 encounter at The Emirates. His most important goal was perhaps the fifth minute opener in Spurs crucial league win at Villa Park at a stage of the season when the team were still battling their way clear of the relegation zone. Jermaine made one appearance for England in the August friendly against The Czech Republic.

Wilson PALACIOS (Defensive Midfield)

Wilson was arguably Harry Redknapp's best and most crucial January signing, for a high fee from Wigan, where the player had been a fans' favourite. Wilson soon found himself a favourite at Tottenham where he showed the sort of tank-like defensive attributes that have for so long been missing from a Tottenham midfield. Wilson is not an unfair player but unfortunately does attract the regular attention of referees due to his never-say-die attitude to winning tackles. This has led to him being booked no less than 16 times for club and country during the course of the season. Wilson was unfortunate to be shown a second yellow card at Blackburn, where it was clear that he had pulled out of the challenge and his opponent had dived to avoid any contact. Wilson also has good creative skills, which gave him a clear edge over Didier Zokora, who had to make way after Wilson's arrival at The Lane. Wilson missed the last three games of the season due to the tragic death of his younger brother in his home country – Honduras - for whom Wilson is a regular International player.

Luka MODRIC (Midfield)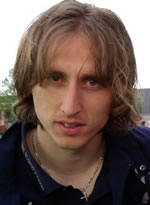 In the eyes of most Spurs fans, Luka ran Aaron Lennon very close for the Spurs' Player of the Season accolade. Luka was signed before the end of last season, but had to wait for the opening day of the Premier League for his Spurs debut. There was some scepticism about Luka's potential to cope with the demands of Premier League football, but he made 42 starts for Spurs in all competitions, and two as substitute, scoring five club goals in the process. Described by some as a world class player he has been utilised "in the hole" behind a front runner, and as part of a three or four man midfield, when he has often been given the freedom to operate from the left to the right of the pitch. Luka's physical application has been constant and he has worked in all areas of the pitch. In his creative role he has been favourably compared to Ossie Ardiles, especially when weaving his way around or through two or three opponents, with the ball seemingly sticking to his feet. Luka is a first choice for club and country, and has scored at both levels. Luka's best goal for Spurs was the winner in the home league game against Chelsea, when he met and swept in a low cross from the right with a low shot just inside the post.
Giovani dos Santos (Attack/midfield)
20 year old Giovani Dos Santos was a high profile summer signing by Juande Ramos from Barcelona, and was Ramos's first choice at the very start of the season. Giovani only made 5 starts all season though and made 7 appearances as substitute. He can play as a supporting striker or on either wing, where his pace is a clear attribute. The only time that Giovani played the full 90 minutes was in a weakened side against Shakhtar Donetsk, when he did score his one goal of the season for Spurs. Giovani also missed 15 mid-season games for Spurs through injury. The Mexican International had a successful end of season loan at Ipswich where he scored 4 goals, two of which were from the penalty spot.
Adel TAARABT (Midfield)
Adel's opportunities were again limited for Tottenham this season. Despite the fact he was on the periphery of the squad, he was not registered for UEFA Cup football, and made only three substitute appearances in league and cup football. Adel often starred at reserve team level, and impressed in his end of season loan at QPR. Adel is an attacking midfielder, capable of passing opponents, but he does not always know when to give a pass! Adel gained the distinction of full International recognition this season, for Morocco.
Kevin Prince BOATENG (Midfield)
Kevin Prince BOATENG was another squad player who for some reason was not registered for Spurs' UEFA Cup campaign, seemingly not impressing then manager Juande Ramos. Kevin made just two appearances from the bench playing just 16 minutes of first team football. Kevin ended the season on loan to Borussia Dortmund, where he made 4 starts and 6 substitute appearances. Having come to Spurs from Germany, a return may well be on the cards for this player in the new season.
Jamie O'HARA (Midfield)
It has been another good season for England under-21 International Jamie O'Hara, aged 22. Jamie won the admiration of both Spurs' managers this season, and whilst not a first choice for the team, has often filled an important role on the left or centre of midfield, and also is able to play at left back. Jamie made 15 starts and 13 substitute appearances this season, scoring 4 goals. He is not the fastest of players, but has a powerful left foot, utilised in good passing, effective dead ball situations, and those goals. He can also score with his head! Jamie was sent off for a rash challenge at Udinese, but generally, his discipline record is good. All of Jamie's goals came in important situations, but his best performance of the season came when he was introduced at half-time in the first leg of the Carling Cup semi-final against Burnley, when he scored and also had a hand in all of Spurs goals. Jamie was ultimately rewarded by Harry Redknapp with a place in the Carling Cup Final side, having missed out on the squad in the previous year's final. Jamie's season ended early due to a knee injury and the need for an operation, which also led to him missing the England under-21 summer competition.
John BOSTOCK (Midfield)
The 17 year old England Youth International was signed from Crystal Palace in the summer of 2008, and had an excellent season in a successful Spurs Academy side, but also made appearances for the Reserves. John became the youngest ever player for Spurs at the age of 16 years and 295 days when he made a debut off the bench in the UEFA Cup game against Dinamo Zagreb on 6th November. John made two further substitute appearances in the UEFA Cup games against Shakhtar Donetsk. John is an attacking midfielder with pace, a fine touch on the ball, good passing skills and the ability to score.
Dean Parrett (Midfield)
The 17 year old England Youth International signed professional forms for Spurs soon after the arrival of Harry Redknapp, but had been spotted by a previous regime as a 15 year old at Queens Park Rangers. Dean is a combative box to box midfielder, who has featured in both the successful Spurs Academy and Reserve teams. He made an impressive first team debut in the UEFA Cup against Shakhtar Donetsk, where Spurs fielded a weakened side and only succumbed in the last ten minutes. Dean is physically strong and has a maturity that augurs well for his future at Tottenham.
Ryan MASON (Attacking midfielder)
17 year old Ryan is another one of the batch of Spurs youngster who have so impressed in the Academy season. Ryan has also played (and scored) in Reserve games and scored 26 Academy goals including 8 penalties. Ryan is an attacking midfielder, able to play "in the hole" behind a lone striker. Ryan made a brief debut from the bench in Spurs UEFA Cup tie at NEC Nijmegen in November 2008.
· Goalkeepers' profiles
· Defenders' profiles
· Strikers' profiles