· Last season's game - Burnley 2 Spurs 1, 23.02.19
· This season's home game - Spurs 5 Burnley 0, 07.12.20
· This week - last year
· What happened in the Premier League on Matchday 29 2018-19
· See the current injury list for all Premier League Teams
· All the Spurs Stats you could hope for here! THFC6061 Sports Stats


Full League Record of Spurs -v- Burnley
 
Prem          Pl   W   D   L   For- Ag  Pts
Home           6   5   1   0   16 -  3  16
Away           5   2   1   2    8 -  6   7
==========================================
Total(Prem)   11   7   2   2   24 -  9  23
==========================================
Football Lge
Home(Div 1)   34  17   7  10   75 - 44  41 
Away(Div 1)   34   6  10  18   44 - 74  22
==========================================
Total(Div 1)  68  23  17  28  119 -118  63
==========================================
Football Lge
Home(Div 2)   10   8   2  0    34 -  7  18 
Away(Div 2)   10   1   3  6     6 - 13   5  
==========================================
Total(Div 2)  20   9   5  6    40 - 20  23 
==========================================
Total(Prem)   11   7   2   2   24 -  9  23
Total(Div 1)  68  23  17  28  119 -118  63
Total(Div 2)  20   9   5   6   40 - 20  23   
==========================================
Grand Total   99  39  24  36  183 -147 109 
==========================================

Last Six Premier League results:-

Burnley    -    WWDWWD

Burnley    2-1    Leicester
Man Utd    0-2    Burnley
Burnley    0-0    Arsenal
S'hampton  1-2    Burnley
Burnley    3-0    B'mouth
Newcastle  0-0    Burnley


Spurs      -    DWWWLL
           
Watford    0-0    Spurs
Spurs      2-1    Norwich
Spurs      2-0    Man City
A. Villa   2-3    Spurs
Chelsea    2-1    Spurs
Spurs      2-3    Wolves

Pos          P  W  D  L   F-A   GD  Pts
7. Spurs    28 11  7 10  46-39   7   40
9. Burnley  28 11  5 12  33-39  -6   38

Could this be another watershed moment?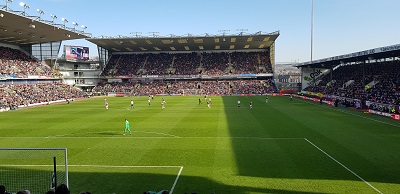 The Sky television hawks are circling around our beloved Tottenham Hotspur for this Saturday tea-time game at Turf Moor wondering if they might witness a continuing slide for Jose Mourinho's team. Burnley would leap above us with a win, and Sean Dyche will have his eyes set upon a possible European campaign - not a battle against relegation. This could be a watershed moment for Spurs.
This will be the 100th league meeting between the two sides and Spurs will be looking for a fortieth win over the "Clarets". The very first league meeting took place at White Hart Lane in our first Football League season in 1908. Like Wolves, who beat us last week, Burnley are one of the 12 founding members of the Football League and when we played them in December 1908, they had already enjoyed 20 years of league football. We met Burnley 4 times in that opening season, winning at home and away in the league, but getting knocked out in an FA Cup Third Round replay. Spurs were promoted in that first season, whilst Burnley finished in the bottom half. The two teams did not meet again until 1913 after Burnley were promoted.
Burnley's 5-0 defeat at Tottenham three months ago (to the day) might have been a watershed moment for the Lancashire Club. They won their next two games, but it wasn't till the turn of the year that Burnley found some consistent form. Indeed, they are unbeaten in their last six league games, and are certainly in better form than Spurs. Recent wins include impressive results at home against Leicester and a 2-0 away win at Old Trafford, which was their first such win since 1962. The only match Burnley lost since January 11th was their fourth round FA Cup game at home to Norwich. Hmmm - we have something in common with regard to cup defeats.
Last year's away defeat was certainly a watershed for Mauricio Pochettino's Spurs who were third in the league with 60 points from 26 games. Burnley were 15th with only 27 points. Burnley were on an unbeaten run then and beat us 2-1. Pochettino had a row with Mike Dean at the end of the game over a disputed corner that had led to Burnley's first goal. Our preceding away league match had been at Fulham which we won with the last kick of the game. We didn't win another away game last season, and indeed not until Mourinho's first game at The London Stadium in November. Our theoretical challenge upon Liverpool (who were top at the time) and Man City was over, and we only managed 11 more league points from our last 11 games.
A legendary figure associated with both clubs is of course Ralph Coates. Coates was born near Sunderland in 1946, but his career started at Burnley, for whom he made a debut in 1964. He signed for Spurs in 1971 for a fee of £190,000. Ralph's Spurs debut was at Molineux, and of course he scored our winning League Cup Final goal against Norwich in 1973 when he came off the bench. In later years, Ralph would usually appear as a guest at both Turf Moor and White Hart Lane when the two teams met, notably in the 2009 League Cup semi-final games. Ralph sadly passed away at the age of 64 in 2010.
Burnley spent a lot of time this season playing two big men at the front - top scorer Chris Wood and Ashley Barnes. Wood missed a game or two recently and started on the bench last week at Newcastle. I would expect him to play tomorrow. Former Southampton man Jay Rodriguez has featured recently, as Barnes is injured. Matej Vydra scored in two recent games, but was replaced by Wood, who I would expect to play tomorrow. Also look out for 20-year-old Dwight McNeil who has been ever-present in league games this season and creates a lot from his position on the left side of midfield.
There was good team news today from Spurs, as Hugo Lloris has returned to training and is available. I imagine he will start, and that Toby Alderweireld, who has sat out our last two games, will be back in the middle of a back four. Eric Dier is ready to play, despite his upset at the end of the Norwich game when he climbed into and up the West Stand lower tier to confront someone who had been abusing his brother. At the time of writing there has been no news of any sanction although I believe the FA has asked for an account from Dier. I am hopeful he will not be punished as I do not believe he was guilty of any threatening behaviour.
Any game is hard for Spurs at the moment, but our losing run has to come to an end, and I am going to make an optimistic prediction of a 2-1 away win!
The only Spurs game previously refereed this season by Saturday's match official Jon Moss was our horrible 3-0 defeat at The Amex Stadium in October. We must hope not to see such a poor Spurs performance tomorrow. The first record I have of Mr. Moss refereeing Spurs was a 2-1 away win against Wigan in September 2011, with our goals scored by Rafa van der Vaart and Gareth Bale.
· "Ten Years After" - Spurs Odyssey reviews the season in which we first qualified for the Champions League. On March 6th 2010 we played a 6th Round FA Cup game and drew 0-0 at Craven Cottage.