· Last season's game - Wolves 2 Spurs 3, 03.11.18
· This week - last year
· What happened in the Premier League on Matchday 17 2018-19
· See the current injury list for all Premier League Teams
· All the Spurs Stats you could hope for here! THFC6061 Sports Stats


Full Record of Spurs -v- Wolverhampton Wanderers

Prem         Pl   W   D   L   For- Ag  Pts
Home          5   2   1   2   10 -  8   7
Away          5   3   1   1   10 -  6  10
==========================================
Total(Prem)  10   5   2   3   20 - 14  17
=========================================
Div 1
Home         31  21   6   4   76 - 40  50
Away         31   9   7  15   46 - 60  27
=========================================
Total(Div 1) 62  30  13  19  122 -100  77
=========================================
Div 2
Home          6   5   1   0   18 -  9  11
Away          6   1   0   5    6 - 16   2
=========================================
Total(Div 2) 12   6   1   5   24 - 25  13
=========================================
Total(Prem)  10   5   2   3   20 - 14  17
Total(Div 1) 62  30  13  19  122 -100  77
Total(Div 2) 12   6   1   5   24 - 25  13
=========================================
GRAND TOTAL  84  41  16  27  166 -139 107
=========================================

Last Six Premier League results:-

Wolves     -    DWWDWD

Arsenal    1-1    Wolves
Wolves     2-1    A. Villa
B'mouth    1-2    Wolves
Wolves     1-1    Sheff Utd
Wolves     2-0    West Ham
Brighton   2-2    Wolves

Spurs      -    DDWWLW
           
Everton    1-1    Spurs
Spurs      1-1    Sheff Utd
West Ham   2-3    Spurs
Spurs      3-2    B'mouth
Man Utd    2-1    Spurs
Spurs      5-0    Burnley

Pos          P  W  D  L   F-A   GD  Pts
6. Wolves   16  5  9  2  23-19   4   24
7. Spurs    16  6  5  5  30-23   7   23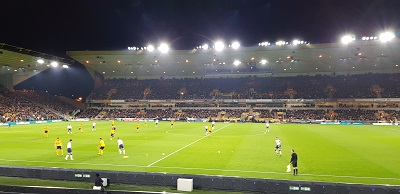 Jose meets Nuno - not for the first time!
with thanks to Declan Mulcahy for his input
Jose Mourinho has only encountered Wolves once in his managerial career. That was in September 2018 at Old Trafford. The teams drew 1-1. Fred gave United a first half lead but Moutinho equalised in the second half. It was an unsatisfactory result for Mourinho whose team had had the better of the game.
According to the Guardian Mourinho was again bewailing his players' mindset, stating those of Wolves possessed a "World Cup final" attitude and his did not.
The two managers know each other well. During the 2002-03 and 2003-04 seasons when Mourinho managed Porto Nuno Espirito Santo was the reserve goalkeeper to the first choice Vitor Baia.
Nuno did play in some matches including a Portuguese cup match against Varzim in March 2003. It was an easy win for Porto who led 3-0 at the interval and 6-0 after 82 minutes. In the 90th minute Porto were awarded a second penalty. Santo took the penalty and scored as Porto won 7-0. It was the only goal of his career.
There were fireworks before and during last year's Spurs away game at Molineux. Spurs had a forthcoming Tuesday Champions League fixture at Eindhoven, and as the TV powers that be wanted to televise the Premier League game, it was played at 7.45pm on a Saturday night. Wolves always put on a pyrotechnic display pre-match, and the game itself did not disappoint with Spurs going 3-0 up within the first 61 minutes, before we had to survive a late onslaught by the home team who scored two penalties, both conceded by Juan Foyth, awarded by Mike Dean and converted by Neves and Jimenez respectively. Spurs had to hang on for their 3-2 win.
Now we face Wolves in a 6th v 7th clash. Last year we were fifth and Wolves were 10th. Tomorrow (at 2pm) Wolves are the team above Spurs. Wolves have lost only two league games this season, and the last of those was in September. They are unbeaten in 11 league games since, and their only defeat in their last 18 games in all competitions was in the Carabao Cup at Villa Park. Anyone who fancies betting against Nuno Esperito Santo's men by visiting this match-bonus-code.co.uk site might need their heads tested.
Wolves' Europa League qualifer against Crusaders on July 25th was their first European competitive game in 39 years. The previous such match was a UEFA Cup first round tie against PSV over two legs in September and October 1980, which they lost 3-2 on aggregate. That was a Wolves side which included the likes of Emlyn Hughes (post-Liverpool), Ken Hibbitt, Andy Gray and John Richards.
In their hey day of the fifties, when they won three league titles, Wolves were one of the first British clubs to install floodlights, and played several friendly matches against European opponents. They were also the first English side to participate in the fledgling European Cup in the mid-fifties.
Now, in only their second season back in the Premier League, Wolves have qualified for the Europa League Round of 32 by finishing second in Group K. Their last game was an impressive 4-0 home win on Thursday against Besiktas in which Jota scored a hat-trick. That was Wolves 30th game of the season, and yet they have managed to maintain their form. Spurs have played 23 games so far.
The style and structure of Nuno's team remains very similar to that of last year. The Wolves manager had already secured the permanent signing of Mexican International Jimenez who was a loan player last year before dipping into the transfer market for 21 year old striker Patrick Cutrone from AC Milan for £16 million. Cutrone has started just three Premier League games, but usually gets on as a substitute. Jimenez remains the top league scorer.
Wolves have scored in every one of their last 18 games. Their most impressive result was surely a 2-0 away win against domestic treble winners Manchester City. In that game wideman Adama Traore (sometimes played as a wing-back) scored both Wolves goals in breakaway attacks. Traore is having surely his most impressive season yet in English football, having previously played for Aston Villa and Middlesbrough.
You will be very surprised I suspect to read that I am predicting a 2-0 Spurs win in this game. Jose Mourinho has been preparing for this game before we travelled to Munich and kept Serge Aurier, Jan Vertonghen, Dele Alli and Harry Kane at home in anticipation of the demands of this game. Harry Winks is back in training and might be selected, but I suspect he will start on the bench and we will see the same starting line-up as that which beat Burnley 5-0 last Saturday. A rampant Spurs front four should have the Wolves back three concerned. This should be a very, very good game, but it will not be seen live on UK TV.
Tomorrow's match referee will be Stuart Attwell, aged 37. Mr Attwell first refereed a Spurs game back in January 2010 when we drew 1-1 away to Birmingham, and et we've still only seen him in the middle a total of 8 times. Mr Attwell's last game in charge of Spurs was our "home" defeat by Wolves at Wembley last December 29th.
· "Ten Years After" - Spurs Odyssey reviews the season in which we first qualified for the Champions League. On 16th December, 2009 Spurs beat Man City 3-0 with Niki Kranjcar scoring two of our goals.